Paid Parental Leave

Return to Work Policy

Childcare Facilities

Flexible Working Arrangements

Mentorship Program

Breastfeeding Rooms

Sponsorship Program

Leadership Development Program

Coaching Program

Raise Numbers Of Women In Leadership

Internal Women's Networking Group

Equal Pay Initiatives
At Equinix, You Matter
​
We are committed to building a diverse, equitable and inclusive workplace. We view our dedication to diversity, inclusion and belonging (DIB) not as a set of initiatives that one particular team owns, but rather a company priority where each of us strive to do our part. We strive to be a workplace where employees can confidently say, "I am safe, I belong, and I matter", where they feel that their health and wellbeing is cared for, and a place that they have opportunities to play an active role supporting their communities and the causes they care about.
​
Your Health
Equinix employees receive excellent health care and counseling plans that vary by country to ensure the overall well-being of you and your family. We offer paid vacations and holidays and encourage community involvement with year-round volunteer opportunities.
​
Your Family
Spending time with your loved ones and taking care of your family is important. Equinix provides a range of programs that differ by country to ensure our employees have the resources they need to thrive and manage the needs of their families.
​
Your Future
As a global company, we offer differing programs by country that support building your financial security, provide options for charitable donations and opportunity to propel your career with additional education. In many countries our flexible employee stock purchase plan is available as well.
​
We Are Committed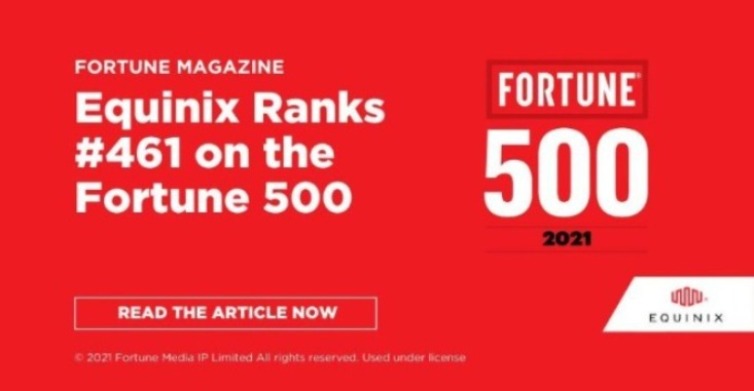 ​​
We are honored to debut on the Fortune 500 by Fortune. We are ranked #461 out of 500.
​
At Equinix, our work on DIB is far from finished, we are proud of the strides we're making as a company, and we have also been humbled by several prestigious accolades Equinix has recently received in recognition of our strategic vision, steadfast execution and vibrant culture:
​
You Belong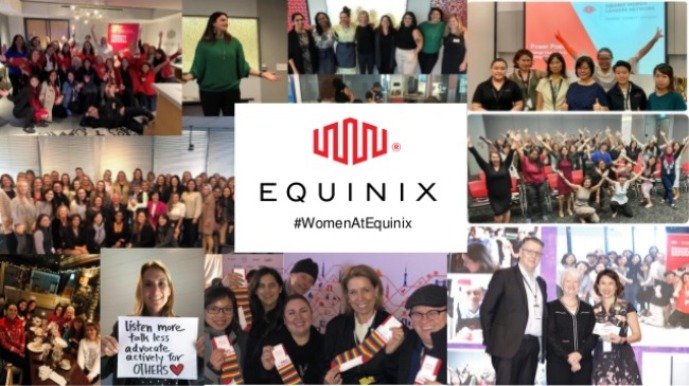 ​
Our leadership team is committed to building a diverse workforce that values the opinions and contributions of all employees. Women love knowing that they belong, that they are part of a bigger purpose, and are valued for their unique contributions—and this makes them proud to work at Equinix.
​
Women feel they have a real impact on how Equinix runs its business and serves its customers. The company also understands that a work/life balance is important to be your best, so it offers benefits and perks to support health and wellness, family and future.
​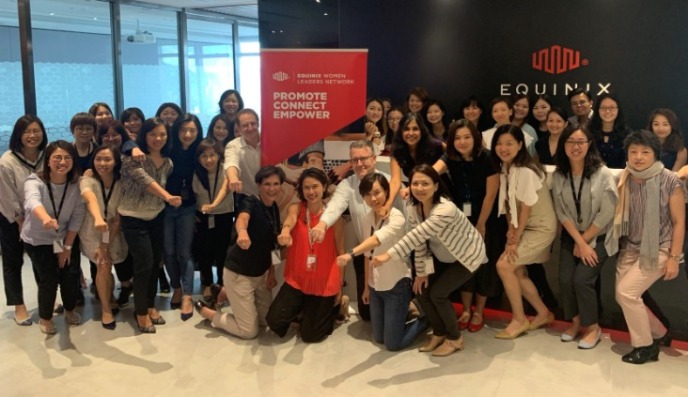 ​
Equinix is proud of the Employee Resource Groups, such as Equinix Women Leaders Network and PrideConnect, that give employees an opportunity to network and build communities through programs and events.
​
Current Vacancies at Equinix
Director Design Delivery - Tokyo

Japan

​Who are we?  グローバルなデジタルインフラストラクチャ企業であるエクイニクスは、世界中に200を超えるデータセンターを運用し、すべての主要なクラウドやネットワークへのインターコネクション(相互接続)サービスを提供しています。多くの企業では、ITインフラストラクチャがプライベートやパブリッククラウドの環境に分散化され複雑化しており、それを集約・統合できる単一の場所を必要としています。エクイニクスのグローバルプラットフォームにより、お客様は必要とするあらゆる場所にインフラストラクチャーを展開し、お客様の事業成功のために必要なすべてのものに接続できるようになります。 エクイニクスは、70四半期以上にわたり連続で急速な成長を遂げているグローバル企業です。優れたパフォーマンスの製品サービスで構成されるエクイニクスの革新的なポートフォリオにより、世界5大陸、26ヶ国において、1,800社以上のネットワークプロバイダーや2,900社以上のクラウド/ITサービスプロバイダーなどを含む約10,000企業による、最大級の活発なグローバルエコシステムを構築しています。 エクイニクスに入社することで、ビジネスクリティカルな施設の運営管理の最前線に立ち、お客様に最高のサービスを提供している精鋭揃いのオペレーションチームの一員となっていただきます。​また、エクイニクスはダイバーシティを推進しており、多様な発想と貢献を大切にし、公正な職場環境づくりに努めています。これは企業コアバリューの基礎であり、企業活動の成功のために不可欠な要素であるとわたしたちは考えています。 ​ Job Profile Summary Design Manager is responsible for design decisions related to a portfolio of datacenter projects which can include: new construction, phased expansion, retrofits and upgrades, acquisition conversions, mechanical and electrical equipment selections, and standards upgrades in either a specific region or globally. They are an exceptional industry professional progressing towards becoming a recognized expert on datacenter design. The Design Senior Manager critically assesses design decisions with consultation with more senior staff across disciplines and applies required Equinix standards and country specific regulations to make the best design choices. They manage the relationship and output of key design partners and equipment suppliers for their assigned projects and critically assess and escalate issues where the relationship with such partners is not meeting expectations. ​ Responsibilities Design Process Owns and leads a design process, interacting with Architectural, Mechanical and Electrical Partners (MEPs), and other design partners to deliver a portfolio of world class datacenters with a strong focus on technical excellence, mission critical resilience and cost management Reviews and contributes to the development of globally standardized tools, techniques and processes for the management and reporting of the design process Works with peers in other regions to drive consistency and technical excellence on design and delivery practices and methodologies Thinks and acts in a global manner, considering the applicability of any design decision, innovations or standards changes for all regions In the regional role: Obtains site-specific conditions, utility and infrastructure design, costs and availability of utilities, liaison with planning authorities and local logistics including site logistics during construction and phasing Provides locally informed and compliant infrastructure design, supply information to and collaborate with the master planning function Provides local design engineering to support site specific changes to templates Reviews the masterplan for delivery and submits to senior staff for approval In the Center of Excellence role: Conducts the master planning of expansion portfolio using global design standards and templates; incorporating regional information to apply these to the inception of projects Generates project visualization, initial model using reference design templates and cost estimate for business case inception Liaises with regional team to incorporate local infrastructure into the design Liaises with construction cost team regionally and globally to assist business case generation ​ Cross-Functional Coordination Maintains interpersonal relationships with internal technical staff, external design consulting partners, construction management, commercial management, and regional P&L holders to ensure appropriate stakeholder exposure and buy in to IBX projects Appropriately leverages the center of excellence teams and more senior Design staff to augment their individual technical expertise to ensure all facets of the datacenter design are adequately considered and approved Manages internal and external resources via their influence and outstanding competencies ​ Project Management Indirectly manages experienced electrical and mechanical engineering staff in the Independent Technical Review and Innovation & Development teams to deliver a portfolio of world-class datacenter designs on time and to budget Directly responsible for managing the design schedule for assigned projects to ensure on time creation and review of Basis of Designs (BODs), Real Estate Investment Committee (REIC) Submissions, and design documentation for Issued for Permit (IFP) and Issued for Construction (IFC) sets In the regional role: Works hand-in-hand with construction managers, general contractors and subcontractors to deliver projects during construction once the design phase is completed and ensure projects are fully documented and closed out Manages, with the aid of the commercial management team, design budgets and controls change management requests during the construction phase, in consultation with the Construction Manager In the Center of Excellence role: Works hand-in-hand with the regional design teams and Construction Managers to deliver Concept Designs and Standards that support the delivery of world class datacenters Manages, with the aid of the commercial management team, the costs of the designs to ensure appropriate balancing of cost flexibility and global standardisation ​ Design Oversight Stays up-to-date on advancements in design being investigated by the centers of excellence teams to ensure technologies support future IBX design and construction needs and feeds back information to construction for incorporation of changes Ensures designs meet Equinix's Global Design Standards and the business needs for capacity, density, and function Qualifications 7+ years experience in a Design MEP Firm or in the design team of a Mission Critical Building operator or subcontractor, OR 7+ years experience as an Architectural lead in a Mission Critical Architectural Design Practice preferred MSc in Electrical or Mechanical Engineering OR MSc in Architecture is preferred, BSc acceptable or extensive and demonstrable experience in role, Architects to hold RA or AIA Language skill: business level Japanese and entry level English PE desirable but not essential ​ 【勤務地】東京 天王洲オフィス 【雇用形態】正社員 【勤務時間】 9:00-18:00 ※フレックスあり 【休日休暇】<年間休日約120日以上> ■完全週休2日制(土・日・祝日) ■年末年始(12/29~1/3) ■年次有給休暇(入社日に該当日数を付与、初年度最大12日) ■病気休暇 ■試験休暇 ■忌引休暇、他 【待遇・福利厚生】 ■給与改定年1回 ■賞与年1回 ■従業員自社株式割引購入制度 ■各種社会保険完備(雇用、労災、健保、厚生年金) 健保保養施設、フィットネスクラブ補助、 ■ネクストステージチャレンジ手当/休暇(永年勤続者対象) ■資格取得支援制度 ■公認クラブ活動支援制度 ■メンタルヘルスカウンセリング ■慶弔見舞金(結婚祝金、出産祝金、弔慰金等)他 ☆わたしたちが大事にしていること 「顧客満足度を高めるには、まず従業員満足度を高めること」が当社の考え方。 グローバルで成長を続ける当社では、「THE Magic OF EQUINIX」というグローバルの社員間で共通の"魔法の言葉"を持ち、それをわたしたちの普段の行動指針としています。 そのひとつがが「みんなのために」ひとりでやれることには限度があります。お客様をサポートするのと同じようにチームメンバーもサポートすることにより、より大きな成果を上げることができるという考え方です。 ☆エクイニクスについて エクイニクスは、情報化社会が成長し繁栄していくための環境の提供を目指して1998年に設立され、 世界各地5大陸44都市で世界No.1のデータセンターとインターコネクション(相互接続)を展開するグローバルカンパニーです。 日本では、東京10拠点、大阪1拠点でデータセンター事業をコアとして、お客様のITインフラ構築、運営を支える様々なサービスを展開しています。 インターコネクション(相互接続)によってお客様やパートナー企業同士が相互につながり、エコシステムが生まれ、新たなビジネスチャンスをもたらしています。エコシステムは日々広がり続けています。 情報が原動力となる世界で常に新しい分野を切り拓き拡張を続ける中、当社は業界で最高の人材を見つける決意を新たにしています 。わくわくするペースの速い環境において、ビジョンをもち業界をリードする会社で働くことに情熱をお持ちの方は、ぜひ当社のチームにご参加ください。 エクイニクス・ジャパンの詳しい情報は、https://www.equinix.co.jp/company/をご参照くださ

Data Scientist

India

​Equinix is the world's digital infrastructure company, operating 240+ data centers across the globe and providing interconnections to all the key clouds and networks. Businesses need one place to simplify and bring together fragmented, complex infrastructure that spans private and public cloud environments. Our global platform allows customers to place infrastructure wherever they need it and connect it to everything they need to succeed.  At Equinix, we help the world's digital leaders scale with agility, speed the launch of digital services, deliver world-class experiences, and transform people's lives. Our culture is based on collaboration and the growth and development of our teams.    We hire hardworking people who thrive on solving challenging problems and give them opportunities to hone new skills, and try new approaches, as we grow our product portfolio with new software and network architecture solutions. We embrace diversity in thought and contribution and are committed to providing an equitable work environment. that is foundational to our core values as a company and is vital to our success.   Job Summary: Watched a movie online? accessed an email? Used a cloud? Odds are that you are already been using Equinix data centers in some form. Equinix operates International Business Exchange™ where information driven world lives and thrives. Equinix IBXs provide a platform where many of the world's best brands are launching their next break through innovations. As an Full stack Data Scientist you will be responsible to build, optimize our AI/ML systems. You will be evaluating existing machine learning (ML) processes, performing statistical analysis to resolve data set problems, and enhancing the accuracy of our AI software's predictive capabilities. ​ Responsibilities • Research and implement appropriate ML algorithms and tools • Envision, implement, and deliver production-level NLP models • Deploy ML models into production using cutting edge deployment strategies, conduct A/B tests to objectively measure improvements • Keep innovating and optimizing the machine learning workflow, from data exploration, model experimentation/prototyping to production • Apply cutting edge technologies and tool chain in big data and machine learning to build machine learning platform on Cloud (ML ops) • Building Features, running tests, performing statistical analysis, and interpreting test results Qualifications • Masters or PhD with emphasis on Data Science, Machine learning, or Statistics • 2-5 years of Data Science Experience, 2+ years of experience for Masters, 1+ years for PhD • Proficient in any of the deep learning frameworks such as PyTorch, TensorFlow or Keras • Familiarity with Dockers and Kubernetes for deploying automation pipelines to production environments or Deploying Machine Learning models in AWS, GCP or Azure • Experience in building, deploying, and improving Machine Learning models and algorithms in real-world products with expertise in NLP, NLU • Excellent understanding of software engineering principles and design patterns • Experience in one of the cloud platforms • Ability to communicate the results of analysis • Highly effective time management, communication, and organizational skills •  Having worked on problems related to NLP, Tree-Based Methods, Time Series/Forecasting, Reinforcement Learning, and Computer Vision in solving problems within a large organization •  NLP( Should be able to build the models with use cases like Sentiment Analysis, Named Entity Recognition, Text Summarization, Information Retrieval,  Topic Modeling, Text Classification, and  Keyword Extraction) •  Tech stack:  PyTorch with the ability to use pre-trained models from hugging face or similar open-source models and repurpose them for our use cases •  At least two of these Skills along with NLP (Tree-Based Methods, Time Series/Forecasting, Reinforcement Learning, and Computer Vision) ​ Equinix is an equal opportunity employer. All applicants will receive consideration for employment without regard to race, religion, colour, national origin, sex, sexual orientation, gender identity, age, status as a protected veteran, or status as a qualified individual with disability.

Business Systems Analyst - People Analytics

India

​Equinix is the world's digital infrastructure company, operating 210 data centers across the globe and providing interconnections to all the key clouds and networks. Businesses need one place to simplify and bring together fragmented, complex infrastructure that spans private and public cloud environments. Our global platform allows customers to place infrastructure wherever they need it and connect it to everything they need to succeed. At Equinix, we help the world's digital leaders scale with agility, speed the launch of digital services, deliver world-class experiences, and transform people's lives. Our culture is based on collaboration and the growth and development of our teams.  We hire hardworking people who thrive on solving challenging problems and give them opportunities to hone new skills, and try new approaches, as we grow our product portfolio with new software and network architecture solutions. We embrace diversity in thought and contribution and are committed to providing an equitable work environment. that is foundational to our core values as a company and is vital to our success. Job Summary: Product Manager for a portfolio of analytic products (reports, dashboards, self-service datasets) aligned to one or more specialized domains within People Analytics support entire product life cycle: design, development, testing, launch and ongoing support. Serve as liaison, as needed, between product end users and other IT Analytics technical functions such as Architecture, Master Data Management, Data Science teams. ​ ​ Responsibilities: ​ ​ Define and document scope, schedule and success criteria of the analytics product Perform exploratory analysis and diagnostic analysis, and engage with internal customers with the context ​ ​ ​ ​ Identify optimal data sources and appropriate sampling strategies for scenario Create or adequately communicate specifications of data to build a data platform. Perform or provide directional inputs for data wrangling (clean up, validation, transformation) as needed Perform and interpret descriptive statistics on associated data sets Perform statistical/hypothesis testing to identify, validate or invalidate correlations between key input and output variables ​ ​ ​ ​ Utilize inferential statistics to test subject matter expert cause and effect theories Create effective visualizations to represent data relationships and key insights Create concise, compelling narratives or "stories" from the data Deliver results of the study orally and in written form as needed Partner with data engineering, and business stakeholders to establish requirements and data models for follow up projects to act on or sustain insights discovered in initial study ​ ​ ​ ​ Collaborate with Data Scientists with functional direction who will perform advanced statistical analysis (such as dimensionality/feature reduction)  ​ ​ ​ ​ Qualifications ​ ​ Bachelor's in business management, Information Systems, Computer Engineering, Math/Statistics or other technical quantitative discipline. Master's Degree preferred 5+ years of experience in Data Analysis and People Analytics applications  Experience is building People Analytics products and executive metrics or performing data exploration or EDA (Exploratory Data Analysis)  ​ ​ ​ ​ Demonstrated experience with Exploratory and Diagnostics analytic using statistical techniques like Regressions, correlations, classification, Anomaly detection or Hypothesis testing to drive insights Strong analytical skills in analyzing complex problems, processes, and systems and ability to relate with business goals and/or opportunities Demonstrated experience with scripting language like Python, R, or other scripting language for exploratory analysis is needed Ability to document and prototype business use cases and data flows Experience in producing delightful and intuitive data visualization using Tableau or similar tools that provide key insights to drive business decisions. Work experience on GCP will be added bonus  Experience with storytelling is needed ​ ​ Equinix is an equal opportunity employer. All applicants will receive consideration for employment without regard to race, religion or beliefs, colour, national origin, sex, sexual orientation, gender identity or expression, age, status as a protected veteran, or status as a qualified individual with disability.

Business Systems Analyst (Finance)

India

​Equinix is the world's digital infrastructure company, operating 200+ data centers across the globe and providing interconnections to all the key clouds and networks. Businesses need one place to simplify and bring together fragmented, complex infrastructure that spans private and public cloud environments. Our global platform allows customers to place infrastructure wherever they need it and connect it to everything they need to succeed. We are a fast-growing global company with 70+ consecutive quarters of growth. Through our innovative portfolio of high-performance products and services, we have created the largest, most active global ecosystem of nearly 10,000 companies, including 1,800+ networks and 2,900+ cloud and IT service providers in over 26 countries spanning five continents.   A career at Equinix means you will collaborate on work that impacts the world and be surrounded by endless opportunities to learn new skills and grow in varied directions. We embrace diversity in thought and contribution and are committed to providing an equitable work environment that is foundational to our core values as a company and is vital to our success.  Job Summary: Acts as Product Manager for a portfolio of analytic products (reports, dashboards, self-service datasets) aligned to one or more specialized domains within IT Analytics support entire product life cycle: design, development, testing, launch and ongoing support. Serve as liaison, as needed, between product end users and other IT Analytics technical functions such as Master Data Management, Data Science teams. ​ Responsibilities: Define and document scope, schedule and success criteria of the analytics product Drive requirements, use cases, user stories in agile tool (example JIRA) and prioritize the work. Develop functional designs for specific functional areas for major enhancements or projects, perform functional testing. Communicate to stakeholders with clarity, and transparency Become a go to person and a technology advisor for specific analytics products Be curious, constantly understand "tough questions", "Use cases" from business stakeholders and guide team to productize those Perform Exploratory data analysis, statistical/hypothesis testing to identify, validate or invalidate correlations between key input and output variables, share insights with business partners Adequate understanding of AI to drive AI use cases, high level models, and features to collaborate with Data Science team Partner with data engineering, and business stakeholders to establish requirements and data models for follow up projects to act on or sustain insights discovered in initial study Hands-on and detail oriented with data and visualization. Expert in Tabalue Visualization tool Communication with stakeholders, and individual users with new features, best practices, and Product usage Manage data product life cycle Collaborate with IT and business team spread globally Qualifications Passion for data is a must Bachelor's/Masters degree in business, Information Systems or engineering including mathematics and Statistics or other quantitative/STEM domain from a top institution required 6+ years' experience in similar role supporting cross-functional business units globally Strong data analytics background with a demonstrated ability to translate business needs into impactful outcomes. Experience is building Analytics products and executive metrics desirable Experince and understanding of the data lifecycle; sourcing, ingestion, maintenance, removal Experience in handling Data Security and Governance Working Knowledge on Python/EDA for data analysis techniques like Regressions, classification, Anomaly detection, Hypothesis testing and experience to apply them during data analysis Exceptional independent problem solving skills, attention to detail, flexibility, and ability to collaborate with others and to work in a fast-paced environment Exposure to end-to-end enterprise business processes across Finance, etc. in a cloud-based business model. Experience on enterprises applications like Oracle Fusion , Oracle R12 ,Oracle PBCS , Salesforce, either of the applications are preferred. Strong experience in a modern agile development methodology (familiarity with Kanban, Scrum, Lean, etc) Experience in producing delightful and intuitive data visualization using Tableau / powerBI or similar tools that provide key insights to drive business decisions Able to understand the complex data model and connect to various data sources like SFDC, Exasol, Google Big Query and AWS (Nice to have) Working with varied IT teams to resolve dependencies and impediments Comfortable with ambiguity Ability to work some flexible hours due to varying time zones Equinix is an equal opportunity employer. All applicants will receive consideration for employment without regard to race, religion, color, national origin, sex, sexual orientation, gender identity, age, status as a protected veteran, or status as a qualified individual with disability.

Business Systems Analyst

India

​Equinix is the world's digital infrastructure company, operating 210 data centers across the globe and providing interconnections to all the key clouds and networks. Businesses need one place to simplify and bring together fragmented, complex infrastructure that spans private and public cloud environments. Our global platform allows customers to place infrastructure wherever they need it and connect it to everything they need to succeed. At Equinix, we help the world's digital leaders scale with agility, speed the launch of digital services, deliver world-class experiences, and transform people's lives. Our culture is based on collaboration and the growth and development of our teams.   We hire hardworking people who thrive on solving challenging problems and give them opportunities to hone new skills, and try new approaches, as we grow our product portfolio with new software and network architecture solutions. We embrace diversity in thought and contribution and are committed to providing an equitable work environment that is foundational to our core values as a company and is vital to our success Job Summary: Partner with teams to ensure delivery of the data products aligned to business and IT strategy Responsibilities ·Drive roadmap of analytics products, Self-service data sets, APIs, and data science based insights in alignment with business goals, and technology capabilities ·Lead product delivery through agile methodologies ·Manage and execute data analytic vision to promote business teams adopt data and use data for decision making ·Drive continuous improvements of product features ·Drive requirements, use cases, write user stories and prioritize the work, perform functional testing. Communicate to stakeholders with clarity, and transparency ·Become a go to person and a technology advisor for specific analytics products ·Be curious, constantly understand "tough questions", "Use cases" from business stakeholders and guide team to productize those ·Perform Exploratory data analysis, statistical/hypothesis testing to identify, validate or invalidate correlations between key input and output variables, share insights with business partners ·Adequate understanding of AI to drive AI use cases, high level models, and features to collaborate with Data Science team ·Hands-on and detail oriented with data and visualization. Expert in Power BI Visualization tool ·Communication with stakeholders, and individual users with new features, best practices, and Product usage ·Demonstrate an ability to analyze complex requirements from cross functional stakeholders, and come up with simple actionable user stories ·Manage data product life cycle ·Collaborate with IT and business team spread globally Qualifications ·Bachelors/Masters in business management or Information Systems or Industrial engineering or Computer Engineering including mathematics and Statistics or other quantitative/STEM domain ·5+ years' experience in similar role supporting cross-functional business units globally ·Experience working on Analytics for Operations, Product, Sales, Marketing and other customer facing teams ·Experience on data center domain with knowledge of datacenter products is a nice to have ·Knowledge on statistical and data analysis techniques like Regressions, classification, Anomaly detection, Hypothesis testing and experience to apply them during data analysis ·Strong analytical skills in analyzing complex problems, processes, and systems to propose solutions ·Working knowledge of sustainability programs specific to energy, environment and emissions (e.g. CDP, GRI, The Greenhouse Gas Protocol, Science-based Targets Initiative, etc.). ·Subject-matter expertise on ESG issues (environment, climate change resilience), environmental sustainability priorities (energy, carbon, renewable energy, PUE, water, waste etc.), diversity priorities and governance priorities (cybersecurity, public policy, procurement). ·Ability to document and prototype business use cases and data flows ·5+ years of solid experience in developing analytics dashboard with expertise in Power BI abd Tableau ·Able to understand the complex data model and connect to various data sources like SFDC, Exasol, Google Big Query and AWS ·Must have experience in writing complex SQL queries ·Experience on applications like Salesforce, Marketo, Siebel, SingleView, Oracle R12 financials ·Experience using JIRA for project management Equinix is an equal opportunity employer. All applicants will receive consideration for employment without regard to race, religion, color, national origin, sex, sexual orientation, gender identity, age, status as a protected veteran, or status as a qualified individual with disability.

Business Systems Analyst, Channel Finance

India

​Equinix is the world's digital infrastructure company, operating 210 data centers across the globe and providing interconnections to all the key clouds and networks. Businesses need one place to simplify and bring together fragmented, complex infrastructure that spans private and public cloud environments. Our global platform allows customers to place infrastructure wherever they need it and connect it to everything they need to succeed. At Equinix, we help the world's digital leaders scale with agility, speed the launch of digital services, deliver world-class experiences, and transform people's lives. Our culture is based on collaboration and the growth and development of our teams.  We hire hardworking people who thrive on solving challenging problems and give them opportunities to hone new skills, and try new approaches, as we grow our product portfolio with new software and network architecture solutions. We embrace diversity in thought and contribution and are committed to providing an equitable work environment. that is foundational to our core values as a company and is vital to our success. Job Summary: Partners with Business Groups to ensure delivery of applications aligned to the business and IT strategy, as well as the support of those applications. Works with Business Groups to define their global IT requirements and to analyze appropriate solutions. Manages projects from inception to completion with matrix, global teams. Responsibilities Business Requirements Analysis Partners with business stakeholders to analyze, define and document business requirements, within and across functional areas Drives best practices during requirements gathering and modeling Has a strong focus on gathering core requirements, beyond stated requirements and correctly places these within a broader context Understands business environment and helps to connect/align relevant business stakeholders Process Modeling and Design Partners with business stakeholders to analyze, define and document business processes within and across functional areas Drives best practices during requirements gathering and modeling Understands business environment and helps to connect/align relevant business stakeholders Stakeholder Management Manages stakeholder expectations and communications within and beyond functional track Knows business environment well enough to identify and proactively include the correct stakeholders Interacts regularly with senior management level stakeholders, and demonstrates value from realized projects Solution Design Responsible to design and document cross-functional and global solutions, drawing on functional expertise of functional and technical team members or vendors, as appropriate Advises on solutions prepared by peers or supporting team, and champions good design practices Documentation Documents and reviews broader team documentation Supports team in identifying and defining relevant documentation templates pertaining to solution delivery Is a champion for knowledge transfer to enable/empower other team members Functional Design Develops functional designs for applications, integrations and conversions Ability to work on multiple functional areas and integrations with third party products Keeps up to date with industry trends and vendor capabilities to produce robust functional designs Reviews functional designs and obtains sign-offs with the cross functional business and IT teams Provides inputs into business processes based on design capabilities Champions sustainable, forward-looking functional designs Architecture N/A Testing & Test Design Coordinates integration testing, validates test cases with stakeholders for user acceptance testing and training, and obtains sign-offs Coordinates defects clarification, triage and coordinate resolution with engineering teams Project Management Manages multiple application releases and projects Manages stakeholder expectations Designs release scope and schedule in line with business goal, prioritization and IT capacity System Configurations Configures applications in line with business goals Designs forward looking configurations by recognizing future needs aligned with the business roadmap Develops configuration standards Day to Day Support (Production Support) Supports and trains junior resources and oversees quality in triage and troubleshooting practices Leads troubleshooting efforts on critical issues with cross functional teams through resolution Identifies improvements to address repeat issues Training and Change Management Works with functional leadership teams to set expectations and conduct planning and execution of SME training activities Defines, communicates, and implements support and engagement plans Analyzes adoption rates and issues and assesses business case realization and proposes solutions to improve Vendor Management Manages/leads individual consulting resources as assigned Participates in vendor advisory boards and user groups Vendor & Application Technology Evaluation Executes medium-scale vendor evaluations, pricing negotiations and software acquisitions Prepares management communications and gets stakeholder input for recommendations Qualifications 7+ years experience in analytics Bachelor's in Information Systems, Business or related field ​ Equinix is an Equal Employment Opportunity and Affirmative Action Employer. All qualified applicants will receive consideration for employment without regard to race, religion, color, national origin, sex, sexual orientation, gender identity, age, status as a protected veteran, or status as a qualified individual with disability.

Mendix Engineering lead

India

​Equinix is the world's digital infrastructure company, operating 210 data centers across the globe and providing interconnections to all the key clouds and networks. Businesses need one place to simplify and bring together fragmented, complex infrastructure that spans private and public cloud environments. Our global platform allows customers to place infrastructure wherever they need it and connect it to everything they need to succeed. ​ At Equinix, we help the world's digital leaders scale with agility, speed the launch of digital services, deliver world-class experiences, and transform people's lives. Our culture is based on collaboration and the growth and development of our teams.  ​ We hire hardworking people who thrive on solving challenging problems and give them opportunities to hone new skills, and try new approaches, as we grow our product portfolio with new software and network architecture solutions. We embrace diversity in thought and contribution and are committed to providing an equitable work environment. that is foundational to our core values as a company and is vital to our success. ​ Job Summary: Manages a team of SW Engineers, is accountable for the performance and results of his/her team. Plans and assigns work to various team members. Reports status of projects or issues. Follows all applicable company policies. Responsible for hiring and developing his/her team. Responsibilities Stakeholder Management Responsible for providing comprehensive input to stakeholders to support decision making Proactively communicates issues and risks and escalate conflicts, proposing options for resolution Able to drive effective conflict resolution between stakeholders Manages all stakeholder communications with respect to project and operations status In addition to building effective working relationships with stakeholders, the manager partners with stakeholders to execute against agreed-upon commitments Responsible for managing stakeholder escalations/priority shifts to resolution and/or senior management escalation Management Reporting Collects, analyzes, organizes and presents data on projects and operations to senior management Executes against operational KPIs Resource and Budget Management Works closely with GTS Managers and Project Managers to track resource allocation and utilization for assigned projects Decisions are guided by policies, procedures and business plan; receives guidance and oversight from his/her manager Requests approvals for additional expenses outside of approved budget/headcount Communicates budget estimates, and ensures team executes assigned projects within approved budgets Manages and/or escalates issues, as needed System Optimization Utilizes subject matter expertise and data from analysis, to propose system improvements to leadership Oversees implementation of approved system improvement recommendations within functional area Identifies and proposes improvement ideas Project/Program Management Responsible for producing and/or validating project plans, provided by project managers & technology professionals Responsible for ensuring projects deliver on time and budget by holding contributors accountable for delivering on project milestones and deliverables Responsible for identifying project execution risks and project-related issues, suggesting mitigation plans for resolution to management Responsible for project resource allocation and management and budget management R&D / Innovation Drives innovation among the team Process / Policies / Standards Creation/refinement of efficient processes, standards, and policies Monitors violations, and designs a remediation plan to ensure adherence Road Map / Planning Responsible for the planning of strategic priorities Responsible for developing and communicating a roadmap of projects and initiatives to project/functional stakeholders People Management Is accountable for the performance and results of direct reports. Responsible for the performance management of team members, including disciplinary actions and hire/fire recommendations Responsible for the GPS process including assessments and Total Rewards allocations of direct reports Responsible for talent development, including quarterly conversations, career pathways conversations and individual development/growth plans Models the Equinix Culture and Values Review / Approvals / Escalations / Issues Resolution Supports and trains resources and oversees quality in triage and troubleshooting practices Leads troubleshooting efforts on critical issues with cross functional teams through resolution Identifies improvements to address repeat issues Manager oversees and supports RCA cycles, reviews management level reports related to issues and escalations Vendor Management Assists vendor resources with onboarding activities through all Equinix channels, ensuring vendor resources have appropriate workspace, system access, and tools Manages/leads individual consulting resources, as assigned Identifies initial commercial implications for vendor selection and performs initial due diligence Provides inputs for vendor negotiations Manages approved vendor relationships Monitors and reports on delivery of vendor deliverables Country/Regional Management Manages team of local technology professionals in a given country Executes against approved initiatives Manages technology and/or human resources in a single location, being familiar with local language, law and regulations, as needed Partners with global technology owners to implement and maintain global technology standards Manages relationships with country stakeholders Qualifications 1+ years professional experience in a software development leadership role Bachelor's in Engineering preferred ​ Equinix is an Equal Employment Opportunity and Affirmative Action Employer. All qualified applicants will receive consideration for employment without regard to race, religion, color, national origin, sex, sexual orientation, gender identity, age, status as a protected veteran, or status as a qualified individual with disability.

Staff Engineer, Salesforce Omni Channel

India

Who are we? Equinix is the world's digital infrastructure company, operating 210 data centers across the globe and providing interconnections to all the key clouds and networks. Businesses need one place to simplify and bring together fragmented, complex infrastructure that spans private and public cloud environments. Our global platform allows customers to place infrastructure wherever they need it and connect it to everything they need to succeed. At Equinix, we help the world's digital leaders scale with agility, speed the launch of digital services, deliver world-class experiences, and transform people's lives. Our culture is based on collaboration and the growth and development of our teams.  We hire hardworking people who thrive on solving challenging problems and give them opportunities to hone new skills, and try new approaches, as we grow our product portfolio with new software and network architecture solutions. We embrace diversity in thought and contribution and are committed to providing an equitable work environment. that is foundational to our core values as a company and is vital to our success. ​ Job Summary: Analyzes business requirements/functional designs and works with business teams, BSAs, and other engineers to design systems and application software, mentor junior members of the team. ​ Requirements Overall 8+ years in developing and supporting experience in handling mid to large scale IT projects deployment. Good knowledge in Sales/Service CRM business processes. Good knowledge and Min 5 Yrs. experience in Salesforce sales/Service cloud. Hands-on experience and deep understanding of all aspects of Salesforce Service Cloud. Salesforce Administration knowledge Experience in understanding and implementing business processes using Salesforce Excellent communication, problem-solving and project management skills Strong understanding of Apex, SOQL, Visualforce, Lightning, Aura, and Web Components Experience using JavaScript, JSON, XML, HTML, CSS Experience integrating Salesforce with external applications Experience with KB Articles and Omni Channel routing. Key Responsibilities Develop customized solutions within the Salesforce platform to support critical business functions and meet project objectives, client requirements and company goals Determine when to use out-of-the-box Salesforce capabilities, when to leverage pre-packaged AppExchange solutions, and when to code a custom solution Participate in all phases of software development/implementation including functional analysis, development of technical requirements, prototyping, coding, testing, deployment, documentation, and support Utilize Salesforce skills to continuously deliver business solutions while maintaining existing functionality in a complex, global org Education Bachelor degree or above, Major in Computer Science is preferable 5-8 years' experience in Software Development, with 5 years experience in salesforce Preferences Familiarity with general business functions. Business knowledge of telecom domain preferred Problem solving and strong communication skills Able to quickly learn systems, processes, and procedures, grasp technical concepts, and adapt easily to change Ability to multi-task, working on more than one assignment simultaneously Flexibility to support in other time zone, if required. Equinix is an equal opportunity employer. All applicants will receive consideration for employment without regard to race, religion, color, national origin, sex, sexual orientation, gender identity, age, status as a protected veteran, or status as a qualified individual with disability.

Staff Engineer (Automation Engineer: API Test Automation)

India

​Who are we? Equinix is one of the fastest growing data center companies, growing connectivity between clients worldwide. That's why we're always looking for creative and forward-thinking people who can help us achieve our goal of global interconnection. With 200 data centers in over 24 countries spanning across 5 continents, we are home to the Cloud, supporting over 1000 Cloud and IT services companies that are directly engaged in technological innovation and development. We are passionate about further evolving the specific areas of software development, software and network architecture, network operations, and complex cloud and application solutions.  At Equinix, we make the internet work faster, better, and more reliably. We hire talented people who thrive on solving hard problems and give them opportunities to hone new skills, try new approaches, and grow in new directions. Our culture is at the heart of our success and it's our authentic, humble, gritty people who create The Magic of Equinix. We share a real passion for winning and putting the customer at the center of everything we do. ​ Responsibilities Collaborate with business teams, developers, and testers to define and implement quality assurance processes Test execution, defect identification, and quality reporting in a regulated environment Implement test automation tools and infrastructure, including integration with CI infrastructure and custom hardware Develop high-quality automated tests to support development Analyze, design, develop, and maintain automated scripts and manual regression test plans for a variety of interfaces Adapt existing frameworks as well as develop automation frameworks consisting of functional libraries while adhering to coding standards Schedule and conduct testing as well as submit testing errors and issues to development for correction, test corrected code, and track defects Document test progress and results. Prepare reports and present results as needed Assist in planning, scheduling, and implementation of automation projects Monitor automation projects and ensure that projects are completed on schedule Perform evaluation of products and systems and determine candidates for automation Leverage and enhance current CI/CD process to provide code coverage of application functionality Utilize automated software build tools, testing tools, deployment tools, and monitor tools to ensure the quality of the product is delivered Analyze scripts and perform code reviews of automated scripts Report results of automated scripts in test management tools Develop automation strategies that will enhance test execution, manual test coverage, and the consistency of regression testing Required Skills Bachelor or master's degree in Computer Science, Software Engineering, or related field with 5+ years of professional automation experience Solid foundations in Computer systems, data structure, algorithms, and design patterns Solid understand of Cloud-native principles and it's implementation (including Microservices, Containers, DevOps, Security) Strong analytical and problem-solving skills Ability to collaborate with team members and communicates clear resolutions. Experience with test planning and strategies, test case design and analysis, test implementation and execution, measuring metrics, and reporting Experience with testing tools and practices Knowledge and experience writing custom test automation scripts and frameworks Hands-on experience with TDD or BDD using Selenium, Cucumber and/or Ruby or Python Well-versed in data-driven testing in a BDD framework Experience with DevOps and CI/CD technologies Adept with pushing code to GitHub and running scripts from Jenkins Experience executing tests at various levels within the SDLC, including unit, integration, and functional Automation experience with multiple testing types throughout the SDLC, including system, story, security, and performance Experience with executing manual and automated tests, developing test scripts, working with automation tools, and maintaining test cases and test suites Experience with test case management tooling, and associated automation capabilities Experience integrating automated tests into continuous testing pipelines Hands-on experience with BDD methodology and frameworks Experience with: Selenium, Ruby, Python, Cucumber, Jenkins, Docker, Linux, GitHub, JIRA Virtualization/Containerization working experience is an advantage Experience with J-meter scripting along with Functional Test Automation is a plus. Excellent written and verbal communication skills Successful candidate will Be a talent multiplier who gets the team around them to excel Be persistent, creative, and driven to get results relentlessly Appreciate diverse thoughts in the team & be inclusive Show pride of ownership and strive for excellence in everything undertaken Equinix is an equal opportunity employer. All applicants will receive consideration for employment without regard to race, religion, color, national origin, sex, sexual orientation, gender identity, age, status as a protected veteran, or status as a qualified individual with disability.​

Business Systems Analyst - Quoting

India

​ Who are we?  Equinix is the world's digital infrastructure company, operating 210 data centers across the globe and providing interconnections to all the key clouds and networks. Businesses need one place to simplify and bring together fragmented, complex infrastructure that spans private and public cloud environments. Our global platform allows customers to place infrastructure wherever they need it and connect it to everything they need to succeed. At Equinix, we help the world's digital leaders scale with agility, speed the launch of digital services, deliver world-class experiences, and transform people's lives. Our culture is based on collaboration and the growth and development of our teams.  We hire hardworking people who thrive on solving challenging problems and give them opportunities to hone new skills, and try new approaches, as we grow our product portfolio with new software and network architecture solutions. We embrace diversity in thought and contribution and are committed to providing an equitable work environment. that is foundational to our core values as a company and is vital to our success ​ Job Summary: Partners with relevant functional teams to ensure delivery of applications aligned to the business and IT strategy, as well as the support of those applications. Works with relevant business groups to define their global IT requirements and to analyze appropriate solutions. Manages projects from inception to completion. Responsibilities Business Requirements Analysis Partners with business stakeholders to analyze, define and document business requirements for defined-scope enhancements, typically pertaining to a specific functional areas Process Modeling and Design Partners with business stakeholders to analyze, define and document business process models for defined-scope enhancements, typically pertaining to a specific functional areas, using industry standard modeling techniques Stakeholder Management Manages stakeholder expectations, inputs and communications directly or via project manager, depending on project scope Guides business and project delivery stakeholders through IT process and obtains relevant participation Solution Design Responsible for designing and documenting solutions within own track Interacts with other track BSAs Is an expert in the supported functional track Is able to vet data models, technical designs and drive best practices Documentation Follows guidelines and templates relevant to a particular technology stack to produce the necessary project artifacts Functional Design Develops functional designs for specific functional areas for major enhancements or projects Owns and evangelizes functional designs across cross functional groups Ensures that functional designs meet business needs and are in line with the solution design Keeps up to date with industry trends and vendor capabilities to produce robust functional designs Architecture N/A Testing & Test Design Owns specific modules in the application and develops test cases based on requirements and technical design Defines test strategy and execution approach to test specific module of an application Coordinates with stakeholders and obtains relevant signoffs Clarifies defects, triage and coordinate resolution with engineering teams Project Management Manages enhancement and project releases for specific modules Ensures delivery meets release goals System Configurations Develops mastery in configurations of specific module/modules of an application Brings in best practices by keeping up-to-date with the technology and vendor products Documents configurations for future use and training Day to Day Support (Production Support) Supports first level resources Triages and troubleshoots issues Works with various functions within GTS to ensure RCA is complete and SLAs are met Training and Change Management Works directly with functional SMEs and management team to coordinate SME training requirements and execution Communicates status against key support issues Vendor Management Ensures vendor resources have appropriate workspace, system access, and tools Manages / leads individual consulting resources as assigned Understands vendor roadmaps Manages feedback and escalations, negotiation, contract renewals Conducts limited-scope vendor negotiations Provides status against plans and escalates issues Vendor & Application Technology Evaluation Supports creation of vendor and application technology evaluation plans and presentations May conduct research, pilot features and document and prepare recommendations for review Conducts limited-scope vendor negotiations Qualifications Bachelor's in Information Systems, Business or related field 5+ years of Business Systems Analyst experience 3+ years of hands on experience in large and complex Oracle CPQ engagements Experience in both architecture and implementation of projects within Oracle CPQ Cloud Thorough knowledge in Quote to Cash process Thorough knowledge in end to end quoting process including new installs, MACDs, renewals, termination etc. Working knowledge in complex product hierarchy and pricing models Experience in integrating Oracle CPQ Cloud and/or Oracle CPQ with Salesforce, billing systems, Order Management/fulfillment systems and other third party applications Able to work in a fast-paced environment with a diverse group of people in different time zones Excellent Communication and documentation skills Oracle CPQ certified (preferred)

Anaplan Architect

India

​Anaplan Architect Equinix is one of the fastest growing data center companies, growing connectivity between clients worldwide. That's why we're always looking for creative and forward-thinking people who can help us achieve our goal of global interconnection. With 200 data centers in over 24 countries spanning across 5 continents, we are home to the Cloud, supporting over 1000 Cloud and IT services companies that are directly engaged in technological innovation and development. We are passionate about further evolving the specific areas of software development, software and network architecture, network operations and complex cloud and application solutions. ​ At Equinix, we make the internet work faster, better, and more reliably. We hire talented people who thrive on solving hard problems and give them opportunities to hone new skills, try new approaches, and grow in new directions. Our culture is at the heart of our success and it's our authentic, humble, gritty people who create The Magic of Equinix. We share a real passion for winning and put the customer at the center of everything we do. ​ Responsibilities: Maintain and improve current E2E Anaplan SPM platform-based solution Deep understanding of Sales planning and performance management; territory planning, quota planning, compensation, objectives, etc. Meet directly with end-users and leadership to demonstrate solutions, answer questions regarding capabilities and requirements, and work to resolve issues that arise during the development cycle Implement innovative solutions using the most recent Anaplan features and technology Lead SPM transformation to support and execute Equinix's vision of building new business units, product quota, product compensation etc.; Lead and support to establish Anaplan Center of Excellence Demonstrate a track record of Anaplan architecting, estimating and delivering solutions with complex and cross functional challenges/ Problems Evangelize best practice use of Anaplan and suggest best practices and opportunities for improvement through automation or simplification ​ Qualifications 5 + years of experience in Information Technology or related fields 3-5 years of Technical Experience and Knowledge of Anaplan Architecture, Solution Development and Deployment techniques Deep knowledge on Anaplan current architecture, features and future road map Exhibit excellent written and verbal communication skills. Excellent problem-solvers, able to quickly change direction based on updated user specifications or system limitations Ability to effectively recognize and adapt to change Ability to translate spreadsheet models to scalable multi-dimensional Anaplan models. 2 to 3 years of experience with Salesforce.com Bachelors in Computers Science, Information Systems or Equivalent Preferred Anaplan Level 3 certified Nice to Have Anaplan Solution Architect and Master Planner certifications ​ Equinix is an Equal Employment Opportunity and Affirmative Action Employer. All qualified applicants will receive consideration for employment without regard to race, religion, color, national origin, sex, sexual orientation, gender identity, age, status as a protected veteran, or status as a qualified individual with disability.

Senior Business System Analyst Salesforce – Global Customer Care & Experience

India

​Who are we? Equinix is the world's digital infrastructure company, operating 210 data centers across the globe and providing interconnections to all the key clouds and networks. Businesses need one place to simplify and bring together fragmented, complex infrastructure that spans private and public cloud environments. Our global platform allows customers to place infrastructure wherever they need it and connect it to everything they need to succeed. ​ At Equinix, we help the world's digital leaders scale with agility, speed the launch of digital services, deliver world-class experiences, and transform people's lives. Our culture is based on collaboration and the growth and development of our teams.  ​ We hire hardworking people who thrive on solving challenging problems and give them opportunities to hone new skills, and try new approaches, as we grow our product portfolio with new software and network architecture solutions. We embrace diversity in thought and contribution and are committed to providing an equitable work environment. that is foundational to our core values as a company and is vital to our success. ​ Job Summary: Partners with Business Groups to ensure delivery of applications aligned to the business and IT strategy, as well as the support of those applications. Works with Business Groups to define their global IT requirements and to analyze appropriate solutions. Manages projects from inception to completion with matrix, global teams. Responsibilities Business Requirements Analysis Partners with business stakeholders to analyze, define and document business requirements, within and across functional areas Drives best practices during requirements gathering and modeling Has a strong focus on gathering core requirements, beyond stated requirements and correctly places these within a broader context Understands business environment and helps to connect/align relevant business stakeholders Process Modeling and Design Partners with business stakeholders to analyze, define and document business processes within and across functional areas Drives best practices during requirements gathering and modeling Understands business environment and helps to connect/align relevant business stakeholders Stakeholder Management Manages stakeholder expectations and communications within and beyond functional track Knows business environment well enough to identify and proactively include the correct stakeholders Interacts regularly with senior management level stakeholders, and demonstrates value from realized projects Solution Design Responsible to design and document cross-functional and global solutions, drawing on functional expertise of functional and technical team members or vendors, as appropriate Advises on solutions prepared by peers or supporting team, and champions good design practices Documentation Documents and reviews broader team documentation Supports team in identifying and defining relevant documentation templates pertaining to solution delivery Is a champion for knowledge transfer to enable/empower other team members Functional Design Develops functional designs for applications, integrations and conversions Ability to work on multiple functional areas and integrations with third party products Keeps up to date with industry trends and vendor capabilities to produce robust functional designs Reviews functional designs and obtains sign-offs with the cross functional business and IT teams Provides inputs into business processes based on design capabilities Champions sustainable, forward-looking functional designs Architecture N/A Testing & Test Design Coordinates integration testing, validates test cases with stakeholders for user acceptance testing and training, and obtains sign-offs Coordinates defects clarification, triage and coordinate resolution with engineering teams Project Management Manages multiple application releases and projects Manages stakeholder expectations Designs release scope and schedule in line with business goal, prioritization and IT capacity System Configurations Configures applications in line with business goals Designs forward looking configurations by recognizing future needs aligned with the business roadmap Develops configuration standards Day to Day Support (Production Support) Supports and trains junior resources and oversees quality in triage and troubleshooting practices Leads troubleshooting efforts on critical issues with cross functional teams through resolution Identifies improvements to address repeat issues Training and Change Management Works with functional leadership teams to set expectations and conduct planning and execution of SME training activities Defines, communicates, and implements support and engagement plans Analyzes adoption rates and issues and assesses business case realization and proposes solutions to improve Vendor Management Manages/leads individual consulting resources as assigned Participates in vendor advisory boards and user groups Vendor & Application Technology Evaluation Executes medium-scale vendor evaluations, pricing negotiations and software acquisitions Prepares management communications and gets stakeholder input for recommendations Qualifications: 7 years of experience working as a Business Systems Analyst in all phases of the software development process – including requirements gathering, design, implementation, release, and maintenance Bachelor's in Information Systems, Computer Science, Business or related field Exhibits keen interest and experience in working with evolving business models in a large scale, complex, transformational program Expertise in leveraging Salesforce Service Cloud to solve business problems Proven experience working in Agile software development lifecycle Soft Skills Exceptional problem solver who is comfortable finding and pushing solutions beyond the status quo Strong sense of personal ownership in the quality and effectiveness of delivered solutions Ability to realistically balance scope and requirements against timelines Capability to autonomously make effective decisions and pursue tasks based on project scope and vision Interest in developing an understanding of relevant technical subject matter that ensures a solid foundation for collaborating on solutions Ability to build relationships, influence key decision-makers, and collaborate on a cross-functional team comprised of diverse personalities, skill sets, and levels of experience Strong team player who can bridge gaps across Business Groups and work effectively with teams and stakeholders to establish and accomplish business objectives Exceptional ability to gather, organize and evaluate any information or data needed as input from stakeholders and development team to determine requirements and specifications Effective communicator that works well in a collaborative team setting Excellent written and verbal communication skills, and exceptional emotional intelligence Equinix is an equal opportunity employer. All applicants will receive consideration for employment without regard to race, religion, color, national origin, sex, sexual orientation, gender identity, age, status as a protected veteran, or status as a qualified individual with disability.​

Senior Business System Analyst Order Management

India

​Who are we?  Equinix is the world's digital infrastructure company, operating 210 data centers across the globe and providing interconnections to all the key clouds and networks. Businesses need one place to simplify and bring together fragmented, complex infrastructure that spans private and public cloud environments. Our global platform allows customers to place infrastructure wherever they need it and connect it to everything they need to succeed. At Equinix, we help the world's digital leaders scale with agility, speed the launch of digital services, deliver world-class experiences, and transform people's lives. Our culture is based on collaboration and the growth and development of our teams.  We hire hardworking people who thrive on solving challenging problems and give them opportunities to hone new skills, and try new approaches, as we grow our product portfolio with new software and network architecture solutions. We embrace diversity in thought and contribution and are committed to providing an equitable work environment. that is foundational to our core values as a company and is vital to our success. Job Summary: Partners with Business Groups to ensure delivery of applications aligned to the business and IT strategy, as well as the support of those applications. Works with Business Groups to define their global IT requirements and to analyze appropriate solutions. Manages projects from inception to completion with matrix, global teams. Responsibilities Business Requirements Analysis Partners with business stakeholders to analyze, define and document business requirements, within and across functional areas Drives best practices during requirements gathering and modeling Has a strong focus on gathering core requirements, beyond stated requirements and correctly places these within a broader context Understands business environment and helps to connect/align relevant business stakeholders Process Modeling and Design Partners with business stakeholders to analyze, define and document business processes within and across functional areas Drives best practices during requirements gathering and modeling Understands business environment and helps to connect/align relevant business stakeholders Stakeholder Management Manages stakeholder expectations and communications within and beyond functional track Knows business environment well enough to identify and proactively include the correct stakeholders Interacts regularly with senior management level stakeholders, and demonstrates value from realized projects Solution Design Responsible to design and document cross-functional and global solutions, drawing on functional expertise of functional and technical team members or vendors, as appropriate Advises on solutions prepared by peers or supporting team, and champions good design practices Documentation Documents and reviews broader team documentation Supports team in identifying and defining relevant documentation templates pertaining to solution delivery Is a champion for knowledge transfer to enable/empower other team members Functional Design Develops functional designs for applications, integrations and conversions Ability to work on multiple functional areas and integrations with third party products Keeps up to date with industry trends and vendor capabilities to produce robust functional designs Reviews functional designs and obtains sign-offs with the cross functional business and IT teams Provides inputs into business processes based on design capabilities Champions sustainable, forward-looking functional designs Architecture N/A Testing & Test Design Coordinates integration testing, validates test cases with stakeholders for user acceptance testing and training, and obtains sign-offs Coordinates defects clarification, triage and coordinate resolution with engineering teams Project Management Manages multiple application releases and projects Manages stakeholder expectations Designs release scope and schedule in line with business goal, prioritization and IT capacity System Configurations Configures applications in line with business goals Designs forward looking configurations by recognizing future needs aligned with the business roadmap Develops configuration standards Day to Day Support (Production Support) Supports and trains junior resources and oversees quality in triage and troubleshooting practices Leads troubleshooting efforts on critical issues with cross functional teams through resolution Identifies improvements to address repeat issues Training and Change Management Works with functional leadership teams to set expectations and conduct planning and execution of SME training activities Defines, communicates, and implements support and engagement plans Analyzes adoption rates and issues and assesses business case realization and proposes solutions to improve Vendor Management Manages/leads individual consulting resources as assigned Participates in vendor advisory boards and user groups Vendor & Application Technology Evaluation Executes medium-scale vendor evaluations, pricing negotiations and software acquisitions Prepares management communications and gets stakeholder input for recommendations Qualifications 7+ years experience in a similar role. 3-5 Years experience in two or more of the following: Mandatory experience onServiceNow CSM (Customer Service Management) Oracle CPQ Siebel Order Management Workday Order Management Oracle Order Management Oracle EBS Oracle Fusion 3-5 years experience in Agile software development environment 3-5 years experience in designing and solutioning SaaS based Q2C solutions Bachelor's in Information Systems, Business or related field Equinix is an equal opportunity employer. All applicants will receive consideration for employment without regard to race, religion, color, national origin, sex, sexual orientation, gender identity, age, status as a protected veteran, or status as a qualified individual with disability.​

Senior Design Manager

India

​Who are we? As the world's largest data center company, Equinix brings global leaders the power of interconnection: the ability to connect in many ways to the many customers, partners and geographies they need to accelerate business performance and craft new opportunities. Equinix is a platform for innovation, growth and leadership. ​ We facilitate more than 188,000 connections among our 6,000+ customers, making us the leading global interconnection platform. We are passionate about further evolving the specific areas of software development, software and network architecture, network operations, and complex cloud and application solutions. ​ Job Profile Summary The Design Manager is responsible for a subset of design decisions related to a portfolio of datacenter projects which can include: new construction, phased expansion, retrofits and upgrades, acquisition conversions, mechanical and electrical equipment selections, and standards upgrades in either a specific region or globally. They are a high performing mechanical, electrical or controls engineer or architect with demonstrated capability to think and make decisions across disciplines. The Design Manager critically assesses design decisions under direction from more senior staff and supports such staff in applying the required Equinix standards and country specific regulations to make the best design choices. They assist in the management of the relationship and output of key design partners and equipment suppliers for their assigned tasks and critically assess and escalate issues where the relationship with such partners is not meeting expectations. Responsibilities Design Process Owns a subset of the design process and interacts with Architectural, Mechanical and Electrical Partners (MEPs), and other design partners to deliver assigned components of world class datacenters with a strong focus on technical excellence, mission critical resilience and cost management Contributes to the development of globally standardized tools, techniques and processes for the management and reporting of the design process Works with peers in other regions to ensure consistency and technical excellence on design and delivery practices and methodologies Thinks and acts in a global manner, ensuring design decision are developed and discussed with more senior staff to ensure appropriateness on a global basis In the regional role: Supports senior staff to obtain and define site specific conditions, utility and infrastructure design, costs and availability of utilities, liaison with planning authorities and local logistics including site logistics during construction and phasing Provides locally informed and compliant infrastructure design, supply information to and collaborates with the master planning function. Provides local design engineering to support site specific changes to templates Reviews the masterplan for delivery and submits to senior staff for approval In the Center of Excellence role: Supports senior staff in the master planning of expansion portfolio using global design standards and templates; incorporating regional information to apply these to the inception of projects Generates project visualization, initial model using reference design templates and cost estimate for business case inception Liaises with regional team to incorporate local infrastructure into the design Liaises with construction cost team regionally and globally to assist business case generation Cross-Functional Coordination Maintains interpersonal relationships with internal technical staff, external design consulting partners, construction management, commercial management, and regional P&L holders to ensure appropriate stakeholder exposure and buy in to IBX projects Consults the center of excellence teams and more senior Design staff to augment their individual technical expertise to ensure all facets of the datacenter design are adequately considered and approved Manages internal and external resources via their influence and competencies to assist in the development of assigned designs Project Management Manages a portion of the design schedule for assigned projects to ensure on time creation and review of Basis of Designs (BODs), Real Estate Investment Committee (REIC) Submissions, and design documentation for Issued for Permit (IFP) and Issued for Construction (IFC) sets Works hand-in-hand with construction managers, GMs and subs to deliver projects during construction once the design phase is completed and ensure projects are fully documented and closed out In the regional role: Works hand-in-hand with more senior staff, construction managers, general contractors and subcontractors to deliver assigned parts of projects during construction once the design phase is completed and ensure projects are fully documented and closed out Tracks and escalates, with the aid of the commercial management team, any concerns with design budgets and change management requests during the construction phase, in consultation with the Construction Manager In the Center of Excellence role: Works hand-in-hand with the regional design teams and Construction Managers to deliver elements of the Concept Designs and Standards that support the delivery of world class datacenters Tracks and escalates, with the aid of the commercial management team, issues with costs of the assigned sub-designs to ensure appropriate balancing of cost flexibility and global standardisation Design Oversight Stays up-to-date on advancements in design being investigated by the centers of excellence teams to ensure technologies support future IBX design and construction needs and feeds back information to construction for incorporation of changes Reviews designs so that they meet Equinix's Global Design Standards and the business needs for capacity, density, and function, escalating any issues to senior staff Qualifications 8+ years experience in a Design MEP Firm or in the design team of a Mission Critical Building operator or subcontractor, OR 8+ years experience as an Architectural lead in a Mission Critical Architectural Design Practice preferred MSc in Electrical or Mechanical Engineering OR MSc in Architecture is preferred, BSc acceptable or extensive and demonstrable experience in role, Architects to hold RA or AIA PE desirable but not essential Equinix is an equal opportunity employer. All applicants will receive consideration for employment without regard to race, religion, color, national origin, sex, sexual orientation, gender identity, age, status as a protected veteran, or status as a qualified individual with disability.​

Data Center Facility Technician III

Singapore

​Who are we? Equinix is the world's digital infrastructure company, operating 200+ data centers across the globe and providing interconnections to all the key clouds and networks. Businesses need one place to simplify and bring together fragmented, complex infrastructure that spans private and public cloud environments. Our global platform allows customers to place infrastructure wherever they need it and connect it to everything they need to succeed. We are a fast-growing global company with 70+ consecutive quarters of growth. Through our innovative portfolio of high-performance products and services, we have created the largest, most active global ecosystem of nearly 10,000 companies, including 1,800+ networks and 2,900+ cloud and IT service providers in over 26 countries spanning five continents.   Joining our operations team means that you will be at the forefront of all we do, maintaining critical facilities infrastructure as part of a close-knit team delivering best in class service to our data center customers. We embrace diversity in thought and contribution and are committed to providing an equitable work environment. that is foundational to our core values as a company and is vital to our success. Job Summary: Performs repairs, maintenance, and installations. Collaborates with others to resolve incidents and to keep the IBX running smoothly. Responsibilities Facility/Infrastructure Maintenance Performs site inspections and monitors the building and IBX alarms Performs preventative maintenance on site infrastructure (e.g. maintenance of primary infrastructures), or manages vendors Assists more senior staff in repairs and corrective maintenance Site Administration Completion of site logs and data gathering for permits, such as MOPs and scripts Incident Management Assists more senior staff with responding to all on-site incidents and acts as directed May begin responding to basic incidents based on own knowledge and experience Work Orders Completes basic work requests and circuit installations Collaboration Provides assistance to department during routine maintenance activities Additional Projects Contributes to ongoing infrastructure projects Qualifications 1+ years experience High School Diploma Equinix is an equal opportunity employer. All applicants will receive consideration for employment without regard to race, religion, color, national origin, sex, sexual orientation, gender identity, age, status as a protected veteran, or status as a qualified individual with disability.​ Visit our Career pagehereto understand about Equinix COVID-19 Vaccine Policy.
Receive all job alerts right into your inbox
​There is no power for change greater than a community discovering what it cares about.

Danielle Grace Consignado, Equinix

Senior Software Engineer

​The women at Equinix are tough. We are all brave and ambitious souls who constantly strive for the next big idea, no matter how high the target. Not to mention our integrity to do what's right, and our tenacity to win proudly. We are special because we embrace change, step and speak up and are 24/7 support pillars for one another.

Ada Ho, Equinix

Director, Equinix Global Customer Advocacy

​I'm grateful to have had the unique opportunity with Equinix to relocate to a different region to grow my skills as a marketer.

Laura English, Equinix

Head of Field Marketing for Southeast Asia

​I am very grateful that the management team at Equinix values self-development and makes it an integral part of our team culture.

Patricia Chung, Equinix

Manager, Implementation Management

​Our working culture always allows me to experiment in different ways to make a difference.

Deepthi Ganesan, Equinix

Senior Associate Engineer, Product Software

​Equinix is taking proactive steps, starting at the top, to address the issue of diversity. In addition to the Allies Council, the company recently appointed 2 additional women leaders to the Board of Directors. EWLN was also started by female leaders in the company, and it's empowered me to be confident that I am valued abilities, irrespective of my gender.

Yolande Goh, Equinix

Vice President, Legal
Looking for Better Jobs?
We are here to help you find the best opportunities at companies that care! Sign up to join our platform and receive the newest job alerts and updates, straight to your inbox.
Looking for Talents?
If you're an employer looking to hire female talent, you can post your jobs on our platform and gain access to over 70,000 women from our community!