We have offices across Asia Pacific including Australia, China, India, Indonesia, Japan, South Korea, Malaysia, Philippines, Singapore, Thailand.
View All
Johnson Controls
Jobs
Paid Parental Leave

Mentorship Program

Leadership Development Program

Coaching Program

Raise Numbers Of Women In Leadership

Internal Women's Networking Group

Equal Pay Initiatives
​
The Power Behind Your Mission
To achieve success, you need the right environment. That's why we at Johnson Controls are on a digital journey powered by the innovation in our DNA to transform the spaces where people live, work, learn and play.
We've been making buildings smarter since 1885, and our capabilities, depth of innovation experience, and global reach have been growing ever since. We deliver the blueprint of the future for industries such as healthcare, schools, data centers, airports, stadiums, hotels, manufacturing and beyond through OpenBlue, our comprehensive suite of connected solutions. Today, we offer the world's largest portfolio of building products, technologies, software, and services.
​
​
Smart, healthy and sustainable tomorrows at the heart of our business.
Our story starts with a globe, a symbol reflecting our commitment to build a smart, healthy and sustainable planet powered by a worldwide presence and deep expertise. More than 50% of our revenue contributes to the clean economy and more than 75% of R&D is directed to sustainable products and solutions.
The first ever new build net-zero energy building in Singapore, we launched our OpenBlue Innovation Center in collaboration with National University of Singapore (NUS) and Singapore Economic Development Board (EDB). Center to create a future-ready built environment for Singapore and the surrounding region, this facility is a living laboratory for next-generation applications built on our unifying digital technology suite, OpenBlue.
By utilizing our suite of AI-enabled solutions, our partners not just benefit from energy savings, they can leverage on our solutions such as Automatic Code Blue Activation to respond to emergency situations. Just across the causeway from Singapore, our solutions supported the Sunway group to reduce their energy consumption by 30% for the Sunway Pyramid mall in Malaysia, one of the biggest shopping centres in the region.
​
Leading by example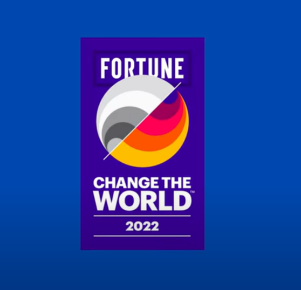 Testament to our efforts, we are proud to be ranked number one in our industry group and number 12 overall as one of the 100 Most Sustainable Corporations in the World, to be included in FORTUNE's 2022 World's Most Admired Companies and Change the World List amongst many awards.
To demonstrate our commitment across all levels, we integrate sustainability into our company goals and decision-making process. For example, sustainability and diversity goals are included in our senior leaders' performance assessments to drive accountability. We are also committed to volunteer 2.5 million hours and align 80% of volunteer activities with the UN Sustainable Development Goals by 2025.
You have the power, the voice, and the culture in your hands. ​​​​​​​
As a company that prides itself on powering our customers' missions and serving communities where we live and work, we are equally committed to support and uplift our people who made these advancements possible. Diversity and inclusion is present in our veins. We believe culture will drive the right mindsets and behaviors, unlock engagement, accelerate productivity and foster innovation.On the same stroke, the power lies with each of us to contribute to our culture. It's through these contributions that we'll drive the mindsets and behaviors we need to power our customers' missions.
Our Business Resource Groups (BRGS) focus on two very important and tangible benefits, personal/professional development and business impact. BRGs are employee driven, voluntary, open to all employees, and are global talent engines which showcase diverse perspectives. We have 9 different types of BRGs with more than 70 chapters globally, with the Women's Global Network (WGN) being one of them. The Women's Global Network (WGN) harnesses the power, influence and intelligence of female Johnson Controls employees to establish a community that fosters professional development, networking and the awareness and advancement of women in our workplace.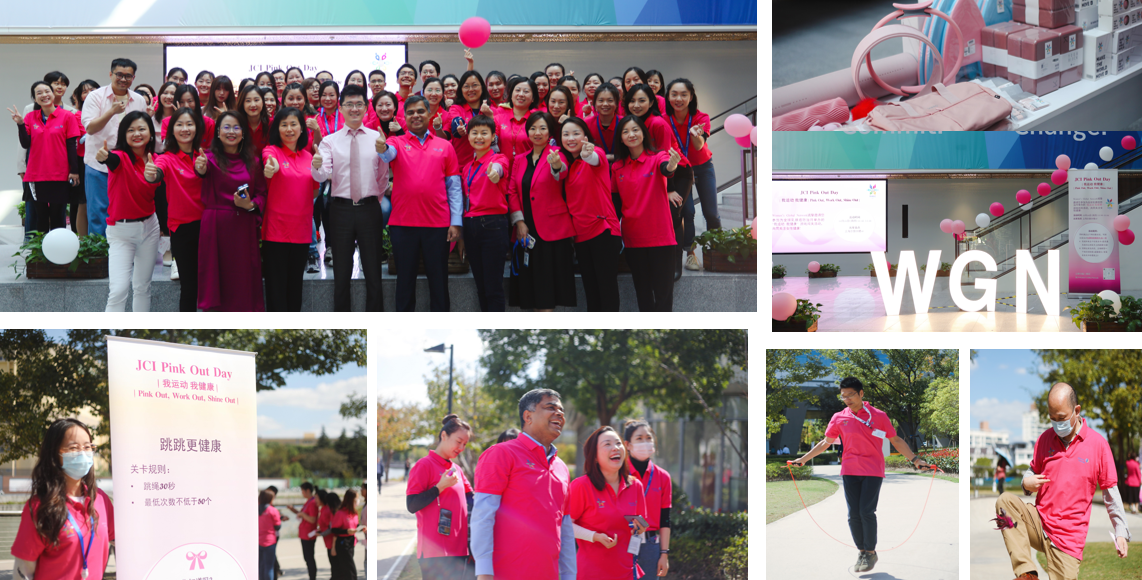 Organized by the Women's Global Network in conjunction with the Breast Cancer Awareness month, we launched a Pink Out Campaign at our APAC HQ in Shanghai. (October 2022)

Building tomorrow together, starts today with YOU.
Johnson Controls believes in developing our employees at all levels to ensure we have the right talent, in the right place, at the right time. We have a portfolio of development programs for our employees and programs for those that are transitioning to new roles or that need to drive and manage new changes.Our Total Well Being Program promote and encourage a harmonious work-life balance and a positive healthy lifestyle. Through our holistic efforts, our employees are empowered to own our own careers and wellness.
Our 2025 Global Sustainability Strategy goes beyond providing sustainable products and services. We are committed to foster a culture of sustainability that engages and attracts talents and partners who wants to make a difference. We are constantly on the lookout for like-minded individuals, dedicated and driven to make an impact for the communities we live in and make a difference for our tomorrows. Join us today!
​