Paid Parental Leave

Return to Work Policy

Flexible Working Arrangements

Breastfeeding Rooms

Sponsorship Program

Leadership Development Program

Coaching Program

Raise Numbers Of Women In Leadership

Internal Women's Networking Group

Equal Pay Initiatives
We Help To Create A Better Tomorrow.
Experian is the world's leading listed global information services company. We're passionate about unlocking the power of data in order to transform lives and create opportunities for consumers, businesses and society. For more than 125 years, we've helped businesses grow, consumers and small businesses gain access to financial services, and economies and communities flourish – and we're not done.
Our 17,800 amazing employees in 40+ countries believe the possibilities for you, and the world, are growing. We're investing in the future, through new technologies, talented people and innovation so we can help create a better tomorrow. To do this we employ the greatest and brightest minds that share our purpose and want to make a difference.
Experian Asia Pacific's culture, people and environments are key differentiators. We focus on what truly matters; diversity and inclusion, work/life balance, flexible working, development, equity, engagement, collaboration, wellness, reward & recognition, volunteering... the list goes on. We're committed to fostering a strong sense of belonging and a place where you can bring your true self to work.
​
Diversity, Equity and Inclusion (DEI) Matter To Us.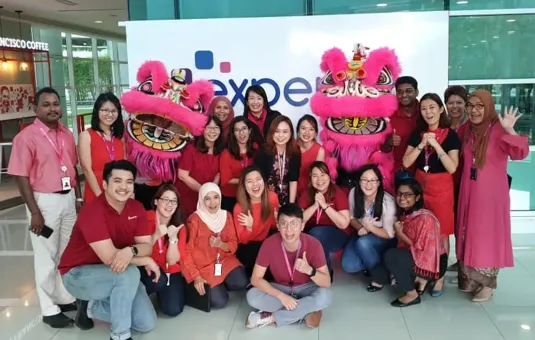 ​
We want to create a better tomorrow for people, organisations and communities around the world. To do that we need to start with ourselves – making sure diversity, equity and inclusion (DEI) runs through everything we do. First and foremost, our employees are people. That's something we never forget – and we're incredibly proud of the diverse culture we've created. The different backgrounds and experiences that our employees bring to their teams drive innovation and create an inspiring workplace. And we wouldn't have it any other way.
Diversity
Refers to the composition of our people across various elements of difference (e.g. gender identity, ethnicity/race, disability and sexual orientation etc). This matters because we want to attract and keep the best people from all available sources, to reflect the communities we work in and make the most of all the advantages that diversity brings to our business. We are constantly setting up and improving programmes, processes and policies that increase the diversity of our workforce.
Equity
Is how we ensure identity does not predict professional opportunities or workplace outcomes. This matters because we work hard to be fair – giving all our people access to the same opportunities and outcomes. If there are barriers that stop individuals from thriving, we'll do all we can to remove them and give everyone what they need to be successful.
Inclusion
Is the degree to which we embrace our people and ensure they feel able to bring their whole selves to work. This matters because creating a culture of inclusion and belonging is a top priority for us – and we're not afraid to highlight anything that stops it from happening. We're building an environment where our people feel free to speak their truth, feel valued, and perform at their best. We empower our employees with ways to make a difference and create a better tomorrrow via their two days of volunteering leave, NGO partnerships and community programmes.
​
Our five commitments to DEI are:
1. Active sponsorship
2. Better understand our opportunities and challenges
3. Measure progress against specific goals
4. Ensure accountability
5. Support our people
You can read more about the five commitments on our DEI report here.

Our Uniqueness Is That We Truly Value Yours.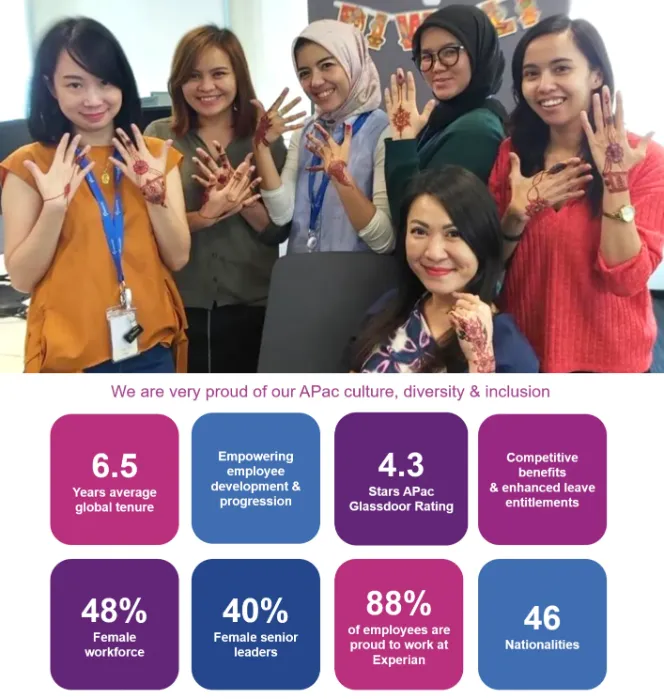 ​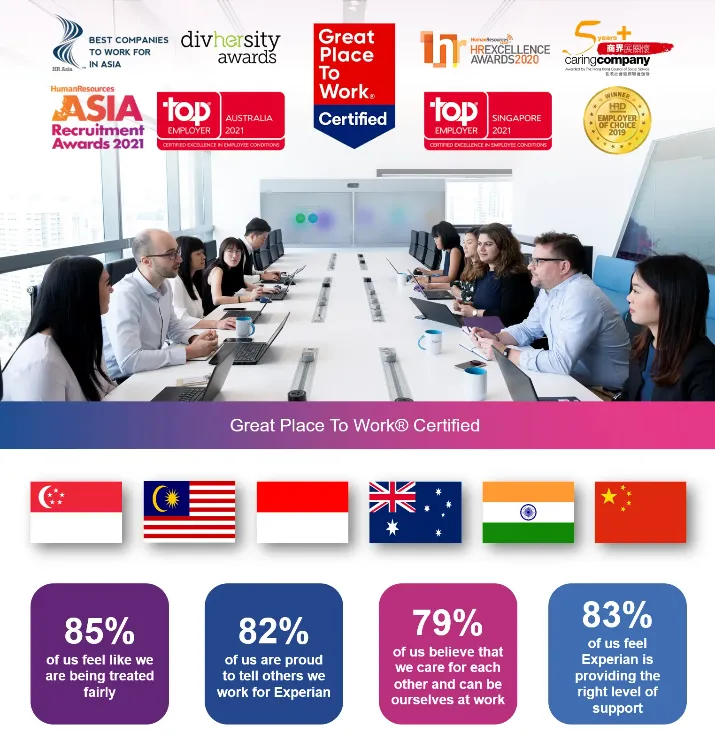 We have been certified a Great Place to Work in Singapore, Malaysia, Indonesia, Australia, India, and China, which are included in the 21 countries certified globally. This is a fantastic achievement as Great Place to Work certifies and recognises the best working environments in more than 100 countries around the world who provide people with a great employee experience.
​
Our Commitment To Flexible Working.

At Experian we are committed to building an inclusive culture and to creating an environment where people can balance successful careers with their commitments and interests outside of work. We care about work that works, whether that's about where you work or adjusting your hours to fit better with your life.
Our flexible working practices, including our hybrid working model where employees can split their working time between the office and their home, support our belief that this balance brings long-lasting benefits for our business as well as our people. So that you can love where you work please discuss what works for you with your recruiter during the hiring process.
​
Women's Leadership Development.
To strengthen the diversity of our leadership pipeline, 16 executives from Experian Asia Pacific office embarked on a three-day adventure experience with Impact in the jungles of Laos. This exciting development programme pushed limits, facilitated self-discovery and developed leadership capacity.
​
Discover The Unexpected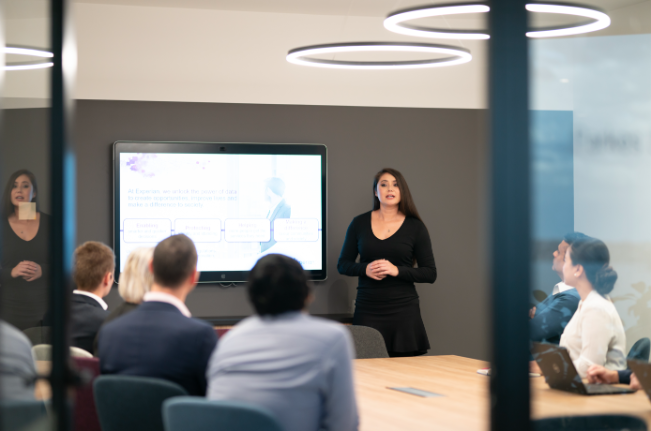 Because no one makes sense of data like we do. We are tech company that really knows the value of people. But we are also so much more. We solve complex problems with our 18,000 strong community of original like-minds. So channel your curiosity. Embrace your sense of wonder. Question yourself. Encourage each other. Because you make us the force for good that we are.
Discover work that means more. Offers more. Delivers more… More satisfaction. More challenge. More opportunities. More of everything you didn't imagine possible. But be ready: The scale of what we do will surprise you. It will be challenging. But more than anything, it will inspire you, excite you and reward you. We are uniquely Experian.
​
Receive all job alerts right into your inbox
​I am proud and appreciative that I have a seat at the leadership table where my voice is heard. I have spent time mentoring and speaking to women across Experian and outside of Experian, so that they too feel the support and the guidance I have found throughout my time here. 

Sisca Margaretta, Experian

Chief Marketing Officer, Asia Pacific

​Experian is one of the greatest companies to work for, being the best employer in Asia for the last five years consecutively. This is a great place to work in, where everyone is led by the guiding principle of the 5 Experian Ways. I have personally enjoyed working and collaborating with various people where we are all respected, valued and rewarded for a job well done. 

Emily Yew , Experian

Software Engineering Manager

​Diversity, equity and inclusion (DEI) means living in a society that values each of us, celebrates our uniqueness, promotes fairness and equal opportunity and provides everyone the choice to participate and feel appreciated. 

Merideth Wilson, Experian

Senior Vice President, General Manager, Revenue Cycle Solutions

​I think the most surprising thing is that when I came into the business at this size, I wasn't expecting to be given so much responsibility. I was expecting to do a bit of shadowing and watch it from the background but I think the most surprising thing for me is how much the companies trusted me to do this kind of big level projects  

Cherry Cooke, Experian

Global Diversity, Equity & Inclusion Manager

​I'd say that it's a great place to work, it's a really friendly environment. I think it's good with the graduate schemers because you work with lots of different people from the rest of the business.

Anya Taylor, Experian

Talent Acquisition Partner

​"Experian offers great career opportunities to its people, encouraging and supporting them to explore new opportunities, whether that's through internal promotion or a change of role to try something new in a different business unit. Working for a multinational company enables global mobility across regions too which is really exciting and valuable from a career perspective!" 

Anmarie Forrester, Experian

Regional Human Resources Director, APAC
Looking for Better Jobs?
We are here to help you find the best opportunities at companies that care! Sign up to join our platform and receive the newest job alerts and updates, straight to your inbox.
Looking for Talents?
If you're an employer looking to hire female talent, you can post your jobs on our platform and gain access to over 70,000 women from our community!