Back to Blogs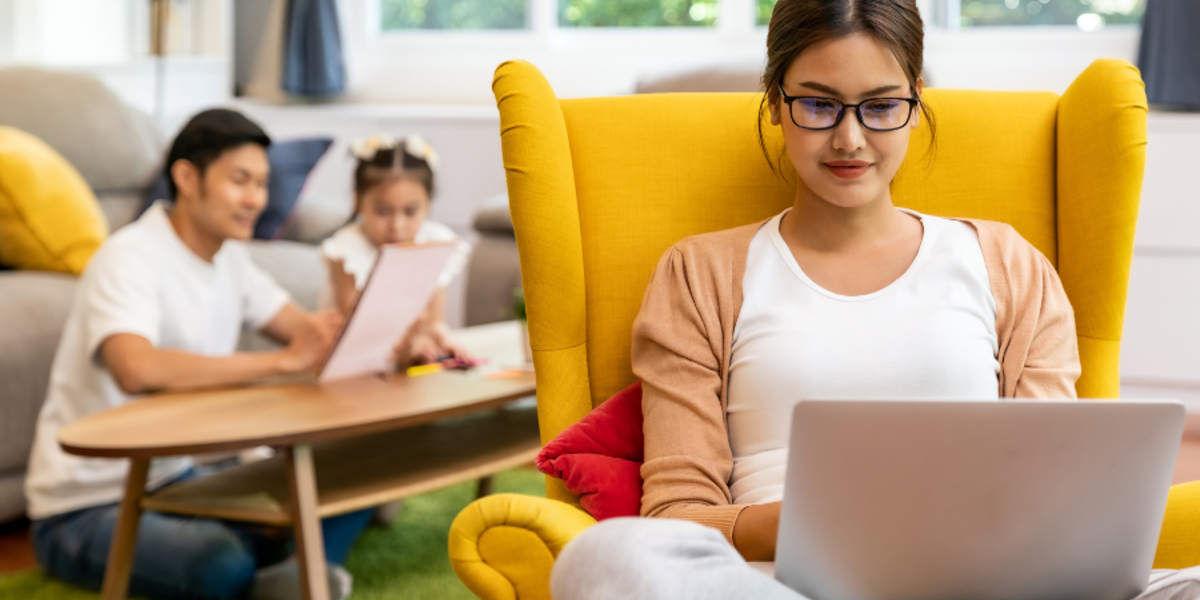 Finding a work-life balance for working moms
​Working from home sounds glamorous until you have too many tabs open and three little ones begging for your attention. Suddenly your personal and professional life blend into one, and you can't seem to find any time to care for yourself. You're exhausted, but you have work to do and children who need you. .
The benefits of the recent pandemic allowed many of us to slow down and re-evaluate our lives. If you're a working Mom like me, you know how easy it can be to become so consumed by work and taking care of your kids that you forget to replenish your batteries.
But what good is a dead battery?
While attempting to balance my coaching business and raise my little ones, I realised I would get more done, feel better, and show up as a better parent for my children if I started to prioritise my self-care. I spent lockdown launching my Life Coaching Business and more importantly learning how to relax, respect my time, and ask for help.
If you relate to any of this, chances are you are constantly looking for ways to increase your energy, feel better, and show up fully for your work and life obligations.
Here are my five strategies for the highly driven make it all happen mother to help you recharge your batteries and always feel energised:
Take Time Off
Picture this, you're driving home, and your car is about to run out of gas. Do you keep driving in hopes that a magic hack will help you make it all the way, or do you stop to refuel? Chances are, you stop to get more gas. There isn't any way around it—without gas, your car won't run.
You don't expect your car to run on an empty tank, so why are you expecting it from yourself?
Taking time for yourself is so important as a mom. You might feel like it's completely out of the question, but even taking 5 minutes to meditate or enjoy a bubble bath could make all the difference. Ideally, you should take more than 5 minutes for yourself, but for now, you can start small if you really struggle to find time for yourself.
Taking time off will give you the space you need to connect with yourself, relax, and recharge so you can show up fully for your kids and work. If you constantly spread yourself too thin, you won't be able to give as much as you want to your kids or other important tasks and relationships. We cannot give endlessly without replenishing our batteries. It's not possible. So be gentle with yourself, and take some time off.
Say NO
If you tend to say yes to everyone and everything, like me. You're just asking for burnout. When we overload our plates by saying yes to more than we have the bandwidth to accommodate, we spread ourselves too thin. Learning to say no to things has helped me show up fully for other things. When we are selective about what we choose to take on, we have the energy to deliver outstanding results and truly focus on the task at hand.
Learning to say no to some things allows you to say yes wholeheartedly to the things that matter most to you, without the added stress.
Ask For Help
Asking for help doesn't come easily to mothers. I would push myself to be everything to everyone and do everything without asking for help. But what I failed to realise at the time is that asking for help doesn't make me a worse mom or a failure. Asking for help allows you to open up to the people who might be waiting for you to ask. You get to allow someone else to feel good by lending you a hand. Plus, you can always repay the favour when they need something from you.
Asking for help when you need it will help you extend your reach and get more done without burning out. Although, you have to be open to accepting help, even if it's not in the way you imagined. It's aboutwhatgets done, nothowit gets done. Allowing myself to ask and accept help when I need it has helped me get more done, ease stress, and expose my family to different ways of doing things.
Move Your Body
It doesn't have to be a long workout, but get your body moving in a way that you enjoy. Maybe it's yoga, dancing, or going for a long nature walk. Just find something that allows you to get your body moving and blood pumping. Exercise is proven to reduce stress and improve your mental health.
Find the form of movement you enjoy the most and try to stick to a consistent practice. Taking time to connect to your body will help centre you. Plus, you'll feel even more energised!
Find Your Tribe
Having at least one other person aside from your spouse who is there for you is very important. Someone you can lean on, who understands the challenges you may face. This person could be another mom, close relative, or friend. Someone you can be yourself with. Someone you can share our joys, frustrations, and thoughts with. A friend to bond over shared interests and explore different perspectives with.
Socialising with people who care about you is essential to your mental health and recharging your batteries as a parent.
It's so easy to feel like you have to do it all as a mom. But taking these steps to say no when you have too much on your plate, ask for help when you need it, move your body, and find people you can count on will help you recharge your batteries and show up as the best mom you can be without feeling stressed. You don't have to sacrifice your mental health to be a good mom. Actually, prioritising your mental and emotional wellbeing will help you be an even better mom.
---
Gladys Simen is a life coach for moms who are trying to balance their work and family life. It took becoming a fabulous mama for her to tap into some BIG superpowers within herself, like staying present in the moment, being courageous, and advocating for herself and others. Now, she is passionate about helping women live big, beautiful, shooting-for-the-stars kind of lives. Gladys considers herself an advocate for the working mama! She loves sharing her own stories about her journey to balance home and work life, and loves supporting fellow working mothers on their journeys.
If you enjoyed this article and want to learn more about how to balance work, life, and being a mother, you can connect with me here.
​
Half the Sky's mission is to supply the tools that can give every woman the ability to build a successful career and be fully prepared for the future of work. So, that they can lead a healthy, prosperous and more balanced/blended lifestyle of their choosing. By building your confidence, you're setting foundations to empower yourself and your career. The world is your oyster, and it starts with you.
Enjoyed this article let us know your thoughts in the comments below:
---
About half the sky
half the sky (HTS) is a career platform for women connecting you to career opportunities at companies that care. Providing you with information, tips and strategies to navigate the rapidly changing workplace.
Sign up to get career tips and job alerts directly to your inbox! Join us to shape the future of women at work together!
---