Back to Blogs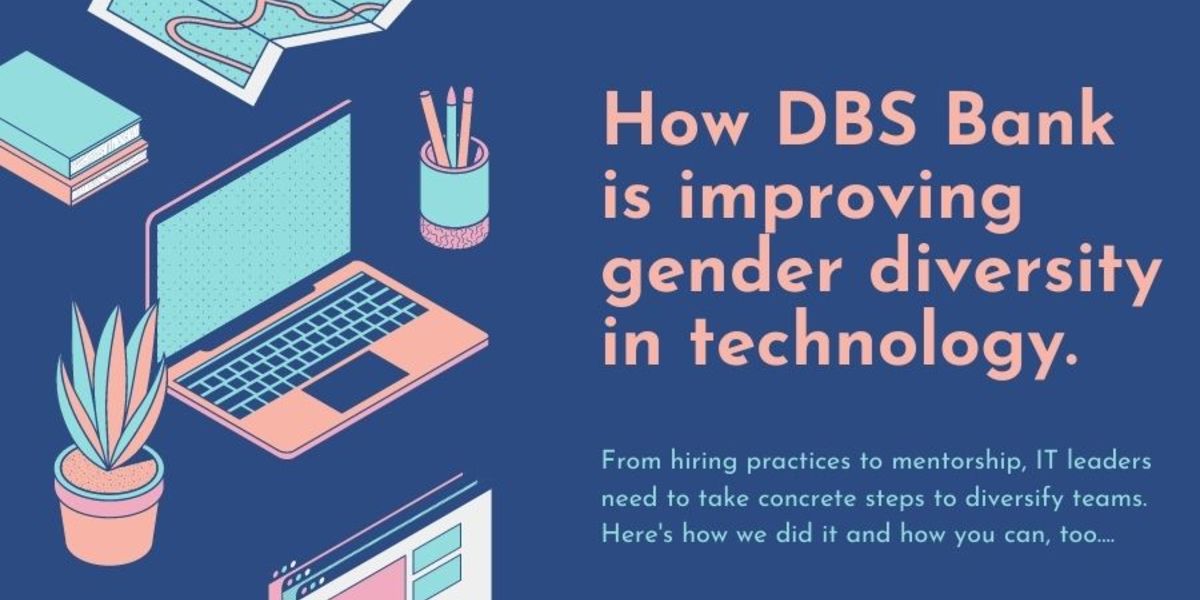 How DBS Bank is improving gender diversity in technology
​Alibaba's founder Jack Ma once said that women are his company's "secret sauce," balancing both logic and instinct. In the digital era, providing a seamless client experience for all the products and services is a prerequisite and is paramount to our continued success. Ensuring a balanced involvement of gender in the process is key to achieving this goal.
At DBS we believe that true innovation and great client experience happens when the diversity of the customers we serve is mirrored in our workforce. We need to ensure that women are adequately represented in all roles involved in the product management life cycle – whether it's UX, UI, design, development, or testing. This is what helps us ensure our products and services are designed to best suit the people using them. Here's a look into how we have done it, and how you can, too.
A pivot on hiring at DBS
In 2017, we launched the Hack2Hire program, which is a three-stage process culminating with a two-day hackathon. This was our way of sourcing modern tech talents for many of our engineering and architecture roles, as we pushed forward our ambitious digital agenda to transform to cloud native architecture with Agile way of working. During our second year of the program, we found that while we were very successful in attracting applicants from a diverse set of industries and countries, we noticed a significant gender gap in applicants. The number of women who attended the event was minuscule compared to men.
At DBS we believe that true innovation and great client experience happens when the diversity of the customers we serve is mirrored in our workforce.
In 2019, we decided to pivot; we rebranded the event and named it Hack2Hire-Her. We partnered with many advocates of women's organizations to assist in the outreach for the event, and as a result, saw a six-fold increase in the number of female applicants as compared to previous years. After the event, we made offers to five times as many women compared to previous years.
Recently, we ran another successful women-focused virtual hiring event called DBS Women in Tech. We have been very happy with the results of these outreach events, and it proves that when someone says, "We can't get 600 great CVs of women in six weeks into all of these technical roles" – that's just a myth. We've proven that we can.
Mentorship and job-sharing initiatives
Mentorship and the availability of role models are another key enabler in moving the dial. Women, for example, can sometimes impose their own barriers. We may have higher standards and lower self-confidence. Women and girls everywhere need to be more fearless in all that we believe we are capable of. If we have self-confidence then others will have confidence in us and our abilities.
For mentorship, we've partnered with a number of women's-based organizations.
The Financial Women's Association, for example, supports a mentorship program for women in the financial industry in Singapore.
We've also partnered with the Infocomm Media Development Authority – the statutory board of the Singapore government that develops and governs the technology and media sectors – in a cross-industry mentorship program, which opens doors for our promising female tech talent to be engaged with a diverse set of mentors from companies across different industries.
With United Women Singapore, we're working to support the engagement of the younger generation in STEM-based disciplines. Before Covid-19, for example, we hosted a coding day with a primary school as a way to interest girls in a STEM-based career.
Another initiative we've put in place at DBS is job-sharing, which gives people who may not be able to work full-time – mothers, for example – the option to share a role with another person. One might work Monday through Wednesday, while the other works Thursday and Friday, for example. This is an attractive arrangement for people looking for an alternative to a full-time career.
Embedding gender diversity and inclusion in our DNA
Fostering an environment that's inclusive to women has been key to boosting our organization's gender diversity. Two things have helped make this happen at DBS.
Culture: In order to have maximum and long-lasting effectiveness, diversity and inclusion must be ingrained as part of the organization's culture. It starts with creating pervasive self-awareness among every single individual in at DBS that we might all be unconsciously biased – that we hold stereotypes and beliefs that cloud our judgement and decisions without us knowing. To alleviate this issue, we invest in training everyone on unconscious bias. The purpose is to expose employees to implicit biases and provide practical tools they can use to adjust these unconscious patterns of thinking. This we hope will help eliminate unintended discriminatory behaviors.
Fostering an environment that's inclusive to women has been key to boosting our organization's gender diversity.
Managers and decision makers have an even greater responsibility to propagate diversity and inclusion. They need to lead by example. Managers should challenge norms and be very open to hiring and promoting people who are very different from them.
In addition, another mindset that is critical to advancing the diversity and inclusion agenda is having the humility to acknowledge that one may not know-it-all regardless of how senior or successful one might have been in their career or life, and be open to learn-it-all. This mindset of continuous learning is something we strive to inculcate in every single individual within the bank.
Sponsors and allies: Another key pillar of our effort is the mobilization of sponsors and allies to support the diversity and inclusion agenda. We want to enable everyone at all levels of the bank to play their part in small or big ways. This isn't just about recruiting women who support women, it's also about recruiting men to become active advocates for our gender diversity agenda. When they recruit other allies, it becomes very powerful.
We launched Project EquAlly in 2020 as part of International Women's Day, to enlist allies to help drive the gender diversity agenda in technology. We have since enlisted over 100 allies, and this is creating a chain reaction within the bank, even outside of the technology teams, in terms of participation in the gender diversity agenda.
Finally, it's my hope that the gender diversity momentum accelerates beyond the glacial pace in the last few decades. I'm hopeful momentum will especially increase in the technology domain given the prominence of digital and technology transformation across all industries. I sincerely hope that everyone involved in the technology field – man or woman – will start to recognize the value of inclusion and the benefits it contributes in business.
​
Half the Sky's mission is to supply the tools that can give every woman the ability to build a successful career and be fully prepared for the future of work. So, that they can lead a healthy, prosperous and more balanced/blended lifestyle of their choosing. By building your confidence, you're setting foundations to empower yourself and your career. The world is your oyster, and it starts with you.
Enjoyed this article let us know your thoughts in the comments below:
---
About half the sky
half the sky (HTS) is a career platform for women connecting you to career opportunities at companies that care. Providing you with information, tips and strategies to navigate the rapidly changing workplace.
Sign up to get career tips and job alerts directly to your inbox! Join us to shape the future of women at work together!
---