Back to Blogs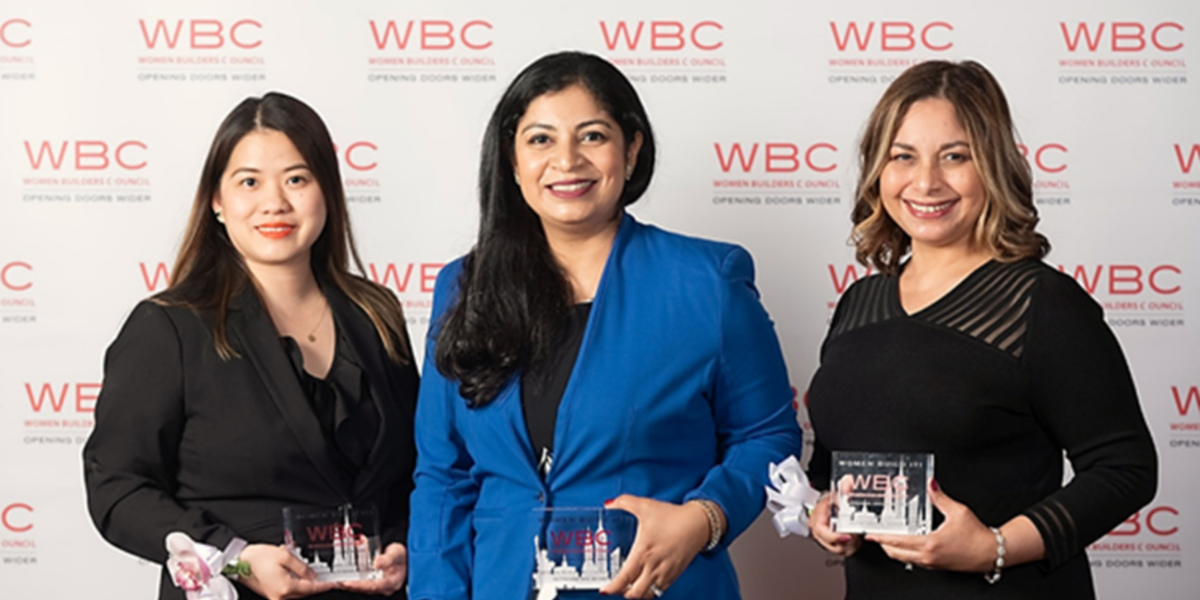 What Motivates You? 3 Outstanding Jacobs Women Share Their Stories
​Three Jacobs women received recognition as "Outstanding Women of 2019" by the Women Builders Council.
There's a reason the cartoon is Bob the Builder and not Barbara the Builder – and it's not as stereotypical as you might think, there's just a serious gender gap in the construction industry. While more than 10 million people were out in the field in 2016, less than 10% of them were women, the National Association of Women in Construction reported.
With the construction industry growing rapidly, organizations like the Women Builders Council (WBC) aim to help inspire more women to pursue careers in construction. Established in 2004, WBC is the leading association representing women in the construction industry. Its mission is to empower women and promote diversity throughout the construction industry by advancing industry knowledge, addressing the barriers that prevent women from growing and facilitating solutions for policy makers and industry leaders.
WBC's annual Champion Awards program honors the leading executives, women and public decision makers who champion WBC's mission and this year, the organization honored three of our employees at their 15th Annual WBC Champion Awards Dinner. Here at Jacobs, we share in WBC's mission because we're on our own mission to create a company like no other. We're putting the spotlight on making sure that we're an employer of choice in every way – in inclusion and diversity, in recruiting and developing the best talent and in fostering leadership and innovation.
That's why we asked Project Engineer and WBC's "Next Generation of Women Builders" recipient Amanda Chen; and WBC's "Outstanding Women of 2019" awardees, BIM and Digital Technology Lead Chitwan Saluja and Project Manager Ana Alicea-Diffley, to share what motivates them to deliver innovative solutions and their suggestions on how to shine in a competitive industry.
Embrace the uncertainty
​
​
When faced with the decision of what to study in college, Amanda Chen grappled with the decision between fashion design and interior design/architecture. Ultimately, her desire to improve public housing in New York motivated her choice to study architecture.
But, she says, life is unexpected and in architecture school, her perspective changed.
"I always thought I would be designing as an architect. I was inspired to create better spaces for people when I chose my college major," she shares. "In retrospect, I didn't fully understand the industry that I was getting into."
Thanks to taking a chance and saying, "I'm not really sure how this will pan out, but what's the worst that could happen?" she's traveled down a fulfilling career path alongside wonderful mentors, had opportunities to make mistakes and learn from them and has ultimately fostered growth not only within herself but also in her peers.
After receiving her bachelor's in architecture, Amanda joined a zoning law and consulting firm where she was exposed to the intricacies of New York City's building code and zoning laws. In the past seven years, she's worked in the rail transportation sector. While her early career focused on design projects, Amanda now works in construction management at Jacobs in New York City.
She strongly believes that women bring a different perspective to design and construction that fosters creativity and inspires new ideas through innovation and recognizes that women's input was important very early on in her career.
"In architecture school, the student body gender ratio was evenly split between men and women," she says. "I never thought I'd be working in a male-dominated industry prior to my career in construction management, but here I am."
With support from a wide network of friends, family, peers, mentors and a belief in herself, Amanda's channeled courage and taken chances to climb the ladder of success in the construction industry and is currently living her dream of making a positive impact on the construction industry in New York.
Her advice to those looking to live out their dreams? ""Don't be afraid to say yes! No one is perfectly ready for anything."
Thrive with mentorship
​
​
Chitwan Saluja knew working in a male-dominated industry wasn't going to be easy, but she always knew she wanted to go in to construction. Being onsite and seeing things built has inspired her to push the limits of her comfort zone, explore new perspectives and collaborate with whomever necessary to come up with the best solution for the job.
"I would go to a BIM coordination meeting and I was the only lady around all these contractors," she recalls. "I felt out of place, not only because I was the only woman but also because I was the only Indian woman. It took extreme courage to speak up to do what I felt was best, especially in coming up with a new solution."
Chitwan, who works in Jacobs' New York City office, credits mentorship, from both sides, for helping her cultivate this courage as it relates to her diverse work experiences in leadership and technology-focused roles.
Since receiving her bachelor's in architecture, she's navigated through many roles including cost manager, architectural engineer, project engineer/scheduler, document controller, project manager and BIM manager. She's worked with computer-aided engineering (CAE) systems for more than 12 years, with more than seven spent at Jacobs, and has provided BIM technology and project controls support for large facility programs for multi-billion-dollar development and design construction projects, including projects such as Columbia University and Pittsburgh Aviation.
These experiences have empowered her to speak up to identify the best solutions, test the boundaries of the latest and greatest construction technologies and battle complacency in the construction industry.
"Having a mentor –someone to talk to, share feelings and desires with, someone to help guide your career path – really helps inspire people to pursue their dreams," Chitwan shares as motivation. "It's also important to be a mentor and understand the value and perspective of seeking out knowledge and sharing it."
Trust your gut and speak your truth
​
​
Driven to the opportunity by a love of the construction industry and enjoyment for seeing things built for improvement or new use – things that ultimately replenish or revive an area that people can truly enjoy – Ana Alicea-Diffley knew that while she was proficient at construction document management, she was capable of more.
That's why, even though she had no prior construction management experience, when an opportunity in construction management presented itself, she courageously rose to the challenge.
"I might not have had all the required experience to manage projects, but I knew I could do the job. I'm very grateful to have been given the chance to do so," she says. "You will fail, and you will succeed. Learn from your failures and try again. There's more than one way to get the work done."
Ana's come a long way from developing hand-drawn blueprints, and even since her days of drafting, permitting and conducting building inspections in the five boroughs of New York City. She's been with Jacobs for six years, based in Manhattan, New York, leading construction management efforts. By the end of next year, she will have managed approximately $300 million in construction projects.
Early in her own career, she didn't have many women mentors or female influence and that inspired her to be a positive mentor for women of all ages, in and out of the office. She's a Girl Scout Troop Leader for her daughter's troop fostering go-getter attitudes and drive and inspiring girls from a young age to be confident and use their voice. She's also a member of the National Association of Women in Construction, where she's fostered personal and business relationships with other women in construction, supported women working in the architecture and construction industries and mentored young professionals.
It's important work, she enthuses, because "it helps young girls to see other women taking on male-dominated roles. It takes courage to try, not to feel shy or uncomfortable in a male-dominated environment and to pursue what's in your heart."
Ultimately though, Ana says that to shine in your chosen career path, "It's important to seek inward and choose what you spend your time on. Listen to your heart and act. Think outside the box and use your voice – you need a voice to foster collaboration and leadership."
The original article was published here.
​
Half the Sky's mission is to supply the tools that can give every woman the ability to build a successful career and be fully prepared for the future of work. So, that they can lead a healthy, prosperous and more balanced/blended lifestyle of their choosing. By building your confidence, you're setting foundations to empower yourself and your career. The world is your oyster, and it starts with you.
Enjoyed this article let us know your thoughts in the comments below:
---
About half the sky
half the sky (HTS) is a career platform for women connecting you to career opportunities at companies that care. Providing you with information, tips and strategies to navigate the rapidly changing workplace.
Sign up to get career tips and job alerts directly to your inbox! Join us to shape the future of women at work together!
---