Back to Blogs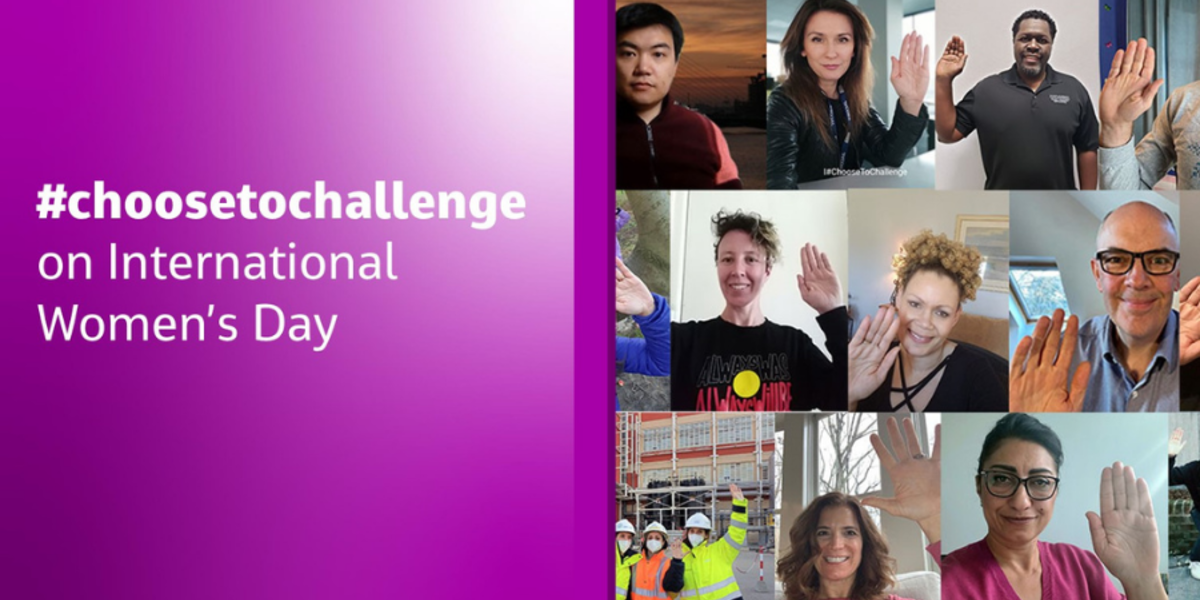 Choosing to Challenge on International Women's Day
​At Jacobs, living inclusion and working to end gender inequity are year-round activities: the drive to create a world where everyone has the same opportunity to thrive never stops. Dates like International Women's Day allow us to reflect on progress.
The theme of International Women's Day 2021 is #ChooseToChallenge, reminding us that to forge a gender-equal world we must celebrate women's achievements and increase their visibility – but have the courage to call out inequality and bias wherever we see it.
Leading by Example
Our commitment to challenging gender inequity begins with the commitment of our Chair & CEO, Steve Demetriou, who continues to lead actionable, measurable initiatives to advance the representation of women at all levels of our company. As a member of Catalyst's CEO Champions of Change Coalition, he's proud to be one of more than 70 leading CEOs whose companies are outpacing their global peers in advancing women – particularly women of color. Since arriving in 2015 at a company with 100% male executive leadership, he's led a culture of inclusion that today is reflected in a Board of Directors that is 55% ethnically / gender diverse and an Executive Leadership team with 60% diversity.
The Jacobs Women's Network – a Force Multiplier for Change
While the commitment and actions of our executive leadership are important, our most impactful cultural changes have been the result of this commitment being matched and amplified by the vast and growing grassroots movement for gender equality led by our Jacobs Women's Network (JWN). With over 5,400 members and 139 chapters in 35 countries – and with Steve and Executive Vice President Marietta Hannigan as Executive Sponsors – the JWN works to create a company where all women thrive. Throughout the last twelve months the JWN have led a number of impactful initiatives aimed at increasing gender parity, challenging (un)conscious gender biases and championing women's and caregiver's stories and perspectives during a pandemic where, according to a United Nations study, women have been disproportionately affected professionally, financially and emotionally compared to their male counterparts.
Highlights from the last year include:
Setting out the aspirational goal of achieving 40:40:20 gender diversity (40% women, 40% men, 20% any gender) across the business by FY2025.

Partnering with Catalyst to pilot MARC (Men Advocating Real Change) Dialogue Teams, groups of men and women from all levels of the company engaging in deep, honest dialogue aimed at breaking down unconscious bias and other barriers to inclusion.

Launching our first Family and Domestic Abuse Policy (initially in Australia and New Zealand) providing paid leave, flexible working arrangements and counselling to employees experiencing domestic abuse.

In partnership with our OneWorld Diversity Employee Network, coming together to take a stand against Violence Against Women as part of the UN's International Day for the Elimination of Violence Against Women.

Creating a Jacobs Parents Resources Group to connect parents and provide resources and support for those working to balance the pressures of remote working and lockdown with home schooling and parenting.

In partnership with Prism, our LGBTI+ Employee Network, supporting transgender women across the company by educating employees about our healthcare provisions for transgender and non-binary staff, creating the HR role of "transgender specialist" to provide support and piloting gender-neutral bathrooms in our offices.
Today, we urge you to #choosetochallenge and join us in being vocal champions for gender equality – and to join our growing team of diverse visionaries, thinkers and doers.
The original article was published here.
​
Half the Sky's mission is to supply the tools that can give every woman the ability to build a successful career and be fully prepared for the future of work. So, that they can lead a healthy, prosperous and more balanced/blended lifestyle of their choosing. By building your confidence, you're setting foundations to empower yourself and your career. The world is your oyster, and it starts with you.
Enjoyed this article let us know your thoughts in the comments below:
---
About half the sky
half the sky (HTS) is a career platform for women connecting you to career opportunities at companies that care. Providing you with information, tips and strategies to navigate the rapidly changing workplace.
Sign up to get career tips and job alerts directly to your inbox! Join us to shape the future of women at work together!
---