Back to Blogs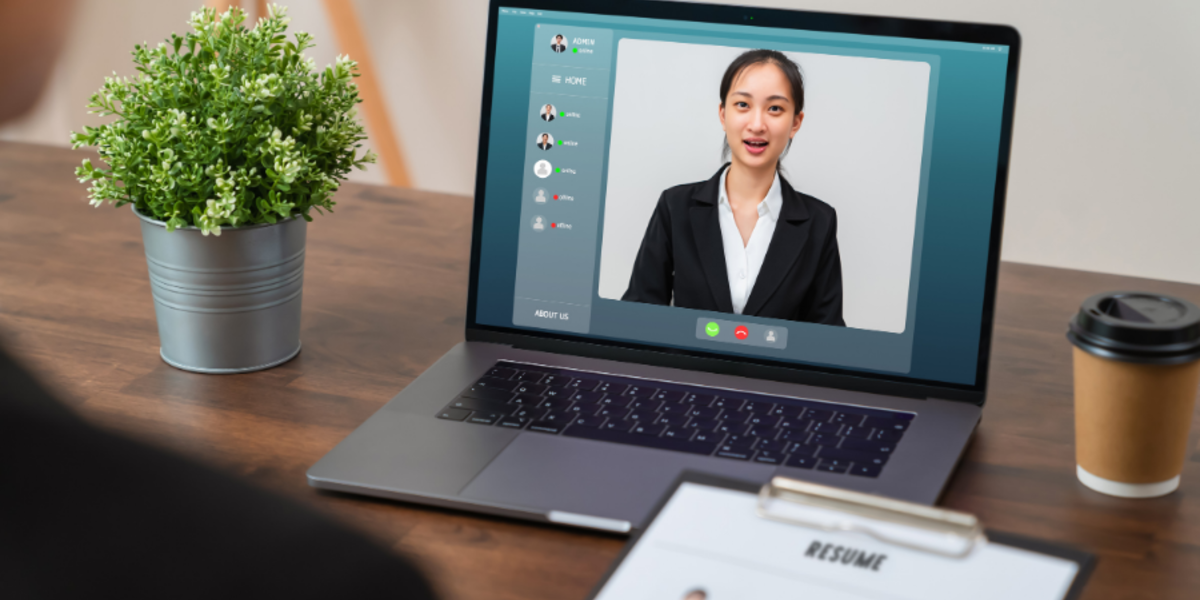 Video Interviews how to put your best foot forward.
​Every minute counts when you're sitting down for a job interview. Recent studies have shown, about a third of hiring managers are able to evaluate a candidate's potential within the first five minutes of meeting them in person. At that point, they can already tell whether the applicant should progress any further in the screening process.
In the era of remote work and Zoom video calls, will five minutes of airtime be enough for an applicant to impress the recruiter?
A video interview gives hiring managers a glimpse of the candidate's work-from-home settings; it helps them determine whether the environment would be conducive to their line of work.
However, the casual feel of the WFH setup is also slowly influencing the more traditional aspects of recruitment. For both the hiring manager and jobseeker, a virtual Q&A poses new challenges.
While a face-to-face interview gives recruiters nonverbal clues about the candidate's demeanour, a video interview on the other hand frames reality within the confines of a computer screen. Details that fall outside of those four corners – such as whether the applicant is dressed appropriately the whole way through or sporting the so-called WFH mullet– remain unknown to the recruiter.
Given this relaxed work environment, how can a remote job applicant ace their virtual Q&A? Here are pointers on how to put your best foot forward during a video interview:
Create the right environment
Set physical boundaries between you and other household members: close the door to your home office or place a partition to keep household members at bay.

Make sure the location of your desk receives the right amount of light. Poor lighting can give off the impression that you are unprepared.

If possible, sound-proof your environment or place items such as carpets and furniture as a barrier against noise.

Before going on a virtual interview, test the look of your surroundings by recording a clip of you at your desk. Check whether the space looks cluttered.

If you're living in a full house, it's always best to have a talk with your household members about your expectations for a quiet work environment.
Test your equipment
Once you understand how the interview will be conducted, check the compatibility of your computer with the video app they require downloading for the call.

Days ahead, check your internet speed and make necessary adjustments. Use an ethernet cable to connect your device straight to a modem.

Avoid using Wi-Fi. Any lag between what is being said in real time and what is being mediated through the screen could reflect badly on the candidate.

Do a test run of the video conferencing tool. Check your webcam, microphone and speakers/headphones. (If possible, use noise-cancelling headphones.)
Sharpen your presentation skills
Rehearse how you will present yourself on video. Record a clip of yourself for a handy reference of your communication style and where you might need to improve.

Dress appropriately all the way through, or as you would for an in-person meeting. Making an effort to look well reflects positively on your character. Wearing a full attire will also help boost your confidence.

Speak clearly. Check the tempo of your speech. Talking too fast or slow could make it difficult for the interviewer to establish rapport with you.

Prepare sticky notes, whether virtual or physical, to help you remember pointers. Just make sure the interviewer won't see your tip sheets.

Be relaxed. Be confident. Be genuine. These naturally occur when you demonstrate self-mastery. However, sharing too much information could also hurt your chances.

Limit your answers to three sentences per question, so the interviewer won't lose track.
Video interviews and conference calls are here to stay. Remember: you have only a short span of time to impress the interviewer. So, make every minute count!
​
Half the Sky's mission is to supply the tools that can give every woman the ability to build a successful career and be fully prepared for the future of work. So, that they can lead a healthy, prosperous and more balanced/blended lifestyle of their choosing. By building your confidence, you're setting foundations to empower yourself and your career. The world is your oyster, and it starts with you.
Enjoyed this article let us know your thoughts in the comments below:
---
About half the sky
half the sky (HTS) is a career platform for women connecting you to career opportunities at companies that care. Providing you with information, tips and strategies to navigate the rapidly changing workplace.
Sign up to get career tips and job alerts directly to your inbox! Join us to shape the future of women at work together!
---