Back to Blogs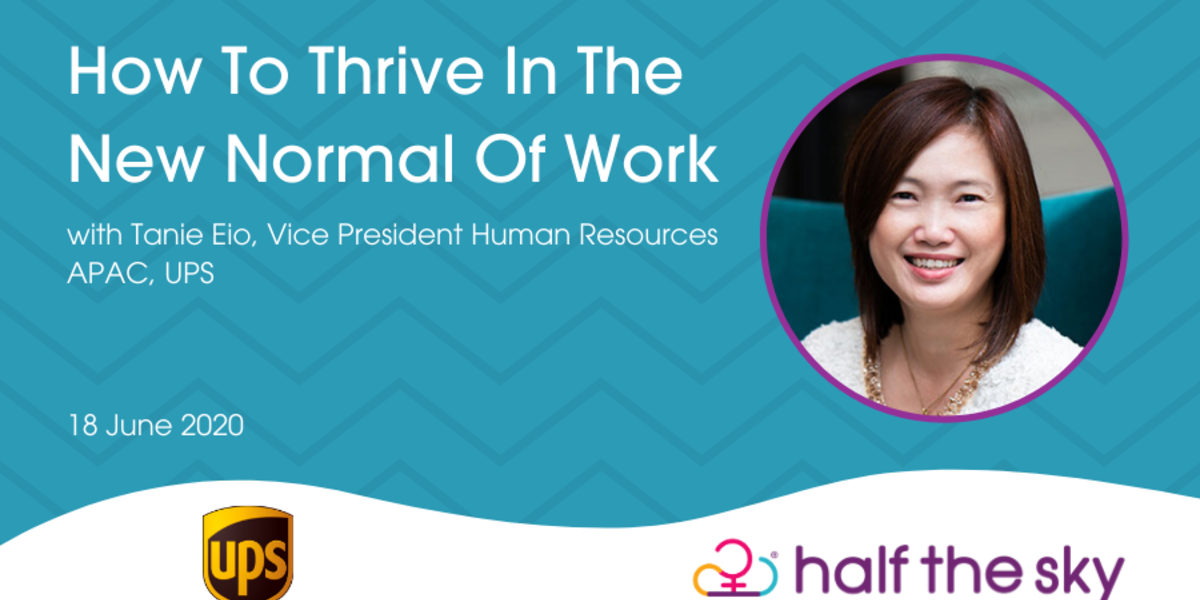 How To Thrive In The New Normal Of Work
​COVID-19 has changed everything, we are now all staying at home, working from home and social distancing. As we slowly adjust to a new normal, How exactly will businesses and workers adapt?
HR practitioners will be essential in shaping the post COVID workplace – which is likely to be the most drastic workplace transformation in our lifetime. Many employees wondering what comes next and are seeking answers and looking for HR Leaders for guidance.
Our CEO and Founder Sabrina Ho discussed with Tanie Eio Asia Pacific Vice President of Human Resources for UPS on how we can thrive in the New normal of work in Short, Medium and Long term.
​
​
Here's Tanie advice:
During COVID-19, it's important for organizations to have constant and frequent communication to employees, about the various measures put in place and manage expectations on each employee in order to protect them and keep them safe.

In order to improve worker morale post COVID-19, build trusted relationships and let employee's know that the company is there to protect them and keep them safe.

In balancing work and parenting, know our priority, motivation and align priorities with loved ones is crucial.

Micro steps to manage work and home life: set "me" time and a routine is essential as well as keeping you focus and discipline.

Skills in demand:

Emotional Quotient or intelligence (EQ) – including empathy

Creativity

Flexibility and adaptability

Data literacy - Data analytics

Tech savviness – AI, big data, internet of things, robotics, block chains, etc.

Tips to stand out in a challenging job market:

Network as much as you can

Be curious and willing to explore

Read up and keep abreast of the current state of economy and on the industry of your interest

Take advantage of any government schemes, if available

How would the pandemic changes job types in future:

Disruptions like technological progress, de/globalization, etc. are changing the future of work and jobs

Pandemic does accelerate the need for these progress
​
I hope these tips are useful and please take a look at the full video you'll find some really great tips that Tanie expanded upon. Thanks to all those who attended from Australia, Singapore, Hong Kong, India, Malaysia, Indonesia and Philippines your participation made it a great success.
If you have more questions you can reach out to us or comment below.
​
Half the Sky's mission is to supply the tools that can give every woman the ability to build a successful career and be fully prepared for the future of work. So, that they can lead a healthy, prosperous and more balanced/blended lifestyle of their choosing. By building your confidence, you're setting foundations to empower yourself and your career. The world is your oyster, and it starts with you.
Enjoyed this article let us know your thoughts in the comments below:
---
About half the sky
half the sky (HTS) is a career platform for women connecting you to career opportunities at companies that care. Providing you with information, tips and strategies to navigate the rapidly changing workplace.
Sign up to get career tips and job alerts directly to your inbox! Join us to shape the future of women at work together!
---