Back to Blogs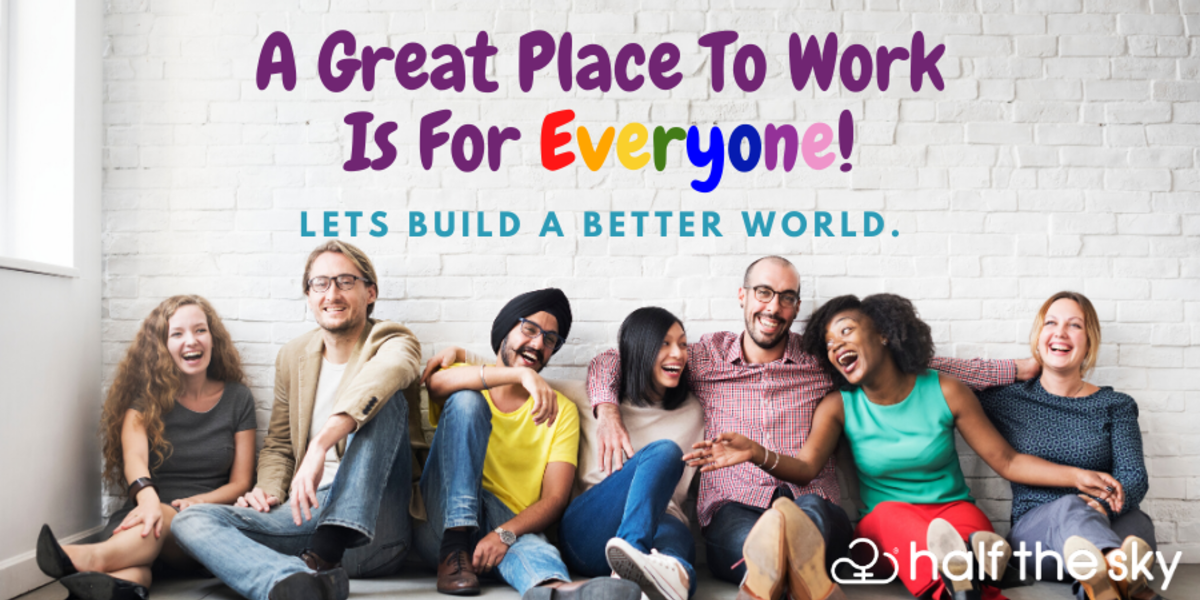 A Great Place To Work Is For Everyone: Lets Build A Better World!
​2020 is certainly a year that will never be forgotten, the recent tragedies of the COVID-19 pandemic and high-profile incidents of police violence against black people have shown us that the world is at a tipping point. The pre-pandemic status quo is not good enough as we look to build new economic structures and institutions.
The challenges are vast, whether we are talking about a global health pandemic, climate change, economic recovery, police brutality, or racism and gender inequality. We have a collective moral imperative as a global community to do better and rebuild our future into one where the most vulnerable communities can thrive and that our children can live peacefully in.

After the pandemic subsides, yesterday's economy will be devastated, and its legacy will be a foundation of inequality that has made the pandemic crisis worse for working families, women and people of color. For example, Citi estimates more than 220 million women worldwide are in sectors vulnerable to job cuts amid the pandemic. If approximately 31 million women in six key sectors lost their jobs, that could mean an equivalent loss to real global GDP of as much as US$1 trillion.
"The greater vulnerability of women to job losses is due to the segmentation of female labourers into sectors that are the most negatively affected by coronavirus disruptions," Citi economists Dana Peterson and Catherine Mann wrote in a research note.
We need a response that meets the most urgent needs for all, and many countries including Singapore have done an extraordinary job in attempting to provide a safety net that protects those hit hardest by the pandemic and recession. As the dust starts to settle and we seek the green shoots of economic recovery. The response must be guided by an inclusive vision that deals with the root causes that got us into these overlapping crises and that centers diversity, economic and social justice at the core.
We need urgent change or millions will be lost to the twin devastations of the covid-pandemic and economic recession and consigned to a world devoid of hope. As the founder of a career platform dedicated to helping companies build a more diverse workforce these issues are very important to me. Below are three ways that organizations can play a pivotal role in the recovery and put words into action that create long-lasting change.
1. PURPOSE: Diversity and Inclusion at the core. I have always found there is a lot of fear and uncertainty around dialogue on diversity and inclusion. It appears to be one of the most difficult topics for people to discuss. Whether the dialogue is on race, gender or LGBQT issues it's like an iceberg that everyone can see straight ahead but nobody wants to admit that they see it. The corporate status quo of having only 15% of women on boards or having zero senior management of ethnic minorities is not going to cut it. The youth of tomorrow have spoken loud and clear that they will not tolerate such inequalities or associate themselves with corporations or brands that don't speak up.
So, diversity and inclusion can no longer be a tick box exercise for corporations but must be fundamental to everything they do. Those that master building a diverse workforce will have an enormous competitive advantage in the way they attract and retain talent from the global talent pool. They will also be able to draw insights and perspectives that drive innovation that will ultimately power them to win new markets through the power of their inclusive brands.
2. PEOPLE:Invest in your people & wider community.
It's imperative that organisations make deep and strategic investments in their people. The global pandemic was a health crisis that attacked the most precious asset an organisation has, its people. As we recover and adapt to new ways of working, companies must invest in the health and wellness of workers and more fundamentally invest in their future. It's very clear that with rapid advances in technology, people would be left behind if we don't put in the effort to bring people along. Especially women, who are the most vulnerable to automation and job displacement. Corporations must help workers relearn, reskill and retrain, which will help build resilience in the communities that they operate in and provide a steady pool of skilled workers.
Some examples, of investments of reskilling a community for the future of work: VMWARE program VMinclusion Taara, is one of India's largest up-skilling programs, which aims to help women engineers restart their careers after a break. The initiative, trains women in the latest digital transformation technologies which include Cloud Management & Automation, Datacenter Virtualization, Networking and Digital Workplaces. The program announced in October 2018 has seen more than 3,100 women enrolled themselves so far.
3. PROSPERITY : Built on a shared future.
Economic growth is a great thing but economic growth that relies on the foundation of winner takes all is not a sustainable business model, our prosperity must be one that seeks to have sustainability at its core. Economic inequality, environmental degradation and political instability is not good for business, hence it's important for corporations to provide solutions that focus on becoming responsible global corporate citizens. One area organisations can tackle immediately is the gender pay gap and not just talk about it but implement equal pay for equal work.
Finally, the last three months have demonstrated that as a global community, more than anything else, united we stand and divided we shall fall in our struggle for a better world.
Corporations response to this crisis needs to lift up the needs of the most vulnerable communities, or we will simply repeat this disaster again one day. This is our opportunity to rewrite the rules and build a resilient future where all people can thrive.
From a passionate global citizen!
​
Half the Sky's mission is to supply the tools that can give every woman the ability to build a successful career and be fully prepared for the future of work. So, that they can lead a healthy, prosperous and more balanced/blended lifestyle of their choosing. By building your confidence, you're setting foundations to empower yourself and your career. The world is your oyster, and it starts with you.
Enjoyed this article let us know your thoughts in the comments below:
---
About half the sky
half the sky (HTS) is a career platform for women connecting you to career opportunities at companies that care. Providing you with information, tips and strategies to navigate the rapidly changing workplace.
Sign up to get career tips and job alerts directly to your inbox! Join us to shape the future of women at work together!
---