Back to Blogs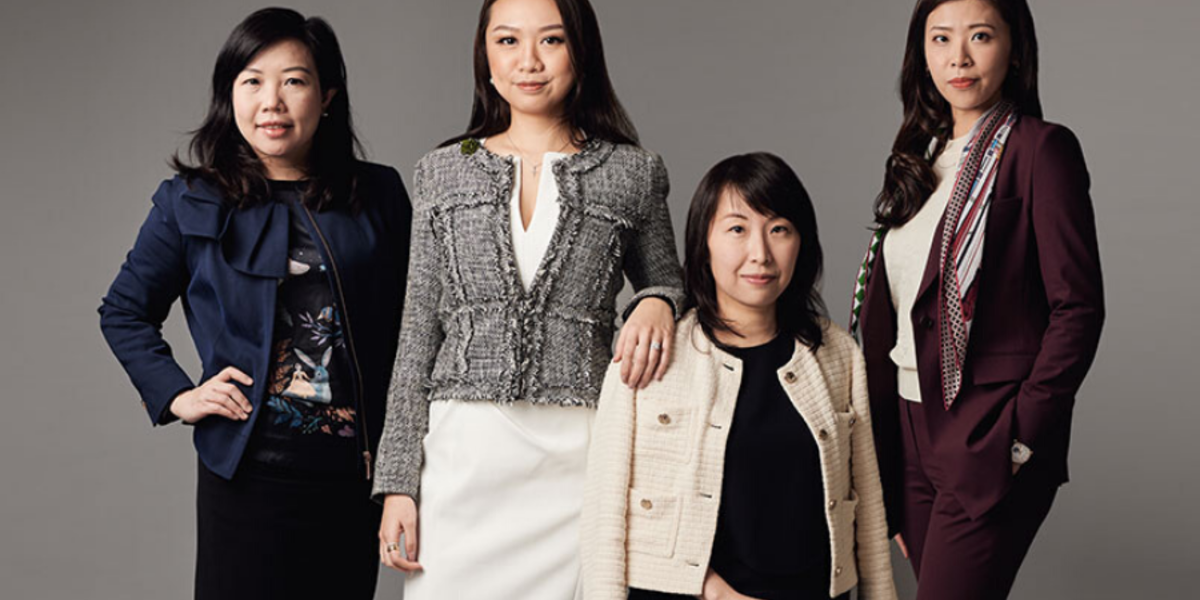 Meet the leaders reshaping accounting in Asia
​A new breed of ambitious and talented women in Asia has some advice for getting ahead: back yourself all the way to the corner office, and don't sweat the small stuff.
As a female managing partner and a second-generation executive of a Hong Kong accounting firm, Vickie Fan FCPA is a trailblazer in more ways than one.
While the Hong Kong-based managing partner of Fan, Chan & Co. followed the well-trodden professional path of studying for her degree in Australia, she went to work in the family firm rather than with one of the Big Four when she returned home.
At Fan, Chan & Co., she worked her way up over two decades from junior auditor to manager of the business.
Fan has a brother who works in consulting and is "not as interested in numbers as I am", so her father chose to make room in the business for his daughter after noticing her natural flair for decision-making.
"For traditional Chinese, in particular, who would have thought you would pass on your firm to your daughter?" Fan says, "but my father is very much my mentor, in my career and my life. He doesn't look at gender, he looks at how he and I think alike and how we make decisions and tackle problems."
With 8 March marking International Women's Day, INTHEBLACK spoke to four leading female Hong Kong and Macau accountants and business figures about how they balance work and life, and what it truly takes to be successful.
Support structures
Like Fan, Hong Kong-based corporate tax partner at EY Karina Wong CPA was influenced by her father's deftness with figures and finance.
"My father was an accountant before he started his own business, and I still remember when I was about seven or eight watching him with an abacus, his fingers flying over it, and that impressed me," Wong says.
"He was definitely a role model for transformation, as I saw him transform himself from an accountant into a businessman."
Wong cites mentorship as a key driver in her career, and is forever grateful to a female tax partner bringing her into the EY fold when she returned from Australia in 2007. That partner has since then became her life coach.
"I came back without any Hong Kong tax experience, and she was willing to hire me and give me a lot of exposure," Wong says.
"Building a professional network is so important, and female friendship and support can be very influential, so I try to do the same when a new talent comes in."
Hong Kong-based Vickie Fan FCPA (left), managing partner of Fan, Chan & Co, and Alison Yam CPA, senior project manager at HSBC.
Alison Yam CPA has also flourished under the guidance of constructive mentorship. She joined HSBC as a senior project manager in Hong Kong a few months ago and, prior to that, worked at Deloitte for nine years.
"A mentor is extremely important – for both men and women," she notes.
"You need to have someone who has been on the same journey who can tell you how they came to the decisions they made.
"You don't want to waste years doing something you don't enjoy, and you need someone to keep you on track."
Carmen Lei CPA has been involved with the development of the Macau-based practice of Deloitte for the past six years, overseeing business as well as team development.
Her father was also pivotal in her career successes.
"My dad always talked to me about the importance of having courage to face challenges," she reflects. "Whatever option I choose, he always respects me and is proud of me."
Big Four experience
Lei, Yam and Wong all have experience in the large professional firms, which they say has been helpful in establishing networks and reputation.
As Wong points out, most of the Big Four or larger firms promote gender parity and have programs in place that support female leadership.
"It's also more common nowadays to see flexible working arrangements in bigger firms, and this allows women to stay competitive in the workforce," Wong says.
Lei is a firm believer that a large firm offers unparalleled opportunities, partly because it provides a high degree of exposure for women.
"At Deloitte in Macau, our management team is already 50 per cent women, so it is very balanced in terms of gender equality," she says.
"I also feel that my promotion depends not on my gender, but on my capability as a professional."
While Yam is enthusiastic about the advantages of big firm experience, she doesn't believe it's a necessity.
"I also feel that my promotion depends not on my gender, but on my capability as a professional." Carmen Lei CPA, Deloitte
"You can still get ahead in a smaller firm, it's just that you have a ready-made network in a bigger firm," she says.
Fan is a case in point. She took a different path entirely, working her way up from the bottom in her father's company, learning the ropes as she went.
Fan believes there are many paths to success, whether it be via the Big Four or a family firm.
"Most importantly, we shouldn't think that it's only men who can be at the top," she says. "If you're a mother and a working woman, you will just need to manage your time wisely. Women have more challenges, but it is how we overcome these challenges that matters."
The work-life balance question
Indeed, balancing work and life is a perennial struggle, with both Fan and Wong wrestling parenting responsibilities on top of demanding careers.
The main challenge for Wong is making sure she spends quality time with her two school-aged children.
"I try to spend time with them in the morning, reading the news or magazines to them during their breakfast," she says.
"I also take them down to the school bus, and after work I try and make sure they have their homework done and then check with the school diaries about what they have coming up. It's not easy, especially if you have to stay back or travel for work."
In order to take some of the pressure off, Wong has learned to let go of perfectionist parenting standards.
"If they are missing one piece of homework once in a while, then I tell myself that it will not be a big deal," she says.
Karina Wong CPA, corporate tax partner at EY in Hong Kong, says mentorship has been a key driver in her career.
"In the beginning, when this would happen, I would think it meant I didn't do my job as a mum. In the end, I had to learn to let go."
Fan can relate to feeling overwhelmed by competing demands on her time.
"I did have my dark ages, my really bad times, where I felt like every minute was lacking. I was so busy and I couldn't possibly get it all done. I struggled. There were times when I would wake in the middle of the night stressed, thinking about how much was on my list."
Over the years, she learned how to manage her time efficiently.
"I focus now on what I should do and what I shouldn't do, and then I explore the details of how I can do what I have chosen to do more efficiently," she says.
Yam has also struggled with work-life balance, especially in the early days of her career.
"The first few years were horrible because I was just working so hard and putting in long hours and I wasn't quite fair to myself," she says. Now, when I am at work, I make sure everything is done to a high standard, but when I am at home I try not to respond to my emails."
There has to be a line where work ends and home life begins, she says.
"It's different for everyone, but your friends and family deserve some attention, too," she says.
"If any young CPAs came to me now, I would tell them the same thing – just find your line, find how far you can take it."
Yam says she "found her line" courtesy of a former boss at Deloitte, who gave her constructive feedback on her work habits.
"He said to me that I say 'yes' to everything, that I am very nice, but that I needed to learn how to say 'no' if I don't have time because people get ahead by prioritising strategically, not just by being nice," Yam says.
"He started giving me tasks and waited for me to push back, and when I finally said 'no' he said, 'Well done'."
Climbing the ladder
In fact, learning to say "no" and standing your ground are essential for career success, according to Yam.
"The stereotype of Asian women in an international firm is that we are nice and gentle, but it is important to be true to yourself and to make yourself heard," Yam says.
"You should be able to communicate without worrying about saying the wrong thing, and if something doesn't work for you, then say it." Lei agrees, and adds it's important to build a strong team to get to the top.
Carmen Lei CPA, director at the Macau-based practice of Deloitte, says it's important to build a strong team on the way to the top.
"I only have a certain amount of hours in the day, but if I have a team and we can work together, then we can accomplish more than what I can do on my own," she says.
"I encourage my team to be more proactive so they can handle the tasks independently, but also aligned to the direction of the firm. This prevents me from overloading myself."
When things get hectic, and Lei's feeling the pressure, she unwinds by playing Nanoblocks, which is essentially a smaller version of LEGO.
"It only takes about 30 minutes or an hour, but it's a great way to switch off from work for a while."
Wong concurs that a supportive team is vital, and adds that there is no magic formula for success, but rather it is made up of trial and error, fits and starts.
"No warrior stands alone, and if you approach the right people there will always be someone who will give you a helping hand. Never be afraid of asking for help."
For Fan, success comes down to a matter of choice, and many paths should be open to women – whether it be in the boardroom or as a stay-at-home mum.
"A decade ago, I would go to networking events to meet people and I would be one of the only few senior females in the event, maybe one in a hundred," Fan says.
"I am still very rare, maybe one in 10 now, and while it is definitely improving, senior positions are still dominated by men."
Sometimes this is because of choices women make to work part-time or they choose to work less, Fan says.
"I do wonder sometimes if there are some women who want to go further, who want to go higher, but can't," she says.
Recommended reading
Karina Wong: "The Three-Minute Coach: Effective Leadership Made Simple by Mamoru Itoh, which emphasises the importance of taking the time to talk to and understand your junior staff to help them grow."
Vickie Fan: "Life Without Limits by Nick Vujicic, about an Australian man who was born without limbs. This book is inspirational for me because many people would have given up, but he never did. His confidence and that message to never give up on yourself are very powerful."
Carmen Lei: "I prefer to travel rather than read, as I think it is a better teacher. I like to quote the Chinese saying, "You can learn more by travelling 10,000 miles rather than by reading 10,000 books". Nothing compares with the journey on your own feet."
Alison Yam: "Nice Girls Don't Get The Corner Office by Lois P. Frankel, which emphasises the behaviours that hold women back at work and provides tips on how to stand your ground and say no when you need to."
Quick question
What are the skills young CPAs will need in the future?
Karina Wong:
"Technical skills are important, but I also think you need a strong business mindset. There is a misconception that tax is just about following standards and regulations, and can be quite tedious, but in fact it is much bigger than that. You need to really think about how new standards or regulations affect the client, how they can adapt and respond to those changes."
Carmen Lei:
"I have found that businesses appreciate individuals who are across a wide range of services. I think multidisciplinary talent is a new trend and is a skill set that we most certainly look for. Having an open mindset is very important, too; younger CPAs must absorb every kind of experience they can so they can identify their strengths and interests, and are better able to develop their career."
Vickie Fan:
"As accountants, we have to keep up to date with audits and regulation, so that is a must-have skill. However, because of the changes over the past two decades, IT skills and data analytical skills are extremely important – even more so in the future. Compliance knowledge is also very important, and the ability to monitor risk levels internally is also essential."
Alison Yam:
"Networking skills are very important as you never know what opportunities are out there or how you will grow. As I result, I helped establish the Young Achievers Committee for CPA Australia to help young professionals in Hong Kong to grow their network and boost their confidence levels."
This article was first published inIntheblack.com
Enjoyed this article? Let us know your thoughts comment below:
​
Half the Sky's mission is to supply the tools that can give every woman the ability to build a successful career and be fully prepared for the future of work. So, that they can lead a healthy, prosperous and more balanced/blended lifestyle of their choosing. By building your confidence, you're setting foundations to empower yourself and your career. The world is your oyster, and it starts with you.
Enjoyed this article let us know your thoughts in the comments below:
---
About half the sky
half the sky (HTS) is a career platform for women connecting you to career opportunities at companies that care. Providing you with information, tips and strategies to navigate the rapidly changing workplace.
Sign up to get career tips and job alerts directly to your inbox! Join us to shape the future of women at work together!
---