Back to Blogs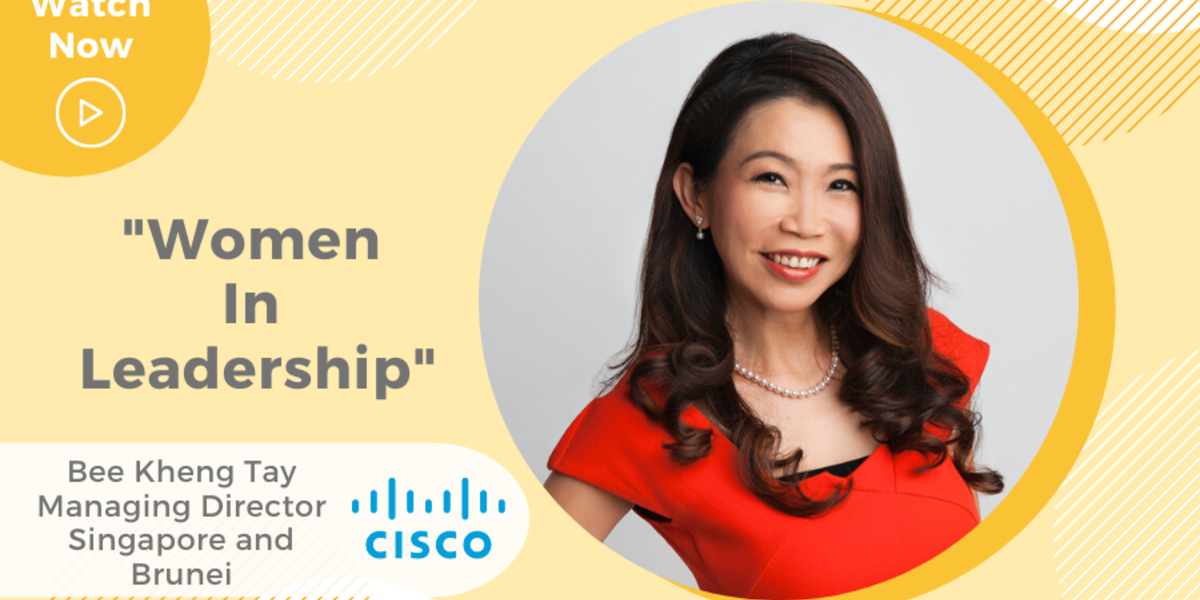 Bee Kheng Tay - Women In Leadership Interview Series
​We curated the Women in Leadership Interview Series to gain insights from some of the most successful female leaders in APAC who have scaled to the top of their profession. The series addresses work place issues that affect all professionals, and hones in on the unique challenges women encounter.
Bee Kheng Tay is the Managing Director, Singapore and Brunei at Cisco. To learn her childhood, her lightbulb moment to switch industry from accounting to technology, her unconventional idea to find your passion, how parenthood has changed her management style or career ambitions, how she dealt with mum guilt, how to break out of comfort zone and many more.
Full Transcript
[Sabrina] So Bee Kheng thank you so much for today.
[Bee Kheng] Welcome to Cisco!
[Sabrina] Bee Kheng share with our audience what was your childhood like?
[Bee Kheng] I have a very nice childhood I think there were a lot of play is not like my parents were like asking me to study a lot, I live in a kampong where there are lots of kids and then you know we create our own games there weren't electronics at that time and then we just enjoy ourselves.
[Sabrina] I understand your study accounting at university how did you get interested in it
[Bee Kheng] I never got interested in accounting partly because okay so my ambition was to become a hairdresser but then it didn't come true. I'm a person who is very affiliated to the Arts and creativity but then I said okay let me try out a professional degree which would be something like an accountancy.
I want to test myself to say I can do it and I I'm the kind of person who say if I try to do something. I can do it!
[Sabrina] Bee Kheng your first job after graduation was at a big four and what was the lightbulb moment for you when you decided to switch industry from accounting to IT?
[Bee Kheng] To me is that sometimes it doesn't matter what you study whatever you want to do you can achieve it coming into the technology sector isn't something that I thought I would do after Deloitte (the big four) I went into IBM and then when you're in it, you become passionate about it, when you learn more you want to do more and that's where your career takes off.
[Sabrina] Bee Kheng was there a process to find your passion or it just came to you during your work?
[Bee Kheng] A lot of people actually say you know I need to find my passion but I always feel that sometimes
Let the passion find you!
that means that when you're in it and you spend a lot time in it and you are good at it become an expert then passion will find you I always advice people don't keep searching for your passion maybe you should be good at it spend a lot of time in it when you are good at something you have to spend at least 10,000 hours on it, you want to be an expert and playing the piano you want, your expert in gymnastic, you want to be an expert in something you need to spend the time then once you spend the time you get better at it then the passion Will find you!
[Sabrina] I love that! Bee Kheng can you tell us more about your current role. I am the managing director for Cisco, Singapore and Brunei managing the operation here, there is a part of my role which is you know people will think that may not be so glamorous which is day in day out delivered the numbers, making sure that we bring growth to Cisco in the country.
But there's also another part of the role which I'm really very passionate about which is what we call the National engagement for the country which means that what we are trying to do for Singapore is making the country more secure bringing innovations to this country and also build the relevant skills for Singapore because you know technology right now when you're looking at it it's actually disrupting a lot of industries so what do we do with the resources or the people who are being disrupted and how can we help as a company to be able to make sure that the people have the relevant skills for the next few years.
[Sabrina] What motivates you as a leader?
[Bee Kheng] The people! If you as a leader have the right people who are motivated and being very energized and they loved their job that is the part that motivates me a lot, because you have a high performance, high energized team who are not afraid to do things that they have not done before and so that this is the part where I love!
[Sabrina] Do you think parenthood has changed your management style or career ambitions?
[Bee Kheng] When they were young I make a conscious effort that I don't want to do any regional jobs because I need to spend some time with them and it's also when you are a mother, sometimes you get this affiliation very much, like very close to the kids and that's the part where you choose not to be doing regional job and you choose to be more country bound.
But at a certain point in time I decided that I do have to care about my own career because I need to also center around me if I'm not happy then you know I won't create a home environment that is good as well.
So at one point in time I said if I want to grow my career then I have to take a regional job and that's where I decided to do an ASEAN job and I remember I was talking to my friend and she was also struggling with the same kind of decision points and I told her that for me I want to come back to myself, center around myself first instead of center my life around my kids and that's my decision point.
[Sabrina] I think you just brought up a very good point about I need to be happy first, so that my kids will be happier!
Bee Kheng There is a growing push in society for companies to have more proactive back to work policies for moms in your opinion what kind of arrangements work best and what doesn't?
Cisco has a very good work policy, we are flexible in terms of whether you can work from home or in office or anywhere, the reason is because we have the technology that allows whether it is mom or dad to be able to do that. - Bee Kheng
I guess a lot of times we talk about mom but we forgot about the dad right because dad can play a very important role in a mom's career as well so we use the technology that we have which is the collaboration technology to allow people to work anywhere anytime any place and wherever they want to and then we have flexi hour, we don't really enforce people to come into office, Cisco is a very good environment for mom as well as for dad I think my ideal environment.
[Sabrina] It's amazing office, it's beautiful! We just had a tour and a great view and it seems like it's a very hot desking environment as well.
[Bee Kheng] It's totally mobile everyone including me the ASEAN President the APJ (Asia Pacific, Japan) President, they're all mobile so they don't have a room, they don't have a fixed desk and for us this is changing the culture and changing the way we work, you know this to us is the future of work!
[Sabrina] Transparency!
[Bee Kheng] Yes correct.
​[Sabrina]Bee Kheng lots of professional mothers feel guilty when making sacrifices how do you deal with this guilt.
[Bee Kheng]Do not have any guilts, just move on, you know I think to me guilt is the worst feeling to have, when you feel guilty it means you feel guilty of something in the past, correct. It's not something that is at present.
If you're with the kids you're more present then don't feel the guilt because you're present and if you're guilty about the future it hasn't happened yet so why, so for me, no guilt!
[Sabrina]When you said to be present so it's all about the quality of time you spent with your kids.
You also have to explain to the kids that a lot of things that we do actually are for them and sometimes the reason why maybe they sometimes don't understand is because we have not explained enough to them about why we're working this way or maybe we have not explained to ourselves as well why we're working this way why we do certain things and all this but if you know the reason you know the whys for yourself and also for the kids I think you create an understanding. And very importantly again I want to stress, do not have any guilt feeling, is not a good feeling to have. - Bee Kheng
[Sabrina]What kind of support structure do you have at home to enable you excel in your career?
[Bee Kheng]When my kids were young I do have my parents and I think Singapore is actually great for women because we have the helpers to help us and then you know at least we can focus a lot on our work so I have that support structure when my kids were at a very young age I send them to nursery school so that they can learn a lot of social interaction as well because for me, social interactions to me and the confidence are more important than pure academy.
[Sabrina]What should professional mothers consider before starting an employment at a new company?
You have to understand exactly what you want first and what you can sacrifice I always tell people that first understand yourself, understand what you want, understand what you can sacrifice first and then when you really have that centered within yourself then whatever opportunities that comes in, you can actually say this is what I want and this is not what I want and also ask the right questions, do the right analysis. - Bee Kheng
What I feel about a lot of women is that they tend to want to do jobs that they feel comfortable with if you do jobs that you're comfortable with and to me is you're not stretching yourself so I think women have to stretch themselves and do jobs that they think they do not really have the skill for it sometimes you never test yourself you'll never know.
[Sabrina]A lot of people like to be in the comfort zone that's why it calls comfort zone because they feel comfortable and in terms of the mindset, how we can break out of that and get out from the comfort zone?
[Bee Kheng]Don't be in the comfort zone
[Sabrina]That's so easy.
[Bee Kheng]Yea it's true, I'm always very wary when I'm doing a job and I'm at the comfort zone I know that I would not give my best because I would not think outside the box, I would not think of risky things to do, it's like you, you came out and do half the sky, I think you feel very uncomfortable and it's a big risk for you but it's very rewarding.
[Sabrina]And we're growing as well.
[Bee Kheng]As we're taking risks and get out from our comfort zone, it's not easy no body says it's easy but it's an exciting journey!
[Sabrina]Bee Kheng with a growing skill gap how can female professionals stay relevant in the tech space?
[Bee Kheng]Read a lot, learn a lot, continuously learning is very important, I think one thing that female may not be doing very well is in the networking space. So may be how you network maybe not in the traditional way using social media, using other ways to network could be important, so I guess your platform could be one of the ways that the woman can do network without actually spending a lot of hours and bonding with other people but the networking actually is an important.
[Sabrina]Bee Kheng how can we attract more female professionals to be interested in STEM while traditionally they are intimidated by it?
[Bee Kheng]Using us as an example it's possible to be in STEM even as a woman with family with kids and play many roles. I do urge women who are already in STEM to have the staying power, you can do it definitely just have more confidence in yourself.
[Sabrina]Bee Kheng half the sky is a career platform for women and it connects women to better jobs at companies that care, in your opinion what companies should do to attract and retain female talent?
[Bee Kheng]Of course, the companies should make use of half the sky platform to be able to find women talent that they want. I just give an example for Cisco which is a very diverse company and is intended to do that so. I'm the first female country manager in Singapore. We do have a APJ President who is a Japanese female, our worldwide leader for sales and marketing is also female. How do we do it? Because few years ago,
Purposely when we have the role opened, we purposely said that the candidates that we have in the mix must have the diversity, at least 50% must be female in terms of the candidates. What's the reason behind that? The ethos in Cisco is that we truly truly believe in diversity and getting the diverse views from different backgrounds, gender and so on. It's the deep belief that we have. That's the reason why from the CEO down to the country level. We make sure we do that.
[Sabrina]You guys are walking the talk.
[Bee Kheng]Yes, correct.
[Sabrina]What are your thoughts on a platform like half the sky?
[Bee Kheng]It's a very good platform that you have which is specifically for women and I just hope that more women know you are doing such a great thing for them. To be able to come out and specifically be so deeply believe in doing something for women and creating this platform is definitely such a great act on your part. I just hope that more companies, more women would find your platform, use your platform and then be able to find the right job or get the right candidates.
[Sabrina]With you being our advocate and role model, definitely we can attract a lot more women sign up on our platform. Thank you so much Bee Kheng.
Enjoyed this interview? Let us know your thoughts and comment below:
​
Half the Sky's mission is to supply the tools that can give every woman the ability to build a successful career and be fully prepared for the future of work. So, that they can lead a healthy, prosperous and more balanced/blended lifestyle of their choosing. By building your confidence, you're setting foundations to empower yourself and your career. The world is your oyster, and it starts with you.
Enjoyed this article let us know your thoughts in the comments below:
---
About half the sky
half the sky (HTS) is a career platform for women connecting you to career opportunities at companies that care. Providing you with information, tips and strategies to navigate the rapidly changing workplace.
Sign up to get career tips and job alerts directly to your inbox! Join us to shape the future of women at work together!
---