Back to Blogs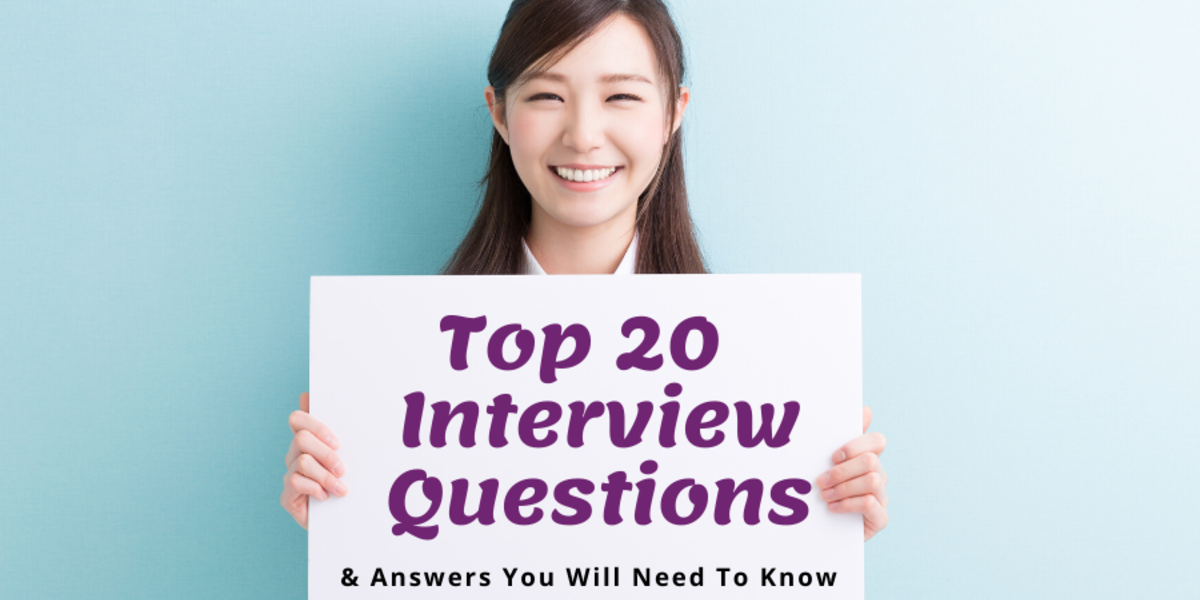 Top 20 Interview Questions & Answers You Will Need To Know.
​Finding an ideal job in a preferred company is not an easy task. When you are applying for jobs on different employment websites such as LinkedIn, you will probably notice that there are many other applicants going after the same role. Hence, when it comes to the interview process, it is important to nail it. In order to seal the deal, preparation is the key. To help you get started with the process, the team at Half The Sky have put together theTop 20 Interview Questions & Answers You Will Need To Know.
1. Tell me more about yourself.
This is the most common first question that interviewer will ask. This icebreaker question will allow the interviewee to present themselves in the best way possible. Although this question is to get you started comfortably, it does not necessarily mean the answer will not be considered. Simple question, but not easy to answer.
How to answer this question?
This is the best opportunity to let your interviewer learn more about yourself beyond the resume submitted. That being said, remember not to narrate your resume. Most importantly, do not mention about any personal details. Start off by talking about your professional achievements, and add in the specifics.
2. What are your strengths?
Believe it or not, but many candidates often take this for granted simply because it appears to be simple. It is always best not to be overconfident during preparation. It will be difficult to frame the answer during the interview. When this question is being asked, the interviewers are really testing your response.
How to answer this question?
Instead of naming all the skills that you have acquired, choose one or two skills that matches with the position that you are applying for. To get started, do a quick search of the company that you are applying for. Do not forget to elaborate the reasons behind why you think you have those skills as strengths.
3. What are your weaknesses?
This question goes hand in hand with the prior question. Naturally, the interviewers would want to cover the whole spectrum, the good and the bad. Similarly, this question is to test your character as a person. It comes in multiple layers from seeking for red flags to understanding how you function in a difficult setting.
How to answer this question?
It goes without saying that everybody has weaknesses. Therefore, do not play the arrogant card by saying that you do obtain any weaknesses. To answer this question successfully, pick one weaknesses, and explain how you are working towards eliminating it. It is best not to include any personal weaknesses such as your love for Korean drama's.
4. Why are you leaving or have left the previous job?
There are many reasons why people leave a position. Possibilities may include looking for new opportunities to grow, seeking for a salary increase, or even looking for chance to relocate. Of course, there are bad reasons why people leave their previous company, too. How do you answer this question if you are leaving the company on a bad note?
How to answer this question?
Here's an important note! If you are planning to attend multiple interviews during the same period, remember to keep the story consistent. There are possibilities that interviewers may compare notes. Bring a positive light to your answer by keeping out unnecessary details. Keep it short, keep it sweet.
5. What did you like or dislike about your previous job?
Although this question seems to be simple enough to answer, but it holds a lot of weight. The answers given will indicate whether you are right for the position that you are applying for. It gravitates towards the emotional aspect. Hence, your answers will let the interviewers know how you will feel about this new position.
How to answer this question?
List out some of the things that you like and dislike in your previous job. When you are answering, highlight more things that you like about your job, instead of the things you dislike. Start off with the things you dislike, and end strong with the things that you like. Try to match the things like with the new position.
6. What were your previous responsibilities?
You are probably wondering, "What's the point of asking my previous responsibilities, when I have inserted it in my resume?". This common question is asked as interviewers would like to get a candid answer out of you considering that a resume is well scripted. This question is an opportunity for the interviewers to get to know your work ethics better!
How to answer this question?
It is important to know your resume by heart. While answering the question, explain the responsibilities written in the resume in detail, and highlight the similarities with the new role you are applying for. Showing that you have previous experience for the position will help you to ace this question successfully.
7. How well do you handle pressure?
Regardless of any job positions, and companies, there are bound to be some pressure. In this question, interviewers would really like to know how you are affected from work stress, and the methods used to handle these situations. In other words, they are asking about your stress points, and if it affects your job performance.
How to answer this question?
Similar to answering "What are your weaknesses?", do not play the arrogant card and state that you can handle all kinds of pressure. Instead, find a situation from the past whereby you felt pressured, and explain how you managed to handle the situation. Pick a situation that reflects well on you.
8. Describe a difficult situation, and how you handled it.
Problem solving skills is the way of the future. Regardless of the position you are applying for, this interpersonal skill plays an important role. Similar format with "How well do you handle pressure?", this question determines your capability to solve an issue within a timeframe. This answer you provide will help interviewers to understand if you are up for challenges.
How to answer this question?
The question itself is the flow of the answer. Start off by describing a difficult situation from your previous work, and the methods that were used to overcome it. Pick a situation that you have managed to mitigate the problem successfully. Be honest, and do not exaggerate the severity of the situation.
9. Why do you want this job?
Throwing out this question, interviewers would want to know your overall career objectives. Some people add their career objectives into their resume, while others do not. But, how do you determine if your career objective is a good one? Choose a narrow career objective instead of a broad one. A broad career objective indicates that you are not quite sure about your direction.
How to answer this question?
It is as simple as matching your career objective to the job position that you are applying for. With that said, a bit of research would be helpful to understand the position better. Take some time to explain how the position will propel you towards being the best version of yourself. Do not forget about mentioning the potential contributions that you can offer to the company, too.
10. Are you willing to relocate or travel for work?
Sure, the idea of moving to a new city and start a new life sounds extremely exciting. But, this question is not exactly what it seems to be. Commonly, this question is asked by the interviewers to understand your level of enthusiasm to undertake this new position. In other words, how committed are you with this role?
How to answer this question?
Even if you are not willing to relocate or travel for work, do not answer this question with a cold "no". It is best to answer this question full of enthusiasm, and your willingness to make things work.
11. What do you know about this company?
With so many potential employees, this question acts as a filter for interviewers to differentiate desperate candidates from the prepared ones. After all, it is the interviewers' ultimate goal to hire a person who is truly passionate about the job position, and company. In addition, it helps them judge your level of curiosity!
How to answer this question?
To answer this question brilliantly, a proper research of the company must be conducted. Normally, you will be able to find all the necessary information required through the company's official website. Take a look at the company's backstory, the team behind the company, and also the company's direction.
12. What are your thoughts about working in a team?
Having a nine to five job, you will be seeing your colleagues very often. This question enables the interviewers to comprehend how well you gel well with other employees. It is an unsaid truth that team players are the future leaders of a company, and people who can't work well in a team are liabilities.
How to answer this question?
It is another question that requires instances from the past. If you have been working for a couple of years, choose an instance from the previous company. As for fresh graduates, pick an instance from your internship period. Talking about the team projects is a great way to start the conversation.
What kind of environment do you expect?
Depending on the companies, the working environment can be very different. A multinational company's environment is not equivalent to a start-up environment. Interviewers would often want to know if the candidate is able to fit into the working environment, from organisation structure, leadership, and work-life balance.
How to answer this question?
Before heading down to the interview, it is best to make preparations by having a quick Google search to understand the company's working environment. While answering the question, try to be more flexible with your answers. Additionally, mention that you are open for any adjustments if your previous company's environment is not the same.
14. What are your long-term / short-term goals?
It is the best question for interviewers to understand your commitment towards the job. Additionally, your answers help the interviewers to comprehend the level of maturity, and not to mention your work graph. With this question in mind, interviewers truly wants to know if you are a good hire.
How to answer this question?
If you haven't put much thought about your future, it is time to start thinking. Simply break down your path to six months, one year, and five years from now. Do not forget to include the company within your plans! Kick off the answer with your short-term plans, and expand to your long-term plans.
15. What are you most passionate about?
What truly motivates you to wake up in the morning, and go to work? Passion is the key that keeps us going with our daily work routine. For this question, interviewers are looking to understand the drive that motivates you, and how it will fit with job position. Therefore, it is crucial to have passion that reflects on the role.
How to answer this question?
Think about some of the passions you have that matches the job position. Additionally, you can mention your passions out of work as well. It can be hobbies, or some of the charitable work you have done in the past. By doing so, you will look like a well-rounded person, and it gives interviewers an insight of your life out of work.
16. How do you evaluate success?
Everybody evaluates success very differently. Some people believe that success is being able to do good work everyday, while others believe success comes in monetary form. When this question is being asked, employers want to know your work ethics, career goals, and life goals. Generally, your overall personality, too!
How to answer this question?
The best way to answer this question is through preparing examples of your previous successes, and assess the factors that contribute to your achievements. Then, share the knowledge you have obtained through the experience, and how it will be beneficial to the company in the future.
17. What were starting and final levels of compensations?
In this question, interviewers are seeking to know your growth from the previous company in a financial aspect. Additionally, this question will help them to understand if you are a competitive candidate based on salary perspective. This question enables the interviewers to comprehend your potential growth.
How to answer this question?
Be honest when you answer this question, as potential employers will run a full background check before passing an offer letter to you. Remember to have all the numbers kept and locked in your mind, from the starting of the employment until the current salary. It is alright to have a range, but do not give answers that are too vague.
18. What is your expected salary?
There are so many questions to answer during an interview. However, this straightforward question will be the hardest to answer. Answer this question well, as the interviewers are most likely keen to hire you. Questions about salary acts as a filter to allow interviewers comprehend whether candidate would fit the company's allocated budget.
How to answer this question?
For this particular question, it is important to do research about the range of expected salary. Check expected salary for the same job positions in different companies within the industry, as well as the salary for your qualifications. Bare in mind that there will be a possibility that you would not get the amount that you have asked for. Also if you don't have a firm number in mind inform the interviewer that you will need some time to get back to them.
19. Why should we hire you?
In other words, this question can be translated to, "What makes you the best person for this particular position?". This question is commonly asked nearing the end of the interview. Interviewers want to check your suitability for the position.Take this opportunity to portray yourself as the best person for the job.
How to answer this question?
Follow the simple guideline of highlighting the professional skills that you have that is required by the job position, and how you stand out from other potential candidates. Additionally, answer the question by letting the interviewers understand how you are aligned with the company's current and future direction.
20. Do you have any questions for me / us?
At the end of the interview, interviewers are open to answer any questions from your end. Being the last question, this is the best opportunity to leave a good impression for your interviewers. Although you will be asking the question, the interviewers will be checking for your preparation, enthusiasm, and readiness to work.
How to answer this question?
Prepare a list of questions that you would like to ask. It is crucial to have questions that are relevant to the interviewer, As an example, if the interviewers is from Human Resources, some questions can include the organisation structure. To make it conversational, try asking one question at a time.
Enjoyed this article? Let us know your thoughts comment below:
​
Half the Sky's mission is to supply the tools that can give every woman the ability to build a successful career and be fully prepared for the future of work. So, that they can lead a healthy, prosperous and more balanced/blended lifestyle of their choosing. By building your confidence, you're setting foundations to empower yourself and your career. The world is your oyster, and it starts with you.
Enjoyed this article let us know your thoughts in the comments below:
---
About half the sky
half the sky (HTS) is a career platform for women connecting you to career opportunities at companies that care. Providing you with information, tips and strategies to navigate the rapidly changing workplace.
Sign up to get career tips and job alerts directly to your inbox! Join us to shape the future of women at work together!
---