Back to Blogs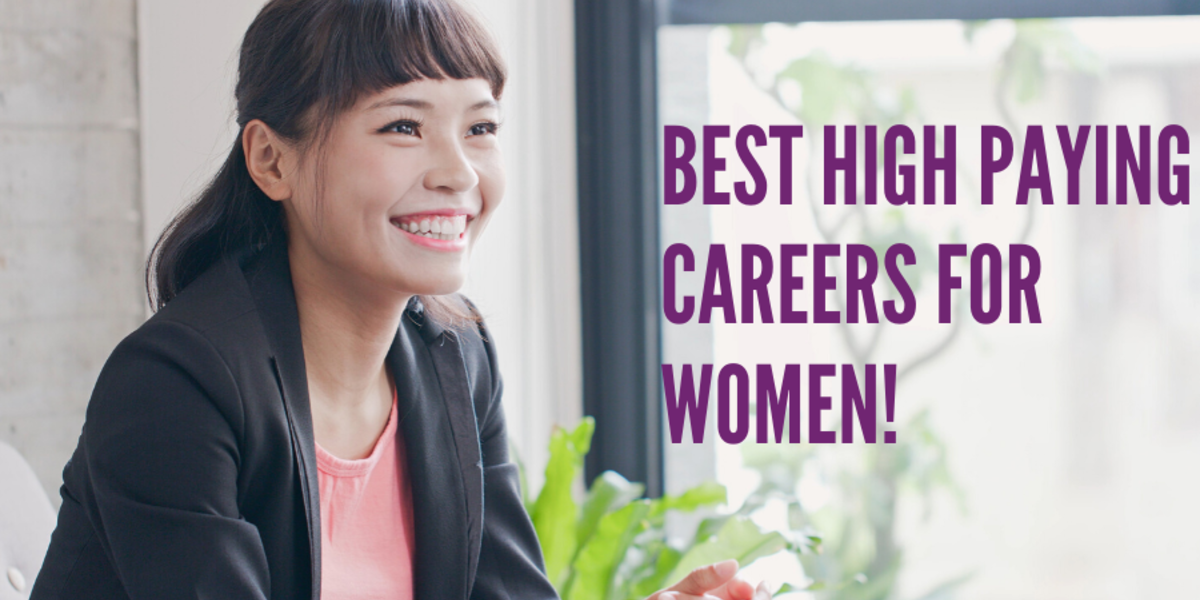 The Best High Paying Careers For Women!
​Over the recent years, there have been many numerous studies examining the difference between the earnings of men and women. Most, if not all, of these researches have a similar conclusion. Women get paid less in comparison with their male counterparts. In numbers, a typical woman in Singapore is paid 13% less than a man, despite having the same position, and performing the same tasks. Based on a research by Glassdoor Economic Research, it has also suggested that women's earnings peak faster than men.
On average, women are outliving men, and these statistics pose as a challenge to accumulate sufficient wealth to ensure a comfortable retirement. With that said, it is great to explore the top earning professions for women. It is time to find out The Best High Paying Careers For Women! The following are the results from Glassdoor Salary review and Korn Ferry Salary Survey.
1. Specialist Medical Practitioner
Monthly Salary $10,000 -$28,000 Plus bonuses.
Specialist Medical Practitioners working in roles such as emergency physicians or anaesthesiologists can earn a monthly gross salary of $23,705. It is their skills, expertise and education that gives them this rewarding salary. Being a specialist is never easy. This involves at least 5 years in medical school and years of residency in a hospital. Singapore is known for having the best hospitals in the world due to its advanced medical health care technology and patients abroad fly to Singapore hospitals for treatment here. It is no wonder they are highly paid.
​​2.Legal Counsel (Legal)
Monthly Salary $10,000 - $27,000 (Plus bonuses).
It comes as no surprise that lawyer salaries in Singapore, especially those in private practices, have the highest salaries, earning an average of up to $500,000 a year. The average lawyer salary in Singapore varies of course, but years of experience plays a huge part in determining the amount. For example, lawyers who have 10–15 years of experience earn an average of up to $375,000 a year, which means that they can expect a 25% jump in their salary from the 10–15 year mark.
3.Fund Portfolio Manager
Monthly Salary $12,000 - $27,000 (Plus bonuses).
Obviously, banking is a high paying industry in Singapore, as it is everywhere else. Why else do you think the CBD has so many overpriced gyms and eateries? Some of the most well-paying jobs for women in the ever-expanding Singapore finance industry is as a Fund portfolio manager, unfortunately women make up less than 10% of fund managers globally. For those in the position and have survived the long hours and highly stressed environment the financial rewards can be fantastic.
4.CFO
Monthly Salary: $12,500 - $27000
Think finance and accounting is only for boring people? This math-focused position requires a lot of calculations to improve an organization's operations. With a good CFO, companies are able to make better decisions
5.Software developer
Monthly Salary: $6,500 - $10,000
Out of five software developers, only one of them is a woman. Here's the good news! There are many opportunities for women in this position as there's an employment growth of 24%. The role of software developers will continue to be critical in years to come as they are required to create mobile applications for games such as candy crush, and more pressing software for cybersecurity and preventing those online criminals.
6. General Manager (Healthcare and Life Sciences)
Monthly Salary: $15,000 - $25,000
Singapore maintains its position as Asia's fastest growing biomedical hub, creating a need for more specialised skills and high-level talent in this industry. Based on salary averages, we can see that employers are prepared to increase investment headcount for commercial roles like sales and marketing to ensure adequate market gains. As such, general managers in this industry can expect to earn up to an average of $390,000 per year. This is most notable for general managers with a focus on the Asia-Pacific markets.
7. Management Consultant / Analyst
Monthly Salary: $10,000 - $14,500
With a growth rate of 14%, this business sector are run by 44% women. Commonly referred to as a management consultant, management analysts investigates methods to help an organisation to reduce cost, increase revenue and become more profitable by improving efficiency. For this position, employers prefer candidates with an MBA, or an equivalent education background.
8. Chief Human Resources Officer
Monthly Salary: $12,500 - $27,000 Plus bonuses.
It turns out that human resources is a pretty high-paying profession and is a sector with high hiring demand over the next three - five years as companies seek to radically transform their businesses due to digital and wider technological disruption. And while roles like Human Resource Managers, Learning & Talent Development Manager, Talent Acquisition Manager and Compensation & Benefits Senior Manager are particularly popular, the Chief Human Resource Officer is the one with the highest paying job at $275,000 per annum on average.
9.Chief Technology Officer
Monthly Salary: $12,000 - $25,000
Digital transformation continues to be a focus for organizations and governments alike and over the years, the number of women as computer and information systems managers are increasing. Chief Technology Officers are responsible for all thing's technology including overseeing all technology resources for the organization. It is a vital role in the age of technological disruption.
10. Civil Engineering & Construction
Monthly Salary: $7000 - $15,000
Consisting only 15% women, civil engineers have an employment growth of 11%. This job may pose many obstacles, but definitely fulfilling. Civil engineers play a vital role with the design, construction, and maintenance of public works such as roads, bridges, and water systems. Starting with a bachelor's degree, this position will require a graduate degree and state licensing to advance.
Enjoyed this article? Let us know your thoughts comment below:
​
Half the Sky's mission is to supply the tools that can give every woman the ability to build a successful career and be fully prepared for the future of work. So, that they can lead a healthy, prosperous and more balanced/blended lifestyle of their choosing. By building your confidence, you're setting foundations to empower yourself and your career. The world is your oyster, and it starts with you.
Enjoyed this article let us know your thoughts in the comments below:
---
About half the sky
half the sky (HTS) is a career platform for women connecting you to career opportunities at companies that care. Providing you with information, tips and strategies to navigate the rapidly changing workplace.
Sign up to get career tips and job alerts directly to your inbox! Join us to shape the future of women at work together!
---