Back to Blogs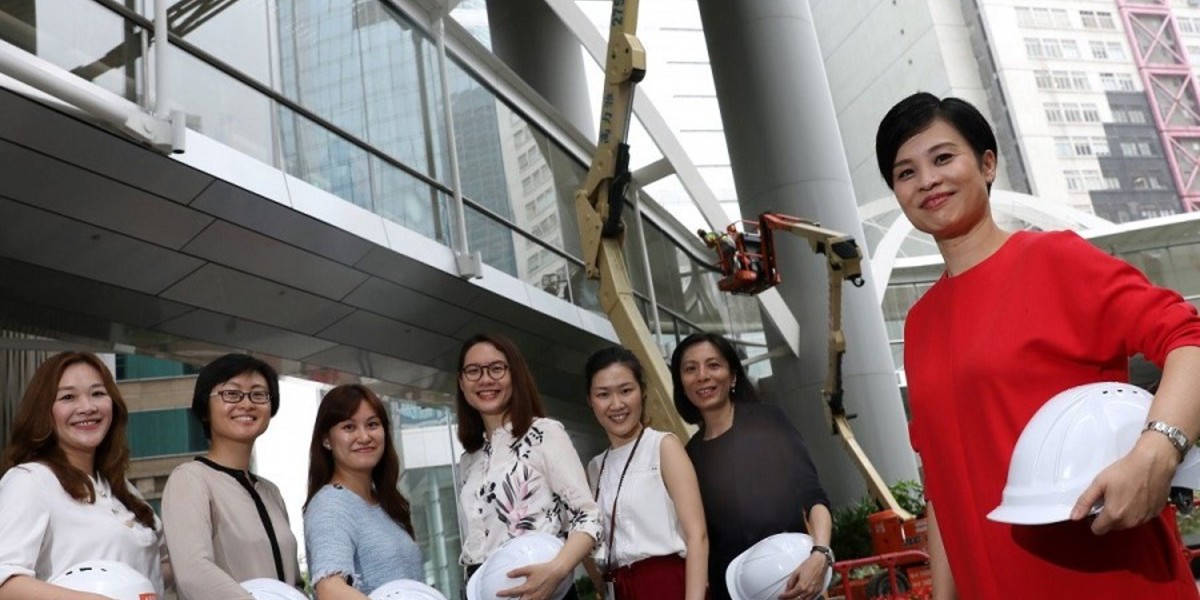 Building relationships: how Hong Kong women overcome myths and prejudice to succeed as engineers in the male-dominated world of construction
​
Female professionals make up only 8 per cent of city's engineers but diversity drives in some big firms are increasing this number

Women in the business say their soft skills can make the job easier in resolving disputes and problems with male workers
Working on construction sites strewn with earth, rubble, heavy machinery and an intimidating number of huge steel structures, Phyllis Chen Fai-wing habitually puts on a helmet, a reflective vest and non-slip boots to start her day in what is perceived as a man's world.
For Chen, 37, project manager at Gammon Construction, and many other female engineers, dealing with mostly male colleagues is part of the daily routine.
But this poses a challenge when they need to supervise workers in a tough environment to complete building projects in Hong Kong, which is known for its high-rises and contemporary architecture. According to the Hong Kong Institute of Engineers, women make up only about 8 per cent of its more than 16,000 members.
Given their relatively small numbers, female professionals have been subject to misconceptions and doubts in the male-dominated building industry. These include the notion that engineering is for men only or that it requires a lot of physical strength and technical skills that go beyond women's abilities.
However, a group of female professionals who talked to the Post rejected those myths. They say that, contrary to what is commonly believed, engineering is an exciting female-friendly sector with rewarding opportunities.
Phyllis Chen says that, contrary to what others think, one of the advantages of having female engineers is they can soften tensions on site and reach a consensus with workers, resulting in a more effective delivery of work.
A graduate of building engineering at Polytechnic University, Chen joined the construction sector in 2004 as a graduate engineer in a small firm. She was tasked with supervising a team of workers at a site where she was the only female engineer. Two years later she joined Gammon and worked her way up from assistant engineer to project manager.
"Before I joined this industry I was a little bit worried about the construction site environment. I wondered if it was really dirty, complicated and sleazy and whether I would be able to communicate well with the workers," she admits. "But as time went by, I got used to the site work, which is the very thing I find stimulating. I enjoy chatting with the workers. Now it would be impossible for me to just sit in the office the whole day," she says.
Her job has long required her to start the day on a building site. Her responsibilities range from briefing workers about their daily work procedures to monitoring their work and solving technical problems. She only comes back to the office later in the day to take care of paperwork.
Despite being at ease in her job now, in the early stage of her career Chen went through a period of feeling lost, as she needed to grapple over issues with workers to solve problems on site.
"The workers didn't know how to read the design plan and they just relied on your guidance to work things out. At first I didn't have a clue as I was very inexperienced. Naturally, they doubted my ability," she explained.
Chen told herself she had to overcome this sense of frustration. She worked many late nights to get the know-how, and to dig up the answers to problems. Very quickly, she earned the trust and recognition of workers. "Later, many workers praised me for working better and harder than male engineers," she recalls.
The most difficult part of her work, she says, was to change the culture of workers who come from a very different world. "They have their own way of thinking about site safety. They don't like to wear protective gear for the sake of convenience and they resist your attempts to tell them. In the beginning we did fight a lot and it was very tiring," she admits.
"But later I realised it was pointless telling them off. You can never change their safety culture by scolding. Rather, you need to motivate them to think of the tragic consequences of having an accident. Slowly, they start to take your advice," she says.

"You need to use your wits … If you are too high-handed, it may have a negative impact on the cooperation."
Chen says that, contrary to what others think, one of the advantages of having female engineers is that they can soften tensions on site and reach a consensus with workers, resulting in a more effective delivery of work.
"Tempers easily flare on the site as arguments between engineers and workers over things such as the quality of work or progress on it, are not uncommon," she says.
Tiffany Chan Shu-ting, 32, facade engineer for engineering consultant Arup, says it is a misconception that engineering is a male-dominated industry where workers are foul-mouthed and rude to women on site.
"This notion is absolutely not true. People who think this watch too much TV," she says, laughing. "Actually, workers are nice and helpful to women. When they see women around, they will tidy up the place and become very gentle."
Chan, who joined the industry 10 years ago, suggests that some women's preference for soft skills make them more persuasive and better at convincing people to take their advice.
She says engineering is a profession that needs diversity, especially women's input, with alternative perspectives and talents from a mix of backgrounds to achieve the best performance. The buildings, after all, are for people from all walks of life to use, she adds.
She and Chen were part of the project team responsible for redeveloping Swire Properties' One Taikoo Place in Quarry Bay, which was completed at the end of last year as part of the HK$15-billion renovation project to turn the zone into a world-class commercial hub.
Chan's greatest challenge was to take care of its highlight – window panels on a record-breaking curtain wall almost 18 metres high and three metres wide for the building's podium, offering panoramic views of the urban landscape.
The task was daunting, involving a complex quality control process from repeated testing to thorough inspections to ensure every inch of the huge glass panels was free of any impurities or defects and met the required safety standards.
The most difficult part was to arrange the logistics to transport the giant glass panels from the mainland, where they were manufactured, to the site in Hong Kong through the city's narrow streets.
"The task was full of risks as one little misstep might set the whole process back to square one and cause delays," she says. The team heaved a sigh of relief when the glass panels arrived unscathed and were then successfully installed.
Eliza Wong Yeuk-lan, Swire Properties' projects general manager in charge of hiring engineers, admits that female staff with heavy workloads and responsibilities may need to make an extra effort to keep a work-life balance.
"They will have personal struggles when they are about to get married, have babies or need more time to raise a child. How to strike a balance between their family life and work is one of the biggest challenges for them," she says.
She says it depends on whether their companies have good family-friendly policies to support female staff. "There have been cases where they quit their job because they're pregnant and then some time later they return to the company."
Wong, 49, who has a five-year-old son, takes herself as an example. "I felt easily tired during and after my pregnancy. But my company and colleagues were supportive; they adjusted their schedules to accommodate me," she says.
Nevertheless, she emphasises that Swire acknowledges the importance of having diversity in the workplace, as in the company's projects department, where female professionals account for 42 per cent of staff.
"We adopt equal opportunities policies to hire people irrespective of gender. But if you ask me to choose between a man and a woman with the same capabilities, I will take into account the diversity factor," she admits.
Wong also dismisses the notion that it is hard for female engineers to climb the career ladder to senior management. "It all depends on one's capabilities and performance. So far, I've never come across any gender bias," she says, adding that, at director level in Swire, women make up about 50 per cent of the headcount.
Margaret Wong Yin-wah, executive director of Wong & Ouyang Architects, agrees, saying the industry has a lot to offer for women who have a passion and talent for building great projects. "People actually evaluate your abilities, not your gender," she says.
However, Wong, who is in her 50s, warns that the job of engineers and architects is very stressful and highly demanding. "As I've got older, I've started having health issues. The stress was too much for me. I once considered quitting," she says.
But, as the designer of One Taikoo Place, she says that when she saw her ideas come to fruition, the overflowing satisfaction kept her going.
The same is also true for the others, and the overwhelming sense of pride is beyond words for them when they see the results of their hard work – buildings that last many years, to be used by generations of people.
This article was first published in South China Morning Post.
Enjoyed this article let us know your thoughts comment below:
​
Half the Sky's mission is to supply the tools that can give every woman the ability to build a successful career and be fully prepared for the future of work. So, that they can lead a healthy, prosperous and more balanced/blended lifestyle of their choosing. By building your confidence, you're setting foundations to empower yourself and your career. The world is your oyster, and it starts with you.
Enjoyed this article let us know your thoughts in the comments below:
---
About half the sky
half the sky (HTS) is a career platform for women connecting you to career opportunities at companies that care. Providing you with information, tips and strategies to navigate the rapidly changing workplace.
Sign up to get career tips and job alerts directly to your inbox! Join us to shape the future of women at work together!
---