Back to Blogs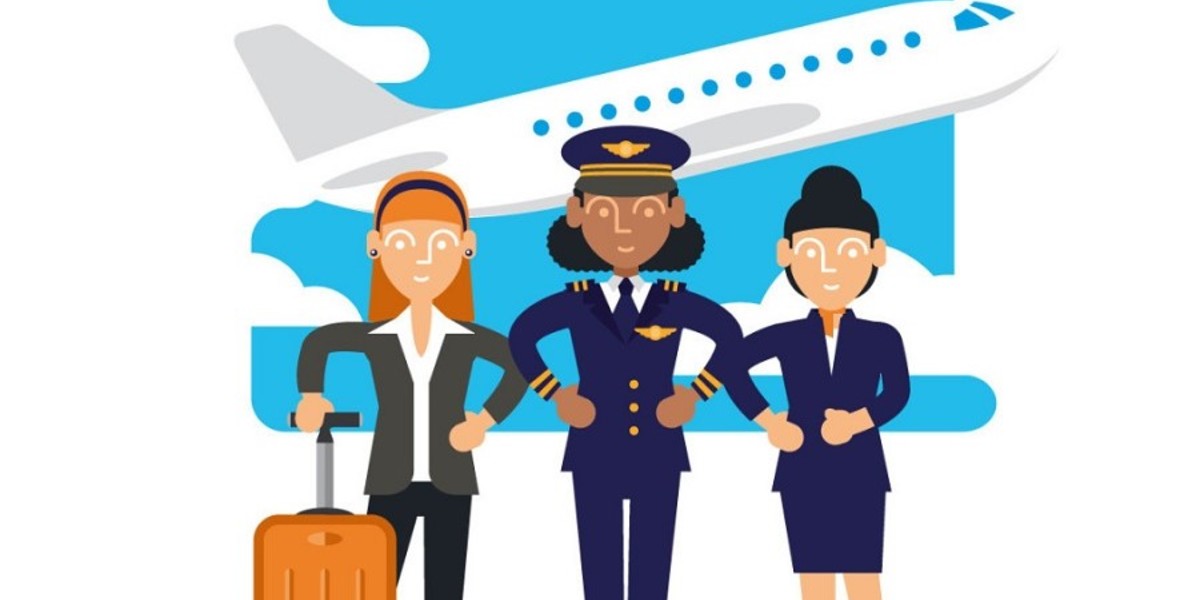 A business case for gender equality, diversity and inclusion in aviation
​Abstract-
This short paper reviews the business case for gender equality in Aviation and briefly reviews the key impediments that hinder female participation in Aviation. There will also be a discussion of the actions undertaken by stakeholders to mitigate the phenomenon and the impact of these actions in achieving gender equality by 2030 before recommending some possible solutions that may be implemented.
Opportunities
Boeing's latest pilot and technician outlook forecasts demand for 790,000 pilots worldwide over the 2 decades implies that there are job opportunities abound for aspiring pilots and other technical experts. Boeing predicts that the airlines based in the Asia Pacific region will require 261,000 new pilots from now till 2037, which far surpasses the projected pilots' figures for North America (206,000), Europe (146,000) and the Middle East (64,000).
In fact, these figures coincide with the predictions and trends released by IATA (International Air Traffic Association) which highlight that the Asia Pacific region will lead globally in terms of the volume of air traffic growth and passenger movement.
Issues and Challenges
Some reasons have been put forward to explain the current figures of women in aviation. These reasons examine how cultural norms, societal stereotypes and individually held personal biases affect and impact decisions related to female underrepresentation in Aviation.
Firstly, stereotypical views that women are physically not as strong as men and less competent in the cockpit, Maintenance, Repair and Overhaul (MRO), Fixed Base Operations (FBO), Engineering, Air Traffic Control (ATC), ground ops and flight ops deter females from pursuing technical careers in aviation – despite the fact these views are incorrect.
Secondly, women can feel alienated when training in their respective technical roles, due to the male-dominated environment and the lack of female instructors, female co workers, female role models which may cause them to drop out of their training before qualifying as technical experts.
Thirdly, women are encouraged less into aviation as it is commonly and socially perceived as "a man's job." Consequently, this means that young females are less than likely to see it as a viable career path at critical points of their education.
Finally, women are underrepresented in STEM subjects both at school and college levels which makes it more challenging to enter and take on technical roles in Aviation and Aerospace which are highly specialised and usually require a good grounding of subjects such as mathematics, science and physics.
Business Case For Increased Female Participation
In today's workplace, the concepts of equity, diversity and inclusion are increasingly gaining traction and momentum with initiatives like #LeanIn and #BeBoldForChange. However, increasingly, arguments for greater gender equality and inclusion revolve around a solid business case.
First, increased female participation in technical roles helps to overcome skills shortages in the Aviation industry. The acute skills shortages in technical roles that the Aviation industry is experiencing necessitates the need to expand the talent pool.
Secondly, increased female participation helps to overcome future labour shortages in anticipation of the increased air traffic and expected volume of passenger flow in Asia by 2030 due to the rise of the middle classes and the growth of LCCs.
Thirdly, increased female participation helps provide a broader team perspective. Much research into organisational behaviour has shown that teams with gender diversity have been shown to lead to improved , more creative decision-making processes and higher levels of innovation.
Next, increased female participation helps re-capture a segment of the labour force that was lost i.e. the increasing number of highly qualified women who are voluntarily leaving their jobs to start families and/or care for their young children.
Finally, increased female participation helps the organisation to meet government expectations and community pressures, thereby positively impacting on brand and reputation management.
Actions Undertaken
Currently, there are initiatives underway to tackle the lack of female participation in Aviation.
These include actions and initiatives undertaken by ICAO,IATA, airlines, aircraft manufacturers, educational institutions, airports, air navigation service providers and civil aviation authorities.
International Civil Aviation Authority Organisation (ICAO)
In 2016, ICAO adopted a resolution encouraging female participation in Aviation and this led to the development of the Gender Equality Plan and Gender Equality Implementation Plan which outline the principles and recommendations to spur efforts for gender equality in the industry. These initiatives also culminated in the inaugural Global Aviation Gender Summit in Cape Town, South Africa where stakeholders called for concrete actions to be undertaken to accelerate gender equality in Aviation, address existing barriers and share best practices, programs and initiatives to overcome these barriers.
Airlines
Qantas is implementing programs to stem the female underrepresentation in engineering and flight ops.
These programs include outreach programs at schools to encourage girls to enrol in STEM courses, implementing the Nancy Bird Walton Initiative targeted to increase the current 5% of female pilots to 20% in 2018 and eventually 40% in the next decade.
Virgin Australia has set a 50:50 male female target for its 2018 pilot cadetship programs.
Air New Zealand set the target of having 40% of women within its senior leadership and management team, from a baseline of 16%. To achieve these targets, the airline also introduced and designed gender metrics, female recruitment, talent identification, retention and facilitated movement of more women into leadership roles.
It also launched the Air NZ Women's Network to inspire and develop women through educational workshops, speakers sessions, mentorships and conferences. Additionally, it also launched the Women In Leadership programme which is aimed at preparing women for senior leadership roles and address barriers that might prevent them from attaining senior positions.
Recommendations
Firstly, the Aviation and Aerospace industry could do more to improve its public image and perception. This includes conducting awareness and outreach programs and workshops to educate the public about the nature and scope of technical roles in Aviation. There could also be more celebration of women's successes in technical roles with a focus on role models, inspiring stories and scholarships/internships to enhance the public perception of the industry.
Secondly, the Aviation and Aerospace industry could do more to effectively harness and mobilise human resources in improving the state of gender equality, diversity and inclusion. Strategies that could possibly achieve the above outcome includes establishing better links with women's groups for increased internship opportunities, systematising mentoring and networking opportunities so that young female graduates could be better connected to the ecosystem.
Thirdly, the Aviation and Aerospace industry could do more to build a more diverse culture that considers the needs of its employees. This includes buy-in from the decision makers from the top-down who need to be more invested in grooming and promoting promising females in their ranks. Having buy-in from top management also means that HR policies can be more streamlined and aligned to reflect workplace flexibility and promote greater equality, diversity and inclusion. This also effectively necessitates that managers need to be adequately trained to ensure that the execution and implementation of the policies could be seamless and for gender considerations to be incorporated into management /leadership training and backed by key performance indicators.
Finally, there has to be a consistent effort to implement rigorous benchmarking measures to track the success or lack of success with the policies in promoting gender equality and inclusion. Amongst many others, benchmarking tools such as gender pay gap, recruitment data, promotion trends and succession plans. In addition, it would be productive to set department targets rather than quotas when it comes to recruitment, retaining and promotion.
In conclusion, gender equality, diversity and inclusion are important and relevant issues in Aviation not just because the industry is struggling with finding the number of people or even the right people, but also because of the importance of creativity in our industry's overwhelming need and drive for innovation. Since creativity comes from having a variety of perspectives in the conversation, it is so important for aviation and aerospace companies to have a diverse workforce in order to reap the rewards that come from new business innovations.
Enjoyed this article let us know your thoughts comment below:

​
Half the Sky's mission is to supply the tools that can give every woman the ability to build a successful career and be fully prepared for the future of work. So, that they can lead a healthy, prosperous and more balanced/blended lifestyle of their choosing. By building your confidence, you're setting foundations to empower yourself and your career. The world is your oyster, and it starts with you.
Enjoyed this article let us know your thoughts in the comments below:
---
About half the sky
half the sky (HTS) is a career platform for women connecting you to career opportunities at companies that care. Providing you with information, tips and strategies to navigate the rapidly changing workplace.
Sign up to get career tips and job alerts directly to your inbox! Join us to shape the future of women at work together!
---