Paid Parental Leave

Mentorship Program

Breastfeeding Rooms

Leadership Development Program

Raise Numbers Of Women In Leadership

Internal Women's Networking Group
We Care About You.
PayPal is fully committed to achieving a more diverse and inclusive workplace. Our commitment is inherent to who we are, and what we stand for as a company. We pursue diversity and inclusion because we believe that our employees deserve an environment where they are valued for who they are – a place where everyone can express their full selves and fulfill their highest potential.
Diversity and inclusion are the foundation of everything we do. We ensure that each and every member of this global team is treated equally and given the opportunity to develop within the organisation. This approach is ingrained in our ethos and at every level of the business. For example, we ensure that all Team Leaders are trained in diversity and inclusion to combat any unconscious bias, as well as to teach them how to operate in an inclusive manner.
​
We Are Committed.
Gender Balance
Women account for 43 percent of our global workforce, and we increased our rate of female hires by 11 percent year-over-year.
Pay Equity
For the third year in a row, we have achieved full pay equity in salary globally for women and men.
Diversity in Leadership
Women account for 37% of vice president roles globally, which is a 9% increase since 2015, with an increase of seven percent year-over-year.

36% of PayPal's Directors and above globally are women, which represents a 2% increase in the past two years.
Diversity in Hiring and Promotions
Of the 1 in 5 employees promoted over the past year, females were promoted at a slightly faster rate (19%) than males (17%).
Creating More Opportunities for Women.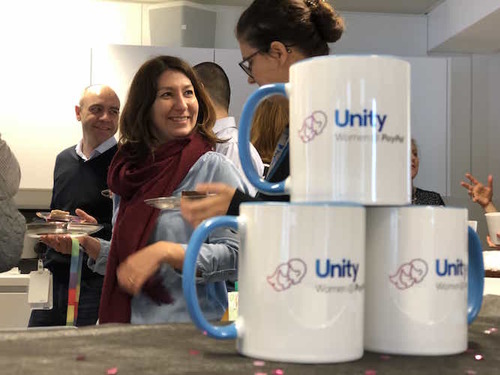 Through Unity, a PayPal affinity group of women and men working together to create more opportunities for women at PayPal, we are focused on gender equality and gender balance. The mission of Unity is to help women thrive, provide them with growth opportunities, and help the next generation explore the world of technology. Founded in 2007, Unity is a grassroots team with a presence in 35 PayPal locations across the globe.
Sample projects, efforts and events include:
Participating in events for women to access industry knowledge and insight on technical trends

Providing opportunities for building critical skills and leadership presence

Facilitating strong mentoring relationships and personal development

Supporting the next generation of women in STEM, while providing engaging volunteer opportunities

Fostering career development through hands-on education and leadership observation

Providing inspiration and motivation by hearing from role models about their career journey and opportunities to acquire knowledge from subject matter experts

Creating opportunities for women to build technical acumen, and to share their passion through knowledge-sharing, meet-ups and hackathons
We Also Care About Others.
Receive all job alerts right into your inbox
​"For PayPal, one of our core values is diversity and inclusion – it is not just a poster on the wall. It is fundamental to how we build our products. Fintech at PayPal is about democratizing money and allowing access to financial services to everyone. The diversity inherent in that mission is ingrained in us as a company in everything we do, thus it's a topic that is fundamental to who we are and is one of the reasons I came to the company."

Louise Pentland, PayPal

EVP Chief Business Affairs and Legal Officer

​"There are clearly many aspects to what makes a company successful, but I strongly believe that our greatest asset and driver of performance is our people. It is our employees who show up each day to innovate, collaborate and draw upon each other's strengths. We recognize and embrace that it is individual qualities that make each one of us unique and allow teamwork to flourish."

Dan Schulman, PayPal

President and CEO

​"The spectrum of things I've worked on has pushed me out of my comfort zone on a regular basis. Everyone was an equal partner, it's been really rewarding and helped me continuously grow and learn."

Lisa Scott, PayPal

Senior Director, EMEA Consumer Product

​"It is important that we're constantly improving the incubator programme to meet the needs of the growing startup community in Singapore and South-east Asia. "We want to empower more of these emerging and ambitious players with the necessary tools that will advance their development, and ultimately foster collaborations and connections that contribute towards a more vibrant innovation ecosystem in Singapore and South-east Asia,"

Jerry Tso, PayPal

Director, Singapore Development Center
Looking for Better Jobs?
We are here to help you find the best opportunities at companies that care! Sign up to join our platform and receive the newest job alerts and updates, straight to your inbox.
Looking for Talents?
If you're an employer looking to hire female talent, you can post your jobs on our platform and gain access to over 70,000 women from our community!