Back to Blogs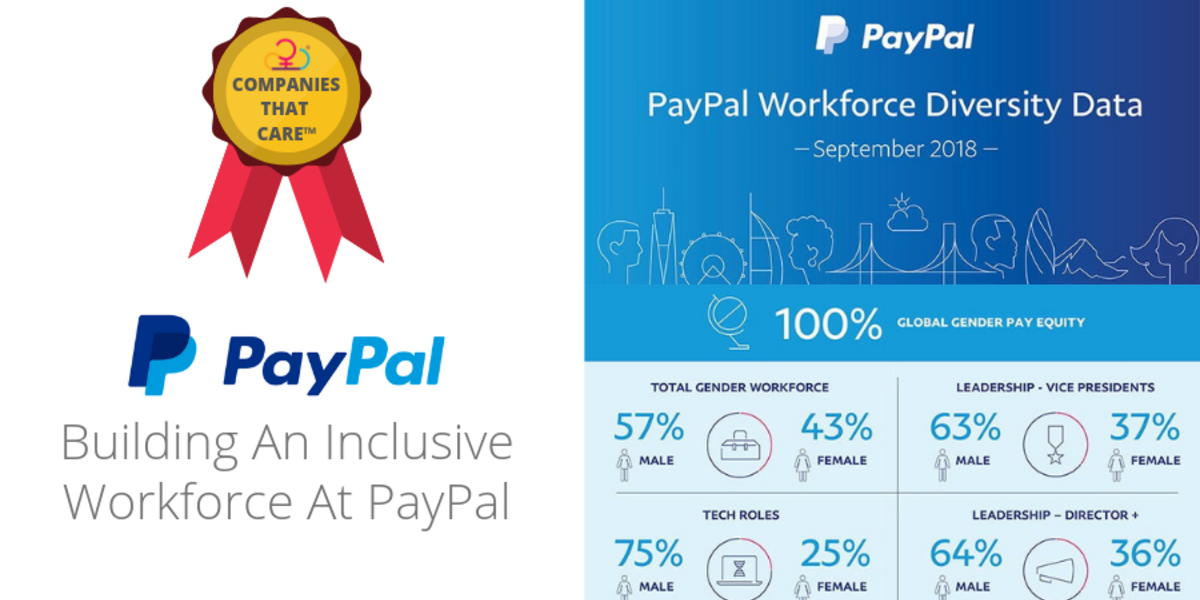 Building an Inclusive Workforce at PayPal
​Dan Schulman, President and CEO - When PayPal split from e Bay in 2015, we had the opportunity to reinvent and reorient the company around a central mission of democratizing access to financial services and creating new economic opportunities for as many people and businesses as possible. That mission is inherently inclusive, and not only promotes, but demands diversity and equality. And that work has to start on the inside. It's not enough to only talk about our mission, we have to live it. To have the impact we're after, to fulfill our ultimate potential as a company, we need a workforce that looks like, sounds like, and fundamentally understands the people and businesses we are privileged to serve. This is the aspiration that has guided us from the beginning, and these are the principles that will enable us to fulfill our inclusive mission.

"Diversity is a fact, inclusion is a choice." That's one of my favorite quotes about diversity and is something I think perfectly encapsulates where we are as a society and the challenges facing all of us. Change is undeniable and unstoppable. But we do have control over how we embrace and enable change. We all get to make a choice. PayPal has made its choice.
We choose to fight for our customers, to fight for each other, to fight for our core values like equality, opportunity, transparency, and accountability, which are woven into the fabric of our company culture. But real change takes time and work. Inclusion is a choice, but it's also a journey. A journey of intention and commitment. Because for us, inclusion is not only about hiring diverse candidates or paying everyone fairly – that's the baseline - it's about building and sustaining a great culture over time that embodies inclusion at its absolute core.
We want the PayPal brand to stand for inclusion, innovation, collaboration, courage, and positive change. We want our products, our processes, and our people to reflect our culture and our values. And that's a journey. All of us must work every day to build inclusion into our DNA as a company. It's not a campaign, it's not a one-time training, it's the fabric of who we all are as professionals, as team leaders, as managers, and as PayPal ambassadors, in and out of work. We want our culture to be immediately recognized by new hires, and immediately embraced and further strengthened by employees that join us through acquisition. And while we've made great strides forward, and are seeing demonstrable progress, we have more to do.
I'm proud of our strides forward on this path, but I'm also cognizant that any progress we've made is underscored by how much more we must do. Each year we share our progress, both in terms of our diversity data and our efforts to advance inclusion within our workforce and across the broader tech industry, in the spirit of full transparency and our commitment to ongoing change.
Companywide Diversity
​
​
​
Our global headcount has increased by 26% in just over three years, with over 20,200 employees representing 135 nationalities – an increase of 13% year-over-year – in 55 offices across 31 countries.

When we look at our total diversity numbers – which is defined by global females and ethnic males in the U.S – the numbers are as follows:

54% of our directors and above are diverse

51% of our VPs are diverse

3 in 5 PayPal employees, or 58%, are diverse
​Diversity in Leadership
​​
​
​
​
Women account for 37% of vice president roles globally, which is a 9% increase since 2015, with an increase of seven percent year-over-year.

36% of PayPal's Directors and above globally are women, which represents a 2% increase in the past two years.

We have strengthened the number of Ethnic minorities at vice president levels in the U.S., which is currently 32%. This is an increase of 13% since 2015 and an 11% increase year-over-year.

39% of PayPal's Directors and above in the U.S. are Ethnic minorities, which is an 6% increase in the past two years.
Gender Balance
Women account for 43 percent of our global workforce, and we increased our rate of female hires by 11 percent year-over-year.
Diversity in Hiring and Promotions
Over the past 12 months, 19% of diverse leaders (director and above) were promoted, including 23% of diverse VPs who were promoted.

We've hired in diverse employees at a slightly faster rate over the last 12 months ending September 2018 than non-diverse employees.

Of the 1 in 5 employees promoted over the past year, females were promoted at a slightly faster rate (19%) than males (17%).
Pay Equity
For the third year in a row, we have achieved full pay equity in salary globally for women and men, as well as ethnic pay equity in the U.S.

At PayPal, maintaining pay equity is an absolute priority, and I am especially proud that we maintained this while increasing our global headcount by 13 percent in 2018.
U.S. Ethnic Diversity
50% of PayPal's U.S. employees identify as Ethnic minorities, which is defined as Asian, Hispanic, Black, Two or more races or others.
Our diversity data is one of the critical measures of how we're doing in terms of building a truly inclusive workforce, but we are also focused on the longer-term effort of building a sustainable culture where D&I is fully integrated into the ways we operate across all parts of the company. We are making important investments in programs across the company to make sure our commitment to diversity and inclusion shows up in our actions and our organizational priorities.

To that end, we are instituting new processes such as our diverse hiring policy, in which we will have a presumption there will be at least one diverse candidate be considered for every open position at the Director and above level, and at least one diverse employee be a part of the interview panel. And we've started the roll out of in-person, small group Conscious Inclusion workshops for all global employees.
The goal of these workshops is to help establish shared language and a framework for identity, diversity, cognitive bias, and inclusive responsibilities and leadership at PayPal. They also provide us with insights and the opportunity to consider how each one of us can help create a more diverse and inclusive culture at PayPal. We explore difficult and challenging questions like: What are the different identities I hold? How do those identities impact the way I include and exclude others? And what can I do differently, right now, to help create an environment where our colleagues, customers and partners see PayPal as a place where they can experience a sense of uniqueness and a sense of belonging? Our leaders worked closely with global diversity experts to design this training to be unique to PayPal and reflect the specific needs and cultural nuances across the geographies and cultures where we operate.
We also continue to enjoy thriving diversity and inclusion community groups within PayPal, which play an important role in actively supporting and advocating for employees who are women, black, veterans, LGBTQ, specially-abled or disadvantaged. We've also recently launched Aliados, our new community to help advance the experience of Latinx employees of PayPal around the world. Our community groups are open to all employees, and united by the common purpose of fostering a sense of belonging and support for inclusion to thrive in the workplace. Their advocacy and guidance help us build values-driven programs that improve our ability to attract, retain, develop and engage a diverse workforce. For the second year, we recently held a global employee meeting to discuss issues that directly impact the experiences of our people and heard from employees about the powerful impact these communities have had on them personally and professionally.
There is a tremendous amount of work and expertise around improving diversity and inclusion within the tech industry that is happening outside of PayPal's walls. That's why we have expanded our partnerships with academic institutions, recruiting organizations, advocacy groups and conferences that help us identify talent pools from non-traditional channels. This year, we formed new partnerships with the Hispanic Association on Corporate Responsibility (HACR), Out Leadership, Working Mother Media, MAKERS, and six Historically Black Colleges and Universities to continue our focus on recruiting, developing, and engaging our diverse talent. We also continue to partner with organizations and leading conferences such as Grace Hopper, AfroTech, Executive Leadership Council, Breakline, Vets in Tech, Lesbians Who Tech, Human Rights Campaign, Lean In Equal Pay Day and Money20/20 "Rise Up", among others.
At PayPal, inclusion is a core company value that defines who we are and everything we do. The incredible variety of experiences, capabilities, talents, backgrounds, and interests of our employees help shape our culture, create innovative products and services, and contribute to the progress we make every day toward making it easier, safer and more convenient for millions of customers around the globe to move and manage their money. We are clearly making progress, and we clearly have much more work to do. A giant 'thank you' to every member of the PayPal family for everything you do for our customers, our company, and our culture. * Total diversity is defined as global females + ethnic males in the U.S.
This article was originally published on October 10, 2018.
​
​
Half the Sky's mission is to supply the tools that can give every woman the ability to build a successful career and be fully prepared for the future of work. So, that they can lead a healthy, prosperous and more balanced/blended lifestyle of their choosing. By building your confidence, you're setting foundations to empower yourself and your career. The world is your oyster, and it starts with you.
Enjoyed this article let us know your thoughts in the comments below:
---
About half the sky
half the sky (HTS) is a career platform for women connecting you to career opportunities at companies that care. Providing you with information, tips and strategies to navigate the rapidly changing workplace.
Sign up to get career tips and job alerts directly to your inbox! Join us to shape the future of women at work together!
---