Paid Parental Leave

Return to Work Policy

Childcare Facilities

Flexible Working Arrangements

Mentorship Program

Breastfeeding Rooms

Sponsorship Program

Leadership Development Program

Coaching Program

Internal Women's Networking Group
Mission and commitment on gender diversity
Cloudflare's mission to help build a better Internet depends on a thriving, collaborative culture where we respect each other's work, listen to new ideas, and encourage each other's professional development and growth. Cloudflare was built with that in mind, tracing back to its founders: Matthew Prince, Michelle Zatlyn, and Lee Holloway. Since founding Cloudflare they set out to cultivate and maintain an inclusive workplace which empowers all employees to show up, as their full selves, and do their best work.
Help Build a Better Internet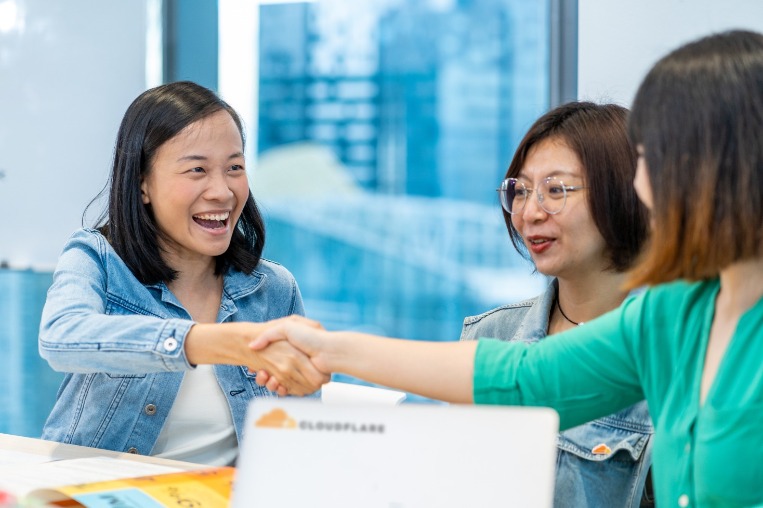 At Cloudflare, we have our eyes set on an ambitious mission: to help build a better Internet. Today, Cloudflare runs one of the world's largest and most interconnected networks that powers nearly 20% of the web today, and trillions of requests per month, worldwide. Cloudflare protects and accelerates any Internet application online (websites, apps, APIs, remote teams, etc.) without adding hardware, installing software, or changing a line of code.
Our customers range from Fortune 500 companies and nonprofits to small businesses and budding entrepreneurs. We are working to create a faster, more secure, and more reliable Internet for anyone online. Given the scale at which we operate, our mission is big. Our team is hard at work shaping the future of the Internet.
We believe that with our talented team, technology, and engaged users, we can solve some of its toughest challenges facing the Internet.
3,300+ employees worldwide

17 offices; 285+ cities in network; 100+ countries

Millions of customers, 168,000+ are paying customers
​
How We Work @ Cloudflare
What Makes Us Special
We're not just a highly ambitious, large-scale technology company. We're a highly ambitious, large-scale technology company with a soul. Fundamental to our mission to help build a better Internet is protecting the free and open Internet.

Project Galileo: We equip politically and artistically important organizations and journalists with powerful tools to defend themselves against attacks that would otherwise censor their work, technology already used by Cloudflare's enterprise customers--at no cost.

Project Athenian: We created Athenian Project to ensure that state and local governments have the highest level of protection and reliability for free, so that their constituents have access to election information and voter registration.

Path Forward Partnership: Since 2016, we have partnered with Path Forward, a nonprofit organization, to create 16-week positions for mid-career professionals who want to get back to the workplace after taking time off to care for a child, parent, or loved one.

We believe a better Internet can be not only a force for good but also an engine of global sustainability. Check out Cloudflare's Impact.


Diversity, Equity & Inclusion​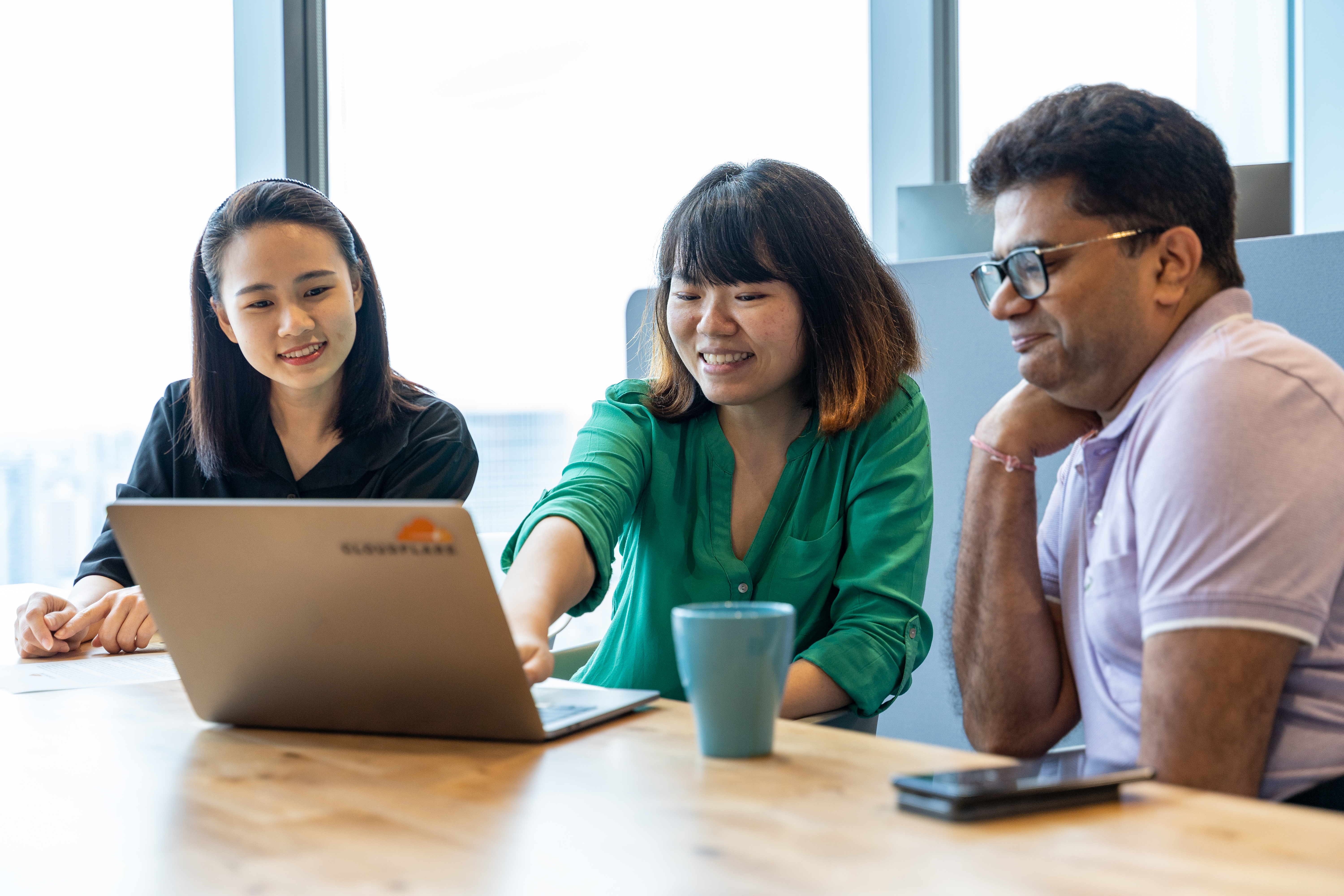 To demonstrate our commitment to DE&I, we have established employee resource groups (ERGs) that provide a safe and supportive space, offer regular inclusion education sessions for all employees, and have partnered with organizations that focus on diversity recruiting provide opportunities for individuals from diverse backgrounds to join our team including the following and more:
Half The Sky

Power To Fly

Anita Borg for Grace Hopper Celebration

AfroTech

Pathway Oz: HBCU Smart Cities Challenge

Mums@work
We believe that fostering a workplace culture that values diversity and promotes inclusion is not only the right thing to do, but it also leads to a more productive, innovative, and successful organization. Check out more about Diversity, Equity, and Inclusion at Cloudflare here.

We Love Cloudflare
​
We're Hiring!
Cloudflare is a globally distributed company with a commitment to maintaining an equitable and inclusive workplace for all. We are now hiring for in-office, remote and hybrid opportunities across the Americas, Europe and Asia. Come join us!
​
Receive all job alerts right into your inbox
​Having been in an environment where I am often the only young woman in the room earlier in my career, joining Cloudflare opened my eyes to a completely different environment. I got to work with competent, thoughtful and empathetic female colleagues and leaders from across sales and engineering, who encourage you to bring your whole self to work and support each other.  

Hyojeong Lim , Cloudflare

Head of BDR, ANZ & Korea

​The tech industry is constantly evolving, and working in Cloudflare is great because I get to identify and resolve technical issues and challenges in my role. That being said, I work alongside an awesome team, who are diverse, inclusive and open to collaboration. Together we work towards our company mission to help build a better Internet.​

Shaila Kassali , Cloudflare

IT Support Technician

​Having capabilities like embracing diversity and inclusion, leading with empathy, doing the right thing amongst the others ingrained into every Cloudflarian's DNA from the top down not only helps to harbor a symbiotic environment for every individual to perform and contribute to their fullest  That's how I have felt every single day of the 5+ years that I have spent here at Cloudflare!  

Zena Soans, Cloudflare

DC Engineering Manager, APAC/EMEA
Looking for Better Jobs?
We are here to help you find the best opportunities at companies that care! Sign up to join our platform and receive the newest job alerts and updates, straight to your inbox.
Looking for Talents?
If you're an employer looking to hire female talent, you can post your jobs on our platform and gain access to over 70,000 women from our community!