Paid Parental Leave

Return to Work Policy

Flexible Working Arrangements

Mentorship Program

Leadership Development Program

Coaching Program

Raise Numbers Of Women In Leadership

Internal Women's Networking Group

Equal Pay Initiatives
Do What Matters
At Avanade, our purpose is to make a genuine human impact for our people, our clients and our communities. How do we achieve this? We do what matters. We empower our people to go beyond, with distinctive experiences, limitless learning and ambitious growth, so they feel inspired, confident and cared for.
​
Inclusion is everyone, everything, every day.
Avanade has pursued a deliberate and purpose-driven strategy around Inclusion & Diversity (I&D) since our founding in 2000. It started with our focus on a challenge that we face: the lack of women in the technology industry. To address that, we had to go to the root of the problem, which was attracting girls and young women to STEM, offering scholarships and creating programs.
But Inclusion & Diversity is not limited to one group of people or one challenge. Inclusion is everyone, everything, every day. It's the rising tide that lifts all boats. If our inclusive culture doesn't consider all races, gender identities, ethnicities, sexual orientations, disabilities, ages, religions – all people and all phases of life – it falls short.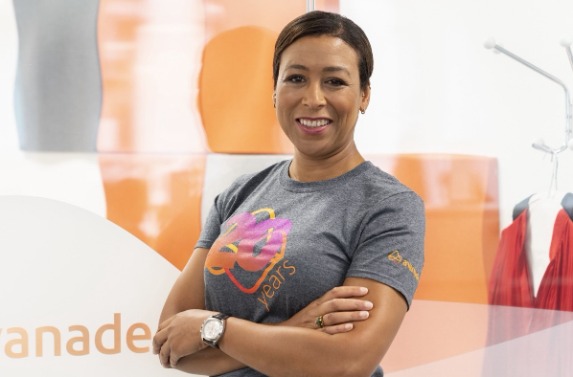 In 2019, Pam Maynard became not only Avanade's first woman CEO, but the first CEO who is a woman of color. She is passionate about building on the I&D foundation Avanade had already established with a comprehensive strategy that involves every person at Avanade. In 2020, Hallam Sargeant joined Avanade as our first Chief Inclusion & Diversity Officer to help accelerate this vision.
I&D is part of everything we do
Our I&D framework is rooted in three concepts:
Inclusion: ensuring all individuals feel respected, heard, and that they can do their best work ​

Diversity: ensuring our workforce demographics reflect our clients and communities

​Belonging: ensuring that everyone can be their authentic selves at work and that they feel welcomed and valued
To prioritize these concepts, we must invest in tangible, positive actions: create an inclusive culture, activate allyship, increase representation, accelerate development, communicate with transparency and amplify employee networks.
At Avanade, Inclusion & Diversity is part of everything we do, from the way we treat people to how we make decisions, to the solutions we take to market. We believe it's a discipline that must be practiced with vigilance every day.
Women's Employee Network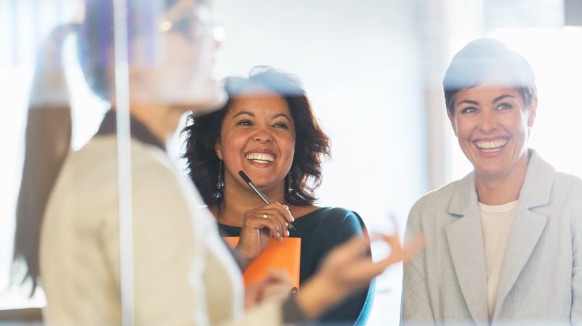 ​Avanade's Employee Resource Groups (ERGs) make up a cornerstone of our Inclusion & Diversity strategy, offering resources and opportunities to various communities within the company.
Launched in 2014 by 13 board members, the ERG grew from the "Women's Initiative Planning and Steering Committee." In its early years, the Women's ERG held numerous global membership calls to gather feedback and present on topics like mentoring, demonstrating confidence and unconscious bias. The group also hosted virtual book club discussions on "Lean In" and "Tipping Point."
Today, the group has grown to support major global initiatives including the Pathways to Success Speakers series, International Women's Day and Moms' Coffee and Conversations. One new initiative for FY20 is the Local Leads, a group that advocates for the ERG at the local level. Local leads connect with the Global Board during a monthly forum to share knowledge, track events and activities and learn from each other.
"We have an opportunity to accelerate the progress of women at Avanade through workplace inclusion," said Gina Wheel, chair of the Women's ERG board. "In our community, we plan to continue to build internal and external connections, and to drive growth and innovation. Now is the time to continue to press for the progress of women. The decisions we make today will influence the empowerment of future generations of women at Avanade."
The Women's Employee Network is dedicated to accelerating the progress of women at Avanade through workplace inclusion. We inspire women and empower them through connections across the entire Avanade community to foster career growth.
Investing in the future of young women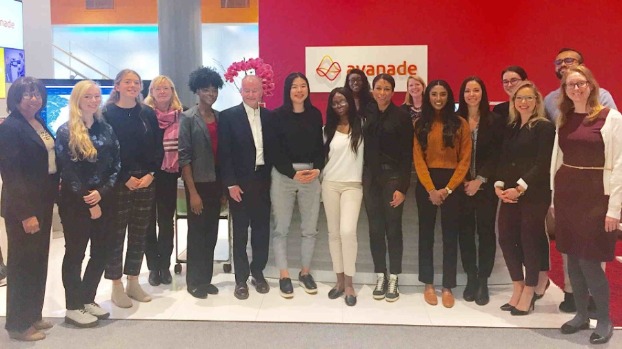 Avanade has a mission to enable young people (especially young women) to achieve more through the power of our people and digital innovation.
We care about the people and places where we work and want to make a genuine human impact by inspiring the business and technology leaders of the future. We care about the future digital workforce, and in particular the diversity of that workforce. And we recognize the importance of attracting more young women to study science, technology, engineering and math (STEM) disciplines. That's why we created the Avanade STEM Scholarship.
Our STEM Scholarship invests in the future of young women and offers internships, mentoring and a support network to help recipients achieve their education and career growth. We have partnerships with nine prestigious universities around the world — and since the program's launch in 2015 we have provided scholarships to 57 young women, with more scheduled for 2018/19.
Together, we show the world what's possible
Current Vacancies at Avanade
Product Analyst

Singapore

​About Avanade Avanade is the leading provider of innovative digital, cloud and advisory services, industry solutions and design-led experiences across the Microsoft ecosystem. Every day, our 59,000 professionals in 26 countries make a genuine human impact for our clients, their employees and their customers.  We have been recognized as Microsoft's Global SI Partner of the Year more than any other company. With the most Microsoft certifications (60,000+) and 18 (out of 18) Gold-level Microsoft competencies, we are uniquely positioned to help businesses grow and solve their toughest challenges. We are a people first company, committed to providing an inclusive workplace where employees feel comfortable being their authentic selves. As a responsible business, we are building a sustainable world and helping people from underrepresented communities fulfil their potential.  Majority owned by Accenture, Avanade was founded in 2000 by Accenture LLP and Microsoft Corporation. Role Overview: As a Product Senior Analyst, you will work closely with the Product Owner to understand Product requirements, document Product Backlog, and ensure clear understanding of the User Stories by the Product Delivery team.  ​ Key Role Responsibilities: Analyze, prepare, and manage product backlog (Document User Stories).  Work closely with Product Owner to understand Product Strategy.  Ensure the Development Team understand the Backlog and its prioritization Collaborate with cross-functional teams across disciplines such as product, engineering, design, and support.  Create and update product documentation (both for internal and external use).  Provide business analysis support in an agile development environment.  Work with QA team to define and manage testing suite.  Participate in Agile ceremonies including daily scrums. ​ Key Role Skill & Capability Requirements: Your technical and non-technical skills include; Listening, Communication, Presentation and Documentation Teamwork Preferred Certifications: Entry Certificate in Business Analysis or Foundation Certificate in Business Analysis are preferred. AZ–900, MB-910 are preferred. Professional Scrum Master (PSM1) or Certified ScrumMaster (CSM) are preferred. Preferred Education Background: You likely possess a minimum bachelor's degree in Business, MIS, Economics, Computer Engineering, or related fields. Preferred Years of Work Experience: You likely have 1 – 3 years of related professional experience. What we offer you Come for the distinctive experiences you have helping forward-thinking corporations, non-profits, and governments push the boundaries of digital innovation. Stay for the limitless learning opportunities that encourage you to master Microsoft and pursue big ideas. Enjoy ambitious growth for yourself as part of Avanade's people-first culture with benefits like employee share purchasing, flexible work arrangements, a commitment to diversity and inclusion, and competitive pay.

Data Modeler

Malaysia

​About Avanade Avanade is the leading provider of innovative digital, cloud and advisory services, industry solutions and design-led experiences across the Microsoft ecosystem. Every day, our 59,000 professionals in 26 countries make a genuine human impact for our clients, their employees and their customers.  We have been recognized as Microsoft's Global SI Partner of the Year more than any other company. With the most Microsoft certifications (60,000+) and 18 (out of 18) Gold-level Microsoft competencies, we are uniquely positioned to help businesses grow and solve their toughest challenges. We are a people first company, committed to providing an inclusive workplace where employees feel comfortable being their authentic selves. As a responsible business, we are building a sustainable world and helping people from underrepresented communities fulfil their potential.  Majority owned by Accenture, Avanade was founded in 2000 by Accenture LLP and Microsoft Corporation. Job Description Minimum 3 years of being in data modeler role Employ tools and techniques used to understand and analyze how PETRONAS should collect, update, store and exchange data Define and employ data modeling and design standards, tools, best practices, and related development methodologies. Designs, reviews and maintains data models Performs the data analysis activities to capture data requirements and represent them in data models visualization Manages the life cycle of the data model from requirements to design to implementation to maintenance Work closely with the data engineers to create optimal physical data models of datasets. Identify areas where data can be used to improve business activities Assists the ETL developers to help ensure that the Business data rules are implemented correctly Experience in data modeling data solutions including but not limited to Erwin Data Modeler Data Warehouse or equivalent knowledge What we offer you Come for the distinctive experiences you have helping forward-thinking corporations, non-profits, and governments push the boundaries of digital innovation. Stay for the limitless learning opportunities that encourage you to master Microsoft and pursue big ideas. Enjoy ambitious growth for yourself as part of Avanade's people-first culture with benefits like employee share purchasing, flexible work arrangements, a commitment to diversity and inclusion, and competitive pay.

D365 CRM Technical Developer

Singapore

​About Avanade Avanade is the leading provider of innovative digital, cloud and advisory services, industry solutions and design-led experiences across the Microsoft ecosystem. Every day, our 59,000 professionals in 26 countries make a genuine human impact for our clients, their employees and their customers.  We have been recognized as Microsoft's Global SI Partner of the Year more than any other company. With the most Microsoft certifications (60,000+) and 18 (out of 18) Gold-level Microsoft competencies, we are uniquely positioned to help businesses grow and solve their toughest challenges. We are a people first company, committed to providing an inclusive workplace where employees feel comfortable being their authentic selves. As a responsible business, we are building a sustainable world and helping people from underrepresented communities fulfil their potential.  Majority owned by Accenture, Avanade was founded in 2000 by Accenture LLP and Microsoft Corporation. Learn more at www.avanade.com.  ​ Do you know how to turn needs into solutions? So do we. Clients trust you to solve their problems because you understand what they need - and how to do it. You are your client's advocate and the authority on how specific systems, applications or process designs can move their business forward. About you  You're a problem solver, knowing the systems, applications, and processes that will make a client happy, no matter how complex the IT solution and integrating architecture. You bring expertise and creativity to designing activities and building system prototypes. About the job Business and IT don't always speak exactly the same language. It can be hard for companies to know how IT can help tackle their problems and increase profitability. They need you to understand their business and translate their needs into a software solution that will realize results.  ​ As a CRM Technical Developer, you will be familiar with at least one leading commercial CRM system. You will assist Avanade delivery teams with CRM solution planning, analysis, designing, building, and testing. You will be considered a product specialist that is also responsible for providing support in CRM issue, customer concern, and resolution. This role is typically focused on more complex assignments, often requiring diverse inputs, processes, and/or outcomes with room for discretion within established parameters. ​ ​ Day-to-day you will: Assist across all phases of Avanade projects (e.g. Plan, Analyze, Design, Build, and Test) Demonstrate technical knowledge to design and implement CRM solutions Research customer issues that may be non-standard in order to offer solutions Support design of conceptual architecture and technical solutions Ensure project quality meets standards through critical metric identification and testing plan Identify process gaps and work cross-functionally to formulate improvement plans Travel as needed ​ Key Role Skill & Capability Requirements: You are passionate about working with a global technology leader to solve business-critical problems for some of the top companies in the world. You are a fast learner, a self-starter, and a creative problem solver. You are passionate about software and its potential to move organizations forward through innovation. ​ Your technical skills may include: ​ Design, develop, deploy, customize and integrate Microsoft Dynamics CRM with other systems Configure and customize on standard workflows, dashboards, forms, views and develop standard or custom reports Develop reports or dashboards using PowerBI and integrate with D365CS Develop web application, web API, console application, window services to integrate with D365CS Develop a script to migrate existing CRM to D365CS Complete the documentation required including the source codes, technical specification, and unit test result Support SIT, UAT, and production and fix the defect within the agreed SLA Strong understanding of Microsoft Dynamics 365 CRM, with domain knowledge in Customer Service and Telco industry would be an added advantage Develop Power BI reports and integration to Microsoft Dynamic 365 CRM ​ Your non-technical skills may include: ​ Client management skills and the ability to work with customers to develop and manage an action plan Some consulting experience working with external clients Experience working with global/offshore teams Superb communication skills ​ Preferred Education Background: Bachelor's degree in a relevant field preferred. Preferred Years of Work Experience: ​ At least 5 years of Microsoft Dynamics 365 CRM and Power BI development experiences At least 5 years of experience in ASP.NET C# development, JavaScript, HTML 5, CSS and other web base technology and tools Experience with Microsoft Dynamics 365 Field Service is essential What we offer you Come for the distinctive experiences you have helping forward-thinking corporations, non-profits, and governments push the boundaries of digital innovation. Stay for the limitless learning opportunities that encourage you to master Microsoft and pursue big ideas. Enjoy ambitious growth for yourself as part of Avanade's people-first culture with benefits like employee share purchasing, flexible work arrangements, a commitment to diversity and inclusion, and competitive pay. ​ ​

Sitecore Developer

Singapore

​About Avanade Avanade is the leading provider of innovative digital, cloud and advisory services, industry solutions and design-led experiences across the Microsoft ecosystem. Every day, our 59,000 professionals in 26 countries make a genuine human impact for our clients, their employees and their customers.  We have been recognized as Microsoft's Global SI Partner of the Year more than any other company. With the most Microsoft certifications (60,000+) and 18 (out of 18) Gold-level Microsoft competencies, we are uniquely positioned to help businesses grow and solve their toughest challenges. We are a people first company, committed to providing an inclusive workplace where employees feel comfortable being their authentic selves. As a responsible business, we are building a sustainable world and helping people from underrepresented communities fulfil their potential.  Majority owned by Accenture, Avanade was founded in 2000 by Accenture LLP and Microsoft Corporation. Learn more at www.avanade.com.  ​ About the opportunity As a Sitecore Developer within our CRM practice, you'll have the opportunity to operate at the forefront of technology, working with some of the best clients in the world, helping to solve some of their most challenging problems. With the agility and energy of a start-up, backed by the resources of Accenture and Microsoft you'll collaborate with a team of people who thrive on turning ideas and innovations into breakthrough results for leading organizations around the globe. Ultimately, we're not just making business better. We're making life better for our client partners and their customers. What you will love doing As a Sitecore Developer, you will focus on crafting, developing and testing critical enterprise applications that transform the digital experience for our clients. You will work on variety of development projects and get opportunities to apply your consulting expertise in advising clients and designing systems to support customer needs. What technical skills are we interested in you having?  You have proven experience in Sitecore platform development. You are experienced in gathering and translating business requirements and leading technical discussions for development projects. functionality, cost, and delivery schedules. ​ We also need you to have proven experience across a variety of technologies that may include: Experience with Sitecore XP/XM development Strong .NET development experience Experience with Microsoft Azure Strong software development experience in developing, implementing, and supporting enterprise-level solutions (object-oriented design, microservices, Helix etc) Familiar with Sitecore application setup, front end, back-end development, package deployment and admin activities. If you have hands-on experience with any of the new Sitecore products like Sitecore Content Hub or Sitecore OrderCloud, this is highly appreciated! (nice-to-have) Optional experience with Azure DevOps Services, Git and PowerShell scripts. Exposure to software development skills in either frontend (React/Angular/Vue) or backend (C#, .NET, API) or both Sitecore certification is a big plus ​ In addition, your professional skillset likely includes: Experience in delivering solutions for client organizations that have contributed directly to, or enabled, improved customer/ employee experience, profitability, responsiveness, reputational enhancement, and top talent retention. Good presentation skills with an ability to equally talk to an engineer as well as a client and still get appropriate messages across What we offer you Come for the distinctive experiences you have helping forward-thinking corporations, non-profits, and governments push the boundaries of digital innovation. Stay for the limitless learning opportunities that encourage you to master Microsoft and pursue big ideas. Enjoy ambitious growth for yourself as part of Avanade's people-first culture with benefits like employee share purchasing, flexible work arrangements, a commitment to diversity and inclusion, and competitive pay.

Data Engineer (ADF & Databricks)

Singapore

​About Avanade Avanade is the leading provider of innovative digital, cloud and advisory services, industry solutions and design-led experiences across the Microsoft ecosystem. Every day, our 59,000 professionals in 26 countries make a genuine human impact for our clients, their employees and their customers.  We have been recognized as Microsoft's Global SI Partner of the Year more than any other company. With the most Microsoft certifications (60,000+) and 18 (out of 18) Gold-level Microsoft competencies, we are uniquely positioned to help businesses grow and solve their toughest challenges. We are a people first company, committed to providing an inclusive workplace where employees feel comfortable being their authentic selves. As a responsible business, we are building a sustainable world and helping people from underrepresented communities fulfil their potential.  Majority owned by Accenture, Avanade was founded in 2000 by Accenture LLP and Microsoft Corporation. Learn more at www.avanade.com.  ​ As a Data Engineer, you will support the implementation of projects focused on collecting, aggregating, storing, reconciling, and making data accessible from disparate sources to enable analysis and decision making. This role will also play a critical part in the data supply chain, by ensuring stakeholders can access and manipulate data for routine and ad hoc analysis. Additionally, you will support the full lifecycle of data from ingesting through analytics to action. ​ Key Role Responsibilities: Day-to-day you will: ​ Translate business requirements to technical solutions leveraging strong business acumen  Analyze current business practices, processes and procedures as well as identifying future business opportunities for leveraging Microsoft Azure Data & Analytics PaaS Services Support the planning and implementation of data design services, providing sizing and configuration assistance and performing needs assessments. Deliver of architectures for transformations and modernizations of enterprise data solutions using Azure cloud data technologies. Design and Build Modern Data Pipelines and Data Streams. Design and Build Data Service APIs. Develop and maintain data warehouse schematics, layouts, architectures and relational/non-relational databases for data access and Advanced Analytics. Expose data to end users using PowerBI, Azure API Apps or any other modern visualization platform or experience Implement effective metrics and monitoring processes. ​ Skill & Capability Requirements: ​ Around 5 years of working experience as a Data Engineer  Demonstrated experience in turning business use cases and requirements into technical solutions  Experience in business processing mapping of data and analytics solutions.  Ability to conduct data profiling, cataloging and mapping for technical design and construction of technical data flows The ability to apply such methods to solve business problems using one or more Azure Data and Analytics services in combination with building data pipelines, data streams, and system integration. Ability to leverage a variety of programming languages & data crawling/processing tools to ensure data reliability, quality & efficiency Experienced in Cloud Data Transformation using ETL/ELT tools such as Azure Data Factory, Databricks Experienced in Dev-Ops processes (including CI/CD) and Infrastructure as code fundamentals. Experienced in Data Governance tools like Unity Catalog / Purview, Master Data Management (MDM) and Data Quality tools and processes Knowledge of business intelligence tools such as Power BI, Tableau, Qlik, Cognos TM1 Knowledge of Azure Data Lake, Azure SQL DW, and Azure SQL, Azure App Service is required. Azure IoT, Azure HDInsight + Spark, Azure Cosmos DB & Azure Stream Analytics are a plus. Knowledge in data modeling and database management, such as performance tuning of the Enterprise Data Warehouse, Data Mart, and Business Intelligence Reporting environments, and support the integration of those systems with other applications  Knowledge of Python is a plus. Experience preparing data for Data Science and Machine Learning.   Experience preparing data for use in Azure Machine Learning / Azure Databricks is a plus.  Experience preparing data and building data pipelines for AI Use Cases (text, voice, image, etc).  Designing and building Data Pipelines using streams of IoT data.  Knowledge of Lambda and Kappa architecture patterns. Strong team collaboration and experience working with remote teams.   Working experience in Visual Studio, PowerShell Scripting, and ARM templates. Azure certifications (AZ-900, AZ-200, and 201), Databricks certification, DevOps certifications ​ What we offer you ​ Come for the distinctive experiences you have helping forward-thinking corporations, non-profits, and governments push the boundaries of digital innovation. Stay for the limitless learning opportunities that encourage you to master Microsoft and pursue big ideas. Enjoy ambitious growth for yourself as part of Avanade's people-first culture with benefits like employee share purchasing, flexible work arrangements, a commitment to diversity and inclusion, and competitive pay. ​ ​

Data Engineer (ADF & Databricks)

Malaysia

​About Avanade Avanade is the leading provider of innovative digital, cloud and advisory services, industry solutions and design-led experiences across the Microsoft ecosystem. Every day, our 59,000 professionals in 26 countries make a genuine human impact for our clients, their employees and their customers.  We have been recognized as Microsoft's Global SI Partner of the Year more than any other company. With the most Microsoft certifications (60,000+) and 18 (out of 18) Gold-level Microsoft competencies, we are uniquely positioned to help businesses grow and solve their toughest challenges. We are a people first company, committed to providing an inclusive workplace where employees feel comfortable being their authentic selves. As a responsible business, we are building a sustainable world and helping people from underrepresented communities fulfil their potential.  Majority owned by Accenture, Avanade was founded in 2000 by Accenture LLP and Microsoft Corporation. Learn more at www.avanade.com.  ​ As a Data Engineer, you will support the implementation of projects focused on collecting, aggregating, storing, reconciling, and making data accessible from disparate sources to enable analysis and decision making. This role will also play a critical part in the data supply chain, by ensuring stakeholders can access and manipulate data for routine and ad hoc analysis. Additionally, you will support the full lifecycle of data from ingesting through analytics to action. Key Role Responsibilities: Day-to-day you will: ​ Translate business requirements to technical solutions leveraging strong business acumen  Analyze current business practices, processes and procedures as well as identifying future business opportunities for leveraging Microsoft Azure Data & Analytics PaaS Services Support the planning and implementation of data design services, providing sizing and configuration assistance and performing needs assessments. Deliver of architectures for transformations and modernizations of enterprise data solutions using Azure cloud data technologies. Design and Build Modern Data Pipelines and Data Streams. Design and Build Data Service APIs. Develop and maintain data warehouse schematics, layouts, architectures and relational/non-relational databases for data access and Advanced Analytics. Expose data to end users using PowerBI, Azure API Apps or any other modern visualization platform or experience Implement effective metrics and monitoring processes. ​ Skill & Capability Requirements: ​ Around 5 years of working experience as a Data Engineer  Demonstrated experience in turning business use cases and requirements into technical solutions  Experience in business processing mapping of data and analytics solutions.  Ability to conduct data profiling, cataloging and mapping for technical design and construction of technical data flows The ability to apply such methods to solve business problems using one or more Azure Data and Analytics services in combination with building data pipelines, data streams, and system integration. Ability to leverage a variety of programming languages & data crawling/processing tools to ensure data reliability, quality & efficiency Experienced in Cloud Data Transformation using ETL/ELT tools such as Azure Data Factory, Databricks Experienced in Dev-Ops processes (including CI/CD) and Infrastructure as code fundamentals. Experienced in Data Governance tools like Unity Catalog / Purview, Master Data Management (MDM) and Data Quality tools and processes Knowledge of business intelligence tools such as Power BI, Tableau, Qlik, Cognos TM1 Knowledge of Azure Data Lake, Azure SQL DW, and Azure SQL, Azure App Service is required. Azure IoT, Azure HDInsight + Spark, Azure Cosmos DB & Azure Stream Analytics are a plus. Knowledge in data modeling and database management, such as performance tuning of the Enterprise Data Warehouse, Data Mart, and Business Intelligence Reporting environments, and support the integration of those systems with other applications  Knowledge of Python is a plus. Experience preparing data for Data Science and Machine Learning.   Experience preparing data for use in Azure Machine Learning / Azure Databricks is a plus.  Experience preparing data and building data pipelines for AI Use Cases (text, voice, image, etc).  Designing and building Data Pipelines using streams of IoT data.  Knowledge of Lambda and Kappa architecture patterns. Strong team collaboration and experience working with remote teams.   Working experience in Visual Studio, PowerShell Scripting, and ARM templates. Azure certifications (AZ-900, AZ-200, and 201), Databricks certification, DevOps certifications ​ What we offer you Come for the distinctive experiences you have helping forward-thinking corporations, non-profits, and governments push the boundaries of digital innovation. Stay for the limitless learning opportunities that encourage you to master Microsoft and pursue big ideas. Enjoy ambitious growth for yourself as part of Avanade's people-first culture with benefits like employee share purchasing, flexible work arrangements, a commitment to diversity and inclusion, and competitive pay. ​ ​ ​

Data Migration Lead

Singapore

​About Avanade Avanade is the leading provider of innovative digital, cloud and advisory services, industry solutions and design-led experiences across the Microsoft ecosystem. Every day, our 59,000 professionals in 26 countries make a genuine human impact for our clients, their employees and their customers.  We have been recognized as Microsoft's Global SI Partner of the Year more than any other company. With the most Microsoft certifications (60,000+) and 18 (out of 18) Gold-level Microsoft competencies, we are uniquely positioned to help businesses grow and solve their toughest challenges. We are a people first company, committed to providing an inclusive workplace where employees feel comfortable being their authentic selves. As a responsible business, we are building a sustainable world and helping people from underrepresented communities fulfil their potential.  Majority owned by Accenture, Avanade was founded in 2000 by Accenture LLP and Microsoft Corporation. ​ As a Data Engineering Manager at Avanade, you will use comprehensive modern data engineer techniques and methods with Advanced Analytics to support business decisions for Avanade clients. You can collect, aggregate, and analyze structured/unstructured data from multiple internal and external sources and patterns, insights, and trends to decision-makers. Your goal is to support the use of data-driven insights to help our Clients achieve business outcomes and objectives. In this role, you will collect, aggregate, store, and reconcile data in support of Client business decisions. You will help design and build data pipelines, data streams, reporting tools, information dashboards, data service APIs, data generators and other end-user information portals and insight tools. You will be a critical part of the data supply chain, ensuring that stakeholders can access and manipulate data for routine and ad hoc analysis to drive business outcomes using Advanced Analytics.   ​ Key Role Responsibilities:  Day-to-day, you will  ​ Translate business requirements to technical solutions leveraging strong business acumen  Analyzes current business practices, processes, and procedures and identifies future business opportunities for leveraging Microsoft Azure Data & Analytics Services.  Support the planning and implementation of data design services, providing sizing and configuration assistance and performing needs assessments.   Delivery of data transformations and modernizations of enterprise data solutions using Azure cloud data technologies.  Design and Build Modern Data Pipelines and Data Streams.  Design and Build Data Service APIs  Responsible for designing and providing technical direction to data engineers, data analysts, data integration developers, and database administrators.  Responsible for the quality assurance of all architecture and design deliverables (e.g., technical documents)  Responsible for preparing High-Level Design (HLD) document  Manage, highlight, and resolve any design integration risks/issues with relevant business and stakeholder  Develop and maintain data warehouse schematics, layouts, architectures, and relational/non-relational databases for data access and Advanced Analytics.   Expose data to end users using PowerBI, Azure API Apps, or any other modern visualization platform or experience.  Implement effective metrics and monitoring processes.  Manage Data Governance in the enterprise and improve data governance, data quality, and master data practice  Act as an Advisor for Data Governance processes, frameworks, standards, and architectures  Travel as needed  ​ Key Role Skill & Capability Requirements:  Your technical and non-technical skills include:  ​ Minimum 12 years experience with 4+ years of experience working with large complex enterprises, architecting & implementing large-scale data projects through Azure Data services  Enterprise-scale technical experience with cloud and hybrid infrastructures, architecture designs, data migrations, and technology management. required  Collaboration and Communication. Known for driving decisions collaboratively, resolving conflicts, and ensuring follow-through with exceptional verbal and written communication skills.   Demonstrated experience in turning business use cases and requirements into technical solutions.  Ability to conduct data profiling, cataloging, and mapping for technical design and construction of technical data flow.  Ability to solve business problems using one or more Azure Data and Analytics services in combination with building data pipelines, data streams, and system integration.  Expert knowledge of Azure Data Factory, Azure Data Lake, Azure SQL DW, Azure SQL, and Data Bricks is required.  Knowledge of Azure IoT, Azure HDInsight + Spark, Azure Cosmos DB, Azure Stream Analytics & Python is a plus.  End-to-end data migration from legacy data platform to cloud data services experience is plus  Experience in Big Data management & processing using tools such as Hadoop, Spark  Experience in Data Transformation using ETL/ELT tools such as AWS Glue, Factory, Talend, EAI  Experience in database and data warehousing with SQL, NoSQL & RDBMS such as MS SQL, AWS DynamoDB, etc.  Knowledge of Lambda and Kappa architecture patterns.  Knowledge of Master Data Management (MDM) and Data Quality tools and processes  Knowledge of Dev-Ops processes (including CI/CD) and Infrastructure as code fundamentals.  Working experience with Visual Studio, PowerShell Scripting, and ARM templates  Ability to orchestrate, lead, and influence remote teams, ensuring successful implementation of customer projects  ​ Preferred Certifications:  Microsoft Certified: Azure Data Engineer Associate, Solution Architect  ​ Preferred Years of Work Experience:  You likely have about 12+ years of relevant professional experience.  ​ Preferred Years of Management Experience:  5+ years managing & leadership of 3 or more associates in management consulting or industry.  What we offer you Come for the distinctive experiences you have helping forward-thinking corporations, non-profits, and governments push the boundaries of digital innovation. Stay for the limitless learning opportunities that encourage you to master Microsoft and pursue big ideas. Enjoy ambitious growth for yourself as part of Avanade's people-first culture with benefits like employee share purchasing, flexible work arrangements, a commitment to diversity and inclusion, and competitive pay. ​

Data Architect (Databricks)

Singapore

​About Avanade Avanade is the leading provider of innovative digital, cloud and advisory services, industry solutions and design-led experiences across the Microsoft ecosystem. Every day, our 59,000 professionals in 26 countries make a genuine human impact for our clients, their employees and their customers.  We have been recognized as Microsoft's Global SI Partner of the Year more than any other company. With the most Microsoft certifications (60,000+) and 18 (out of 18) Gold-level Microsoft competencies, we are uniquely positioned to help businesses grow and solve their toughest challenges. We are a people first company, committed to providing an inclusive workplace where employees feel comfortable being their authentic selves. As a responsible business, we are building a sustainable world and helping people from underrepresented communities fulfil their potential.  Majority owned by Accenture, Avanade was founded in 2000 by Accenture LLP and Microsoft Corporation. Learn more at www.avanade.com.  ​ As a Data Engineering Architect, you will use comprehensive modern data engineering techniques and methods with Advanced Analytics to support business decisions for the client. You can collect, aggregate, and analyze structured/unstructured data from multiple internal and external sources, patterns, insights, and trends to decision-makers. Your goal is to support using data-driven insights to help our clients achieve business outcomes and objectives. In this role, you will collect, aggregate, store, and reconcile data supporting Client business decisions. You will help design and build data pipelines, data streams, reporting tools, information dashboards, data service APIs, data generators, and other end-user information portals and insight tools. You will be a critical part of the data supply chain, ensuring stakeholders can access and manipulate data for routine and ad hoc analysis to drive business outcomes using Advanced Analytics. Key Role Responsibilities: Day-to-day you will: • Translate business requirements to technical solutions leveraging strong business acumen. • Analyze current business practices, processes, and procedures, as well as identify future business opportunities for leveraging Cloud Data & Analytics PaaS Services • Support the planning and implementation of data design services, providing sizing and configuration assistance and performing needs assessments. • Support the planning and implementation of data design services, providing sizing and configuration assistance and performing needs assessments. • Delivery of architectures for transformations and modernizations of enterprise data solutions using Azure or other cloud data technologies • Design and Build Modern Data Pipelines and Data Streams. • Design and Build Data Service APIs. • Responsible for designing and providing technical direction to data engineers, data analysts, data integration developers, and database administrators. • Responsible for the quality assurance of all architecture and design deliverables (e.g., technical documents) • Responsible for preparing High-Level Design (HLD) document. • Manage, highlight, and resolve any design integration risks/issues with relevant business and stakeholder. • Develop and maintain data warehouse schematics, layouts, architectures and relational/non-relational databases for data access and Advanced Analytics. • Expose data to end users using PowerBI, Azure API Apps or any other modern visualization platform or experience. • Implement effective metrics and monitoring processes. ​ Skill & Capability Requirements: • Minimum 12+ years experience with 7+ years of experience working with large complex enterprises, architecting & implementing large-scale data projects through Azure or other cloud Data services • Enterprise-scale technical experience with cloud and hybrid infrastructures, architecture designs, data migrations, and technology management. required • Collaboration and Communication. Known for driving decisions collaboratively, resolving conflicts, and ensuring follow-through with exceptional verbal and written communication skills. • Experienced in building modern cloud-based data architectures, like building Lakehouse architecture using Databricks, and technologies such as Data Lake, Delta Lake, and Data Lakehouse e.g., Azure Data Lake Gen 2, Azure Delta Lake • Experienced in building data pipelines using spark and distributed computing, Big Data management & processing using tools such as Hadoop • Experienced in Dev-Ops processes (including CI/CD) and Infrastructure as code fundamentals. • Ability to solve business problems using one or more Data and Analytics services in combination with building data pipelines, data streams, and system integration. • Expert knowledge of Azure Data Factory, Azure Data Lake, Azure SQL DW, Azure SQL, and Data Bricks is plus. • Knowledge of Azure IoT, Azure HDInsight + Spark, Azure Cosmos DB, Azure Stream Analytics & Python is a plus. • Experience in Data Transformation using ETL/ELT tools such as AWS Glue, Factory, Talend, EAI • Experience in database and data warehousing with SQL, NoSQL & RDBMS such as MS SQL, AWS DynamoDB, etc. • Working experience with Visual Studio, PowerShell Scripting, and ARM templates • Azure certifications (AZ-900, AZ-200, and 201), Databricks certification, DevOps certifications What you can expect from us  Take full advantage of 2 days Flexi-leave off a year to relax, rebalance and focus on your health and wellbeing or honour your personal cultural beliefs  Your wellbeing matters to us. That's why you'll receive an allowance per annum to help you, take care of you. Go spoil yourself on us.  Empower others and be empowered through our employee networks: Women employees, and Veterans employees  Help yourself to an extensive menu of Microsoft and technology certifications and enjoy up to 80 paid training hours per year. ​ Why Avanade  We think big and achieve, knowing we have a global team of people who are just as passionate about innovating as we are. That's why growth at Avanade doesn't have to look like a traditional ascent up the career ladder (although that is an option). We welcome people to go deep into their specialities and to embrace agility and go after new skills in different areas of the business. Together we go beyond. ​ ​ What we offer you ​ Come for the distinctive experiences you have helping forward-thinking corporations, non-profits, and governments push the boundaries of digital innovation. Stay for the limitless learning opportunities that encourage you to master Microsoft and pursue big ideas. Enjoy ambitious growth for yourself as part of Avanade's people-first culture with benefits like employee share purchasing, flexible work arrangements, a commitment to diversity and inclusion, and competitive pay. ​ ​

Data Architect

Singapore

​About Avanade Avanade is the leading provider of innovative digital, cloud and advisory services, industry solutions and design-led experiences across the Microsoft ecosystem. Every day, our 59,000 professionals in 26 countries make a genuine human impact for our clients, their employees and their customers.  We have been recognized as Microsoft's Global SI Partner of the Year more than any other company. With the most Microsoft certifications (60,000+) and 18 (out of 18) Gold-level Microsoft competencies, we are uniquely positioned to help businesses grow and solve their toughest challenges. We are a people first company, committed to providing an inclusive workplace where employees feel comfortable being their authentic selves. As a responsible business, we are building a sustainable world and helping people from underrepresented communities fulfil their potential.  Majority owned by Accenture, Avanade was founded in 2000 by Accenture LLP and Microsoft Corporation. ​ As a Data Engineering Architect, you will use comprehensive modern data engineering techniques and methods with Advanced Analytics to support business decisions for the client. You can collect, aggregate, and analyze structured/unstructured data from multiple internal and external sources, patterns, insights, and trends to decision-makers. Your goal is to support using data-driven insights to help our clients achieve business outcomes and objectives. In this role, you will collect, aggregate, store, and reconcile data supporting Client business decisions. You will help design and build data pipelines, data streams, reporting tools, information dashboards, data service APIs, data generators, and other end-user information portals and insight tools. You will be a critical part of the data supply chain, ensuring stakeholders can access and manipulate data for routine and ad hoc analysis to drive business outcomes using Advanced Analytics. ​ Key Role Responsibilities: Day-to-day you will: Translate business requirements to technical solutions leveraging strong business acumen.  Analyze current business practices, processes, and procedures, as well as identify future business opportunities for leveraging Cloud Data & Analytics PaaS Services Support the planning and implementation of data design services, providing sizing and configuration assistance and performing needs assessments.  Support the planning and implementation of data design services, providing sizing and configuration assistance and performing needs assessments. Delivery of architectures for transformations and modernizations of enterprise data solutions using Azure or other cloud data technologies Design and Build Modern Data Pipelines and Data Streams. Design and Build Data Service APIs. Responsible for designing and providing technical direction to data engineers, data analysts, data integration developers, and database administrators. Responsible for the quality assurance of all architecture and design deliverables (e.g., technical documents) Responsible for preparing High-Level Design (HLD) document. Manage, highlight, and resolve any design integration risks/issues with relevant business and stakeholder. Develop and maintain data warehouse schematics, layouts, architectures and relational/non-relational databases for data access and Advanced Analytics. Expose data to end users using PowerBI, Azure API Apps or any other modern visualization platform or experience. Implement effective metrics and monitoring processes. ​ ​ Skill & Capability Requirements: Minimum 12 years experience with 4+ years of experience working with large complex enterprises, architecting & implementing large-scale data projects through Azure or other cloud Data services Enterprise-scale technical experience with cloud and hybrid infrastructures, architecture designs, data migrations, and technology management. required Collaboration and Communication. Known for driving decisions collaboratively, resolving conflicts, and ensuring follow-through with exceptional verbal and written communication skills.  Experienced in building modern cloud-based data architectures, like building Lakehouse architecture using Databricks, and technologies such as Data Lake, Delta Lake, and Data Lakehouse e.g., Azure Data Lake Gen 2, Azure Delta Lake Experienced in Dev-Ops processes (including CI/CD) and Infrastructure as code fundamentals. Ability to solve business problems using one or more Data and Analytics services in combination with building data pipelines, data streams, and system integration. Expert knowledge of Azure Data Factory, Azure Data Lake, Azure SQL DW, Azure SQL, and Data Bricks is plus. Knowledge of Azure IoT, Azure HDInsight + Spark, Azure Cosmos DB, Azure Stream Analytics & Python is a plus. Experience in Data Transformation using ETL/ELT tools such as AWS Glue, Factory, Talend, EAI Experience in database and data warehousing with SQL, NoSQL & RDBMS such as MS SQL, AWS DynamoDB, etc. Working experience with Visual Studio, PowerShell Scripting, and ARM templates Azure certifications (AZ-900, AZ-200, and 201), Databricks certification, DevOps certifications ​ What we offer you Come for the distinctive experiences you have helping forward-thinking corporations, non-profits, and governments push the boundaries of digital innovation. Stay for the limitless learning opportunities that encourage you to master Microsoft and pursue big ideas. Enjoy ambitious growth for yourself as part of Avanade's people-first culture with benefits like employee share purchasing, flexible work arrangements, a commitment to diversity and inclusion, and competitive pay.

.NET Developer

Malaysia

​About Avanade Avanade is the leading provider of innovative digital, cloud and advisory services, industry solutions and design-led experiences across the Microsoft ecosystem. Every day, our 59,000 professionals in 26 countries make a genuine human impact for our clients, their employees and their customers.  We have been recognized as Microsoft's Global SI Partner of the Year more than any other company. With the most Microsoft certifications (60,000+) and 18 (out of 18) Gold-level Microsoft competencies, we are uniquely positioned to help businesses grow and solve their toughest challenges. We are a people first company, committed to providing an inclusive workplace where employees feel comfortable being their authentic selves. As a responsible business, we are building a sustainable world and helping people from underrepresented communities fulfil their potential.  Majority owned by Accenture, Avanade was founded in 2000 by Accenture LLP and Microsoft Corporation. Learn more at www.avanade.com.  Primary Responsibilities: Develop solution component architectures, using ASP.NET MVC, to support business processes. Under general direction, design, construct, test, implement and optimize portions of basic systems that enable and support business and engineering functions. Research technical environment and system needs. Collect detailed user and technical requirements. Work with others to analyze collected requirements, translate into programming solutions, and ensure that identified solutions meet customer needs and expectations. Under supervision, design, construct, test, and implement basic integrated solutions and distributed computing solutions for the customer and Avanade. Monitor performance to identify and help resolve system problems. Investigate and resolve problems on selected software products and standard systems. Learning to apply appropriate tools to analyze, identify, and resolve technical problems. Participate in standard solution implementations, upgrades, enhancements and conversions. Maintain security, integrity, and business continuity controls and documents. Build knowledge on emerging tools, techniques and technologies. ​ ​ Qualification and Technical Requirements: Between 3 – 5 years of technical consulting/development experience.  Degree/Diploma in Information Technology or equivalent. Programming skills: ASP. Net MVC using C#, Web API, Entity Framework, HTML 5, Java Script, JQuery, CSS, Bootstrap, WebSphere MQ Database: MS SQL Server Ability to analyze, design, develop, implement and maintain application code in a variety of contexts Ability to develop client-based and/or web-based software solutions Knowledgeable about application development, complex code development, application testing, component design What we offer you Come for the distinctive experiences you have helping forward-thinking corporations, non-profits, and governments push the boundaries of digital innovation. Stay for the limitless learning opportunities that encourage you to master Microsoft and pursue big ideas. Enjoy ambitious growth for yourself as part of Avanade's people-first culture with benefits like employee share purchasing, flexible work arrangements, a commitment to diversity and inclusion, and competitive pay.

D365 CRM Functional Lead (Bahasa Indonesia Speaking)

Malaysia

​About Avanade Avanade is the leading provider of innovative digital, cloud and advisory services, industry solutions and design-led experiences across the Microsoft ecosystem. Every day, our 59,000 professionals in 26 countries make a genuine human impact for our clients, their employees and their customers.  We have been recognized as Microsoft's Global SI Partner of the Year more than any other company. With the most Microsoft certifications (60,000+) and 18 (out of 18) Gold-level Microsoft competencies, we are uniquely positioned to help businesses grow and solve their toughest challenges. We are a people first company, committed to providing an inclusive workplace where employees feel comfortable being their authentic selves. As a responsible business, we are building a sustainable world and helping people from underrepresented communities fulfil their potential.  Majority owned by Accenture, Avanade was founded in 2000 by Accenture LLP and Microsoft Corporation. Do you know how to turn needs into solutions? So do we. Clients trust you to provide solutions to problems because you understand what they need – and how to do it. You are your client's advocate and the authority on how specific systems, applications or process designs can move their business forward. About you: You're a problem solver, knowing the systems, applications and processes that will make a client happy, no matter how complex the IT solution and integrating architecture. You bring expertise and creativity to crafting activities and building system prototypes. ​ About the job: Business and IT don't always speak exactly the same language. It can be hard for companies to know how IT can help tackle their problems and increase profitability. They need you to understand their business and translate their needs into a software solution that will realize results. ​ ​ Day to day you will: ​ Establish global CRM architecture by integrating solutions across functional lines Support the sales team in crafting deals, with accountability for overall estimates Recommend the right CRM software and solutions for your clients' needs Guide your project team, establishing and tracking achievements, coordinating actions, seeking expert advice, balancing open issues, and contributing to team meetings and reports Define how we measure business and operations success and validate CRM system performance Support clients on CRM standards and prepare them for using their CRM solution by setting training programs and redefining new roles and responsibilities Grow your network through educational opportunities, reading industry publications, building and maintaining your personal and business networks, and joining professional organizations Travel as needed ​ Key Role Skill & Capability Requirements: You're proud of your positive and lasting client relationships and the customizations and strategies you've built to tackle their business challenges. You also enjoy mentoring junior colleagues.  ​ Your functional experience may include: ​ Leading projects requiring significant coordination, with the freedom to use your own discernment and methodologies Working with D365 Customer Engagement as a technical and/or functional leader Hands on experience deploying with Microsoft Power Platform solutions for customers in a variety of industries ​ Your non-technical skills may include: Client management skills and the ability to work with customers to develop and manage an action plan Consulting experience working with external clients with a consistent track record for delivering great results.  Excellent communication skills in English and Bahasa Indonesia ​ Preferred Education Background: You are also likely to possess a Bachelor's degree in business systems or related field. ​ Preferred Years of Work Experience: Minimum 8 years of Microsoft Dynamic365 CRM Functional experience ​ What we offer you Come for the distinctive experiences you have helping forward-thinking corporations, non-profits, and governments push the boundaries of digital innovation. Stay for the limitless learning opportunities that encourage you to master Microsoft and pursue big ideas. Enjoy ambitious growth for yourself as part of Avanade's people-first culture with benefits like employee share purchasing, flexible work arrangements, a commitment to diversity and inclusion, and competitive pay. ​ ​

D365 CRM Technical Developer (Bahasa Indonesia Speaking)

Malaysia

​About Avanade Avanade is the leading provider of innovative digital, cloud and advisory services, industry solutions and design-led experiences across the Microsoft ecosystem. Every day, our 59,000 professionals in 26 countries make a genuine human impact for our clients, their employees and their customers.  We have been recognized as Microsoft's Global SI Partner of the Year more than any other company. With the most Microsoft certifications (60,000+) and 18 (out of 18) Gold-level Microsoft competencies, we are uniquely positioned to help businesses grow and solve their toughest challenges. We are a people first company, committed to providing an inclusive workplace where employees feel comfortable being their authentic selves. As a responsible business, we are building a sustainable world and helping people from underrepresented communities fulfil their potential.  Majority owned by Accenture, Avanade was founded in 2000 by Accenture LLP and Microsoft Corporation. Learn more at www.avanade.com.  Do you know how to turn needs into solutions? So do we. Clients trust you to solve their problems because you understand what they need - and how to do it. You are your client's advocate and the authority on how specific systems, applications or process designs can move their business forward. ​ About you  You're a problem solver, knowing the systems, applications, and processes that will make a client happy, no matter how complex the IT solution and integrating architecture. You bring expertise and creativity to designing activities and building system prototypes. ​ About the job Business and IT don't always speak exactly the same language. It can be hard for companies to know how IT can help tackle their problems and increase profitability. They need you to understand their business and translate their needs into a software solution that will realize results.  As a CRM Technical Developer, you will be familiar with at least one leading commercial CRM system. You will assist Avanade delivery teams with CRM solution planning, analysis, designing, building, and testing. You will be considered a product specialist that is also responsible for providing support in CRM issue, customer concern, and resolution. This role is typically focused on more complex assignments, often requiring diverse inputs, processes, and/or outcomes with room for discretion within established parameters. Day-to-day you will: Assist across all phases of Avanade projects (e.g. Plan, Analyze, Design, Build, and Test) Demonstrate technical knowledge to design and implement CRM solutions Research customer issues that may be non-standard in order to offer solutions Support design of conceptual architecture and technical solutions Ensure project quality meets standards through critical metric identification and testing plan Identify process gaps and work cross-functionally to formulate improvement plans Travel as needed Key Role Skill & Capability Requirements: You are passionate about working with a global technology leader to solve business-critical problems for some of the top companies in the world. You are a fast learner, a self-starter, and a creative problem solver. You are passionate about software and its potential to move organizations forward through innovation. ​ Your technical skills may include: Design, develop, deploy, customize and integrate Microsoft Dynamics CRM with other systems Configure and customize on standard workflows, dashboards, forms, views and develop standard or custom reports Develop reports or dashboards using PowerBI and integrate with D365CS Develop web application, web API, console application, window services to integrate with D365CS Develop a script to migrate existing CRM to D365CS Complete the documentation required including the source codes, technical specification, and unit test result Support SIT, UAT, and production and fix the defect within the agreed SLA Strong understanding of Microsoft Dynamics 365 CRM, with domain knowledge in Customer Service and Telco industry would be an added advantage Develop Power BI reports and integration to Microsoft Dynamic 365 CRM ​ Your non-technical skills may include: Client management skills and the ability to work with customers to develop and manage an action plan Some consulting experience working with external clients Experience working with global/offshore teams Excellent communication skills in English and Bahasa Indonesia ​ Preferred Education Background: Bachelor's degree in a relevant field preferred. ​ Preferred Years of Work Experience: At least 5 years of Microsoft Dynamics 365 CRM and Power BI development experiences At least 5 years of experience in ASP.NET C# development, JavaScript, HTML 5, CSS and other web base technology and tools Experience with Microsoft Dynamics 365 Field Service is essential ​ What we offer you Come for the distinctive experiences you have helping forward-thinking corporations, non-profits, and governments push the boundaries of digital innovation. Stay for the limitless learning opportunities that encourage you to master Microsoft and pursue big ideas. Enjoy ambitious growth for yourself as part of Avanade's people-first culture with benefits like employee share purchasing, flexible work arrangements, a commitment to diversity and inclusion, and competitive pay.

D365 CRM Functional Lead (Thai Speaking)

Malaysia

​About Avanade Avanade is the leading provider of innovative digital, cloud and advisory services, industry solutions and design-led experiences across the Microsoft ecosystem. Every day, our 59,000 professionals in 26 countries make a genuine human impact for our clients, their employees and their customers.  We have been recognized as Microsoft's Global SI Partner of the Year more than any other company. With the most Microsoft certifications (60,000+) and 18 (out of 18) Gold-level Microsoft competencies, we are uniquely positioned to help businesses grow and solve their toughest challenges. We are a people first company, committed to providing an inclusive workplace where employees feel comfortable being their authentic selves. As a responsible business, we are building a sustainable world and helping people from underrepresented communities fulfil their potential.  Majority owned by Accenture, Avanade was founded in 2000 by Accenture LLP and Microsoft Corporation. Learn more at www.avanade.com.  Do you know how to turn needs into solutions? So do we. Clients trust you to provide solutions to problems because you understand what they need – and how to do it. You are your client's advocate and the authority on how specific systems, applications or process designs can move their business forward. ​ About you: You're a problem solver, knowing the systems, applications and processes that will make a client happy, no matter how complex the IT solution and integrating architecture. You bring expertise and creativity to crafting activities and building system prototypes. ​ About the job: Business and IT don't always speak exactly the same language. It can be hard for companies to know how IT can help tackle their problems and increase profitability. They need you to understand their business and translate their needs into a software solution that will realize results. Day to day you will: Establish global CRM architecture by integrating solutions across functional lines Support the sales team in crafting deals, with accountability for overall estimates Recommend the right CRM software and solutions for your clients' needs Guide your project team, establishing and tracking achievements, coordinating actions, seeking expert advice, balancing open issues, and contributing to team meetings and reports Define how we measure business and operations success and validate CRM system performance Support clients on CRM standards and prepare them for using their CRM solution by setting training programs and redefining new roles and responsibilities Grow your network through educational opportunities, reading industry publications, building and maintaining your personal and business networks, and joining professional organizations Travel as needed ​ Key Role Skill & Capability Requirements: You're proud of your positive and lasting client relationships and the customizations and strategies you've built to tackle their business challenges. You also enjoy mentoring junior colleagues.  ​ Your functional experience may include: Leading projects requiring significant coordination, with the freedom to use your own discernment and methodologies Working with D365 Customer Engagement as a technical and/or functional leader Hands on experience deploying with Microsoft Power Platform solutions for customers in a variety of industries ​ ​ Your non-technical skills may include: Client management skills and the ability to work with customers to develop and manage an action plan Consulting experience working with external clients with a consistent track record for delivering great results.  Excellent communication skills in English and Thai Preferred Education Background:  You are also likely to possess a Bachelor's degree in business systems or related field. Preferred Years of Work Experience Minimum 6 years of Microsoft Dynamic365 CRM Functional experience ​ What we offer you Come for the distinctive experiences you have helping forward-thinking corporations, non-profits, and governments push the boundaries of digital innovation. Stay for the limitless learning opportunities that encourage you to master Microsoft and pursue big ideas. Enjoy ambitious growth for yourself as part of Avanade's people-first culture with benefits like employee share purchasing, flexible work arrangements, a commitment to diversity and inclusion, and competitive pay.

D365 CRM Technical Lead (Thai Speaking)

Malaysia

​About Avanade Avanade is the leading provider of innovative digital, cloud and advisory services, industry solutions and design-led experiences across the Microsoft ecosystem. Every day, our 59,000 professionals in 26 countries make a genuine human impact for our clients, their employees and their customers.  We have been recognized as Microsoft's Global SI Partner of the Year more than any other company. With the most Microsoft certifications (60,000+) and 18 (out of 18) Gold-level Microsoft competencies, we are uniquely positioned to help businesses grow and solve their toughest challenges. We are a people first company, committed to providing an inclusive workplace where employees feel comfortable being their authentic selves. As a responsible business, we are building a sustainable world and helping people from underrepresented communities fulfil their potential.  Majority owned by Accenture, Avanade was founded in 2000 by Accenture LLP and Microsoft Corporation. Learn more at www.avanade.com.  Do you know how to find the right solutions? So do we. You understand the nuts and bolts of Customer Relationship Management (CRM) systems and how to use your knowledge and communication skills to connect with clients and colleagues. About you  CRM is at the heart of everything you do. Whether you're working with your development team or collaborating with your clients, your energy, knowledge, and organization skills encourage and develop the people around you.  About the job As a CRM Technical Lead, you will be considered a learned profession that applies your domain expertise in support of operational objectives, and primarily focuses on demonstrating your experience to craft and implement CRM solutions for your client. Additionally, you will be a key contributor across all phases of Avanade projects. Day-to-day you will: Contribute across all phases of Avanade projects (e.g. Plan, Analyze, Design, Build and Test) Demonstrate technical expertise to design and implement CRM solutions Collaborate closely between customers, IT staff, and business partners to ensure high quality and timely resolution of customer issues Research customer issues that may be non-standard in order to offer solutions  Craft conceptual architecture and technical solutions Ensure project quality meets standards through critical metric identification and testing plan Partner with multi-functional technology and design teams to ensure consistent, beneficial client interaction and solution delivery Assist in sales activities and planning as required Support continuous improvement efforts to proactively identify potential challenges to customer success and business efficiency Travel as needed  ​ Key Role Skill & Capability Requirements: You are passionate about working with a global technology leader to solve business-critical problems for some of the top companies in the world. You are a fast learner, a self-starter, and a creative problem solver. You are passionate about software and its potential to move organizations forward through innovation. Your technical skills may include: To develop classes/DLLs using appropriate software design pattern which later to be used by the developer Accountable for recommending and documenting technical solution design Perform technical solutions assessment with in-depth knowledge on D365CS technologies and development practices Architect the overall process and data flow taking into consideration to functionality, data, security, integration, infrastructure, and performance Design the overall solution architecture (D365CS components and other system dependencies) based on functional requirements Lead the end-to-end solution implementation for D365CS to cater to all the possible business scenarios and ensure the design are well implemented and successfully executed by the team Lead D365CS deployment together with the relevant developer Supporting Business Analysts in their review of functional specifications for users of high complexity and quality, including complex integrations or significant module changes Provide guidance where necessary for the CRM team on CRM approach and strategy Possessed relevant Microsoft Dynamic365 CRM certification - this would be plus point Strong understanding of Microsoft Dynamic365 CRM, with domain knowledge in Customer Service and Telco industry - this would be a plus point ​ Your non-technical skills may include: Client management skills and the ability to work with customers to develop and manage an action plan Consulting experience working with external clients with a consistent track record for delivering great results.  Experience working with global/offshore teams on CRM technology implementation and maintenance projects Experience in business systems solution deployment with an emphasis in CRM applications Excellent communication skills in English and Thai ​ Preferred Education Background: You are also likely to possess a Bachelor's degree in business systems or related field. ​ ​ Preferred Years of Work Experience: Minimum up to 6 years of Microsoft Dynamic365 CRM and minimum up to 1 year of Power BI project implementation Minimum up to 6 years of experience in ASP.NET C# development, JavaScript, HTML 5, CSS, and other web-based technology and tools Experience with Microsoft Dynamics 365 Field Service is essential ​ What we offer you Come for the distinctive experiences you have helping forward-thinking corporations, non-profits, and governments push the boundaries of digital innovation. Stay for the limitless learning opportunities that encourage you to master Microsoft and pursue big ideas. Enjoy ambitious growth for yourself as part of Avanade's people-first culture with benefits like employee share purchasing, flexible work arrangements, a commitment to diversity and inclusion, and competitive pay. ​ ​ ​ ​

D365 CRM Technical Developer (Thai Speaking)

Malaysia

​About Avanade Avanade is the leading provider of innovative digital, cloud and advisory services, industry solutions and design-led experiences across the Microsoft ecosystem. Every day, our 59,000 professionals in 26 countries make a genuine human impact for our clients, their employees and their customers.  We have been recognized as Microsoft's Global SI Partner of the Year more than any other company. With the most Microsoft certifications (60,000+) and 18 (out of 18) Gold-level Microsoft competencies, we are uniquely positioned to help businesses grow and solve their toughest challenges. We are a people first company, committed to providing an inclusive workplace where employees feel comfortable being their authentic selves. As a responsible business, we are building a sustainable world and helping people from underrepresented communities fulfil their potential.  Majority owned by Accenture, Avanade was founded in 2000 by Accenture LLP and Microsoft Corporation. Learn more at www.avanade.com.  Do you know how to turn needs into solutions? So do we. Clients trust you to solve their problems because you understand what they need - and how to do it. You are your client's advocate and the authority on how specific systems, applications or process designs can move their business forward. ​ About you  You're a problem solver, knowing the systems, applications, and processes that will make a client happy, no matter how complex the IT solution and integrating architecture. You bring expertise and creativity to designing activities and building system prototypes. ​ About the job Business and IT don't always speak exactly the same language. It can be hard for companies to know how IT can help tackle their problems and increase profitability. They need you to understand their business and translate their needs into a software solution that will realize results.  As a CRM Technical Developer, you will be familiar with at least one leading commercial CRM system. You will assist Avanade delivery teams with CRM solution planning, analysis, designing, building, and testing. You will be considered a product specialist that is also responsible for providing support in CRM issue, customer concern, and resolution. This role is typically focused on more complex assignments, often requiring diverse inputs, processes, and/or outcomes with room for discretion within established parameters. ​ Day-to-day you will: Assist across all phases of Avanade projects (e.g. Plan, Analyze, Design, Build, and Test) Demonstrate technical knowledge to design and implement CRM solutions Research customer issues that may be non-standard in order to offer solutions Support design of conceptual architecture and technical solutions Ensure project quality meets standards through critical metric identification and testing plan Identify process gaps and work cross-functionally to formulate improvement plans Travel as needed ​ Key Role Skill & Capability Requirements: You are passionate about working with a global technology leader to solve business-critical problems for some of the top companies in the world. You are a fast learner, a self-starter, and a creative problem solver. You are passionate about software and its potential to move organizations forward through innovation. Your technical skills may include: Design, develop, deploy, customize and integrate Microsoft Dynamics CRM with other systems Configure and customize on standard workflows, dashboards, forms, views and develop standard or custom reports Develop reports or dashboards using PowerBI and integrate with D365CS Develop web application, web API, console application, window services to integrate with D365CS Develop a script to migrate existing CRM to D365CS Complete the documentation required including the source codes, technical specification, and unit test result Support SIT, UAT, and production and fix the defect within the agreed SLA Strong understanding of Microsoft Dynamics 365 CRM, with domain knowledge in Customer Service and Telco industry would be an added advantage Develop Power BI reports and integration to Microsoft Dynamic 365 CRM ​ Your non-technical skills may include: Client management skills and the ability to work with customers to develop and manage an action plan Some consulting experience working with external clients Experience working with global/offshore teams Excellent communication skills in English and Thai ​ ​ Preferred Education Background: Bachelor's degree in a relevant field preferred. Preferred Years of Work Experience: At least 4 years of Microsoft Dynamics 365 CRM and Power BI development experiences At least 4 years of experience in ASP.NET C# development, JavaScript, HTML 5, CSS and other web base technology and tools Experience with Microsoft Dynamics 365 Field Service is essential What we offer you Come for the distinctive experiences you have helping forward-thinking corporations, non-profits, and governments push the boundaries of digital innovation. Stay for the limitless learning opportunities that encourage you to master Microsoft and pursue big ideas. Enjoy ambitious growth for yourself as part of Avanade's people-first culture with benefits like employee share purchasing, flexible work arrangements, a commitment to diversity and inclusion, and competitive pay.
Receive all job alerts right into your inbox
​"One aspect of Avanade culture that keeps me here: one that I truly cherish is collaboration. At Avanade, we work in teams, with different experts. Having a collaboration culture makes it really easy to collaborate, share knowledge, help each other. There's no judgment of asking questions about something you don't know truthfully. It makes it very easy to work together." 

Marie Rouleau, Avanade

Senior Business Analyst

​"Being able to lead and create impact at this scale is rare, and it's what will keep me at Avanade for years to come. I always have my voice, and it gets listened to here; it gets amplified and it is valued. I have experience at top consulting, financial services, and tech institutions, and I have never experienced the level of freedom and control of my career like I have at Avanade." 

Mina Rabideaux, Avanade

Senior Analyst, Data & Analytics

​"The fact that I get to work on innovative projects that really make a difference in the world. And I love Avanade's commitment to sustainability, to the environment, and to the kind of innovation that allows clients to see technology as a competitive edge as opposed to something that they have to do." 

Tiffany Songvilay, Avanade

Group Manager

​"My college journey may have taken a little longer than some, but I'm proud of myself for following my instincts and finding a career path that lets me be creative and solve problems, and I'm grateful that I get to do that Avanade. Needless to say, I pinch myself every morning knowing that I get to continue to develop my skills while working with an amazing group of people at the place where I genuinely wanted to be." 

Arielle Watson, Avanade

Software Engineer

​"What a gift it was to be given the opportunity to stretch and develop new capabilities in my job, and what a gift it was to be part of a team that prioritized rest and gratitude once the big lift was over. These two things work hand-in-hand, allowing me to drive myself forward on a full tank, understanding that sometimes I need to pause to refill. When I look at what I've both accomplished and learned over the past few years at Avanade, I feel very lucky to be here." 

Lauren Chval, Avanade

Senior Consultant, Internal Communications

​"Avanade is highly focused on innovation and being curious, and I'm happy to have built that elsewhere so I can provide Avanade clients my best work." 

FuiFan Chiue, Avanade

Modern Workplace Engineering Manager
Looking for Better Jobs?
We are here to help you find the best opportunities at companies that care! Sign up to join our platform and receive the newest job alerts and updates, straight to your inbox.
Looking for Talents?
If you're an employer looking to hire female talent, you can post your jobs on our platform and gain access to over 70,000 women from our community!