Back to Blogs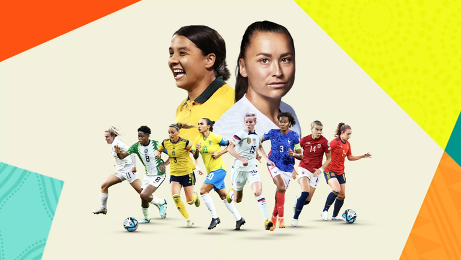 How the FIFA Women's World Cup is embracing female empowerment & paving the way for gender equality
It is no secret that the Women's World Cup 2023 has been taking the world by storm! In this blog, we will take a look at the profound impact of the FIFA Women's World Cup 2023, transcending the realm of football to become a catalyst for empowering women and fostering gender equality in the sports industry. Let's see how this transformative event is revolutionizing women's football while leaving a positive legacy that extends far beyond the playing field.
A Milestone for Women's Football
The FIFA Women's World Cup 2023 represents a monumental milestone in the journey of women's football. As the sport gains increased media coverage, experiences surging participation rates, and wins the hearts of passionate fans, its prominence in the global sports landscape is undeniable. The remarkable skills and unwavering dedication of female players have captivated audiences worldwide, redefining perceptions and breaking down barriers. This extraordinary rise in women's football is a testament to the resilience of athletes, advocates, and fans who have worked tirelessly to challenge stereotypes and demand equal recognition and opportunities. The Women's World Cup stands tall as a symbol of progress, inspiring a generation of women to dream big and achieve greatness in any field they choose.
Empowering the Next Generation
Beyond the exhilarating matches and nail-biting moments, the FIFA Women's World Cup 2023 serves as a powerful inspiration for young girls and aspiring athletes. As they witness the skill, determination, and camaraderie on display, a world of possibilities opens up before them.
Speaking of inspiration, let's talk about Sarina Bolden, the latest heroine to emerge on the global stage of women's football! This Filipino national women's football striker etched her name in history during the FIFA Women's World Cup 2023.
Representing the Philippines, Bolden made headlines when she scored a remarkable header at the 24th minute of a crucial match against host and world No. 26, New Zealand. This historic goal not only secured a stunning 1-0 victory for the Filipinas but also marked the country's first-ever goal in the prestigious tournament. It was a moment that sent ripples of pride and joy throughout the Philippines and inspired young female footballers to dream big.
Promoting Gender Equality in Sports Careers
The Women's World Cup 2023 is not just about football; it's about promoting gender equality and empowering women in the sports industry. As the world watches, major brands such as Adidas, Coca-Cola, Dove, and Sure actively align themselves with the values of inclusivity and gender equality. Their sponsorship and support go beyond financial contributions; they actively engage in initiatives that uplift female athletes and promote positive hange. By investing in women's football, these brands contribute to a more equitable sporting landscape and demonstrate their commitment to advancing women's careers.
​
Unleashing Creativity through Impactful Marketing Campaigns
The marketing campaigns surrounding the Women's World Cup 2023 are, without a doubt, awe-inspiring in their creativity and impact. Brands have skillfully tapped into the excitement, talent, and uniqueness of female athletes, crafting campaigns that challenge stereotypes and celebrate diversity. These initiatives not only capture the essence of the game but also address broader societal issues of gender equality and women's empowerment. By showcasing the multifaceted personalities of players, these campaigns create emotional connections with fans, regardless of gender, forging a sense of unity and inclusivity within the sporting community.
​
Leaving a Lasting Legacy for Women's Careers
The FIFA Women's World Cup 2023 is more than just a sporting event; it is a game-changer for women's careers in the sports industry. Only 2.5% of football players are women, while 97.5% of football players are men. The spotlight on female athletes during the tournament opens doors to diverse opportunities beyond the football field. From coaching and management roles to sports media and marketing, the Women's World Cup encourages women to take charge of their careers and claim their rightful place n the sports landscape. It inspires a new generation of female leaders who will continue to break barriers and pave the way for future generations.
​
As the FIFA Women's World Cup 2023 unfolds, it showcases the unparalleled power of women's football to inspire and empower. We're feeling inspired as ever to rally behind the athletes and support the Women's World Cup's legacy, ensuring that the impact of this historic tournament extends beyond the boundaries of sports, unlocking new horizons for women's careers worldwide.
So, which team are you supporting this year? ⚽️
​
Half the Sky's mission is to supply the tools that can give every woman the ability to build a successful career and be fully prepared for the future of work. So, that they can lead a healthy, prosperous and more balanced/blended lifestyle of their choosing. By building your confidence, you're setting foundations to empower yourself and your career. The world is your oyster, and it starts with you.
Enjoyed this article let us know your thoughts in the comments below:
---
About half the sky
half the sky (HTS) is a career platform for women connecting you to career opportunities at companies that care. Providing you with information, tips and strategies to navigate the rapidly changing workplace.
Sign up to get career tips and job alerts directly to your inbox! Join us to shape the future of women at work together!
---