Back to Blogs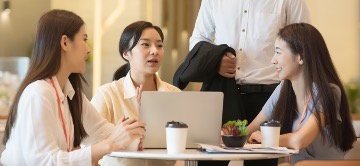 Who should form a part of your career network?
Building a career network is essential for anyone looking to advance in their profession. But do you know who should be a part of your network? And how can you leverage your network when searching for a job? If you have answers to these questions, you'll be in a much better position to grow your career and find new job opportunities.
First and foremost, your network should include people you currently work with or have worked with in the past, as well as former managers or bosses. However, many people overlook the value of connections outside of work. Your network can include anyone from past clients, customers, or vendors, to people you know through your social circles, like friends from church or clubs, school friends, or even acquaintances like your dentist or hair stylist.
The more people you have in your network, the better. This is because networking isn't just about who you know but who they know. You never know where your next job lead will come from, so it's important to keep your options open and not dismiss anyone as an irrelevant contact.
To be successful in networking, it's important to be willing to help others as well. Offer information, introductions, or helpful tips to others in your network, and they will be more likely to help you in return. When job hunting, stay positive and let everyone know you're looking. Be upfront and clear about what you do and what you're looking for, and ask for their help and advice. If they know of any job opportunities, their recommendation could be the key to landing an interview.
Networking is a powerful tool for finding new job opportunities, but it's important to remember that it's not the only way. Directly contacting hiring managers can also be an effective way to get your foot in the door. The key is to keep an open mind and be willing to put yourself out there.
​
Half the Sky's mission is to supply the tools that can give every woman the ability to build a successful career and be fully prepared for the future of work. So, that they can lead a healthy, prosperous and more balanced/blended lifestyle of their choosing. By building your confidence, you're setting foundations to empower yourself and your career. The world is your oyster, and it starts with you.
Enjoyed this article let us know your thoughts in the comments below:
---
About half the sky
half the sky (HTS) is a career platform for women connecting you to career opportunities at companies that care. Providing you with information, tips and strategies to navigate the rapidly changing workplace.
Sign up to get career tips and job alerts directly to your inbox! Join us to shape the future of women at work together!
---