Back to Blogs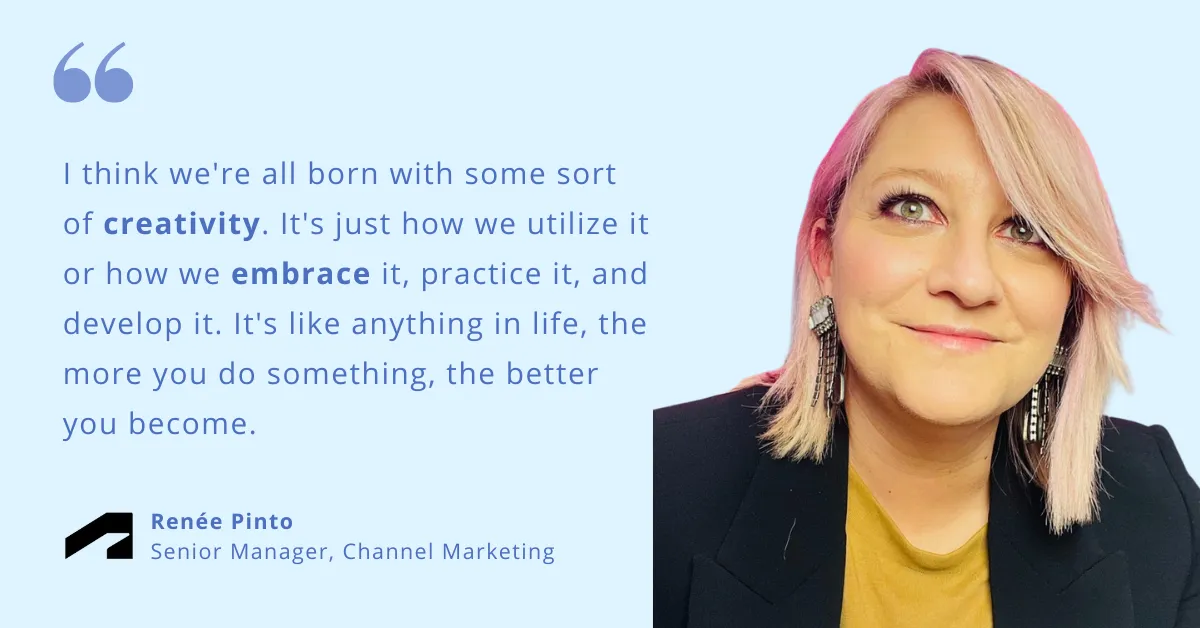 Autodesk's Renée Pinto on How to Harness Your Creativity to Advance Your Marketing Career
​Renée Pinto is a creative soul.
The Australian native's passions include all things creative. "I love to paint. I also love to take photos. I was even represented by a gallery in Paddington, Sydney for many years showcasing my oil paintings , as well as my photography," Renée shares.
When she doesn't have a paintbrush or camera in hand, she harnesses her creativity at work as a Senior Marketing Manager at global software solutions companyAutodesk.
We sat down with Renée to learn how she has used her creativity to grow her marketing career and her tips to harness your creativity so you can do the same.
From Hospitality to Marketing
Renée's career started with her love for people. "I started working within the hospitality industry, and that's where my love of marketing first took off," she explains. "I'm a people person. So marketing and events were something that really suited me."
With a new-found interest in marketing, she moved from working in events to working with small advertising agencies where she enjoyed working in an intimate environment and getting to know people on a personal level. "I started off as a graphic designer," Renée shares. "I worked in the studio with only two others, which taught me so much about the ins and outs of the business"
This experience lent her valuable insight into the different roles it took to run a small business. "You are learning all aspects of the business which I believe is vital to understand how it operates and how your role fits into the bigger picture.
While building her understanding of the different moving parts of the company, she started building relationships with her colleagues, regardless of their rank. "Being able to connect with people and not having the hierarchy in smaller organizations, has been something that I think has got me to where I am, because I don't see titles. If you are the the junior graphic designer, I'm going to ask you if you want a cup of coffee, just like I'm going to ask the CEO," Renée says with pride.
This people-first approach supported her when she took a break from the corporate world and turned her passion for photography into a full-time career — an unconventional career move that eventually led her to a bigger marketing role.
Passion Project to Full-Time Career and Back
Renée's photography business started as an act of kindness over 15 years ago, first starting as a second job. "It actually started as a charitable thing. I started taking photos for friends and people who couldn't afford it on the weekends whilst still working full-time at an agency," she shares.
And it was through photography that Renée further developed her marketing skills. "It started by using social networks, friends, and family to nominate a family in need of a photo shoot," Renée explains. "I didn't realize at the time that I was actually marketing, using multiple digital platforms and social channels. Back in those days, print advertising was the way to go, so we even made flyers that we put in letterboxes."
Eventually, her photography and marketing skills flourished so much that she was able to financially sustain herself through her business full-time. However, over time Renée realized that her passions didn't need to be her full-time job. "I love photography, but I needed more than that. I needed a full-time job as well as an outlet," she says. "I soon realized [photography] is something that brings me joy, it's almost like my yoga, my escape, my therapy."
After five years of full-time photography, Renée chose to opt for a corporate career that would fulfill her professional desires and allow her to keep her hobbies as passion projects.
Landing the Ideal Role at Autodesk
Renée eventually found her way to Autodesk, a tech company that is changing how the world is designed and made. Their technology and software span various industries and help customers solve problems and design a better world.
She first joined as an events and marketing specialist, which went well with her previous experience. But when a former Autodesk co-worker went on maternity leave, Renée got the opportunity to step into the vacant marketing role on the demand generation team. "I loved it. A portion of that role was executing to our end customers, and then the second portion of that role was my introduction to partners and the channel ecosystem and the importance of building relationships," Renée shares. "I was working directly with our partners. And that's when I [realized], 'this is where I need to be. This is my calling.'"
Renée has spent the past three years in the Channel Marketing organization at Autodesk as a Channel Marketing Manager, and has recently been promoted to Senior Manager for Channel Marketing APJ. Her day involves "working with Channel Marketing Managers across APJ, meeting with our partners, understanding the gaps and challenges they are facing, and also identifying the enablement our partners require to be successful. Also working alongside our key stakeholders internally, our channel sales teams, demand generation team, channel programs team, and making sure we're aligned with them and have the same priorities and same goals for our partners."
And it was her previous creative endeavors that helped build the framework for her success as a manager and working with partners. "Photography is the perfect starting point in understanding people, because you're sometimes photographing individuals that don't want their photo taken, you're having to get the best out of them," she explains. "You need to gauge and learn more about their personality and how you will draw the best out of them. Photography's exactly the same as how you would manage and interact with people in the workplace."
​

​
Some of Renée's artwork and photography she created during the COVID-19 lockdown and an internal Autodesk painting class she led an internal conference.
​
How to Harness Your Creativity
Creativity can often be seen as something you do or don't have, not a skill that can be learned. But Renée disagrees. "I think we're all born with some sort of creativity. It's just how we utilize it or how we embrace it, practice, and develop it. It's like anything in life, the more you do something, the better you become," Renée encourages.
For those looking to harness their creativity and advance in the world of marketing Renée offers this advice.
Think outside of the box."It's great to have an analytical mind. And at the end of the day, data is key — but I think you have to have a balance." Renée explains. "It's important to have that creative mind and look at things through a new lens so you can work out how you can market that product or solution differently. Sometimes you may fail and sometimes you may succeed, but never be afraid to speak up and share an idea no matter how silly you think it may sound. Usually when in a team environment, what originally sounds like a silly idea, becomes a group discussion with multiple stakeholder inputs and then develops into something that ultimately could be a huge success."
Try different things outside of work."You are not going to know what you enjoy or what you are good at, in a creative sense, unless you try different things," says Renée. In order to do this she recommends stepping outside of your comfort zone. "Do a drawing class. Take up the saxophone, whatever your passion is," Renée urges. And once you try something new, take that same energy into the business world. "We think that we have parameters and we have to stay within those parameters at work. That's not always the case. I also believe having a creative outlet or hobby outside of work is something that is critical to our mental health and in turn will make you successful and happier at work"
Try new things within your career and don't be afraid to fail.At Autodesk, Renée has worked with people who have come to marketing from all different careers and walks of life. "There are definitely people within Autodesk, like myself, who have a very non-conventional background in the tech space," Renée shares. "We are told when we leave high school that we must know what we want to do and move straight into studies. The pressure on young people can be immense to make a decision straight away, however you can also be successful by trying different roles, working within different industries, and actually getting first-hand experience, which will be valuable in finding where you truly are meant to be. I tried multiple different careers to learn what I loved and then went on to study. There is no one path you should follow and it is never too late to try something new." To Renée's previous point, trying new things can be key to success, but more importantly, you shouldn't be afraid of failure. "If it doesn't work the first time, maybe there's a different way you could do it."

​
Half the Sky's mission is to supply the tools that can give every woman the ability to build a successful career and be fully prepared for the future of work. So, that they can lead a healthy, prosperous and more balanced/blended lifestyle of their choosing. By building your confidence, you're setting foundations to empower yourself and your career. The world is your oyster, and it starts with you.
Enjoyed this article let us know your thoughts in the comments below:
---
About half the sky
half the sky (HTS) is a career platform for women connecting you to career opportunities at companies that care. Providing you with information, tips and strategies to navigate the rapidly changing workplace.
Sign up to get career tips and job alerts directly to your inbox! Join us to shape the future of women at work together!
---