Back to Blogs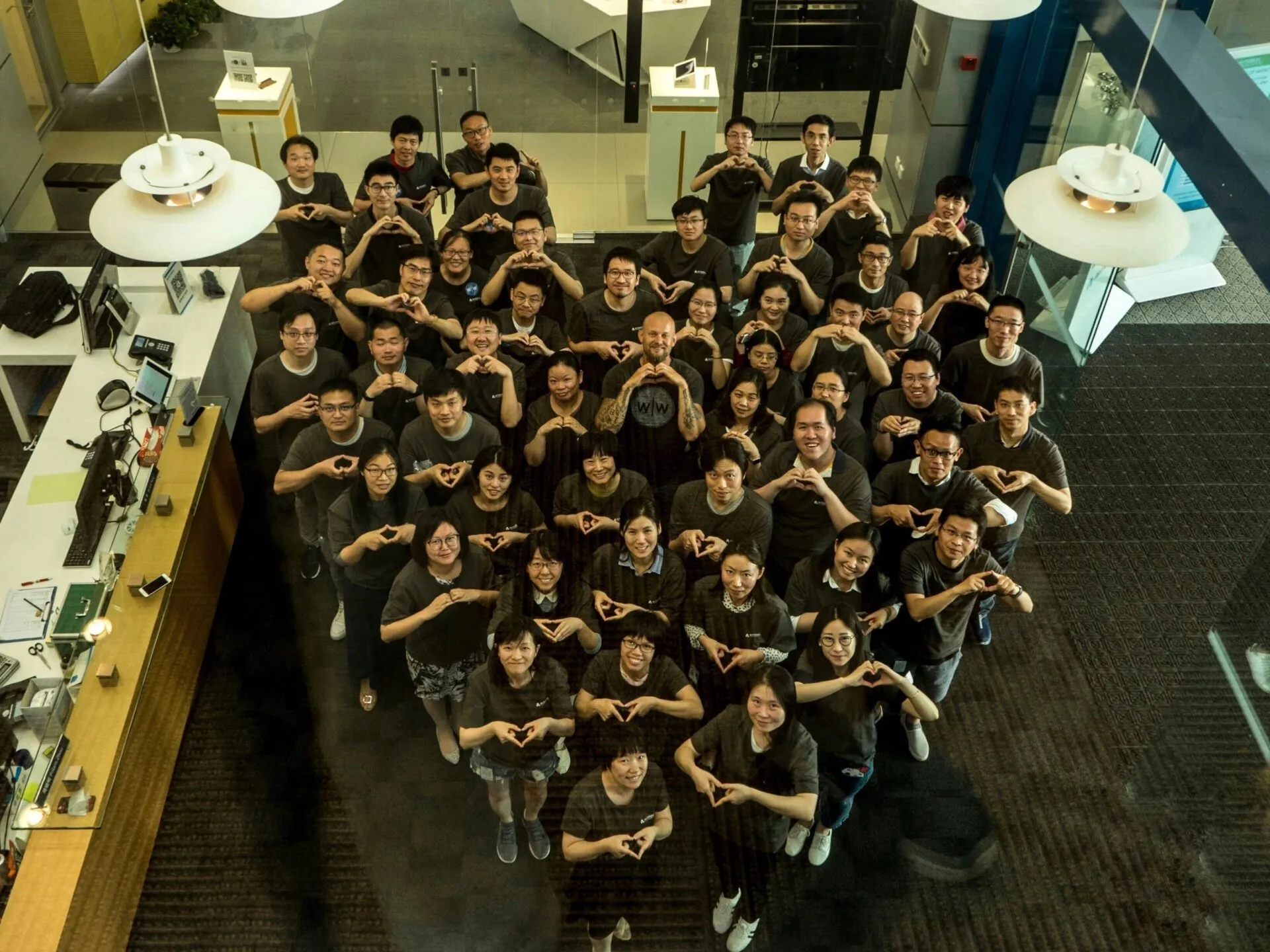 The "boomerang" effect: Former Autodeskers in Shanghai share why they returned to work at Autodesk
​Sometimes, you might decide to leave a company for another opportunity, and then after a while, return to the company you were at before – a lot of people call this being a "boomerang" employee. We love when former Autodeskers make their way back to us!
We recently spoke with a few boomerang Autodeskers based in Shanghai, China, on why they decided to come back to work at Autodesk:
Junyu Zhang first started at Autodesk in 2015 as a Senior Quality Assurance Engineer. After leaving the company for another opportunity, Junyu returned to Autodesk as a Principal User Experience Designer in the PDMS Gen/SIM UX team and is responsible for the user experience design of Generative Design territory in Fusion 360.
Liang Shao was a Senior Manager of Software Development when he left the company. After just half a year, Liang decided to come back to Autodesk and returned to the same role.
Monica Zhao started her career at Autodesk as an SQA Engineer, was a Product Owner on multiple projects, applied for a Product Manager job in a different division, then switched to an Engineering Manager role. She returned to Autodesk after one year and took a new role as a Product Manager.
Renbo Jiang first joined Autodesk in 2007 as a Software Engineer working on Map3D, one of AutoCAD's vertical products. After exploring other career opportunities for three years, he returned to Autodesk in 2014 in a new role as a Principal Engineer on the Map3D team. Today, he is a Tech Lead on the AutoCAD CI team.
Wayne Wang was a Software Engineer at the beginning of his career with Autodesk and a Software Architect when he left to explore another opportunity. He came back to Autodesk after only three months and returned to the same role.
What were the reasons for your decision to come back to Autodesk?
Junyu: It's a long story, but in brief, I faced a hard time due to the expansion of family duties during COVID, but the employer I was with wasn't very supportive, and the repetitive overtime working schedule just depleted every bit of energy both physically and mentally. So, I looked for other opportunities with a better work-life balance. Luckily, former colleagues at Autodesk reached out at the perfect time. Based on my previous experience with Autodesk's culture, I decided to come back. I'm so glad to be back and see all my old friends!
Liang: After Autodesk, I took a role as head of engineering and product at a startup company, with 50 people reporting to me. It turned out my adventure was very risky, and the challenges there became serious concerns, including higher demand with limited resources, negative company culture and lack of psychological safety, and the pandemic's impact on the company's performance and overall economic health. My worries kept increasing while my feeling of safety kept decreasing, so I finally decided to quit and return to Autodesk. In contrast, Autodesk is doing so well in these areas, and I got a deep impression of how important these factors are to our professional careers.
Wayne:I left Autodesk to join a start-up company. I came back to Autodesk because I needed to have more balance between life, family, and work. I also found it hard to fit into the local company culture at the startup, and I prefer to deal with the more technical work that I had in my previous role at Autodesk. Thank you for having me back!
What are the things you enjoy most about working at Autodesk that you didn't find at your other jobs?
Monica: The company culture at Autodesk is very promising and charming. It fosters a psychologically safe environment for employees to bring up their ideas and opinions, guiding everyone on a much simpler and clear decision-making process. It reminds everyone to always collaborate with a One Autodesk attitude.
Renbo: Autodesk's company culture is very attractive to me. Managers care about the growth of their employees, and at the same time, they also pay attention to work-life balance. My colleagues are very friendly — whenever I have a technical problem, there are always colleagues who will proactively help me.
Junyu: When I was job hunting, I did get some very good offers with high salaries and great titles. For me, money is an important factor, but not the number one priority. I am a very hard-core technology enthusiast and working for Autodesk, I just feel so proud to be part of such a great journey in technology. We are the voyagers and what we're doing is a contribution to all mankind — although it may be very small, all the huge leaps are formed by the tiny parts.
Liang: Without the comparison of being at another company, I would not have such a deep feeling about how company culture is so important for being successful. Among Autodesk's company values, one I'd like to highlight is "inclusive." At Autodesk, you will see being inclusive in the work at every level. Your thoughts are listened to and respected. Feedback is well accepted, and actions are taken. All of this is built on top of Autodesk's people, who share the same values with our culture and are guaranteed with tools and processes (e.g., 360 feedback, 1-on-1 conversations, employee insight surveys, etc.).
Autodesk always tries its best to build a psychologically safe environment. One example is the well-known BPM (blameless postmortem) process, which focuses on improvement rather than blame. Autodesk cares about people – you will find work-life-balance is a common question in the employee surveys, and no doubt, the care is about much more than just work-life balance, if you take the examples about how Autodesk has responded to the pandemic and other events impacting our employees. Also, Autodesk cares about people's careers and supports them with very meaningful career paths for every job. I believe Autodesk gets paid off with continuous innovation and sustainable growth in business by retaining talent.
Why should people consider a career at Autodesk?
Wayne:Autodesk is technically driven, with plenty of hard problems to solve, great materials and opportunities to learn and grow, while also balancing life and family.
Monica:The company really cares about its employees, from a lot of new initiatives on how to support the new norm of remote work to the support company provided to employees during the pandemic. Even the regular updates from our CEO on the status of the company really demonstrate how we work hard to gain customer trust, take new initiatives to adapt to the world's changes, and embrace new technologies to help customers reimagine how they work today.
Renbo: At Autodesk, you're treated fairly. Your manager is very concerned about your growth, and there are plenty of training opportunities for you to choose from. You also have many opportunities to do things according to your ideas and influence the people and teams around you. Here, many decisions are made from bottom to top, instead of always top-down.
Junyu: I think if we only consider the company culture, Autodesk is quite an ideal organization that is caring and supportive to the employees. Here, it's easy to balance work and personal lives. But also, if you are the "geek" type like me, you'll find you'll always have amazing leading-edge creations to work on to fulfill your curiosities!
Liang: From a technical perspective, the depth of the domain knowledge and the professional skills an engineer will learn at Autodesk promise great career growth opportunities. Here, we encourage knowledge sharing and everybody is nice and glad to do that, which is one of the factors that makes Autodesk a great learning environment for everyone. Second, Autodesk's business is so successful today, but there are still new business opportunities we are exploring – for example, business opportunities with the Cloud Information Model.
Finally, everything Autodesk does makes a positive impact on the world! More than 10 million professionals in 185 countries are using Autodesk software to save time and money, gain competitive advantage, and change the way ideas are brought to life — from manufacturing, architecture, engineering, and construction, to media and entertainment. As Autodesk employees, we are proud to say we are doing our part to make the world better and make people's lives better!
Interested in working at Autodesk in China? Check out our current openings!
This blog was originally published here.
​
​
Half the Sky's mission is to supply the tools that can give every woman the ability to build a successful career and be fully prepared for the future of work. So, that they can lead a healthy, prosperous and more balanced/blended lifestyle of their choosing. By building your confidence, you're setting foundations to empower yourself and your career. The world is your oyster, and it starts with you.
Enjoyed this article let us know your thoughts in the comments below:
---
About half the sky
half the sky (HTS) is a career platform for women connecting you to career opportunities at companies that care. Providing you with information, tips and strategies to navigate the rapidly changing workplace.
Sign up to get career tips and job alerts directly to your inbox! Join us to shape the future of women at work together!
---