Back to Blogs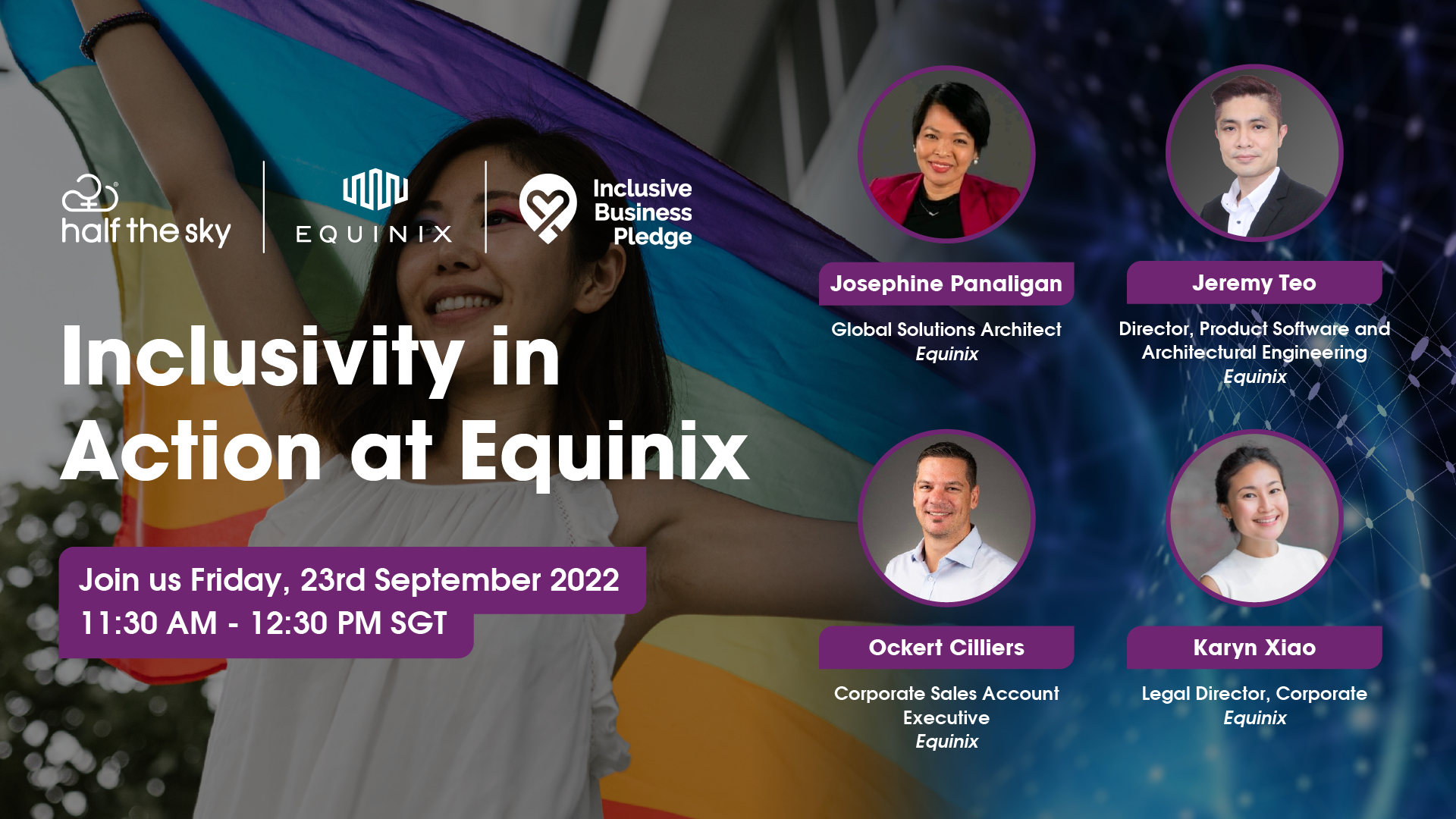 Inclusivity in Action at Equinix
​An inclusive workplace culture is essential for a modern business to thrive and make an impact. And global digital infrastructure company Equinix has been at the forefront of the world's most inclusive workplaces year after year! How do they do it?
Half the sky, Equinix and Inclusive Business Pledge, Singapore's First Pledge Programme for Inclusive Businesses, bring you: Inclusivity in Action at Equinix! Join us on the 23rd of September for a fireside chat with some of the organization's top leaders, as we discuss how Equinix are championing D&I and meeting the needs of today's diverse workforce. From the LGBTQ community to career switchers and women in tech, learn about the best practices in championing an authentic D&I strategy that drives business innovation and a thriving workforce.
​
Speaker's information
Josephine Panaligan | Global Solutions Architect

Jeremy Teo | Director, Product Software and Architectural Engineering

Okert Cilliers | Corporate Sales Account Executive

Karyn Xiao | Legal Director, Corporate
What to expect
Importance of creating a diverse workplace

How Equinix is walking the talk in supporting different employee communities

How Equinix uplifts and supports the LGBTQ+ community

Tips on mid-career switching from an ex-Athletic

Inspiring career journey stories from female tech leaders
​
Half the Sky's mission is to supply the tools that can give every woman the ability to build a successful career and be fully prepared for the future of work. So, that they can lead a healthy, prosperous and more balanced/blended lifestyle of their choosing. By building your confidence, you're setting foundations to empower yourself and your career. The world is your oyster, and it starts with you.
Enjoyed this article let us know your thoughts in the comments below:
---
About half the sky
half the sky (HTS) is a career platform for women connecting you to career opportunities at companies that care. Providing you with information, tips and strategies to navigate the rapidly changing workplace.
Sign up to get career tips and job alerts directly to your inbox! Join us to shape the future of women at work together!
---