Back to Blogs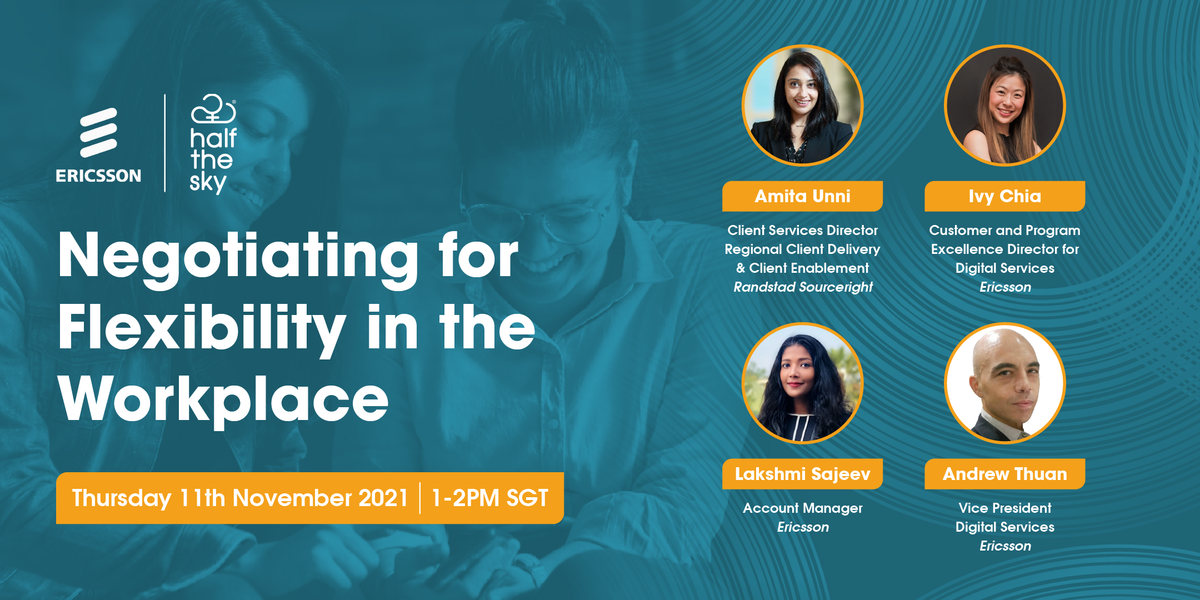 Ericsson | HTS: Negotiating Flexibility in the Workplace 2021
​Half the sky is partnering with Ericsson on this panel to share with you practical tips on how to negotiate for flexibility either in your current or future roles.
The current Covid-19 pandemic has led to the building of a business case around remote working and the need for broader, flexible working options. As companies start to adopt remote and hybrid working models, the demand for flexibility is a key factor in talent movements across the world. On average, 95% of employees will look for a new role if their employers do not make arrangements to accommodate requests for flexibility working. As an employee, where do you start if you want more flexibility at work?
In this session, we will explore practical tips on how to initiate the conversations with your current or future employers, around the ask for flexible working arrangements. Half the Sky and Global ICT leader Ericsson, invite you to join a candid discussion on how to speak up and navigate the topic of flexibility.
Are you ready to have greater control on how and when you work?
Watch this video and learn from Ericsson Inclusion champions;
Andrew Thuan (Vice President of DGS)

Ivy Chia (Customer and Program Excellence Director and Co-chair of Women of Ericsson)

Lakshmi Sajeev (Account Manager and Ascent Program Graduate)
​
What to expect:
Defining the different types of flexible working

Discussion around the need for flexible working. Is it for everyone?

Career journey stories and career advice

How to support your teams and peers to work flexibility
​
​
​
​
​
​
Half the Sky's mission is to supply the tools that can give every woman the ability to build a successful career and be fully prepared for the future of work. So, that they can lead a healthy, prosperous and more balanced/blended lifestyle of their choosing. By building your confidence, you're setting foundations to empower yourself and your career. The world is your oyster, and it starts with you.
Enjoyed this article let us know your thoughts in the comments below:
---
About half the sky
half the sky (HTS) is a career platform for women connecting you to career opportunities at companies that care. Providing you with information, tips and strategies to navigate the rapidly changing workplace.
Sign up to get career tips and job alerts directly to your inbox! Join us to shape the future of women at work together!
---