Back to Blogs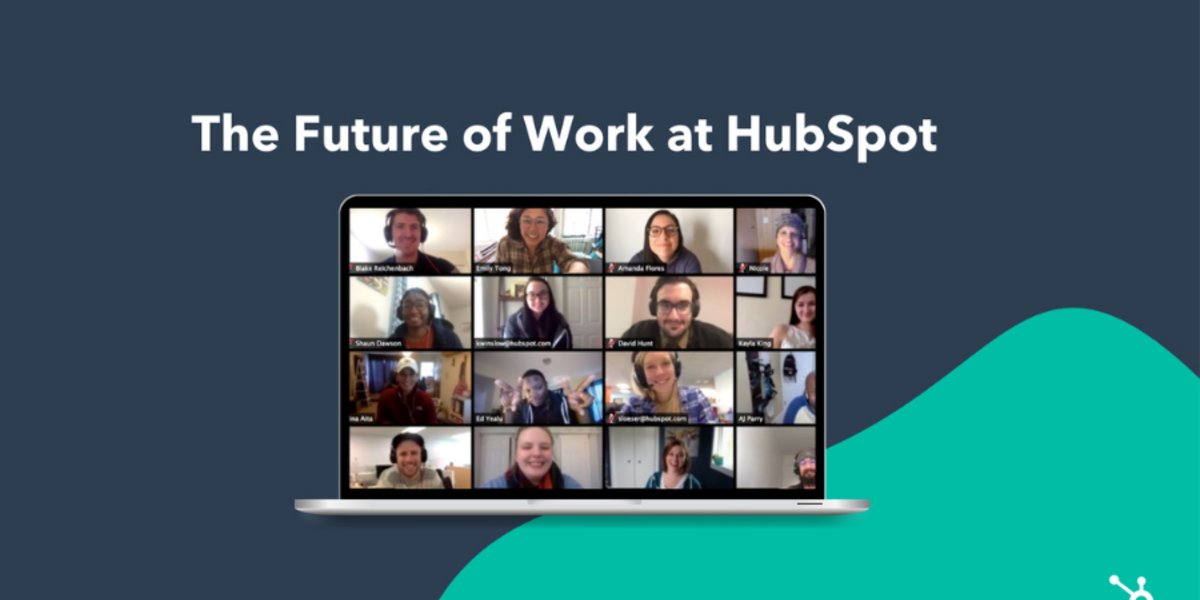 The Future of Work at HubSpot: How We're Building a Hybrid Company
​At HubSpot, we're committed to building a culture where people can do their best work. Some of us do our best work in an office, and some of us work best from a home office. That's why, as our Culture Code states, we've always believed that results matter more than when or where they're produced. Many HubSpotters have worked fully remotely for years now, with about 10% of employees working remotely even before the COVID-19 pandemic. But we've historically been more remote-friendly than remote-first.
In other words, HubSpot has been a "remote-ish" company.
But like many organizations in 2020, we've realized that we need to evolve. The future of work isn't coming; it's already here. In a recent survey from Gallup, 59% of people would like to keep working remotely as much as possible even after COVID-19 lockdowns are lifted. Our own employee data reflects the shift to remote, too: Two-thirds of HubSpotters plan to work remotely more often once our offices re-open, and approximately 16% are interested in moving to a full-time remote set-up, in addition to hundreds of employees who are already remote.
It's not only employees who are changing how they work either. It's our candidates, too. The share of remote job postings compared to all postings on LinkedIn grew 91% from the first week of March 2020 to the last week of April 2020 (source: Fast Company). Amazing candidates increasingly expect flexible work, and as employers, we'll miss out on great people if we don't adapt. Hiring remotely is a huge opportunity to increase access to talent, especially talent outside our existing networks, cities, and local campuses. As a company that's dedicated to diversity, inclusion, and belonging, we're actively working on diversifying our candidate community and believe remote work will be fundamental in that. Creating more remote jobs in tech isn't just a benefit to organizations, either. It can create more opportunities for people to build work around their lives, and not the other way around. We believe access to a career in tech shouldn't be determined by your zip code. We're excited about the possibilities remote work opens up for folks in rural areas who historically haven't had the option to pursue a job they love from where they are.
That's one key reason we're excited about the future of work. And while the past few months have been challenging for businesses, employees, and candidates alike, it's made one thing clearer than ever to us at HubSpot: work is not a place. Our culture is not tied to locations, it's rooted in our values, our amazing people, and our mission of helping millions of organizations grow better.
That's why in 2021, HubSpot will drop the "ish" in "remote-ish." We're going to shift to a hybrid remote-office model where career growth is equitable for everyone, whether you do your best work in an office or in a home office. It's the right thing to do for our employees and candidates, and for growing a company we're proud of long-term.
HubSpot's New Vision for Work
Beginning in January 2021, HubSpot employees will have three options to choose from based on how they do their best work:
@office: You come into a HubSpot office 3 or more days per week. You have a dedicated desk for your laptop, monitor, family photos, plants, and anything else that makes your workspace truly yours. Beyond taking your HubSpot laptop home if you'd like to, employees who are @office won't get an at-home desk set-up.

@flex: You come into a HubSpot office 2 or fewer days per week. When you come to the office, you'll be allocated a "hotel desk", which will be organized by team when possible. Because you opted-out of dedicated desk space in an office, HubSpot will help support your work-from-home (WFH) set-up.

@home: You work the majority of your time from home in a HubSpot-approved entity. HubSpot makes sure your WFH set-up is safe, sound, and sets you up for success.
As of January 2021, new employees will choose their option before their start date, and all employees will have the chance to change the option once per year. Our hope is that by having a menu of options, employees can truly work when and where it's best for them. If a role is truly required to be @office, we'll note it right up front in the job description, removing any friction from our candidate experience with regard to what flexibility is offered for each role.
To make this experience truly inclusive, whether you're at home or working in a HubSpot office, we're making commitments and changes to our culture and recruiting approaches to set HubSpotters up for success in a hybrid world:
Location-agnostic benefits & perks: In 2021 and 2022, we'll be introducing benefits and perks that you don't have to come to a HubSpot office to enjoy.

Manager expectations & trainings: Moving forward, an expectation of great leadership at HubSpot will be the ability to build and grow high-performing teams remotely. People managers and leaders at HubSpot will receive training, workshops, and support for building psychological safety, inclusive hiring, and more, virtually.

Remote job openings: For 2021, our goal will be to post 70% of HubSpot roles as location-agnostic on

our careers website, if located within the hiring country. HubSpot will hire remotely in locations where we have entities and are set up for remote work. Check out our Careers homepage to learn more about our locations around the world.

Fair and transparent hiring processes: We want to create equal access to career growth at HubSpot, and that often starts with recruiting. We're focused on iterating our hiring and interview processes to be wholly inclusive of remote candidates, and on creating an amazing candidate experience by providing resources and prep materials for virtual interviewing.

Remote-first onboarding: New hire onboarding shifted to fully-remote globally earlier this year, and we'll continue to evolve the experience so that new HubSpotters are set up for growth from day one regardless of their location or time zone. We also care deeply about making the new hire experience remarkable, and so we'll iterate on the opportunities to meet people, network, and feel connected to our mission and vision, regardless of which work option they choose or the region they work from.
As our co-founder and CTO, Dharmesh Shah, said in his INBOUND 2019 keynote: The future of work is flexible. That's why we're grateful to have had a head start on remote work and in building a culture of flexibility. Over the past few years, we've learned a lot from our community of remote HubSpotters, and by bringing on a wonderful Remote Work and Inclusion Program Manager in 2019. The COVID-19 pandemic accelerated our pace, but becoming a hybrid company that empowers remote and in-office work equitably was where the future was headed for HubSpot.
Hopefully, this transparency into how we're evolving our culture and company for the future is helpful as you're evaluating HubSpot as a place to work, building our a plan for your own company's return to work, or wondering what it will be like to partner with HubSpot and our team in the future. You can expect to hear more from us over the next few months about our move to a truly hybrid company and culture. And in HubSpot fashion, we'll share our learnings, wins, and mistakes along the way in our journey to build a great place to work from anywhere.
The original article was published here.
​
Half the Sky's mission is to supply the tools that can give every woman the ability to build a successful career and be fully prepared for the future of work. So, that they can lead a healthy, prosperous and more balanced/blended lifestyle of their choosing. By building your confidence, you're setting foundations to empower yourself and your career. The world is your oyster, and it starts with you.
Enjoyed this article let us know your thoughts in the comments below:
---
About half the sky
half the sky (HTS) is a career platform for women connecting you to career opportunities at companies that care. Providing you with information, tips and strategies to navigate the rapidly changing workplace.
Sign up to get career tips and job alerts directly to your inbox! Join us to shape the future of women at work together!
---