Back to Blogs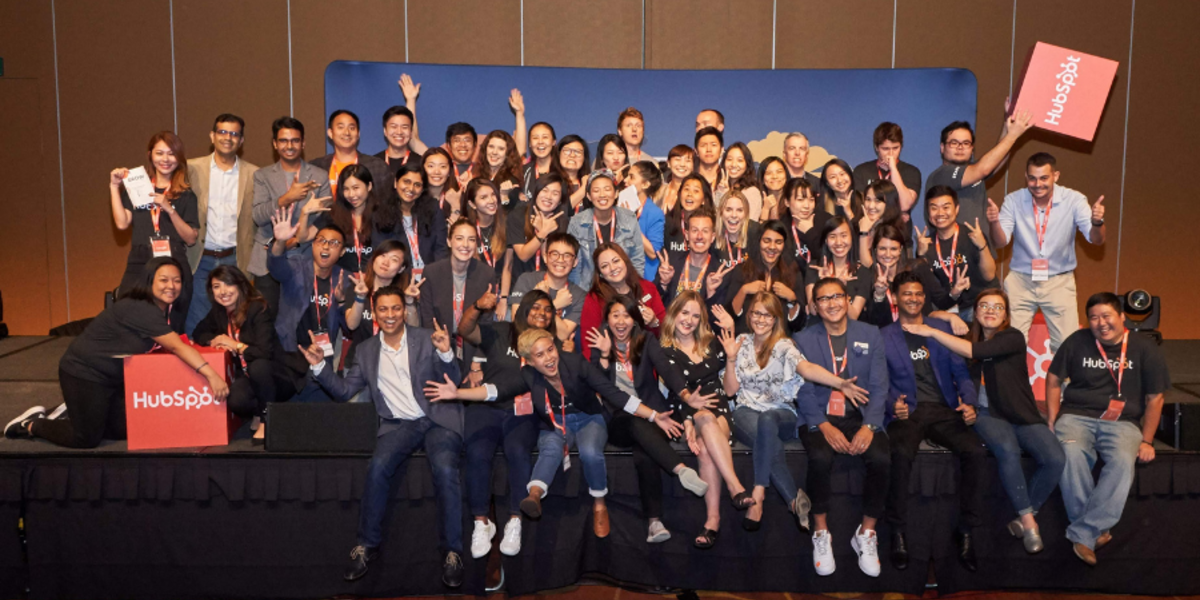 HubSpot Named the #4 Best Workplace in Singapore by Great Place to WorkⓇ
​We're honored to announce that HubSpot Singapore, our APAC headquarters, has been named the #4 Best Workplace in 2019 by Great Place to WorkⓇ , the global institute which identifies leading organizations in more than 45 countries worldwide. HubSpot accepted the award at the annual Great Place to Work Best Workplaces in Singapore ceremony in the Raffles Hotel, Singapore on Wednesday 6th November.
Great Place to WorkⓇ assesses and awards organizations for having remarkable culture and management practices based on employee surveys and culture audits. During the assessment, HubSpot earned high marks from employees for its commitment to company culture and workplace diversity, and innovative approach to the future of work. Learn more in our Culture Code which has over 4M views today.
"At HubSpot, we're on a mission to help millions of organizations grow better. That's why we're passionate about building a workplace here in Singapore where employees can do their best work. We strive to bring our company values of flexibility, autonomy, transparency, and belonging, to life each day in order to foster a culture employees love. Being recognized as a 2019 Best Workplace in Singapore by Great Place to Work is a strong testament that we are headed in the right direction. Thank you to all of those employees for the time and energy they put into making SingSpot a great place to work every day. I'm excited to continue to grow and adapt to the ever-changing future of work together," said HubSpot's APAC Managing Director, Shahid Nizami.
In order to make strides on fostering a culture of flexibility, autonomy, transparency and belonging in Singapore, HubSpot's Culture Team has created programs, resources, events and more to ensure we continue to move the needle on building a workplace of the future. And we constantly ask our employees for feedback on ways we can improve to ensure that we walk the walk on creating a culture that everyone loves. Our culture is built on feedback because of our belief in the power of transparency and knowledge sharing.
Creating a Culture of Transparency
Transparency is something that guides everything we do, day in, day out. That's why all HubSpot employees are company "Insiders" because they're trusted shareholders in the company. We believe employees deserve complete transparency into the business' performance, regardless of their level or tenure, in order to best be able to innovate on new ideas, share feedback to improve the business and culture, and have the greatest impact possible in their roles.
But, we don't monitor where or when that impact happens. We believe in giving employees the freedom and flexibility to create a work schedule that best fits their lives. HubSpot's Culture Code states, "Results matter more than the hours we work." Employees are encouraged to work from home, come in and leave the office when they need to, and take time off when they want. They have complete autonomy and we trust them to drive results regardless of their work-life fit or schedule. Business Insider Singapore profiled SingSpot's culture of flexibility noting the policies in Singapore are just as flexible as those in the US.
And, employees agree. One anonymous review left on HubSpot Singapore's Glassdoor page states: "THE AUTONOMY AND FLEXIBILITY! Employees are trusted and given the autonomy to be at their best. E.g I work more efficiently and effectively at home and I had the flexibility to work from home whenever needed without providing justification."
Creating a Culture of Trust
But, why is HubSpot built on a culture of transparency, autonomy and flexibility? Those three pillars help to create trust in our employees, our customers, and our company. And establishing that trust is why employees in Singapore feel empowered to do their best work. To foster this sense of trust and belonging at HubSpot, we run Psychological Safety trainings in Singapore and our global offices.
The trainings consist of two Manager ThinkSpace sessions, the first on how to build that trust and the second on how to incorporate psychological safety into a manager's team onboarding process. We also host a separate workshop for all employees of every level across SingSpot around how to talk about psychological safety with their team. During our first workshop last year, 15 managers attended both ThinkSpaces and since then we've had over 150 employees, mostly managers, attends these workshops in order to learn how to foster psychologically safe environments on their teams.
Creating a workplace where our employees feel safe, respected and listened to is a top priority for our leadership team at HubSpot. HubSpot's Chief People Officer, Katie Burke, explains it best:
"One of the most important things as we grow as a company, and scale as a culture, is to grow better as a place where people have the courage and conviction to speak up, if and when, something is broken, and help us fix or rethink it. It's imperative that we create a culture where people at any level and in any part of the organisation can speak up and question a decision, respectfully disagree, or suggest an alternative to the status quo. To that end, I view psychological safety as business-critical for us as an organisation."

And we love that HubSpot employees in Singapore feel the impact of the psychologically safe environment we strive to create. One Glassdoor review of HubSpot Singapore says, "Employees trust one another to do their very best in solving for the customers. Very high level of psychological safety which flexibility and autonomy are highly encouraged and, in general, executed well in the workplace. Management is extremely transparent about the direction the company's heading to and, more importantly, the why behind it. And yes, HubSpot is a company that own up to their mistakes and screw ups by living and breathing the Customer Code."
A huge thank you to HubSpot's Singapore employees for this recognition. As we look toward 2020, we're excited to continue creating a culture of transparency, flexibility and trust in Singapore. Because not only do those pillars help foster the future of work by creating workplaces where employees are free to work how they work best, it's also the right thing to do in ensuring our employees can create the work-life balance that fits their life. Because at HubSpot, our people are our greatest perk and we want to create a culture those people love every day.
About HubSpot
HubSpot helps millions of organizations grow better by building the software and systems that power the world's small to medium-sized businesses. Our company culture builds connections, careers, and employee growth. How? By creating a workplace that values flexibility, autonomy, and transparency. Through our commitment to creating a diverse and inclusive workplace and unique approach to company culture (our Culture Code has more than 4M views), we've redefined how people work and live.
HubSpot has been named Best Place to Work in the eyes of Glassdoor, Fortune, Entrepreneur, Inc. The Boston Globe, and the Boston Business Journal. Founded in Cambridge, MA in 2006, HubSpot has offices in Portsmouth, NH; Dublin, Ireland; Sydney, Australia; Singapore; Tokyo, Japan; Berlin, Germany; Paris, France and Bogotá, Colombia.
About Great Place to Work® Institute
Great Place to Work® is the global authority on high-trust, high-performance workplace cultures. Through proprietary assessment tools, advisory services, and certification programs, including Best Workplaces™ lists and workplace reviews, the Institute provides the benchmarks, frameworks, and expertise needed to create, sustain, and recognize outstanding workplace cultures. With its global headquarters in the United States, Great Place to Work® produces the annual Fortune "100 Best Companies to Work For®" and a series of Great Place to Work® Best Workplaces™ lists, including lists for Millennials, Women, Diversity, Small and Medium Companies representing employees' voices from across industries.
Great Place to Work® Institute Singapore established its presence in Singapore since late 2014. Since then, the Singapore office has been a regional hub servicing clients with operations across the Asia Pacific region.
The original article was published here.
​
Half the Sky's mission is to supply the tools that can give every woman the ability to build a successful career and be fully prepared for the future of work. So, that they can lead a healthy, prosperous and more balanced/blended lifestyle of their choosing. By building your confidence, you're setting foundations to empower yourself and your career. The world is your oyster, and it starts with you.
Enjoyed this article let us know your thoughts in the comments below:
---
About half the sky
half the sky (HTS) is a career platform for women connecting you to career opportunities at companies that care. Providing you with information, tips and strategies to navigate the rapidly changing workplace.
Sign up to get career tips and job alerts directly to your inbox! Join us to shape the future of women at work together!
---