Back to Blogs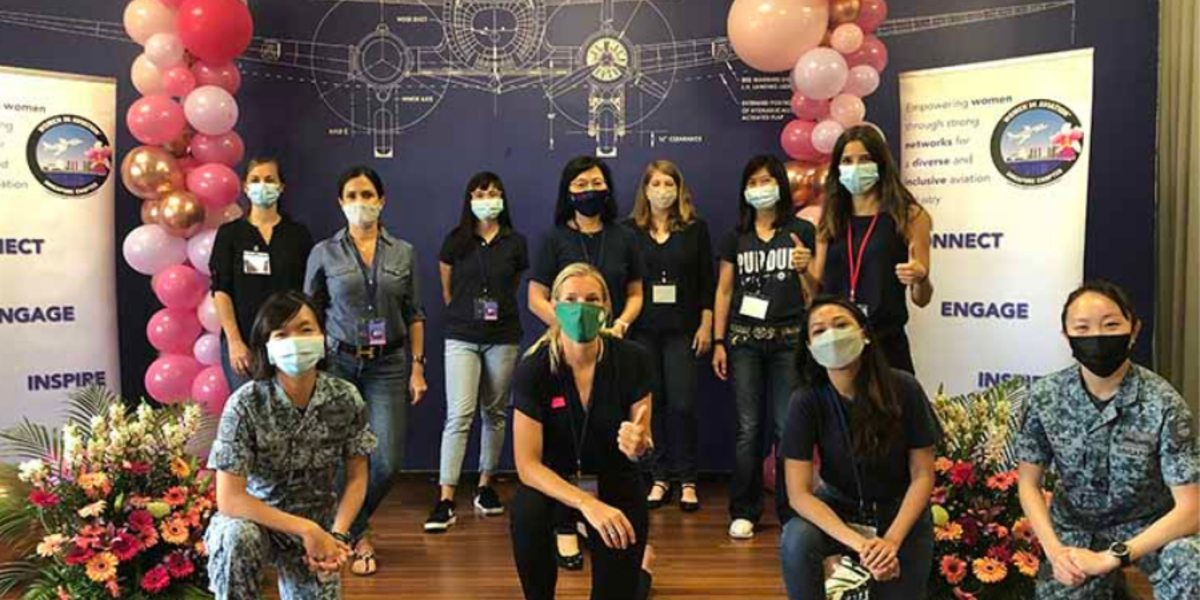 Inspiring the future of aviation in Southeast Asia
​The future of aviation in Southeast Asia took a welcome step forward recently with an event organized to celebrate Girls in Aviation Day 2021 in Singapore.
Part of a wider initiative devised by Women in Aviation International (WAI) and with the purpose of introducing girls to a future in the industry, the day included various activities to enable young ladies aged between 10 and 17 to interact with the world of aviation in ways that were accessible, educational and fun.
Hosted by the local Chapter Women in Aviation International (WAI SG) in Singapore, that meant looking at all aspects of aviation through a Science, Technology, Engineering and Mathematics (STEM) lens. This included activities that explored such diverse subjects as meteorology and navigation, as well as the excitement of a flight simulator. Madam Poh Li San, Vice President of the Changi Airport Group and a Member of the Singapore Parliament, delivered the opening address for the event.
Jemma Lampkin, Sales Director for AkzoNobel's Aerospace Coatings business in APAC, and a keen supporter of the initiative, even set an aviation-themed crossword puzzle for the girls to solve, drawing on her own aviation expertise and inspiration from her father's experience as an established crossword setter for the international press.
Jemma is a passionate believer in creating more opportunities through diversity and inclusion and the event happily coincided with the launch of the Singapore chapter for AkzoNobel's Women Inspired Network (WIN) program: "Encouraging girls and young women to pursue their aviation dreams is very important for us as a business and for the future of our industry," she says.
"We want to inspire local girls to see the exciting careers available to them as engineers, astronauts, aircraft maintenance technicians, pilots, dispatchers, air traffic controllers, and dozens of other jobs within the aviation community.
"By being one of the sponsors for Girls in Aviation Day and playing an active part in its organization, we've been able to introduce those girls to role models and help educate and inform them in a fun and supportive atmosphere."
WAI's Singapore chapter was started earlier in 2021 and is the first in Southeast Asia. Its mission is to build on the values of diversity and inclusiveness by encouraging more women to create an impact in the industry, benefitting the Singapore aviation and aerospace industry ecosystem.
Marie-Louise Philippe, President of WAI SG adds: "We were excited to see the girls explore aviation in a fun way and if this event sparks their interest in aviation then this would be a wonderful outcome."
The original article was published here.
​
Half the Sky's mission is to supply the tools that can give every woman the ability to build a successful career and be fully prepared for the future of work. So, that they can lead a healthy, prosperous and more balanced/blended lifestyle of their choosing. By building your confidence, you're setting foundations to empower yourself and your career. The world is your oyster, and it starts with you.
Enjoyed this article let us know your thoughts in the comments below:
---
About half the sky
half the sky (HTS) is a career platform for women connecting you to career opportunities at companies that care. Providing you with information, tips and strategies to navigate the rapidly changing workplace.
Sign up to get career tips and job alerts directly to your inbox! Join us to shape the future of women at work together!
---