Back to Blogs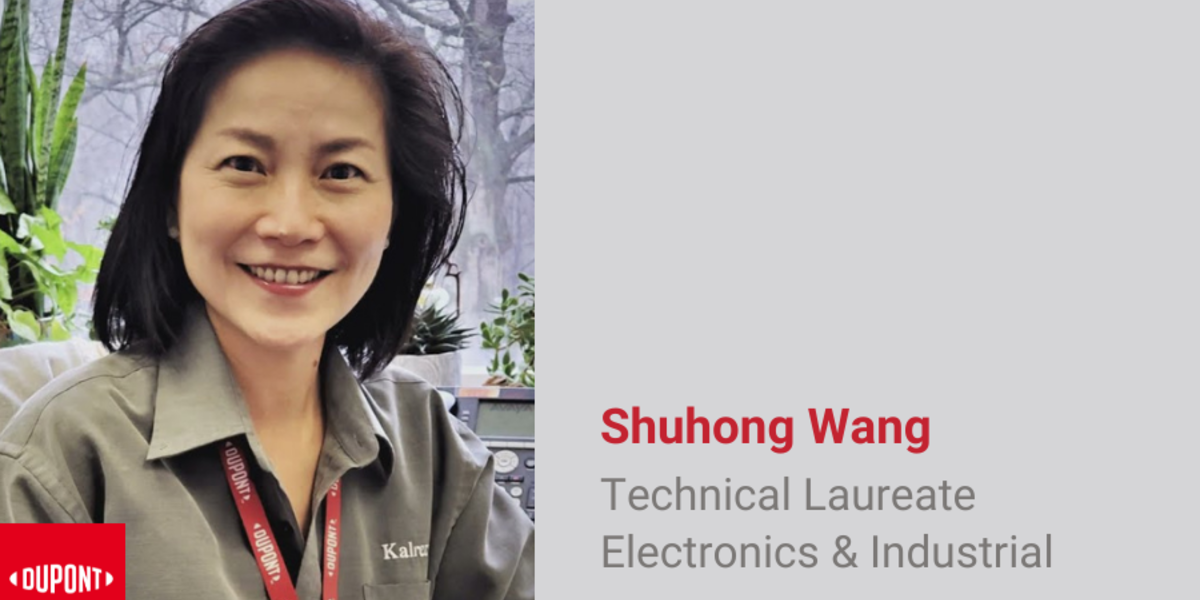 DuPont: Shuhong Wang's Story
​Shuhong Wang is Technical Laureate at Dupont. For over 200 years, DuPont has been synonymous with life-changing discoveries and scientific know-how, reinventing themselves along the way.
When did your interest in science or engineering begin?
My interest in science started in Middle school after I took chemistry and physics. I found the subjects to be very interesting.
What was it like to be a woman studying in your field?
I grew up in China. Although I was taught that women can do everything there were mostly men in science and engineering. I remember that when I picked college applications and chose to be an engineer in polymer and materials, my classmates joked that I may grow beard in the future.
Share with us some of your career highlights.
I am a Technical Laureate at Dupont and have developed a strong reputation internally and externally, through sustained and impactful contributions, broadly recognized collaborative and pragmatic approach to product development, and customer focus.
Over my 25 years in DuPont, I have led the development of many DuPont Kalrez® products, that widely adopted, well recognized and proven to be the premium sealing materials for most aggressive and demanding environment. I received DuPont Bolton/Carothers Innovative Science Award in 2011. In 2020, I got the DuPont Pedersen Metal Award which recognizes and promotes technical and scientific excellence.
I have a Ph.D. in Polymer Science from University of Cincinnati and a B.S. from East China University of Science and Technology. I am an author of over 35 publications and several patents. My current goal is to inspire, recognize, and develop others and be a role model for younger generation innovators.
To date, what project is your greatest innovation success? What is the story behind it?
Kalrez® 9000 series compounds for premium semicon plasma application. Among them, Kalrez® 9100 won Editor's Choice 2008 Best Product Award for "The Semiconductor International" and became the industry benchmark.
Over the years I developed deep understanding of elastomeric science and technology and developed a map relating the material to key properties for semicon use such as thermal, plasma and chemical resistance as well as sealing functionality. Working with a broader Kalrez® Research & Development Team, Kalrez® 9000 series compounds were developed with unique and preparatory chemistry, material science and engineering.
The biggest and unique challenge to develop these new products for semicon applications is to improve all the performance while reducing the introduction of potential contaminations. However, semicon industry doesn't have standard methods to measure or predict those contaminants for sealing materials. I did a deep-dive into the semicon related processes and plasma science. I worked with various groups within the DuPont company and the external industry consortia such as IMEC, SEMATECH and universities, developed plasma testing capabilities to simulate industrial processes, such as plasma enhanced deposition, etching and ashing, as well as particle testing methods to predict the particle generation potential from sealing materials. Developed technical data to support the introduction of new products. Provide seminars and presentations to key customers and at conferences.
Tell us about something that made you grow the most as a leader in your field.
Curiosity, Passion, Tenacity, Collaboration…
How are you and/or your company bringing innovation to the forefront?
Perfluoroelastomer was invented by DuPont. It is the most thermal and chemical stable elastomer. Kalrez® perfluoroelastomer parts deliver sealing solutions for most challenge and demanding applications. We're pushing the boundary for sealing materials, to develop seals that will stand at extremely high temperatures (> 300 oC), and with the most aggressive, and harsh chemicals. Seals are essential to keep the equipment operating properly and to contain the toxic and corrosive chemicals and gases. The seals also offer important protection to workers and the surrounding environment.
Over the years I led the development of many DuPont™ Kalrez® perfluoroelastomers products are used as critical seals in the advanced manufacturing of semiconductor integrated circuits (IC) and other microelectronic devices. Other example is in oil and gas drilling applications where it is under extreme high pressure together with high temperature in down hole application, and in applications such as airplane transportation.
What advice do you have for future female engineers?
Lean forward. Don't be afraid or be shy. Think big and follow you dreams. You can do it!
​
Half the Sky's mission is to supply the tools that can give every woman the ability to build a successful career and be fully prepared for the future of work. So, that they can lead a healthy, prosperous and more balanced/blended lifestyle of their choosing. By building your confidence, you're setting foundations to empower yourself and your career. The world is your oyster, and it starts with you.
Enjoyed this article let us know your thoughts in the comments below:
---
About half the sky
half the sky (HTS) is a career platform for women connecting you to career opportunities at companies that care. Providing you with information, tips and strategies to navigate the rapidly changing workplace.
Sign up to get career tips and job alerts directly to your inbox! Join us to shape the future of women at work together!
---