Back to Blogs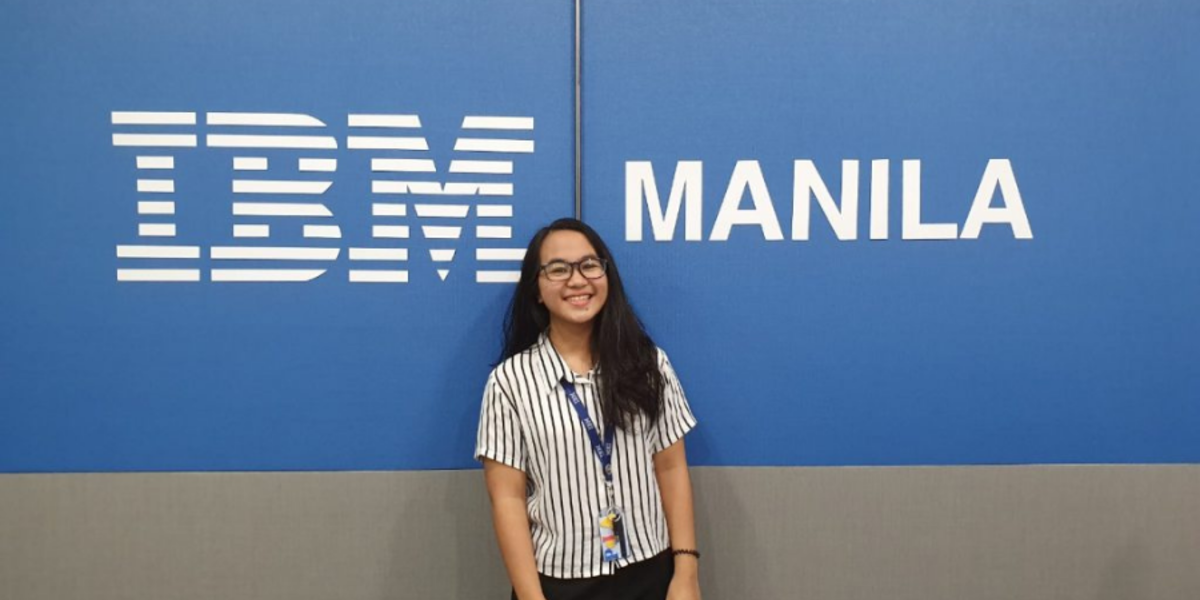 I Almost Gave Up on My Tech Career But Found New Hope in IBM
After not having a job for almost 6 months, I was at a low point in my life. I was so discouraged that I was ready to give up and find something outside of the career and industry that I had initially chosen. Little did I know that there was something else in store for me.
In early 2019, a friend of mine who was working at IBM pushed me to apply for a job opening as an Advanced Programming Specialist. I didn't really want to go, but there was something in the back of my mind that pushed me to give it a try. So the following day I printed out my resume, psyched myself up and went to the IBM Recruitment Hub. The recruitment process was so different from the other interviews I had in the past – it was so laid-back and the recruiters were so accommodating that I never felt nervous. Days later, I received a call telling me that I passed the interview process and would be moving on to the next step, a two-month training in Java Fullstack.
During our training, I reviewed the basics I learned in college and learned new information about Java. The trainers were eager to teach us, even working with us individually to make sure we understood what we needed to know, and the other trainees helped each other move forward through the program. I was introduced to people who helped however they could and who, I felt, truly wanted me to succeed. Sure enough, I passed the training for Java Fullstack and now had a new goal: to become an IBMer.
There was a month between my training and my start date with IBM. To utilize that time, I was placed in another training for multi-cloud. Here I met another group of IBMers that were so encouraging, inspiring, and so much fun to be with that I enjoyed every single day. In addition to multi-cloud, we also learned about the IBM ways of working such as agile, design thinking, growth mindset, and many more. With all this learning it was impossible not to feel motivated.
When I finally started my new role, I experienced a welcoming environment. No one made me feel like a new hire. Instead, my team accepted every opinion and ideas that I had and even encouraged me to speak up and not be a "Yes, that's right," kind of employee.
Now, as an IBMer, I am surrounded by people who inspire and help me, and who have really changed my perspective in life. From being discouraged and ready to give up, I became a motivated IBMer focused on moving my career forward, having a growth mindset and becoming essential in every way I can. Now I am excited about my journey, about the things IBM has to offer and the things that I can do with IBM.
About the Author: Paula Dichoso is a graduate of Information Technology at FEU Institute of Technology who underwent the all-female NHT Brighter Blue Program. She had the privilege to be part of the first batch of multi-cloud trainees in the Philippine Client Innovation Center (CIC).
The original article was published here.
​
Half the Sky's mission is to supply the tools that can give every woman the ability to build a successful career and be fully prepared for the future of work. So, that they can lead a healthy, prosperous and more balanced/blended lifestyle of their choosing. By building your confidence, you're setting foundations to empower yourself and your career. The world is your oyster, and it starts with you.
Enjoyed this article let us know your thoughts in the comments below:
---
About half the sky
half the sky (HTS) is a career platform for women connecting you to career opportunities at companies that care. Providing you with information, tips and strategies to navigate the rapidly changing workplace.
Sign up to get career tips and job alerts directly to your inbox! Join us to shape the future of women at work together!
---