Back to Blogs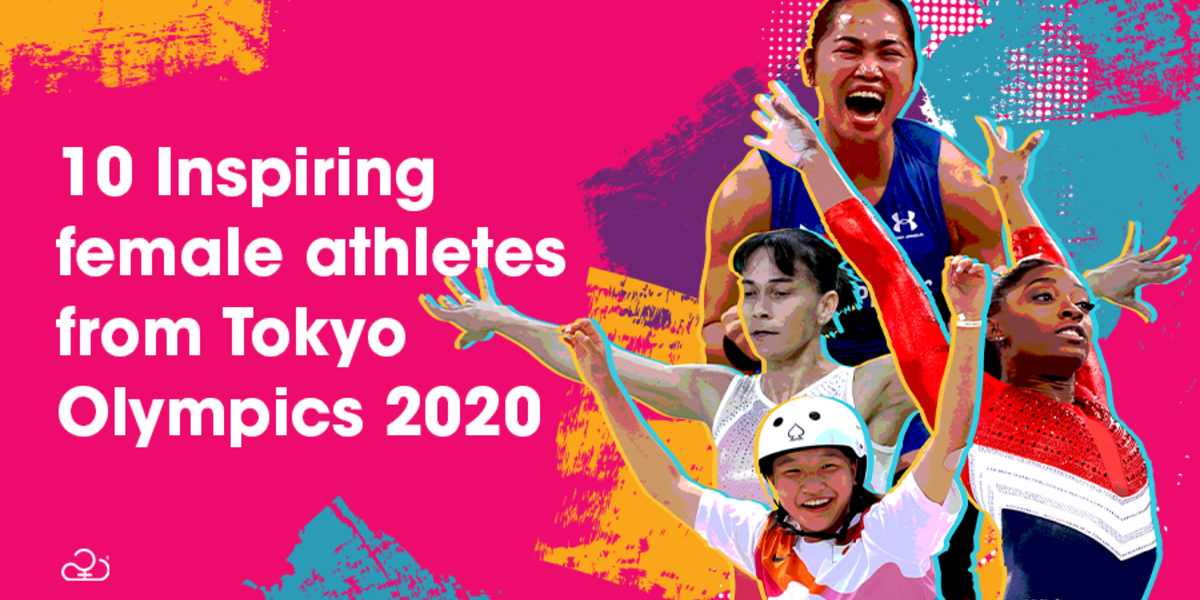 10 inspiring female athletes from Tokyo Olympics 2020
​The Tokyo Olympics 2020 has come to an end and it turned out to be an Olympics like no other. Despite the year's delay and careful consideration of the ongoing pandemic, spectators all over the world have quickly marked the event as a successful symbol of great change, togetherness and the unwavering determination of the human spirit.
Millions have watched new sports that have been added to the Olympic lineup, and rightfully so. A significant effort was made by the organizing committee to put emphasis on gender parity; not only have more mixed-gender and women's events been added to the program, but the schedules for said events have been modified to get more exposure and visibility than ever before.
The committee has then deservingly branded this year's games as the most gender-equal in history. Female athletes account for up to 49% of all 11,090 participants, a slight spike from the 45% of 2016's Rio Olympics, and a huge jump from the 2.2% of 1900's Paris Olympics-- the first to have female athletes at all.
As the Tokyo Olympics successfully closed, we recap some of the stories of several athletes have inspired women empowerment across the globe. Get to know some of these female Olympic athletes and how they inspire:
1. Yu Mengyu
Image courtesy of @yu_mengyu.818
Yu Mengyu is giving her all at what could be her last Olympic Games. The table tennis player is the first Singaporean since 2012 to make it to the semi-finals of the singles matches, and this is pushing her to be at her absolute best until the finals.
Yu Mengyu has endured injury and subsequent surgery in order to make sure she secured a spot in the games, leaving no room for any regrets on her part!
2. Oksana Chusovitina
Image courtesy of @oksana2016
After thriving in a career that spanned almost 30 years, 46-year-old Oksana Chusovitina makes her final bow at this year's Olympics. This year is her 8th consecutive time competing in the Olympics, defying all belief that gymnasts can only remain successful 'til their 20s.
This Uzbekistan gymnast has accumulated several awards across her long career, including a gold medal in 1992's Barcelona Olympics during her debut, and the latest award being a gold medal in the Doha World Cup just this 2021.
3. Stephanie Au
Image courtesy of @stephaniehsau
Stephanie Au, a swimmer from Hong Kong, may not have made the semi-finals in the Tokyo Olympics, but no one can argue that she didn't have team spirit after she and her fellow swimmers willingly pulled out from the freestyle relay so that a teammate could have enough time to rest for the 100m freestyle round.
Moreover, the experience ends on a good note as it causes her to reverse her initial decision to make these games the last of her career. Her new goal? To compete in the 2022 Asian Games in Hangzhou, China.
4. Kuo Hsing-chun
Image courtesy of @kuohsingchun_official
Kuo Hsing-chun has become Taiwan's greatest champion after winning the first gold for her nation. She dominated the 59kg weightlifting event by setting three Olympic records. Her victory is also Kuo's first gold at the Olympics, as well as a win for diversity with Kuo deriving from the indigenous Amis tribe.
5. Hidilyn Diaz
Image courtesy of @hidilyndiaz
The Philippine's Weightlifting Fairy Hidilyn Diaz is another star arising from the Tokyo Olympics' weightlifting games. She brought a historic win by attaining the first ever Olympic gold medal for the Philippines. The victory is well-deserved especially when she continued to train despite getting stranded in Malaysia while en route to a competition in Peru.
6. Simone Biles
Image courtesy of @simonebiles
Each person should look out for their mental health above all things, and that includes Olympic athletes. American artistic gymnast Simone Biles was a shoe-in for the individual all-around finals, which is why the world was surprised when she withdrew from the competition just days before the event.
It has recently been discovered that Simone had been competing with her signature smile while battling with grief over her aunt who passed away just 2 days before her final event. This caused her withdrawal from the competition, which has since reminded many viewers of the Olympics that athletes are human, too.
7. Shi Tingmao
Image courtesy of @_wearechina_
Shi Tingmao toiled with her team for five years in daily training. Their efforts have paid off as they win China a shiny Olympic gold medal in diving. However, Shi Tingmao's path to success was never quite linear. She remembers how she initially vied to be a gymnast at age 4 but found her calling in diving 4 years later. Her story is an example of realizing that dreams can change no matter your age!
8. Norwegian Women's Beach Handball Team
Image courtesy of @norwaybeachandballwomen
The Norwegian Women's Beach Volleyball Team has made its rounds on the internet for something women are constantly criticized for-- their clothing. After wearing elastic shorts instead of revealing bikini bottoms during their bronze medal match, the team was fined 1,500 euros for wearing "improper clothing".
However, the incident sparked conversations across the internet regarding the outfits female athletes are required to wear, most people siding with the handball team's message of letting women wear what they want.
9. Rikako Ikee
Image courtesy of @ikee.rikako
Japanese swimmer Rikako Ikee narrowly misses qualifying for the freestyle relay but her fans are cheering for her triumph, especially since almost a year earlier, she had been hospitalized and diagnosed with leukemia. Her appearance at the games itself reminds her country not to lose hope in overcoming the pandemic, becoming Japan's symbol for inspiration.
10. Momiji Nishiya
Image courtesy of @momiji_nishiya830
Momiji Nishiya is one of the youngest competitors in the inaugural skateboarding games. Her talent allowed her to beat everyone else to claim an Olympic gold for Japan at just 13 years old. An accomplished skateboarder, Nishiya proves that age is just a number when it comes to dominating the sporting stage.
Here's to all the top female athletes at the Tokyo Olympics 2020. No matter the result, everyone's story is a testament to their talent and hard work toward a future with gender-equal Olympics.
​
Half the Sky's mission is to supply the tools that can give every woman the ability to build a successful career and be fully prepared for the future of work. So, that they can lead a healthy, prosperous and more balanced/blended lifestyle of their choosing. By building your confidence, you're setting foundations to empower yourself and your career. The world is your oyster, and it starts with you.
Enjoyed this article let us know your thoughts in the comments below:
---
About half the sky
half the sky (HTS) is a career platform for women connecting you to career opportunities at companies that care. Providing you with information, tips and strategies to navigate the rapidly changing workplace.
Sign up to get career tips and job alerts directly to your inbox! Join us to shape the future of women at work together!
---