Back to Blogs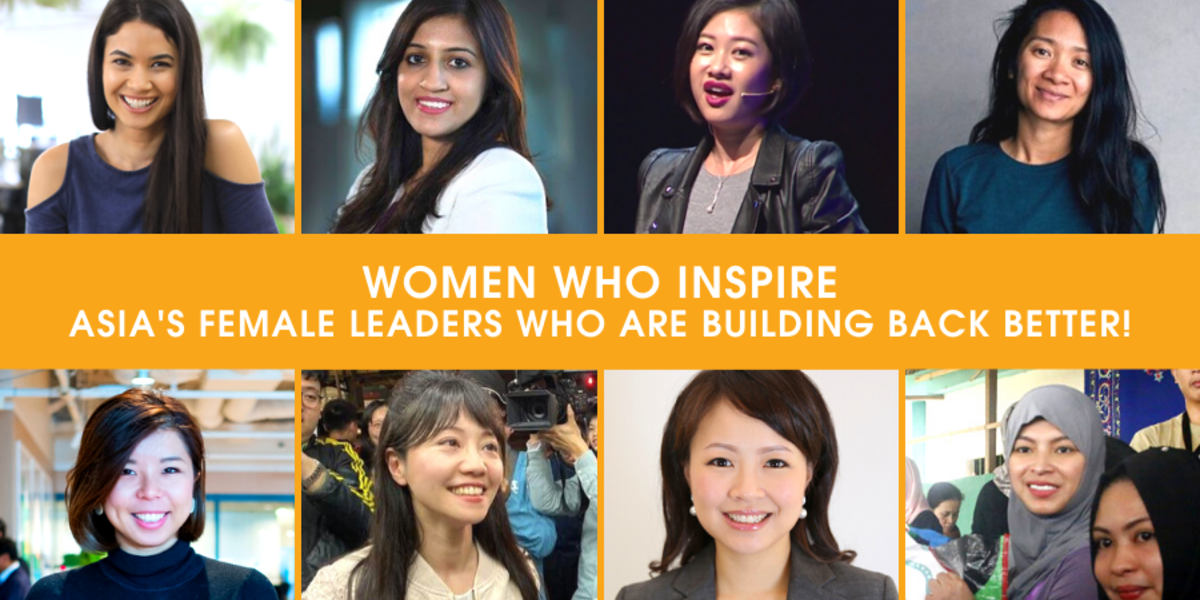 Women Who Inspire: Asia's female leaders who are building back better!
​As International Women's Day (IWD) 2021 draws near, the team at Half The Sky thought it important to highlight some of the amazing women whose passion, work and impact in their community continue to inspire.
The world is full of inspiring women who have overcome obstacles to be leaders in their respective fields and community, and we all know female role models can have an enormous impact in encouraging women to challenge negative stereotypes and to shake up the status quo in the workplace and wider society.
Whatever, you are trying to accomplish check out these ten inspiring female leaders who are doing their bit to inspire and build back a better world!
1. Chloe Zhao
Chloe Zhao is a renowned Chinese film maker. Throughout her career, she has been known to display a sort of rebelliousness in her ways, contributing to her unique and insightful work.
Her latest film in 2020, Nomadland, won awards in the Venice Film Festival and Toronto International Film Festival, and it pushed her to receive a nomination for Best Director at the Golden Globes, which she subsequently won to become the first Asian woman to win best director.
It's a momentous feat for Zhao since this is the first time an Asian woman has ever gotten this recognition. Currently, the groundbreaking director is taking things to the next level by working on blockbuster title The Eternals for Marvel Studios.
2. Divya Gokulnath
Divya Gokulnath, along with her husband, co-founded BYJU, a learning app that aims to help educate children in India have more opportunities to learn outside the classroom. BYJU has grown to become a leading brand in education as it gradually transformed into an online learning platform for competitive examinations.
Working at BYJU stirred Gokulnath's passion for teaching. After starting out as a teacher for BYJU's first classes, she has steadily grown her experience in teaching and now oversees user experience, content, and brand marketing at the multi-billion dollar valued Indian-based company.
3. Angel Locsin
During the COVID-19 pandemic-induced lockdown, Filipina actress Angel Locsin launched a fundraising campaign to address the issue of overcrowding. She went on to raise more than 11 million pesos, funding 225 isolation tents and 21 sanitation tents.
Locsin has always been an active entity when it comes to using her influence to spur goodwill activities, especially whenever her homeland is besieged by typhoons, and in 2020, when COVID-19 cases started to increase she stepped up to offer her help to the most vulnerable. It is befitting as she has played numerous female heroes during her time as an actress, and in real life she channels the energy of her empowering female roles, to walk the talk.
4. Amina Sugimoto
When Amina Sugimoto first learned of "femtech," she realized that the mostly male group of venture capitalists in Japan did not have any interests or could not offer the right leadership to develop the growing community of female femtech entrepreneurs who were developing amazing startups that center on women's health and wellness.
And so, she co-founded Fermata, a community for femtech entrepreneurs and startups. The fund looks for investments across Asia, in women's health and sexual health which is often considered taboo and left off the investment table. Ms. Sugimoto hopes to change that and put womens health front and centre in the finance world.
5. Kao Chia-yu
The number of female politicians in Taiwan is one of the highest among Asian countries. But when Kao Chia-yu aimed to become a city councilor in Taipei, she received no money or support from the Democratic Progressive Party she was a part of.
She did not let this stop her and continued to run her own campaign by going from door-to-door and building her way up, withstanding her opposers with blunt and direct answers. Her resilience and persistence remind us all, if you want something badly enough go out and fight for it.
6. Melanie Perkins
When Melanie Perkins founded the web-based design tool Canva, she had the vision of helping non-designers have the ability to make professional-looking graphics. This vision of independence included one for her own company's culture; she wanted to make a workplace where people did not have to wait on someone else just to be promoted or to grow professionally.
Her ideals really showed their clout when, during the pandemic, there has been a surge in users since many have decided to delve into online work which requires advertising online. It fueled the company's growth, now valued around $8.6 billion, cementing her as one of the youngest female CEOs and one of the most inspirational leaders in tech.
7. Pocket Sun
Women lift women up, and that is what Pocket Sun, co-founder of SoGal Ventures, does whenever she helps female entrepreneurs get started by providing them funding for their startup. She recently stated her aim is to empower women from all over the world to live on their own terms.
With her work in SoGal, she has been contributing to closing the funding gap in the startup world - where currently only 11% of seed-funding capital went to companies with a woman on their founding team, as well as only 5% of all later-stage funding. Her work is gradually changing norms around the world.
8. Jennifer Yu Cheng
The founder of Girls Impact Foundation, a charity focused on educating and equipping girls with the technical and leadership skills to thrive in the new digital economy recently stated that although gender inequality has long been an issue in the workplace in Asia - with only one in five women holding leadership roles, and one in six women major in Stem subjects.
The impact of the global pandemic may have set women back generations and left them at a significant disadvantage in the new digital economy. Ms. Cheng has devoted the foundation's resources to help young girls become future ready leaders so that a better future can be achieved for all. In today's complex and ever evolving world, empowering young girls across Asia to be future ready is of critical importance.
While all vastly different in backgrounds and achievements the women on this list all share one thing in common - they are inspiring women to #choosetochallenge the status quo. You might recognize and already follow some of them, but if you don't you should definitely add these inspiring women to your following list, they will teach you lessons and give you the confidence to accomplish anything you set your mind to.
​
Half the Sky's mission is to supply the tools that can give every woman the ability to build a successful career and be fully prepared for the future of work. So, that they can lead a healthy, prosperous and more balanced/blended lifestyle of their choosing. By building your confidence, you're setting foundations to empower yourself and your career. The world is your oyster, and it starts with you.
Enjoyed this article let us know your thoughts in the comments below:
---
About half the sky
half the sky (HTS) is a career platform for women connecting you to career opportunities at companies that care. Providing you with information, tips and strategies to navigate the rapidly changing workplace.
Sign up to get career tips and job alerts directly to your inbox! Join us to shape the future of women at work together!
---