Back to Blogs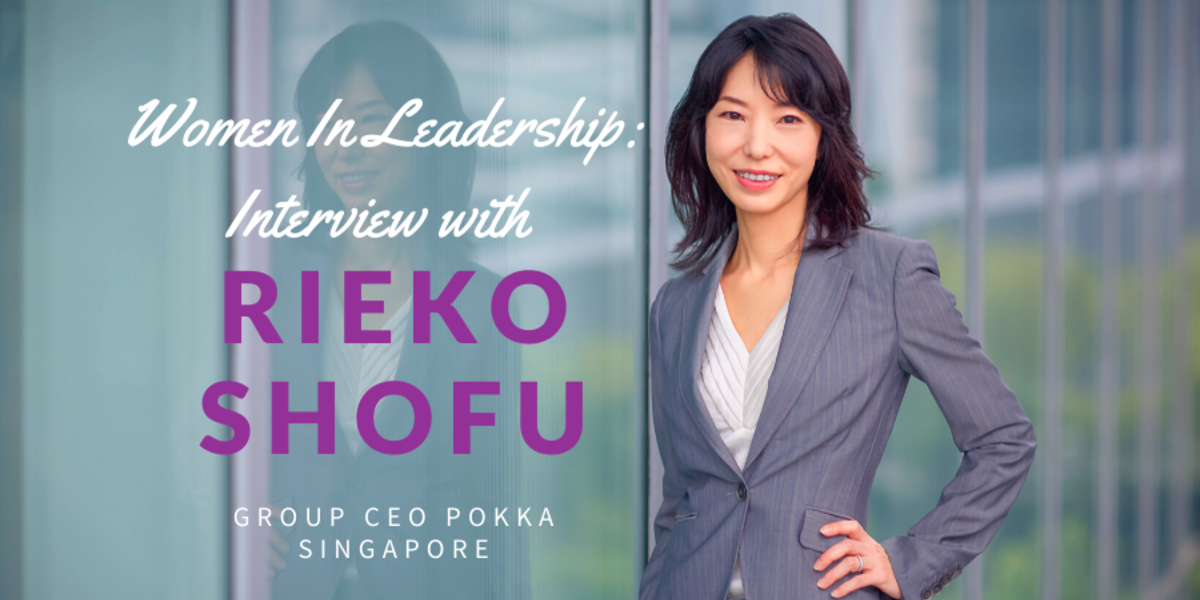 Women in Leadership Series: Ms Rieko Shofu Group CEO Pokka Singapore
​As part of our women in leadership interview series, Half the sky will connect you with some of the most successful female leaders in APAC who have scaled to the top of their profession. Gain insights on how they pushed boundaries, developed leadership skills, resilience and managed a healthy work life balance.
The series addresses workplace issues that affect all professionals, and homes in on the unique challenges women encounter.
In the first part of this series, we speak with Ms Rieko Shofu group CEO to POKKA PTE. LTD. in just two years. POKKA is one of Sapporo Holding's most successful brands in the Asia Pacific region where it is a market leader for healthy drinks choices with no preservatives.
From beginning her career in consulting and marketing to being the only woman in the boardroom this is Ms Rieko story……
As the Group CEO of POKKA Singapore What's a typical day like for you?
My day typically starts with a 20mins morning yoga routine, before I head to the office for some internal meetings with the Chief Executive Officer and/or the finance department to discuss groupwide matters. During lunch, I would usually head down to the nearby food court where I would have a vegan dish, paired with Pokka Oolong Tea (I am not a strict vegetarian though). This will be followed up by another internal meeting, which sometimes takes place as web meetings with subsidiaries in Malaysia or Japan HQ where I also serve as a director. As we have several projects with external partners, I'd usually visit the external office at approximately 4.00pm to 5.30pm.
What was your early career like in Japan?
Prior to moving to Singapore to join POKKA Pte. Ltd. as the Group CEO in 2018, I was working in Japan at Hakuhodo, an advertising company as a consultant. Subsequently, having established Hakuhodo Consulting in the group, I went on to handle corporate management including business development, overseas development as well as client service such as business restructuring, M&A and marketing. During my tenure at Hakuhodo Consulting, I took on the role of advisor on multiple projects for Sapporo Holdings including PMI for Sapporo and Pokka.
With ample experience in Asia, in 2014, I decided to establish Sensing Asia Ltd., a consulting firm that assists customers in exploring business opportunities in Asia, which I am still managing as CEO. I was also approached by Sapporo Holdings to join them to develop and execute a company-wide strategy.
Aside from my role in Singapore, I am also serving as a MD to Sapporo Group Foods to manage the food and beverage business holistically.
Was becoming a CEO something, you always envisioned yourself doing?
No, not as a title but I envisaged myself being a leader that can help create a positive impact on business and in the society.
You've spent much of your career in business planning and corporate strategy. How have your previous experiences shaped you for your role today?
My years in the consulting field had exposed me to a wide range of clients and industries and the experiences helped me to understand and handle a variety of business challenges and directions. I also felt that my career in the field of branding and marketing helped me to build a vision-led, purpose-led leadership style. The exposure I've received over the year has definitely shaped my career today, and for that I am truly thankful.
You're one of a growing number of female CEOs in a largely male-dominated field. What was it like when you just started out in the role?
When I took up the senior role such as becoming the General Manager, I never thought much about being a female leader in the largely male-dominated field. Despite being the only female in the senior roles, I simply tried to get on with it and be the best version of myself.
Did you feel a lot of pressure taking up the reins of such a role?
No, when I took the position as the Group CEO, I did not have time to feel pressure. Instead, I put my focus on helping to strengthen the company's position as the number one ready-to-drink tea brand in Singapore.
Japan has struggled to meet its goals on gender diversity especially in the boardroom. Why do you think such goals have never been met?
Gender diversity has been a pressing issue globally. I would think that the history of the lifetime employment system had formed a homogenous culture in Japan, making it difficult for Japanese companies to embrace diversity, not just gender wise but also to be receptive with various viewpoints. I've seen more females taking up more important roles and certainly, more and more companies are open to having female leaders, especially in the boardroom.
What needs to change in the workplace in order for women to play a more productive part?
Following up from the previous question, I would say that more companies are ready to promote diversity. Therefore, I would like to encourage all women to step up and take on more important roles.
As we celebrate International Women's Day the tag line for this year is #choosetochallenge – In your view, what's the most significant barrier to female leadership and greater diversity & inclusion in the workplace?
Being a female CEO, which is still considerably uncommon out there, I feel that there is a barrier for women, within oneself as we often subconsciously limit ourselves by the assumptions, or by precedents by the society. So, I would highly recommend women to open up and don't let fear hold you back from any opportunities, like taking up a leadership position.
What is your message to women with regard to empowerment?
Women are naturally resourceful, and they possess unique attributes, making them capable individuals who are able to adapt in any situation and add value in anything that we do. Regardless of your role, remember that we are a valuable asset to the workplace as well as the society. I hope more women are able to see their worth and potential and achieve that sense of empowerment and overcome any barriers that they may have, being it personally and professionally. Always see challenges as an opportunity for you to learn and grow.
Why do you think that's important?
I think when pausing in front of a barrier, being stuck, one can find the fresh way through struggling, which eventually brings you to the next stage of your carrier. Women might have more chances to do so.
What is the best advice you have received in your career
"Take the best care of yourself, both mentally and physically as without both it is difficult to contribute your best self."
​
Half the Sky's mission is to supply the tools that can give every woman the ability to build a successful career and be fully prepared for the future of work. So, that they can lead a healthy, prosperous and more balanced/blended lifestyle of their choosing. By building your confidence, you're setting foundations to empower yourself and your career. The world is your oyster, and it starts with you.
Enjoyed this article let us know your thoughts in the comments below:
---
About half the sky
half the sky (HTS) is a career platform for women connecting you to career opportunities at companies that care. Providing you with information, tips and strategies to navigate the rapidly changing workplace.
Sign up to get career tips and job alerts directly to your inbox! Join us to shape the future of women at work together!
---