Back to Blogs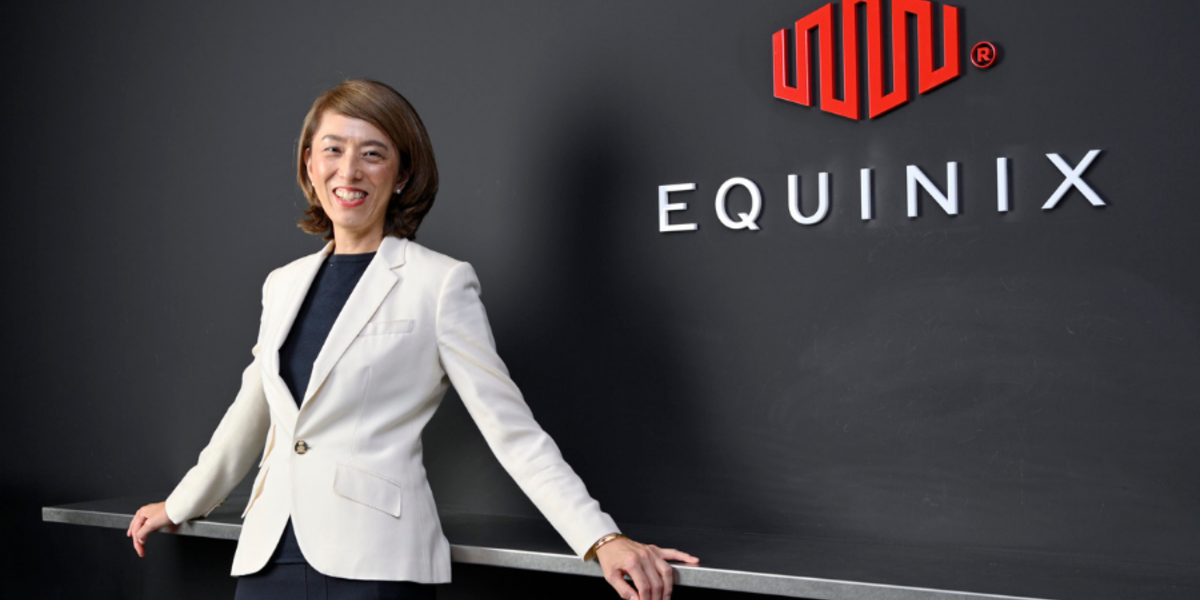 Getting to Know Kuniko Ogawa Managing Director, Japan at Equinix
​Renowned as a land of inspiration and innovation, Japan has always fascinated the world with its new ideas and technology. In this latest post in the 'Getting to know' series, we are glad to invite our Japan Managing Director, Kuniko Ogawa, to share her insights on the country's technology landscape and memorable experiences from her career.
Kuniko Ogawa (KO)
As a relatively new joiner to our team, what are the three key takeaways of your first 100 days at Equinix?
KO: What has impressed me most is the company culture. I witnessed how the company helped its employees navigate the challenges we are facing in 2020 with a whole heart and am deeply moved by the genuine interactions among employees. I bond with the team quickly and am inspired by how the culture truly embodies Equinix's DNA.
I have been impressed by Equinix's work in changing the perception of the data center industry. The vision has helped to elevate the understanding of what we do, from a simple server farm-based colocation business to a global digital infrastructure company. Businesses can harness our trusted platform to bring together and interconnect the foundational infrastructure that powers their success, as well as facilitating the digital economy. This doesn't put us at odds with on-premise data centers, but instead a value-added platform to on-premise facilities.
Moreover, Equinix's development strategy in Japan is also notable. While Tokyo has long been known for its business potential around the world, very few providers have thought to position Osaka as a strategic metro despite its high growth. Equinix is one of the few companies that has spotted and invested in this trend and I'm incredibly excited to work with my team to unlock the metro's potential.
We have seen more and more world-class Japanese companies expanding globally. What challenges are they facing and how can they grapple with them?
Japanese enterprises have long been known for their innovation capabilities, but agility, data compliance and latency are posing challenges to their overseas expansions. Therefore, right now all they require is a trusted partner like us to provide them with the world-class digital infrastructure needed to expand globally. Our footprints across the globe enable local businesses to innovate, giving them the connected data center platform they need to quickly localize infrastructure, and accelerate the launch of new products and services to new and diverse markets with high-speed, low-latency and secure connectivity.
Take for example our recent partnership with Rakuten Mobile Singapore Pte. Ltd., a subsidiary of Japan's leading network operator Rakuten Mobile, Inc., in delivering its Rakuten Communications Platform (RCP) to global operators and enterprise customers.
With Platform Equinix® as its foundation, Rakuten Mobile can interconnect with our diverse ecosystem of over 2,900 cloud service providers (CSPs) and 1,800 network service providers (NSPs). In addition, the company is also able to deploy and connect virtual network services at the edge in minutes, on demand to address the dynamic interconnection bandwidth requirements and network spikes, opening up potential business opportunities around the world.
Japan is one of biggest data market markets in the world, as well a key market for hyperscalers. Earlier this year we announced our joint venture with GIC in developing hyperscale data centers in Japan. What is your view on the xScale market in Japan?
KO: Undoubtedly, Japan is one of the world's largest data center markets. However, the country is lagging behind in some areas when compared with other developed economies. It ranked 27th in the IMD World Digital Competitiveness ranking in 2020[1] and in terms of corporate agility and the use of big data was the lowest among the 63 countries ranked.
The aging of corporate IT systems is a big hurdle to data center development in Japan. More than 20% of IT systems in Japan have been deployed for more than 20 years, accounting for 40% of the systems used for over a decade.
Moreover, with traditional Japanese business culture regarding face-to-face meetings as a mark of respect for customers, the COVID-19 pandemic has caused a drastic shift from in-person to online, becoming an unexpected driving force in data center development.
With the Japanese government taking the lead and now using Amazon Web Services (AWS) to host information data platform[2], this is a great opportunity for others to explore the benefits of cloud and digital solutions.
All of this mean it is foreseeable that there will be a surge in demand for hyperscalers, and the trend will definitely help further transform Japan into an innovative country backed by robust data center services.
Before joining Equinix, you worked at some of the world's biggest tech companies. How has your experience helped shape your leadership style?
KO: First of all, it has trained me how to use logical thinking. When I began my career, my managers have always asked me to put my points together and present in a very short period of time. At first I didn't understand the urgency but gradually I realized the importance of logical thinking, and I started training my teams to take the same approach as I believe it is an essential ability to succeed in a global and fast-paced business environment.
Secondly it has taught me the importance of "commitment". To me, commitment means working with my heart and soul to achieve my company's goals – no matter how high those goals are. This includes making full use of all available resources and overseeing all stages of execution. That's my working style and one of my greatest strengths.
Lastly is how it has shown me the value of team building, which is key to creating a shared vision. Teams can work independently or collaborate with each other to achieve the best results, and culture is crucial to making our work possible and rewarding. Often this is easier said than done, but I am thankful for all of the experiences and lessons I have gained throughout my career, which have given me the chance to equip myself with essential qualities to make this happen.
As a strong advocate of supporting the next generation of female talent, what is your advice to young women leaders?
KO: To answer this I'd like to share a story. In the early years of my career, I was lucky enough to have a great mentor who said, "advice when most needed is least heeded". In other words, you should look for someone who can directly point out your weaknesses. Also, being honest enough to admit your weaknesses and overcome them will definitely bring you to a new level.
Last question, tell us something about yourself that we don't already know.
KO: I am a big fan of Korean drama; I watch them every day before going to bed. It's a good way to relieve stress!
Brandi Galvin Morandi is Chief Human Resources Officer, Chief Legal Officer, General Counsel & Secretary of Equinix and the article was orginally published here.
​
Half the Sky's mission is to supply the tools that can give every woman the ability to build a successful career and be fully prepared for the future of work. So, that they can lead a healthy, prosperous and more balanced/blended lifestyle of their choosing. By building your confidence, you're setting foundations to empower yourself and your career. The world is your oyster, and it starts with you.
Enjoyed this article let us know your thoughts in the comments below:
---
About half the sky
half the sky (HTS) is a career platform for women connecting you to career opportunities at companies that care. Providing you with information, tips and strategies to navigate the rapidly changing workplace.
Sign up to get career tips and job alerts directly to your inbox! Join us to shape the future of women at work together!
---