Back to Blogs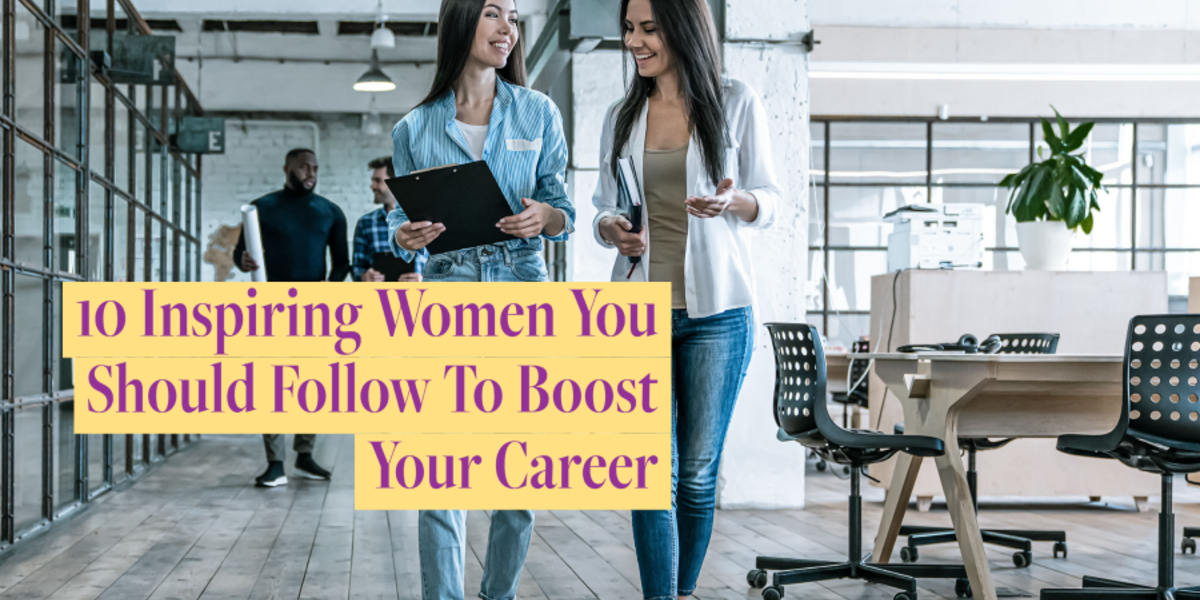 10 Inspiring Women You Should Follow To Boost Your Career
​There's no better date to be moved by the feats of amazing women than on International Women's Day! If you're looking for some motivation for your career, the best place to look is in their stories of success and how they achieved what seemed to be the impossible.
Having female role models gives women hope amidst the negative stereotypes and gender biases around the workplace. Role models show women the possibility of who they can become in their careers while leading them along the way.
Grab some inspiration with these ten women who have climbed their way to the zenith of their careers!
1. Whitney Herd
Whitney Herd is the founder of Bumble, an online dating app that prioritizes women's safety by allowing them to make the first move. Herd was previously the co-founder and vice president of marketing of Tinder, another dating app, now a rival of Bumble.
While her split from Tinder became controversial, she didn't let the negative criticism shake her confidence. In fact, it drove her to create a better product, proving to everyone that you are more than someone else's opinions.
2. Sara Blakely
Sara Blakely held various jobs in different fields before she founded Spanx, an intimate apparel line for women. After she finished refining her idea for the product, she didn't tell anyone about it until she could patent the idea. It's a move that helped her succeed and introduce a truly groundbreaking product.
Throughout her initial product development, Blakely took charge of every decision since she believed in what she was trying to do. We can learn from her hands-on approach and similarly to own our careers. Our careers are a large part of who we are, and no one has a better say on it than ourselves.
3. Maria Ressa
Maria Ressa is a Filipino-Ameriacan journalist who founded and is CEO of Rappler, a well-known news site based in the Philippines. Rappler faced controversy when Ressa was arrested for cyberlibel. As a critic of the current Philippine Government, it was clear to many that her arrest was politically motivated, spurring support from the international human rights community.
Despite her harrowing experiences, Ressa never tried to cover up what she believed was the truth that needed to be shared. It's a conviction that we must also hold when it comes to doing our work. There is dignity in working on what we believe in, and we should not compromise our values for anything else.
4. Celeste Barber
Australian comedian Celeste Barber loved making people laugh ever since she was young. But when the Australian bushfires caused widespread devastation in 2020, she used her large online following and celebrity influence to start a fundraiser which managed to amass $20 million.
The successful turnout is a great example of celebrities using their voice for philanthropy and helping the community. While we can't all be mega-celebrities, we do have our own capabilities and strengths that we can use to help others. It's not about comparing with others, but rather about doing what you can for the common good.
5. Nurul Hussain
Nurul Hussain knew that the tech sector is one of the fastest-growing industries, offering great opportunities for women to grow their careers. This led her to start the Codette Project with the goal of helping providing minority women with awareness and access to the tech industry.
Ms Hussain understood the barriers that minority women in Singapore and beyond needed to overcome and she focused her efforts on bridging that gap, and empowering her community. The Codette Project shows how women can raise other women in their careers, and it all starts with one brave female entrepreneur who believed in them.
6. Vu Van
Vu Van created ELSA, an AI-powered learning platform that helps non-native English speakers hone their English -speaking skills, as she remembered her own struggles fitting in with her American classmates after moving from Vietnam. It was an ambitious endeavor on her part since she had no related experience in machine learning. But driven by her passion to see her project through, she met with several experts who helped her build ELSA.
The creation of ELSA has come at a timely manner, with the coronavirus pandemic increasing the need for online learning platforms. Vu Van did not skimp on infusing ELSA with the best features, making a quality product that will serve many for years to come. Vu Van experience shows us despite your perceived limitations it's important to keep fighting towards your goals find solutions along the way.
7. Arianne Kader-Cu
Though Arianne Kader-Cu was born in California, she wanted to become a trailblazer and give back to her roots, her mother being a Filipina who migrated to the US. The Philippines suffers from "brain drain" with millions of Filipinos seeking to go abroad for a better life. But Kader-Cu felt a sense of responsibility to return and share her talents.
Now, she has become the country head for Viu Philippines, a popular video-streaming service operating in 16 countries including Hong Kong, Singapore, and Malaysia. While our careers are made in our name, we must not forget the community that helped us grow and thrive. It's a humbling thing to look back and share our ideas that will help improve the lives of others.
8. Rosaline Chow-Koo
Leading tech entrepreneur Rosaline Chow-Koo founded the CXA Group, an insurtech platform powered by artificial intelligence. Koo held many different roles in different countries ever since her childhood in Los Angeles until she settled down in Singapore.
In each role she assumed, she displayed a positive outlook that was lined with an inner strength that helped her achieve her current success. Even as she considered herself very bad at her first few jobs, she didn't give up and focused on learning as much as she can. This life long-learner mentality is essential way for any worker to continuously grow in their career especially in the age of digital transformation.
9. Lily Muni He
Lily Muni He, started playing golf at a young age developing her talent until she became one of the top female golfers in the world at just 20 years old. Golfing may be predominantly male dominated, with greater attention on the male championships, but Ms He hopes that in the future, there will be equal opportunities for everyone.
She aspires to keep playing golf so that more women could enjoy the sport and break barriers. He elaborates, "we're judged if we look a certain way, as if it diminishes our athletic ability. That doesn't apply to men. I want to change the conversation around this."
10. Veronica Colondam
Veronica Colondam is the CEO of YCAB (Yayasan Cinta Anak Bangsa), a non-government organization dedicated to ending the poverty cycle in Indonesia by social entrepreneurship. YCAB helps underprivileged youths find their way to make a living by giving them access to education.
Colondam shares the lessons she has learned on her professional journey by mentoring and coaching other women. Her biggest piece of advice? "When you find your passion, then you can live your life with purpose. But that means nothing unless you have the perseverance to handle the difficult times."
When women express their passion for their work, it results in success not just for them but also for every woman who shares the same dream. Girls, be ambitious and take note!
​
Half the Sky's mission is to supply the tools that can give every woman the ability to build a successful career and be fully prepared for the future of work. So, that they can lead a healthy, prosperous and more balanced/blended lifestyle of their choosing. By building your confidence, you're setting foundations to empower yourself and your career. The world is your oyster, and it starts with you.
Enjoyed this article let us know your thoughts in the comments below:
---
About half the sky
half the sky (HTS) is a career platform for women connecting you to career opportunities at companies that care. Providing you with information, tips and strategies to navigate the rapidly changing workplace.
Sign up to get career tips and job alerts directly to your inbox! Join us to shape the future of women at work together!
---