Back to Blogs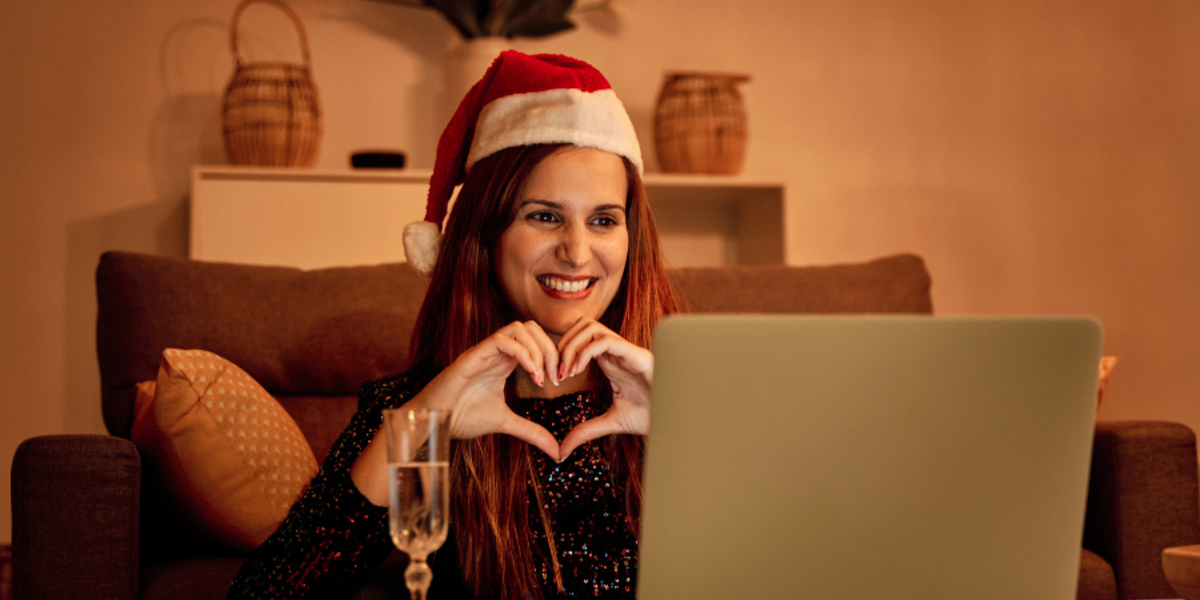 New Look: The Virtual Office Christmas Party 2020
​With Christmas just around the corner, many people are yearning for that holiday spirit and a sense of normalcy in these challenging times. But with the pandemic and lockdowns still ravaging many countries, this will be an unfamiliar Christmas. We take a look at how we can reimagine the office Christmas party 2020........
"It's the most wonderful time of the year!"
But with the pandemic still keeping some countries under lockdown during Christmas, the best option to celebrate and reconnect with colleagues is through platforms like Zoom, Webex, Skype or Google Meet – in a virtual party setup.
Will the new normal redefine the office Christmas party as we know it? How can we find ways to spread cheer and engage in team building despite the distance?
This year, the office holiday party will certainly feel unfamiliar, but here are ways that teams are reimagining their year-end celebration:
How the Office Christmas Party is Changing
When hosting a virtual Christmas party, organizers may have to remind participants to adjust their expectations. The important thing is to give everyone a chance to catch up and have some fun. How is an online office party different?
Managing interaction
Many of us might miss making small talk with colleagues while enjoying our cocktails. This time, breakout rooms have to be created first before people can start to chatter in smaller circles online. Otherwise, it's all just going to be a cacophony of sound from everyone chatting in the big room!
Time and space constraints
The traditional holiday party – often set in a function room – can last well into the night. Some even extend into the wee hours of the morning. In contrast, most virtual happy hours are restricted to just two to three hours of face time.
If your team celebration is starting at around 8 p.m., you can expect to wrap things up by 11 p.m. In a virtual party, all activities need to be contained within a specific span of time.
This is mostly because of the nature of virtual office parties. It's difficult to remain in a festive mood for hours when everyone is really just sitting at their desk in front of a webcam.
Virtual office parties also don't have the physical boundaries of a classic office party where people can dance the night away without waking up other members of their household.
Food and drink
Most traditional office parties have the luxury of a full-service catering and an open bar to keep guests happy. These days, virtual office parties are often B.Y.O.B. (bring your own booze). However, some employers are also opting to send staff holiday food baskets or a bottle of their favorite drink to enjoy while holding their virtual gathering.
Dead air
Like any social gathering, a moment of dead air can be awkward for participants, and this is all the more obvious with everyone on video. That's why virtual party hosts must keep things moving.
Instead of setting up activities at the last minute, organizers should ensure everything they need for the gathering is prepared and ready to launch, especially if they plan on hosting games and showcasing performances in real time.
Virtual Office Christmas Party Ideas
Organizers can transform an ordinary video call into a fun and interactive year-end celebration. Here are some of the coolest virtual office Christmas party ideas:
Holiday Trivia Night
Who doesn't love pop culture trivia? Get attendees to prepare a small white board and marker for your holiday trivia night. Set a timer and buzzer, and have them raise their boards on screen once the time is up. The attendees with the highest number of points win a prize.
Holiday Bingo
If random draws sound more exciting to you, why not go for a holiday bingo? But instead of using numbers on a card, customize individual cards with pop culture references that should tickle their brains. For example, call out: "Actress who plays Daenerys Targaryen on Game of Thrones" and wait for players to cross out the right answer if they have it on their card.
Christmas Party Raffle
The holidays are all about making people happy, and what better way to do that than through a virtual raffle where they can win awesome prizes. Send out raffle tickets via email ahead of the party and let the excitement build up before the real-time draw.
Christmas Talent Show / Open Mic Night / Mini Concert
Got a few performers on the team? Have them showcase their chops in a Christmas talent show. Ask them to give you their playlist ahead of the party so you can prepare the lineup. Otherwise, an 'open mic' night would be an exciting option for a virtual karaoke session.
If you have the budget for a private mini concert, you can also book professional artists, like a string quartet, to play holiday music and live-stream the performance just for your team.
Ugly Christmas Sweater Contest
Fluff up those woolen reindeer sweaters! That hideous Christmas outfit just might win attendees a prize if they wear it to your virtual ugly Christmas sweater contest.
Zoom Party Games
No time to prep trivia questions or bingo cards? No problem! Play ready-made virtual games on Zoom. Choose from a wide range including Wheel of Fortune, Family Feud, Pictionary or Heads Up!
Virtual Holiday Feast or Cocktail Party
If your team prefers to spend time catching up with each other, why not host an online feast or cocktail party instead? Send them a gift basket (or vouchers) so they can prepare a lovely meal for your virtual get-together! Then give attendees a chance to make small talk by arranging breakout rooms.
Do's and Don'ts of a Virtual Office Christmas Party
The idea of an online office holiday party might seem like unchartered territory for some, but there are guidelines you can set for your team to have the best year-end celebration:
DO's
Do ensure the security and privacy of your gathering by providing attendees the login credentials only minutes before the party starts.

Do let attendees engage in conversation by setting up time for them to chat with one another over topics that aren't related to work.

Do let everyone enjoy good food and drink by sending them goodies/vouchers in advance.

Do restrict the party time to about two to three hours to avoid Zoom fatigue.
DON'Ts
Don't let intruders crash your party. Avoid giving out login info until the party starts.

Don't ruin the momentum of the party with dead air. Plan activities ahead.

Don't hold games without giving out prizes and tokens.

Don't allow minors to join virtual attendees. Some topics might not be age-appropriate.
With these virtual office party ideas and quick guidelines, you're all set to enjoy with your team.
No matter which platform you use, the important part of any year-end celebration is to give teams a chance to reconnect with each other and build a culture of belonging and camaraderie.
​
Half the Sky's mission is to supply the tools that can give every woman the ability to build a successful career and be fully prepared for the future of work. So, that they can lead a healthy, prosperous and more balanced/blended lifestyle of their choosing. By building your confidence, you're setting foundations to empower yourself and your career. The world is your oyster, and it starts with you.
Enjoyed this article let us know your thoughts in the comments below:
---
About half the sky
half the sky (HTS) is a career platform for women connecting you to career opportunities at companies that care. Providing you with information, tips and strategies to navigate the rapidly changing workplace.
Sign up to get career tips and job alerts directly to your inbox! Join us to shape the future of women at work together!
---