Back to Blogs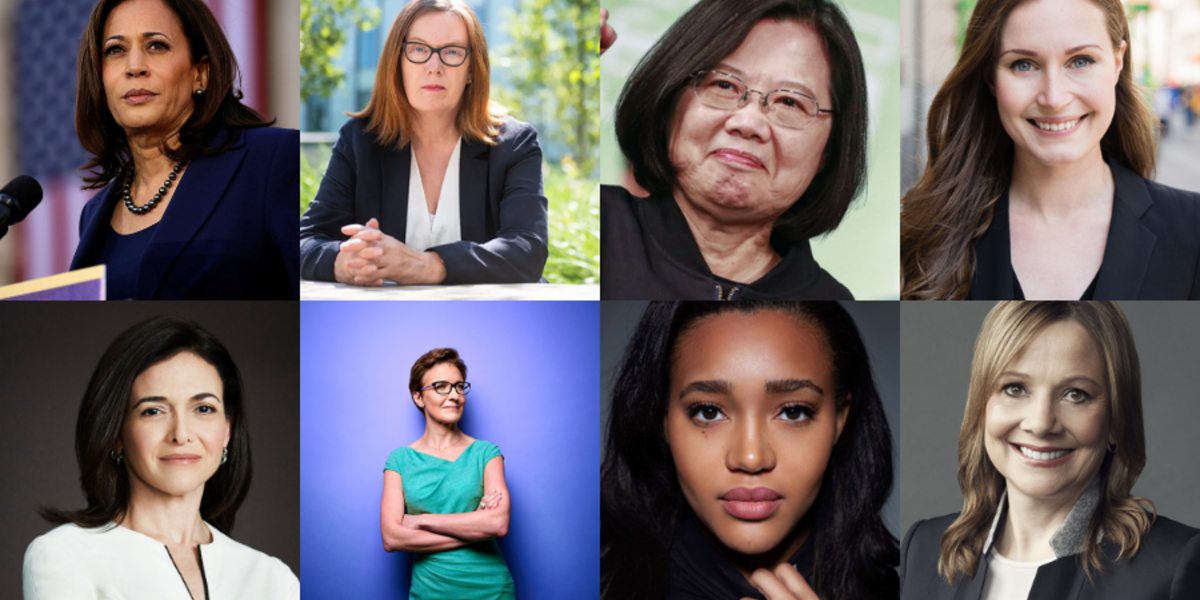 10 women who shattered the glass ceiling in 2020
​These influential women are breaking barriers and changing the conversation on diversity and inclusion....
The future is female. Women in leadership today embody a fresh take on the old problems of society. As more women enter a wider range of fields, they are shining a spotlight on newer, more innovative ways of leadership and collaboration.
However, struggles in representation and equity, which women still faced in 2020, continue to prove that a glass ceiling remains – and it's preventing many others from rising to the top. These 10 influential women are shattering that barrier and changing the conversation on diversity and inclusion:
Kamala Harris
The election of Kamala Harris as US vice president marks many firsts in American history. She will not only be the first woman but also the first Black and first South Asian to break the infamous glass ceiling of the White House. Her track record in public service – from her beginnings as district attorney of San Francisco to her entry into national politics as senator of California – has always been about breaking stereotypes of gender and race.
Harris' ascent to the second-highest position in the US government is bound to open discussions on diversity and inclusion, inspiring women and girls from different backgrounds to find their own path to leadership and public service. "While I may be the first woman in this office, I will not be the last, because every little girl watching tonight sees that this is a country of possibilities," she once said.
Jacinda Ardern
As prime minister of New Zealand, Jacinda Ardern redefines the image of the modern woman who is balancing her career with her personal life. While she may be the country's youngest prime minister in more than a century, her work in the political arena hasn't stopped her from looking after her young family. She gave birth, went on a maternity leave, and received support from her husband who became a stay-at-home dad. All this while introducing meaningful change to improve the lives of others.
When the COVID-19 crisis swept over the world, Ardern was among the first world leaders to take quick preventive measures to control the spread of the virus. She has been praised widely for her efforts. She believes in leading a government that not only takes action but also shows empathy toward people.
Sarah Gilbert
The woman behind the Oxford/AstraZeneca vaccine, Dr. Sarah Gilbert, never meant to become a vaccine specialist. But as she established her name in the biomedical field and built her own team of researchers, she pursued an ambitious project – a universal vaccine that responds to different strains of influenza – which would become the bedrock of Oxford's vaccine against COVID-19.
Dr. Gilbert's "no-nonsense approach" to her professional life extends into her personal life. At home, she is the mother of triplets who later grew up and pursued their own studies in biochemistry. While the Oxford professor is perceived to be shy and reserved, her work as vaccinologist thrusts her into the spotlight because of the impact it could have on the lives of billions.
Jane Fraser
Blazing her own trail in the corporate world, Jane Fraser is the first woman to be named CEO of Citi, breaking barriers on Wall Street. Her journey to the top has been far from conventional, however. When her two children were younger, she chose to work for a consulting firm on a part-time basis. Years later, at Citi, she quickly learned that the most crucial part of building a career is gaining experiences that will enrich you, and these in turn will help you succeed in whatever role.
Such philosophy served as her foundation in taking on assignments that other people might not consider to be the next logical move. Her secret to success and a well-balanced life is that you can "have it all" but just not all at the same time. It's always important to pace yourself.
Lauren Simmons
Working as a trader when she was just 22, Lauren Simmons is also only the second African-American female trader at the New York Stock Exchange. She is an advocate of greater diversity and inclusion in the finance industry, especially in leadership roles. Through her documentary as an NYSE trader, she hopes to inspire people who come from diverse backgrounds.
For Simmons, it's high time Wall Street takes action on D&I. "We have had enough time to make enough plans on what diversity looks like and what the importance of it is," she said. "It's not a conversation on what we plan on doing. It's 2020, what are you doing? Period."
Tsai Ing-wen
Taiwan's first female president Tsai Ing-wen is known as a fearless leader, especially in the face of a global pandemic. Even before community transmission could take hold in Taiwan, the government had already implemented intensive science-based detection and contact-tracing efforts to contain the virus.
Tsai has consistently called on other countries to build partnerships in addressing the pandemic as a humanitarian concern, opening the country's medical and technological resources for collaboration.
Sanna Marin
Finland's first Millennial prime minister, Sanna Marin, isn't just the youngest ever to hold the position – she is also considered by many to be a breath of fresh air in the country's political climate. With an 85% approval rating, Marin is a trusted leader with her innovative solutions to the climate crisis and the COVID-19 global health emergency. The fact that Finland has kept the number of coronavirus cases low is often attributed to her clear-headed approach to leadership.
Marin also shares the spotlight with other Finnish women in public service. Her cabinet is predominantly led by women who are champions of progressive and inclusive leadership.
Sheryl Sandberg
Facebook COO Sheryl Sandberg has seen her share of ups and downs in both her personal and professional life. Yet, through it all, she has made it possible for other women to break the glass ceiling. She has also been raising awareness about the plight of small businesses – and how they are fighting to stay profitable – amid the pandemic and its ensuing recession.
Her Lean In initiatives focus on creating communities of women who empower each other not only in their professional capacity, but also in their efforts to give back. Now, the foundation sheds light on how, despite the crises of 2020 setting back years of progress of women in the workforce, they can keep their momentum of progress going.
Mary Barra
The global auto industry may be dominated by men but the entry of Mary Barra as CEO of General Motors has introduced changes to how the sector does business. As the first woman at the helm of a car company, Barra is the driving force behind the organization's shift to an energy efficient future. She also enabled the company to produce 30,000 ventilators to help patients suffering from COVID-19.
She is recognized for paving the way for other groups to be represented in the auto industry, ultimately proving how "tapping human potential across all genders, races and cultures is great business".
Kim Ng
Major League Baseball made history in 2020 when the Miami Marlins named Kim Ng as general manager. She is the first woman to take on the role.
While Ng emphasized her job of establishing a "winning culture," she also spoke about her identity as a woman in her field of work. "When I got into this business, it seemed unlikely a woman would lead a Major League team, but I am dogged in the pursuit of my goals," she said.
​
Half the Sky's mission is to supply the tools that can give every woman the ability to build a successful career and be fully prepared for the future of work. So, that they can lead a healthy, prosperous and more balanced/blended lifestyle of their choosing. By building your confidence, you're setting foundations to empower yourself and your career. The world is your oyster, and it starts with you.
Enjoyed this article let us know your thoughts in the comments below:
---
About half the sky
half the sky (HTS) is a career platform for women connecting you to career opportunities at companies that care. Providing you with information, tips and strategies to navigate the rapidly changing workplace.
Sign up to get career tips and job alerts directly to your inbox! Join us to shape the future of women at work together!
---