Back to Blogs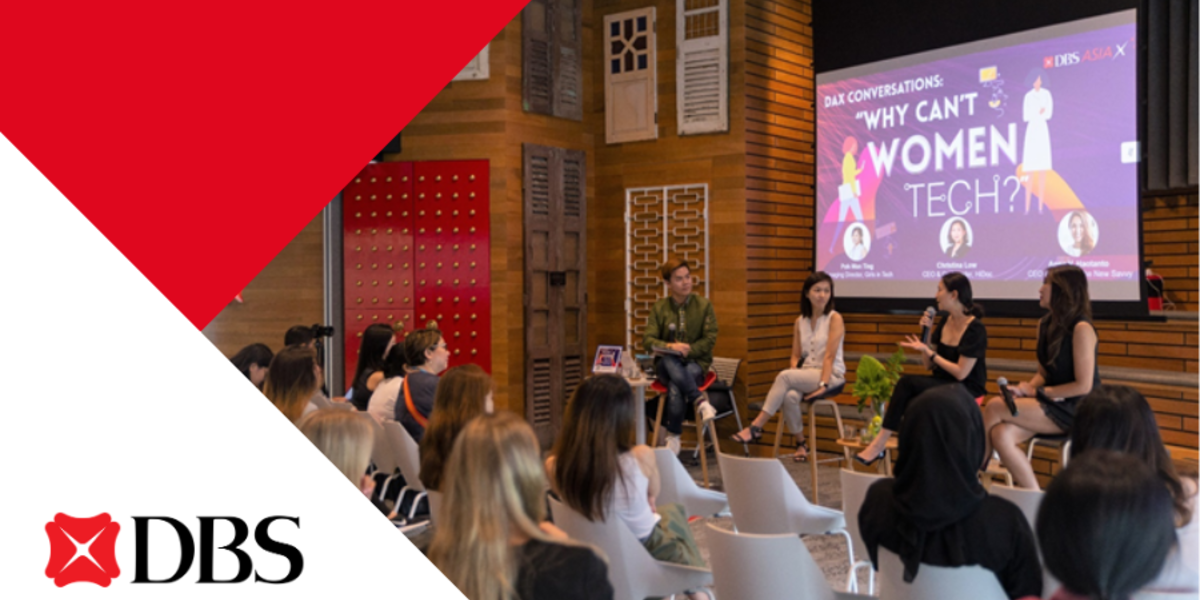 Solving the diversity equation in the tech world
​In 2014, Amazon developed a recruitment programme that helped the company review job applications based on artificial intelligence (AI) technology. However, there was a big problem — the recruiting engine developed a bias against women because the system was trained on resumes submitted to the company over a 10-year period, most of which came from men. Amazon later shut the project down but the incident reflects the inherent male dominance across the tech industry.

Tech's gender problem is nothing new and it is still very much a challenge today. For instance, only 22% of AI professionals globally are female. Concern that the digital future will be made-by-men-for-men is growing.

In celebration of International Women's Day, DBS Asia X explored the experiences of female technologists today, and what more can be done to support stronger gender inclusivity in the tech world. Here are the insights gleaned from the discussion with Poh Wan Ting, Managing Director (watch our interview with her here) of Girls in Tech Singapore; Christina Low, CEO and co-founder of HiDoc; and Anna Vanessa Haotanto, CEO and founder of The New Savvy.
Unconscious bias is real

Technology does not see gender — people do. While many will agree that gender equality is important, the truth is unconscious bias is still prevalent today especially in the tech world.

"I think it is very important for any industry, not just tech, to reboot their mindset and be more inclusive. Diversity is important, and we need to break away from stereotypes," said Christina.

From the assumption that employees are male to only a single-gendered washroom in a tech company's office, these unintentional missteps create an unwelcoming environment for women. Anna shared a personal experience during an investor meeting where she was quizzed about what will happen to her career if she were to get married and have children. She admits that a male counterpart is unlikely to be asked a similar question.

"Becoming more conscious of this bias, that's how we encourage females to join tech," added Wan Ting.
Quotas or no quotas?
Placing gender quotas on tech firms has been a long-debated suggestion to promote more women in technology. California, home of Silicon Valley, passed a bill to require female quotas on company boards, which has been met with both praise and controversy.
Christina didn't agree with quotas. She said, "I feel that when someone is hired, it has to be based on merit. If we put a quota to how many women should be present in a company, we are positively discriminating." While this sentiment was shared amongst all panellists, Anna and Wan Ting suggested that a number could provide a target to encourage companies to hire capable female candidates.
"In Singapore, the number of women in tech is 11%. The gender gap exists," said Anna. "What we're pushing for is a balance; a diversity in race and gender. It has been proven time and time again that diversity makes business sense."
"If we don't have something like a benchmark, maybe we won't go back and think why are attracting more men than women. It gives them a push to look deeper," added Wan Ting. "While I don't believe in hiring just for the sake of the number, I do believe in incentivising recruiters to look harder for female candidates who have great technical expertise but are not as good in showcasing their skillsets at interviews."
Tech is everywhere, and for everyone
Most people today are no stranger to technology. From socialising and working, to entertainment and shopping, technology is deeply entrenched in our daily lives. However, pursuing a career in technology may still be intimidating to many.
A participant at the panel discussion expressed her reservations about making a mid-career switch into the tech space without prior technical training. To that, the panellists collectively agreed that the decision for a mid-career switch into tech should be determined by the expertise they can bring to the new role, rather than their technical ability.
Christina shared her personal experience, describing herself as "not a data scientist but a doctor". She shared that while she did not know how to code, her experience in the medical field still has direct relevance in the medtech world. Anna also noted that many women in tech were not developers but rather held important customer-facing roles within the industry. Many like herself then went on to gain technical skills along the way.
As Wan Ting sums up, "Technology is just a tool. You need a specialty to guide people to a purpose."
The situation is getting better for women in tech, particularly in Singapore. The panellists shared that their personal experiences have largely been positive aside from small bumps along the road. But more can be done to improve inclusiveness — not just in the tech industry but across the other sectors. Wan Ting described it best when she said, "I look forward to the day when there is no Girls in Tech; there is just People in Tech, and all the voices are heard."
The panel discussion was organised as part of DAX Conversations, a series of in-depth discussions with leaders from various fields to generate new perspectives on the impact that innovation brings to their organisations. This is part of DBS Asia X's community programmes that dives into topics from technology and data analytics, to photography and entrepreneurship.
The original article was published here.
​
Half the Sky's mission is to supply the tools that can give every woman the ability to build a successful career and be fully prepared for the future of work. So, that they can lead a healthy, prosperous and more balanced/blended lifestyle of their choosing. By building your confidence, you're setting foundations to empower yourself and your career. The world is your oyster, and it starts with you.
Enjoyed this article let us know your thoughts in the comments below:
---
About half the sky
half the sky (HTS) is a career platform for women connecting you to career opportunities at companies that care. Providing you with information, tips and strategies to navigate the rapidly changing workplace.
Sign up to get career tips and job alerts directly to your inbox! Join us to shape the future of women at work together!
---