Back to Blogs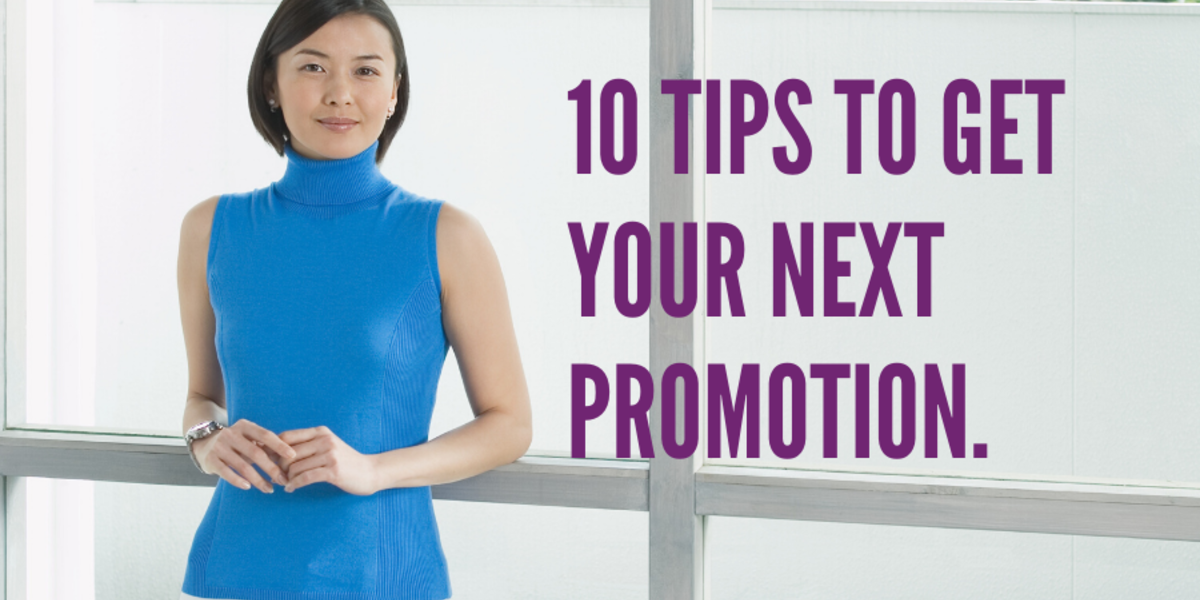 10 Tips To Get Your Next Promotion
​When it comes to getting a promotion, it is normal to assume that hard work pays off, especially if you've been in the same job for some time. However, in some cases, this can be wrong. Here's the harsh truth. Companies are not willing to promote purely on how many overtime hours you have clocked in, or the sacrificing of your social and family life. Most of the time, overworking leads to career burnout quickly. If you are planning to get a promotion in the near future, here's a quick guide to boost your profile, and increase the chances of climbing the ladder.
Make Your Boss Aware You Want A Promotion
The first step seems to be obvious, but often neglected by many. Expressing your desire for a promotion can be very helpful. After all, the management may not be aware that you are seeking for a better of different prospect within the company, especially if you are looking to transfer departments or take onboard more responsibility. When you are letting them know, remember to be humble, passionate, and hungry.
2. Make Your Boss' Job Easier
In other words, make your boss obsolete. As strange as it sounds, but helping your boss with various tasks will strengthen the relationship, and build trust. It shows that you are able to tackle different tasks successfully. Additionally, your boss will be able to focus on bigger tasks within the company. It is a chain reaction that improves the company, and will definitely get you noticed by the management.
3. Raise Other Team Members' Performances
Although this step sounds similar to the second on the list, but it has a different output. When you are helping to raise other team members' performances, it will build up the idea that you are truly a team player. Instead of climbing the ladder by yourself, you are uplifting everyone else in the company. Many bosses love team players, as they show genuine commitment in improving the work circle.
4. Build Strong Work Relationships
It goes without saying that good connections get you to where you want to be. Not only is it important to build a good relationship with your boss, but it is equally important to build a good relationship among your colleagues. Make your presence known among your bosses, and when the opportunity comes along, they will keep you in mind. As for your colleagues, they will recommend for you the particular position.
5. Keep A Positive Attitude
A positive attitude goes a long way. In general, nobody likes unnecessary negativity in the office. Having a negative attitude will get you the attention for all the wrong reasons. Instead, have a positive, with a strong "can do" attitude. This contagious attitude will lift everyone's spirit, and create a better working environment. Naturally, this is the type of attention that you would want to get noticed for.
6. Don't make excuses.
When something goes wrong, don't make excuses. Most managers will appreciate the fact that you own up to your mistakes. On the other end of the spectrum, managers will not appreciate excuses, or finger pointing to other colleagues for the mistakes. It shows that you are not responsible for your actions. Apologise, and find solutions to solve the issue at hand efficiently. Make sure not to repeat it, too.
7. Bring solutions, not problems.
In order to get promoted, it is important to be able to solve problems for the company. With that said, don't simply show up to your boss with a problem and no solutions in mind. When issues arise at work, always work towards finding a solution instead of being passive. There are higher chances of getting noticed by your boss when you offer solutions. Remember, be a problem-solver, not a problem-starter.
8. Try out different things.
It is always good to find opportunities to try out different tasks in the company. Not only will it help you to understand how the company functions as a whole, but it helps your boss to see you as a committed and multi talented worker. Of course, you will still need to complete your daily tasks at work. It is not easy, but worth it in the long run. To start, simply ask for more responsibilities from your boss.
9. Show pride in your work.
With all these steps to remember, don't forget to be proud of where you are, and the work that you are doing. Your current work is important, and taking pride in doing good work daily demonstrates that you are able to do the same for the future roles. Be fully committed from the start to finish! Here are some keywords to remember, competence, diligence, intelligence, and loyalty.
10. Keep a work-life balance.
Remember the introduction? Well, don't suffer from a burn out right before your promotion. A good work-life balance indicates that you are a well-rounded person. Going overboard with work will not necessary impress the management. Sometimes, overworking may signify that you are not able to complete the work within the timeframe. With that said, find a smart method to complete your tasks faster.
Enjoyed this article? Let us know your thoughts comment below:
​
Half the Sky's mission is to supply the tools that can give every woman the ability to build a successful career and be fully prepared for the future of work. So, that they can lead a healthy, prosperous and more balanced/blended lifestyle of their choosing. By building your confidence, you're setting foundations to empower yourself and your career. The world is your oyster, and it starts with you.
Enjoyed this article let us know your thoughts in the comments below:
---
About half the sky
half the sky (HTS) is a career platform for women connecting you to career opportunities at companies that care. Providing you with information, tips and strategies to navigate the rapidly changing workplace.
Sign up to get career tips and job alerts directly to your inbox! Join us to shape the future of women at work together!
---