Back to Blogs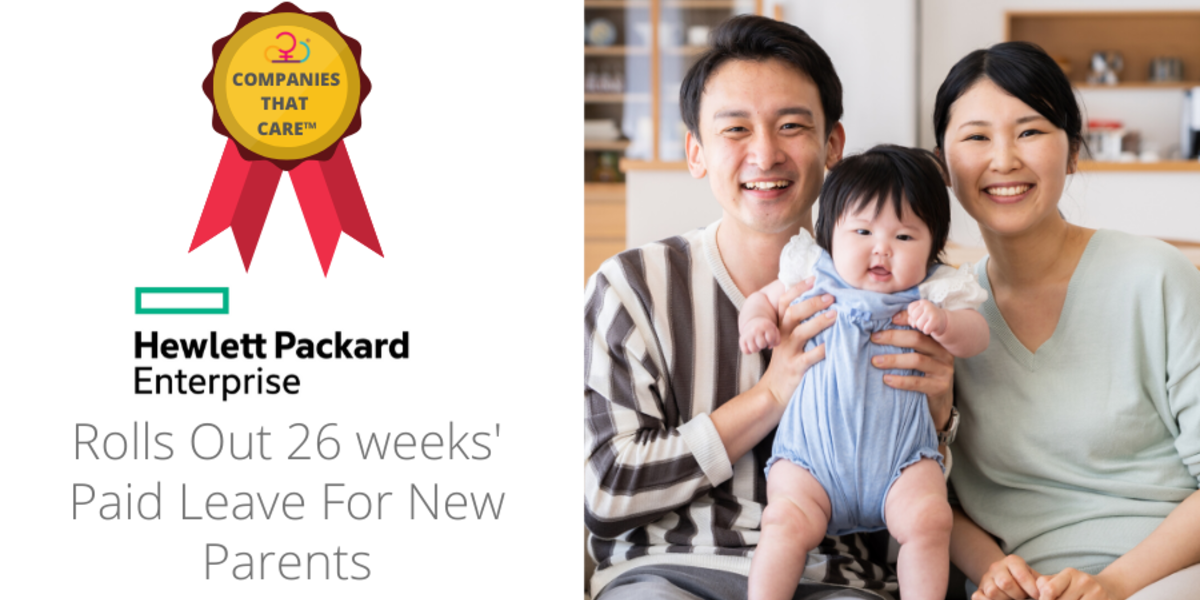 Hewlett Packard Enterprise rolls out 26 weeks' paid leave for new parents
​Hewlett Packard Enterprise (HPE)will give 26 weeks of paid leave for new parents.
The benefit, which applies to both new mothers and fathers, is among several employee programmes announced yesterday as part of efforts to improve the well-being of staff and their work/life balance, the tech company said.
The new policy represents an increase of 10 weeks of parental leave for mothers, and 24 weeks for fathers, and will be available to employees with at least one year of service in HPE within the first year of the birth or adoption of a child.
Other programmes rolled out yesterday include flexible work arrangements for new parents and workers approaching retirement, as well as Wellness Fridays, in which employees are encouraged to leave the office three hours early one Friday a month to volunteer, focus on their physical and emotional health, or spend time on personal and career development.
HPE said it was implementing these innovative policies on paid parental leave and flexible working arrangements to recognise the importance of equal parenting, and the role workplace culture can play in supporting it.
It added that eligibility for the extended paid paternal leave benefit will be retroactively applied to parents with children born or adopted on or after May 1 this year.
The company also has a scheme called Parental Transition Support - a flexible work arrangement policy that offers new parents the opportunity to work part-time for up to three years after the birth or adoption of a child.
Mr Narinder Kapoor, managing director of Asia-Pacific at Hewlett Packard, said: "At Hewlett Packard in Singapore, we want all of our employees to be reaching their full potential in their careers. That means supporting them as they grow their families as well.
"We are very proud to be rolling out this global initiative for our employees. By investing in our highly skilled and motivated workforce, we will cement Hewlett Packard's position as an employer of choice globally and here in Singapore."
Also, under the firm's new Retirement Transition Support scheme, employees who are close to retirement will get a chance to work part-time to help them adjust to pending lifestyle changes. It will also help them to transfer their knowledge or serve as a mentor to other employees, said the company.
This article was originally published here.
Enjoyed this article? Let us know your thoughts comment below:

​
Half the Sky's mission is to supply the tools that can give every woman the ability to build a successful career and be fully prepared for the future of work. So, that they can lead a healthy, prosperous and more balanced/blended lifestyle of their choosing. By building your confidence, you're setting foundations to empower yourself and your career. The world is your oyster, and it starts with you.
Enjoyed this article let us know your thoughts in the comments below:
---
About half the sky
half the sky (HTS) is a career platform for women connecting you to career opportunities at companies that care. Providing you with information, tips and strategies to navigate the rapidly changing workplace.
Sign up to get career tips and job alerts directly to your inbox! Join us to shape the future of women at work together!
---