Back to Blogs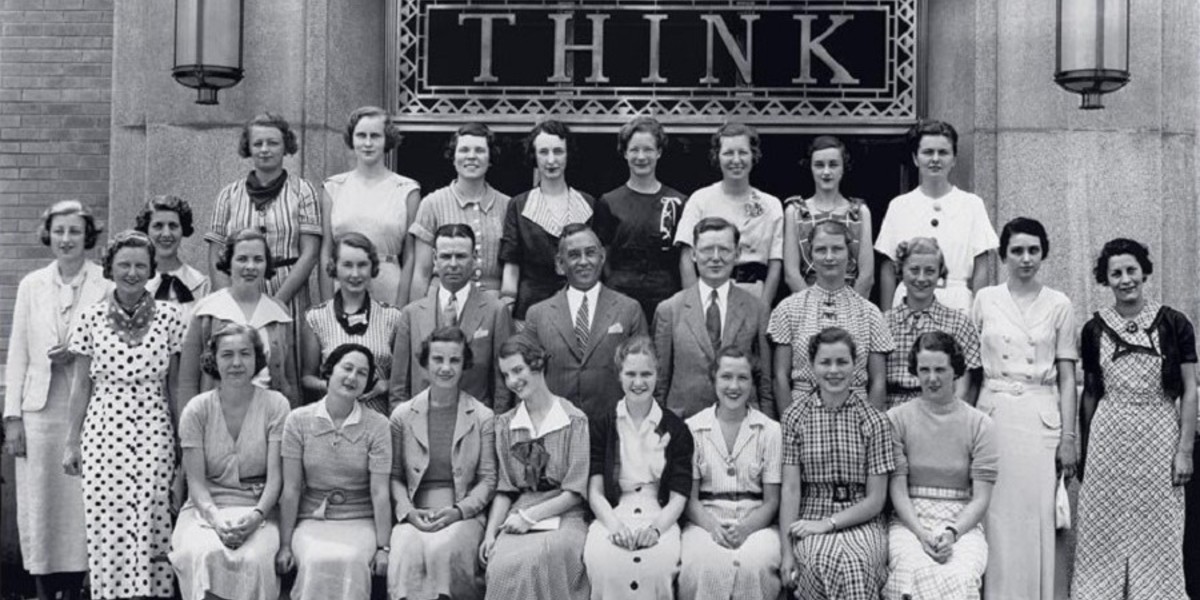 Celebrating International Women's Day with more than 100 years of IBM empowering women
​IBM originated in 1911, and ever since women have played an integral, and equal, role in the company's success today. To observe International Women's Day and their campaign of #pressforprogress, means to strive towards gender parity in and out of the workplace, and IBM has taken a lead role in achieving that goal.
IBM's rich history of opportunities for women
For more than 100 years, IBM has been on the forefront of employing and empowering women. This initiative began in 1899 when the Computing Scale Company, which later became one of the three companies that formed IBM, hired its first three women employees, 20 years before women won the right to vote. These three women 25 years later went on to help establish IBM's first Quarter Century Club. Following in that tradition, in 1935 chairman and CEO Thomas Watson, Sr. spoke out in favor of the introduction of women into IBM's professional ranks. Mr. Watson boldly predicted that "pioneering women" are the first wave of IBM female employees to take roles traditionally only filled by men, and that this was only the beginning.
Ruth Leach Amonette - First Female Executive and Vice President of IBM, at the age of 27.
For example, a vanguard such as Ruth Leach Amonette in 1943 was named the first female executive and vice president of IBM, at the age of 27. In 1959, IBM's Sarah Wilkinson was one of the first three women admitted to Harvard Graduate School of Business Administration. IBM has pressed for progress starting a century ago and continues to this day.
Overcoming obstacles
The barriers that existed in the technology industry for women are well-documented but still remain in modern times. Almost half of women in tech presently feel that there is a serious dearth of women mentors and role models in the industry. While more than a third of women in tech believe there are an unequal amount of opportunities for career growth as well as unequal pay for the same set of skills as compared to men[1]. Proactively fighting this discrimination, IBM has provided the backdrop of groundbreaking women scientists, engineers, and technologists worldwide for over a century. Trailblazing women include Phoebe C. LeSesne, IBM's first woman Senior System Engineer. At the time she joined this group of executives in 1960, there were only 10 other Senior System Engineers, all males, across all of IBM. Senior executives as Jane Cahill Pfeiffer, who began her career with IBM as a systems engineer, went on to be IBM's second female vice president in 1970, and afterwards became the first chairwoman of the National Broadcasting Company. While the contributions of women are well known within the company, IBM is extremely proud to have 13 women elected to the Women In Technology International Hall of Fame. Extraordinary women such as Frances E. Allen, who joined IBM in 1957 as part of the first generation of women scientists, became the first woman IBM Fellow in company history in 1989.
The contributions of women at IBM to society over the last century are immeasurable, but what can be quantified is the environment and culture that IBM has continually provided to promote women to thrive and succeed in the workplace. Today, led by Ginni Rometty, we implement initiatives such as the "Empowering Women's Success in Technology, IBM's Commitment to Inclusion" study to outline how IBM is driven by inclusion and empowerment worldwide. Externally, IBM partners with groups such as Girls Who Code and the Society of Women Engineers, while actively engaging with young women in STEM to promote women in the workplace.
As Dr. Lerner states, we strive to bring women into the center of historical inquiry and to act as a sustaining energy and a source of strength. At IBM, we are extremely proud to work with the next generation of women in tech pioneers.
We can't wait to see what the future holds for them.
Original article was published here.
Enjoy this article? Let us know your thoughts and comment below:
​
Half the Sky's mission is to supply the tools that can give every woman the ability to build a successful career and be fully prepared for the future of work. So, that they can lead a healthy, prosperous and more balanced/blended lifestyle of their choosing. By building your confidence, you're setting foundations to empower yourself and your career. The world is your oyster, and it starts with you.
Enjoyed this article let us know your thoughts in the comments below:
---
About half the sky
half the sky (HTS) is a career platform for women connecting you to career opportunities at companies that care. Providing you with information, tips and strategies to navigate the rapidly changing workplace.
Sign up to get career tips and job alerts directly to your inbox! Join us to shape the future of women at work together!
---