Back to Blogs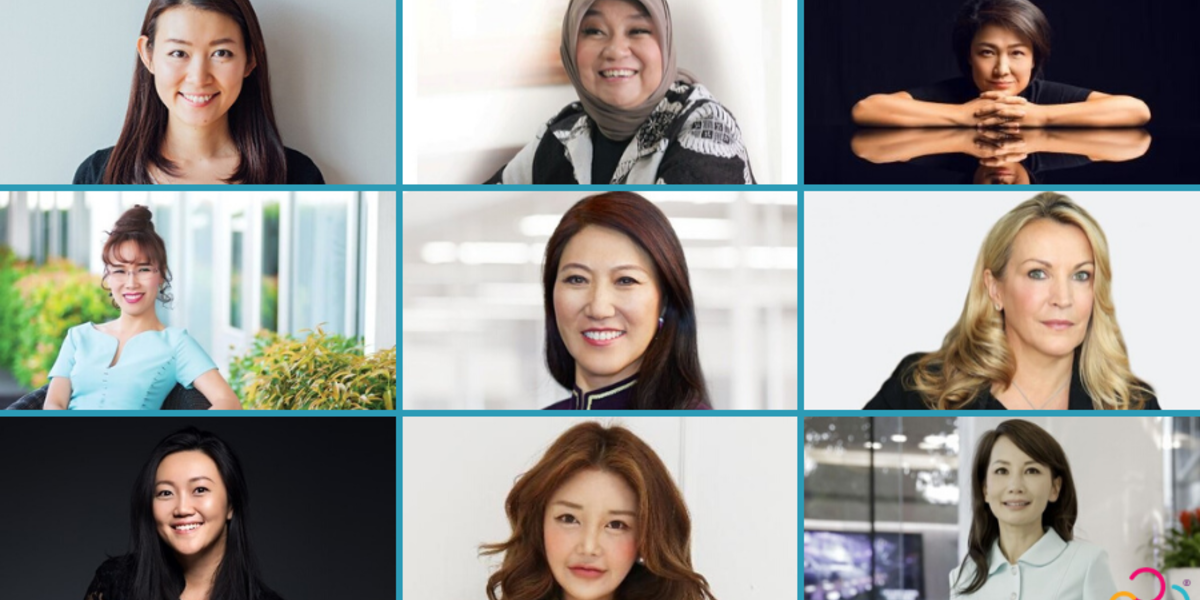 Meet The 20 Leading Female CEOs In Asia
​Although women who are in business are still facing many challenges that are not commonly shared with men such as discrimination, things are slowly changing. In 2018, only 4.8% of Fortune 500 Companies are led by female CEOs. In 2019, the percentage saw an increase with a new number of 6.6%. In this list, we are bringing you20 Leading Female CEOs in Asia! These powerful female entrepreneurs are changing the business world, one step at a time. Get ready to be inspired!
​
Nguyễn Thị Phương Thảo, President and CEO ofVietJet Air.
Photo:www.doisongphapluat.com(Website)
Nguyễn Thị Phương Thảo is Vietnam's first self-made billionaire. She holds two bachelor's degrees in financial credit management and labour development. Before becoming President and CEO of VietJet Air in February 2017, she was dabbling in distributing goods from Japan, Hong Kong, South Korea, and Soviet Union. Additionally, she has investments in bank and resorts. Ranked as 62ndin the list of Power Women 2016 and Asia's 50 Power Businesswomen 2016, she is also currently the wealthiest self-made woman in South East Asia, with a net worth of $2.5 billion.
2. Akiko Naka Founder and CEO of Wantedly.
Photo:www.phoenixi.co.jp(Website)
Akiko Naka is the youngest female founder to take make a company public in Japan. Before founding Wantedly, a social-networking service for professionals, she was a growth coordinator at Facebook Japan, whereby she does marketing and product development. Following the launch in 2012, Wantedly is now the leading professional social networking service in Japan with more than 2.5 million active users monthly. The social-networking service is valued at 29 billion yen at the time of this writing. Named as 40 under 40 leaders by Harvard Business Review Japan, she holds a bachelor's degree in economics.
3. Anna Fang, Partner and CEO of ZhenFund.
Photo:www.amchamchina.org(Website)
Hailing from China, Anna Fang is the CEO and Partner of ZhenFund, an early stage venture capital firm based in China. In ZhenFund, she oversees the fund's investment, portfolio management, and operations. RED (XiaoHungShu), Mia, Club Factory, are just parts of her investments. Before becoming a partner and CEO, Fang started her career as an investment banker in JPMorgan New York and continued as a corporate business developer in GE China. Naturally, she is part of The Midas List 2019 by Forbes, and Top 10 Early-Stage Investors Of The Year 2018. Her highest education qualification is master's degree in business administration awarded by Stanford's Graduate School of Business.
4. Estina Ang, Founder, Executive Chairman and CEO of Ghim Li Group
Photo: Forbes (Website)
In the 1970s, Ang started her garment-making business with only six sewing machines. Now, the global textile and apparel supplier is one of the biggest in Asia, with more than 60 million pieces being shipped annually. Ghim Li Group's revenue are coming from major North American retailers such as Walmart, and Macy's. More recently, Ang is focused on creating a digitalized supply chain with a headquarter based in Singapore. Ghim Li Group's employees comprise of 7,000 women, with a female-led board and management team including her own daughter, Felicia Gan.
5. Lorraine Belo-Cincochan, CEO of Wilcon Depot Inc.
Photo: Forbes (Website)
After becoming the CEO of Wilcon Depot Inc. in 2016, Lorraine is now leading her family business to one of the most notable expansion yet. Wilcon Depot Inc., which has Wilcon Depot big-box stores and Wilcon Home Essential shops under its wings has opened another seven more outlets, increasing the number to 43 nationwide. Additionally, she has computerized Wilcon's manual systems and changed the store from traditional to big-box format. Before leading Wilcon Depot Inc., Belo-Cincochan was working as a trainee under her father, William Belo, who started the business in one tiny shop located in Quezon City.
6. Teresa Wibowo, CEO of ruparupa.com
Photo: Elle (Website)
As the CEO ofruparupa.com, Teresa Wibowo has brought her family's 65-year-old corporation to a digital space. Kawan Lama Group's digital initiative,ruparupa.comis currently the largest omni-channel operator, uniting more than 300 stores of ACE Hardware, Informa Furnishings, and Toys Kingdom. One of the unique selling points ofRuparupa.comis the facility that allows customers to buy products online and pick up in the store of their choice. Wibowo is in Forbes' Asia's Power Businesswomen list.
7. Elizabeth Gaines, CEO of Fortescue Metals Group
Photo: Business News Australia (Website)
Gaines is the first female to run a major Australian publicly listed mining company. In 2013, she was the first female board member to join the world's fourth-largest iron ore producer. With experiences from banking, construction, and travel sectors, she became CFO in early 2017 before turning into CEO in the same year. During her period, she has reduced Fortescue's heavy borrowing costs through strategic refinancing and debt repayment. Before serving as the CEO of Fortescue Metals Group, Gaines was serving as a CEO and CFO in multiple companies including Heytesbury, Stella Group & Entertainment Rights, and Helloworld.
8. Han Seong-sook, CEO of Naver.
Photo: executives.technology (Website)
In a country whereby only 2.6% of CEOs are women, Han broke a glass ceiling by becoming Naver's very first CEO. Through her lead, the company has expanded beyond its home market, invested in big data and other advanced technologies. As a previous journalist and Internet entrepreneur, she had launched Naver Pay mobile-payment service, and its V Line music-streaming app that is popular among South East Asia thanks to Korean pop celebrity fan meet ups. Han stated that gender diversity is pivotal in helping product designers to target both male and female users.
9. Joanne Kua, Executive Director, Managing Director, and CEO of KSK Group & KSK Land.
Photo: PropertyGuru (Website)
With experiences in banking and finance, Kua has transformed KSK Group into a diversified conglomerate by adding property development and tech investments. Additionally, she has boosted the employee numbers by 28% to 700. With a family net worth of approximately $300 million, her father, Kua Sian Kooi, is the executive chairman that handles most strategic decisions. Her tycoon father is Kua's mentor, leader, and visionary. She added, "My father taught me to dream". Kua's project, KSK Land, KSK Group's first project into development is her proudest achievement thus far.
10. Kim So-hee, CEO of Nanda.
Photo: Forbes (Website)
In her early 20s, Kim created Nanda with the help of her mother and an aunt. Started off an a second-hand market for women's apparel, the company now has global presence with three popular brands, clothing brands Stylenanda, and KKXXX, and cosmetic brand, 3CE. The unlisted Nanda mentioned a net profit of $20.4 million, and $101 million sales in 2016. Kim mentioned that there are major companies eyeing a for a stake for its global expansion, including the famous global cosmetics giant, L'Oreal. Currently, Nanda has 14 brick-and-mortar outlets in South Korea, and 59 outlets located in Asia and Australia.
11. Cindy Mi, Founder and CEO of VIPKID.
Photo: All American Speakers (Website)
Started off her career as an English-language teacher residing in Beijing, Mi noticed that there was an untapped demand from students to learn the language. This sparked an idea to create VIPKID, an online platform that pairs students with tutors located in North America. Started in 2013, VIPKID is now the world's largest K-12 English-language online educator, with 30,000 native-English speakers providing lessons to 200,000 students scattered in 35 countries. With $200,000 in the most recent funding, the funding have totaled up to $325 million. Before founding VIPKID, Mi co-founded ABC English, a brick-and-mortar language teaching company.
12. Zhang Xin, CEO of SOHO China.
Photo: QZ (Website)
Started her career as a factory worker, Zhang Xin became an owner companies responsible for dozens of real estate developments located in Beijing and Shanghai. In 2010, Zhang started a transition from a business model of building and selling properties to buying and leasing them instead. Additionally, she has also founded SOHO China Foundation, a philanthropic organization to engage in education initiatives. With a net worth of $3.6 billion, Zhang and her husband was previously ranked by Forbes as the World's Most Powerful Couples. Other recognitions include being listed by Forbes as the 62nd Most Powerful Woman in the World.
13. Nurhayati Subakat, Co-founder and CEO of Paragon Technology & Innovation.
Photo: Okezone Lifestyle (Website)
As a trained chemical engineer, Subakat's began her journey when she founded a company known as Pusaka Tradisi Ibu with her husband in 1985. The company makes hair-care products, before stepping into affordable make up line commonly known as Putri in 1993. As a devout Muslim, she understood the rising demand of halal make up and skincare products. In 1995, Wardah, rose in Arabic, was born. In 2017, Paragon Technology & Innovations had 8,300 employees, and held 30% of the beauty products market in Indonesia.
14. Jane Jie Sun, CEO of Ctrip.com International.
Photo: Fortune (Website)
Jane Jie Sun is the CEO of the largest travel agency in China since 2016. Before her rise, she was serving as CFO of the same company. Currently, Ctrip.com has more than 300 million members and a $24 billion market capitalization, translating to 39% rise in revenue last year. Under her wings,Ctrip.com has increased railway ticketing and it is now covering more than 30 countries across Asia and Europe. Additionally, it has also launched car-rental services in 6,000 cities internationally. Ctrip.com has also upped it stake in China by adding 1,000 new stores for brick-and-mortar traveling chain, Bestone, resulting to 6,500 stores and absorbed its competitor, Qunar.
15. Joey Wat, CEO of Yum China.
Photo: Investors Relations Solutions (Website)
Before serving as the CEO of Yum China, Wat previously served as the CEO of KFC China, and managing director of A.S. Watson Group UK. Started her career as a consultant in A.T. Kearney, she soon became a management consultant at McKinsey & Company in Hong Kong. Wat was ranked as one of the Top 50 Most Influential Business Leader in China 2018 and Top 25 Most Powerful Women in Business in China 2017 by Fortune Chinese Edition. As of 2019, she is the only 33 female CEOs on the Fortune 500.
16. Supamas Trivisvavet, President and CEO of CH. Karnchang.
Photo: Startup Thailand (Website)
After taking over as the president and CEO of CH. Karnchang, she has expanded the focus of Thailand's second-largest construction company by looking for brand new opportunities within the region. Apart from bidding on a growing network of rail lines and roads in Bangkok, Supamas is working on power projects, including hydroelectric in Laos, and thermal plant and solar photovoltaic plant in Thailand. As the CEO of CH. Karnchang, she has ramped up bidding for the capital's rapid transit rail system, Bangkok MRT.
17. Mercy Wu, Chairman and CEO of Eslite Spectrum.
Photo: CommonWealth Magazine (Website)
Mercy Wu became the chairman of Eslite Group when she was 39 after the passing of her father due to heart attack. Now, Eslite is the island's largest retail bookstore and lifestyle chain, with 44 outlets across Taiwan, Hong Kong, and China. These outlets combined bookstores, art galleries, restaurants, and department stores. Additionally, it also has a boutique hotel in Taipei and residential property in Suzhou, China. When she started working in 2004, she had no business background. However, her father stated that she has "a greater dose of both shrewdness and romance", which he deemed to be important qualities when running a business.
18. Wei Sun Christianson, CEO of Morgan Stanley China.
Photo: Fortune (Website)
When Wei Sun Christianson started her job in Morgan Stanley 10 years ago, she was working in the firm's investment division. Now, she is the CEO of Morgan Stanley China. Under leadership, the company has expanded its onshore footprint with a variety of services including underwriting, commercial banking, asset management, trust services, and equity investment. Christianson believes in the importance of supporting women in senior management. Since the early 1990s, Morgan Stanley China has been the forefront of China's capital market, and it even completed its first Yankee bond for a Chinese issuer before stock exchanges existed.
19. Somruedee Chaimongkol, CEO of Banpu.
Photo: Banpu Infinergy (Website)
Somruedee Chaimongkol had spent her entire life working in Banpu. With most of Banpu's asset being coal, she has gained the nickname, "Asia's First Lady of Coal". Naturally, she is passionate in building one of South Eat Asia's largest energy companies with big stakes in power generations across the region. Under her leadership, Banpu will be investing more in renewable energy by exploring into the possibility of expanding to storage and management systems to help the government to achieve smart city initiatives. It is now planning to invest more in Cambodia, and Vietnam is part of the discussions as well.
20. Aireen Omar, Deputy Group CEO of AirAsia.
Photo: YouTube (Website)
Joined AirAsia as Director of Corporate Finance in 2016, Omar made her way to be the Deputy Group CEO of AirAsia. She is responsible for several divisions including AirAsia digital strategy, promoting innovation throughout the group, and encouraging collaboration across AirAsia's businesses and markets. Not only she is spearheading non-airline companies such as BigPay, AirAsia BIG Loyalty, ROKKI, Travel 360, Vidi, RedTix, AirAsiaGo, Big Data for Humans, RedCargo, Red Box, and Santan, but she is also overseeing large strategic group-wide initiatives. She holds a master's in economics from New York University.
The business world may be a challenging place, but these successful female CEO's have proven that it is possible for women everywhere to rise and thrive at the very top. While we all may not be destined for the C-Suite, one thing is for certain: with the right amount of determination, effort and faith, the sky is the limit and nothing will stop you reaching the top.
Let us know which one of these powerful female leaders is your favourite? Let us know in the comments section below.
Enjoyed this article let us know your thoughts comment below:

​
Half the Sky's mission is to supply the tools that can give every woman the ability to build a successful career and be fully prepared for the future of work. So, that they can lead a healthy, prosperous and more balanced/blended lifestyle of their choosing. By building your confidence, you're setting foundations to empower yourself and your career. The world is your oyster, and it starts with you.
Enjoyed this article let us know your thoughts in the comments below:
---
About half the sky
half the sky (HTS) is a career platform for women connecting you to career opportunities at companies that care. Providing you with information, tips and strategies to navigate the rapidly changing workplace.
Sign up to get career tips and job alerts directly to your inbox! Join us to shape the future of women at work together!
---