Back to Blogs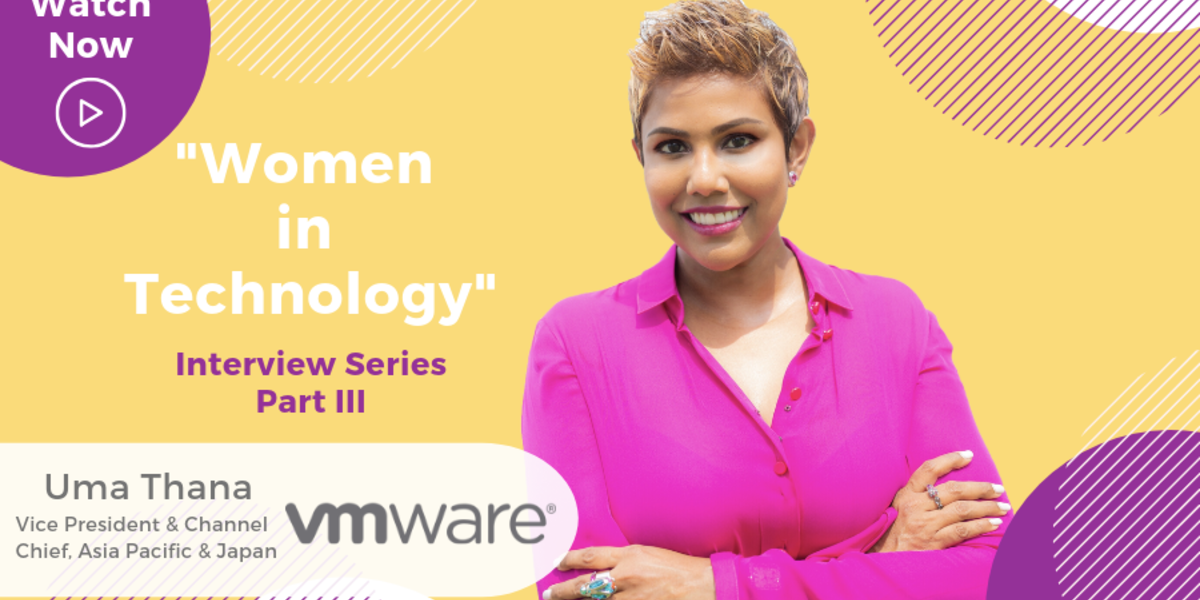 Uma Thana - Women in Technology Interview Series Part III
​In the final part of the Women in Technology Interview Series with Uma Thana- Co-Founder of Lean In Singapore and also Vice President & Channel Chief, Asia Pacific & Japan at VMware, Uma shared her point of view of what companies can do to attract and retain female talent, her thoughts on half the sky and a very empowering story - the power of ask!
​
Full Transcript
SABRINA: Uma, so you knowhalf the skyis a career platform for women and we connect women to better jobs at companies that care. So from your point of view what can companies do to attract and retain female talent?
UMA: Firstly you got to make a very clear leadership decision, that you want to do something and that's a first step. And then you need to do some other things like making the data transparent. So for example, when we talk about pay equity between men and women. I mean Singapore is anywhere between 20 over to 40 percent depending on the industry on pay gap. So we have a lot of work to do. And if you talk about male dominated industries and more male dominated roles, it's a bigger gap. So making the data transparent really helps. And you've been in recruitment a very long time, so I like to talk about, you know, being very clear about the criteria for the role.
So for example, does the role require you to be at your desk all of the time? And in some situations, yes, because you might be an analyst at a bank and because of privacy concerns you can only access the data at that computer at work. So you need to call it out in the JD (job description) so that if a woman that's looking for a position that allows her flexible work hours and work from home is not going to apply for that. But then the next thing is to not shift the criteria, right? Then don't hire a man for the role and allow him to work in home.
Right? This is a true story. So very clear criteria. Then don't shift the criteria.
And there's research that shows when you get female candidates into your pipeline- So firstly you must want to insist that there have female candidates that we go look for in the roles, but, you've got to have at least two. When you have just one female candidate, what's going to happen is you're going to compare her with all of the other male candidates and she's then imposed to a harsher standard especially if it's a male dominated position. But if you have two females I think - this is a Harvard study - you increase the chance to 33%. Ideally you have 50% but, you know start with at least two, right?
And then we talk about advocating for women. And it's really simple, something that everybody can do today when you're introducing a female colleague. Don't just say "This is Sabrina Ho. She's part of our team." Right? You would say "This is Sabrina Ho. She's extremely talented. We brought her into the company to do this and she's just launched Half the Sky." And immediately you would take away any bias that someone might have for maybe a female, you know, Chief of Engineering, let's say. And there's a study that proves this as well.
SABRINA: Uma, what are your thoughts on a platform like half the sky?
UMA: I love it. I love the idea of it because I'm really fortunate to have lived in Singapore. Because every day I get to hear stories from the ground. And there are great stories and they're not so great ones. I know that women - especially when they are thinking about starting families, or they do have families - workplace flexibility policies and support is a big question mark. And we also know from working with corporates that live in Singapore that a lot of companies struggle to implement the policies that they've written. And so your platform gives that transparency. And I like what we talked about earlier where you're saying you're flipping it the other way round.
Instead of companies just screening candidates, now female candidates can screen these companies and you're really helping them go "OK, well, I would never apply for that company before because my perception is "so and so" especially in the tech world where, you know, we have a lot of work to do. Based on what's happened with Silicon Valley and everything that's coming out of there.
And they can now go "Oh, actually, I misjudged this company and looks like they have what I need and I want to apply. I want to go work for them", right? I think that's a really powerful thing.
SABRINA: Thank you. And that's why the companies on our platform, we position them as companies that care™because they walk the talk. They have all the policies and initiative for for the talent. Last time you shared with me a very empowering story - the power of ask. Can you share with us a little bit more?
UMA: Yes. So, I'll tell you the story of my first ask. When I was applying for this job as a systems engineer - fresh graduate, you know. And I had this interview with the head of the company that was an IBM distributor. The going rate at that time for a fresh graduate systems engineer was about 1,800 ringgit a month. And that is what he offered me, and I know that figure because I spoke to all my friends and they already secured jobs, right? So it was like 1,500 to 1,800. That was the range. And he said "Okay I'll pay you 1,800. You got the job. And I remember thinking "Wouldn't it be nice to sleep on my own bed, and by myself?".
Because I was sleeping on the floor and single mattresses with three other girls while going to university because that's all we could afford. And I looked at him and I said "No, you are going to pay me 2,200 ringgit because it was going to cost me like 400 ringgit to get a nice room.
And I remember the look on his face like "This fresh graduate just negotiating". He completely didn't expect that. And he said OK.
SABRINA: And you didn't give him a reason, I remember.
UMA: Yeah I think, yeah I just asked. And I was like thinking in my head "Ok then. I should, I should ask!" So for the rest of my career, I asked and why that's so important is because when you ask, you give an opportunity to the other party to say yes but if you don't even ask you don't present yourself that opportunity. And I think you'll be very surprised, is my own experience, of how many yes' you're gonna get, as long as it makes sense.
I mean, women talk about "Oh, I really would like the CEO of this company to be my mentor and we say "Just ask". The best way to get a mentor is to start by asking for a specific advice. And then you walk away, you action that advice, come back, and say "Here's what you told me, here's what I've done. Can I ask you another question?" Right. And then that relationship is going to evolve because as human beings we naturally want to help each other. So now pay is a completely separate thing, right? You're not always going to get a "yes". But I think we all should do a better job of asking as women.
​
About half the sky
half the sky (HTS) is a career platform for women in Asia. We connect women to career opportunities at companies that care. We also want to equip you with information, tips and strategies to navigate the workplace today and the future.
Sign up to find better jobs, get career tips and job alerts directly to your inbox!

​
Half the Sky's mission is to supply the tools that can give every woman the ability to build a successful career and be fully prepared for the future of work. So, that they can lead a healthy, prosperous and more balanced/blended lifestyle of their choosing. By building your confidence, you're setting foundations to empower yourself and your career. The world is your oyster, and it starts with you.
Enjoyed this article let us know your thoughts in the comments below:
---
About half the sky
half the sky (HTS) is a career platform for women connecting you to career opportunities at companies that care. Providing you with information, tips and strategies to navigate the rapidly changing workplace.
Sign up to get career tips and job alerts directly to your inbox! Join us to shape the future of women at work together!
---