Back to Blogs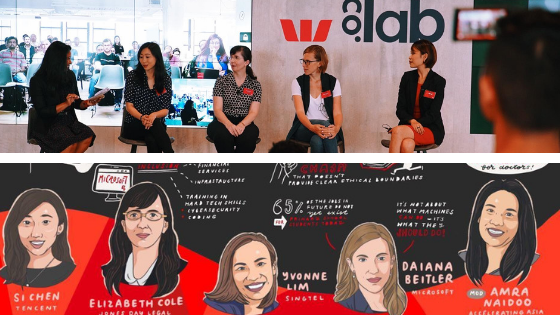 The AI Imperative 2030 and beyond at Singapore co.lab
​half the sky was in attendance at the WestPacAI Imperative 2030 and beyond co lab event co-hosted by the Australian High Commission Singapore– with guest speakersAmra Naidoo - Co-founder, Partnerships & Operations Director at Accelerating Asia,Si Chen - Senior Strategy Manager at Tencent ,Dr Daiana Beitler - Philanthropies Director, Greater Asia and the Pacific at Microsoft,Elizabeth Cole - Corporate Partner at JONES DAY and Yvonne Lim- Principal, FutureNow Innovation Centre | Singtel 5G Garage at Singtel.
Our personal takeaways the jobs of the future have not been created yet – however, the transformation has already begun and female executives and young women in general will need to become more involved in STEM (Science, Technology, Engineering, and Mathematics) related subjects and the tech sector as a whole, if not the consequences and gaps in gender equality will only get wider.
Key questions posed how can we pave the way so there is better representation of female talent in the tech sector in the future? Start from young provide young women with mentors so that we can inspire the next generation of female tech leaders. Organisations must also provide opportunities for female executives and be devoted to diversity and inclusion so that we all together can make a difference.
It was a truly inspiring discussion and half the sky was happy to support such a great event.
​
Half the Sky's mission is to supply the tools that can give every woman the ability to build a successful career and be fully prepared for the future of work. So, that they can lead a healthy, prosperous and more balanced/blended lifestyle of their choosing. By building your confidence, you're setting foundations to empower yourself and your career. The world is your oyster, and it starts with you.
Enjoyed this article let us know your thoughts in the comments below:
---
About half the sky
half the sky (HTS) is a career platform for women connecting you to career opportunities at companies that care. Providing you with information, tips and strategies to navigate the rapidly changing workplace.
Sign up to get career tips and job alerts directly to your inbox! Join us to shape the future of women at work together!
---