Back to events
10 November 2022
08:30 - 17:00
Singapore & Online
Are you #DaringToBe?
This year's She Loves Tech Global Conference is for those who DARE. Those who dare to tap into their inner "superpower" to create and innovate, those who dare to start advocacies that matter, and those who dare to create a new future for the world.
This year's Conference will explore how generations of women and technology connect and create positive change in our first ever 2-day festival-style symposium.
We dare you to be true to your mission, to build with integrity and purpose, and to take the future into your hands.
The BUZZ is real! ⚡️⚡️⚡️
We're ecstatic to join giants such as Microsoft, P&G, UBS, MTR HK, Meta, SWIRE, Stripe, ADB Ventures, IMDA and exciting startups such as SGAG, Terrascope, Wiz.Ai, Binar, MightyJaxx, AlphaLabs, Animoca, Neufast, 5ire Chain are ready to celebrate the future of tech with us at the She Loves Tech Global Conference 2022: shelovestech.org/daring-to-be!
Meet and network with global startup founders, industry players, top influencers and technologists at this festival-esque Conference happening on November 10 & 11.
Get your tickets now! We'd love for you to join us! Use SLTCOMMUNITY30 to get exclusive Community Partner discount: ticket.shelovestech.org/conference-2022/register
What to expect:
Listen and learn from a powerhouse line up of over 30 speakers including; Rebecca Oppenheimer, Icelandic Minister Aslaug Arna Sigurbjörnsdóttir, Senior Minister Sim Ann, Andrea Della Mattea (President of Microsoft APAC), Karl Mak (CEO and Co-founder of SGAG), and many more!

Connect and network with 300+ Innovators, Disruptors and Change-makers who are just as passionate about women and tech as you are;

Get insights from the hottest topics in tech today such as Web3, Smart Cities, Femtech & Wellness, NFTs & Art, and much more.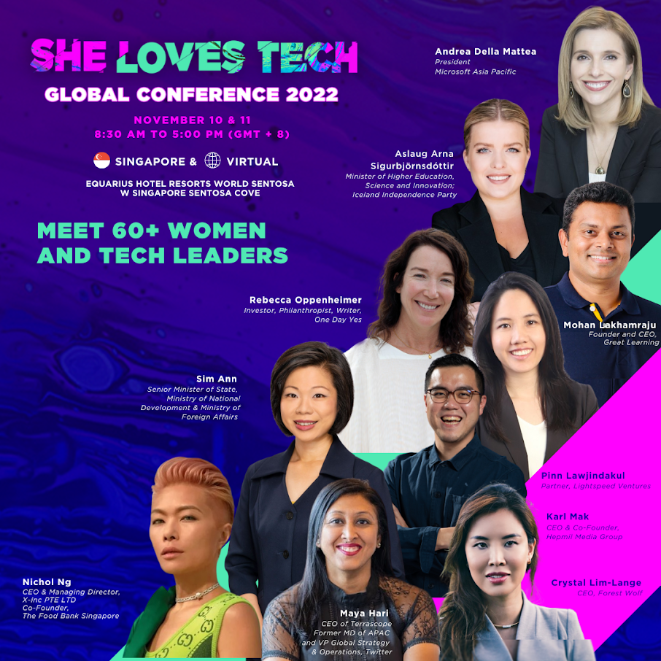 Sign up now! shelovestech.org/daring-to-be

​
​
​

Mohan Lakhamraju

Founder & CEO, Great Learning

​

​

HE Minister Aslaug Arna Sigurbjörnsdóttir

Minister of Higher Education, Science & Innovation; Iceland Independence Party

​

​

Maya Hari

CEO of Terrascope, Former MD of APAC & VP Global Strategy & Operations, Twitter

​

​

Rebecca Oppenheimer​

Investor, Philantrophist, Writer

​

Nichol Ng

Co-Founder, The Food Bank Singapore

Crystal Lim-Lange

CEO, Forest Wolf