Paid Parental Leave

Flexible Working Arrangements

Mentorship Program

Breastfeeding Rooms

Leadership Development Program

Coaching Program

Raise Numbers Of Women In Leadership

Internal Women's Networking Group

Equal Pay Initiatives
​
Igniting the Global Power of Women.
Diversity at Johnson & Johnson is about your unique perspective. It's about you, your colleagues and the world we care for—all backgrounds, beliefs and the entire range of human experience—coming together. You view the world from a unique vantage point; a perspective that gives you problem-solving potential ideas, solutions & strategies that, when mobilized, can bring health to billions.
​
Inclusion at Johnson & Johnson is about creating a deep sense of belonging. It's about a culture where you are valued, your ideas are heard and you advance this culture for everyone.
Diversity & Inclusion at Johnson & Johnson means - You Belong.
Our Vision
Be yourself, change the world.
Our vision at Johnson & Johnson, is for every person to use their unique experiences and backgrounds, together – to spark solutions that create a better, healthier world.
Our Mission
Make diversity and inclusion how we work every day
Our mission is to make diversity & inclusion our way of doing business. We will advance our culture of belonging where open hearts and minds combine to unleash the potential of the brilliant mix of people, in every corner of Johnson & Johnson.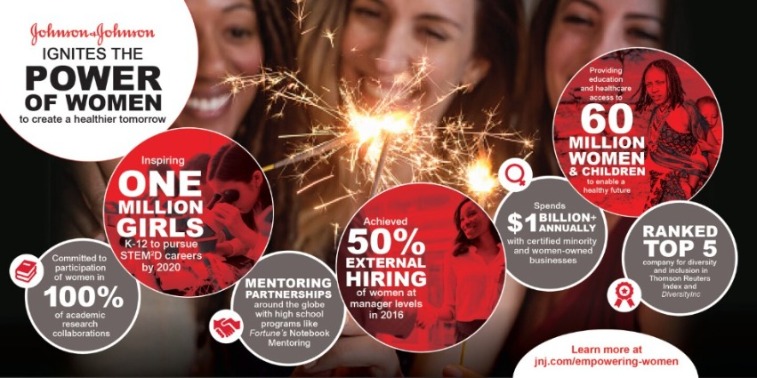 Advancing women—whether it's ensuring access to critical healthcare or having opportunities in the workplace—is at the heart of many of Johnson & Johnson's programs and initiatives around the world. Below, we shine a spotlight on some of the ways that Johnson & Johnson has been helping to empower women for over a century—and how we'll continue to do so for generations to come.
Our Commitment to Women For Over 130 Years.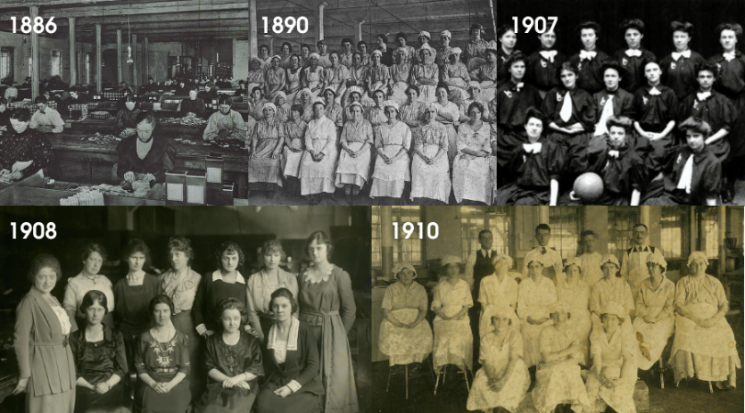 1886 - Johnson & Johnson launched in 1886 with 14 employees; eight of them were women.
Today, 43% of management positions in the U.S. are held by women , and we have grown to build a workforce that is nearly 50% female today. Every day, women play leading roles throughout our company and help power us forward toward healthier tomorrows. Visit Johnson & Johnson's virtual museum to learn more.
1890- Into the early 20th century, as the company rapidly grew, so did the roles of women employees. They took on new leadership positions and carved out their own spaces for professional growth at a time when opportunities for women were extremely limited.
1907 - A group of female Johnson & Johnson employees launched the Laurel Club to create a space for professional development, wellness, and community service.
1908 -While some women became supervisors, others took office jobs and research positions. Among them was trained chemist Edith von Kuster, who, in 1908, became the company's first woman scientist. She worked under the leadership of Scientific Director Fred Kilmer.
1910 - And by the early 1910s, women led a quarter of Johnson & Johnson's departments.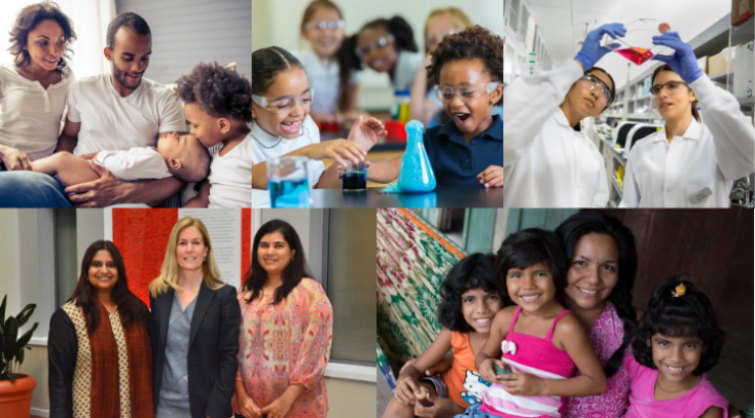 Today, the company provides a minimum of eight weeks of parental leave for mothers and fathers across the world.
In addition to supporting women employees as mothers, Johnson & Johnson is dedicated to advancing and retaining future generations of women leaders.
Across the world, the company is striving to provide women in underserved communities with medical care and education to ensure they can be productive members of society and support their families.
For over 130 years, Johnson & Johnson has been committed to supporting women as employees, patients, and consumers, giving them the tools to succeed in the workplace and beyond.

How Women Are Leading Innovation at Johnson & Johnson.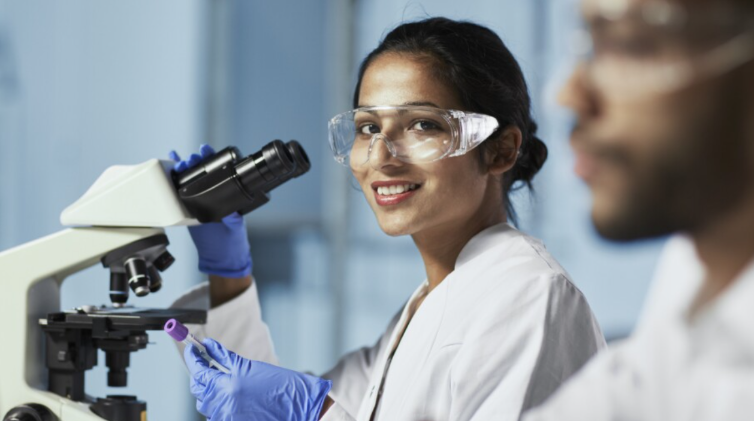 We remain focused on growing, nurturing and propelling groundbreaking leaders as they, in turn, transform healthcare. We're proud to help female scientists incubate their ideas and female managers innovate in their careers. In fact, we're meeting today's challenges with the wisdom of women who are inventing tomorrow's solutions.
​
Meet Yuquing, a data scientist who analyzes and optimizes supply chain processes, is making real-world impact by ensuring Johnson & Johnson medicines and health products reach the people depending on them. She also knows that taking the first step into a new field can be overwhelming, so Yuqing has a few tips to help you break through into this exciting and vibrant profession.

Diversity of thinking, backgrounds, and cultures are contributing to finding global solutions that will reduce disparity and improve access to healthcare. Johnson & Johnson is leading the way with the hiring of diverse talent from entry-level to leadership roles. Najat offers her advice on establishing a career in data science and outlines her vision for her journey.

Women's Leadership & Inclusion (WLI).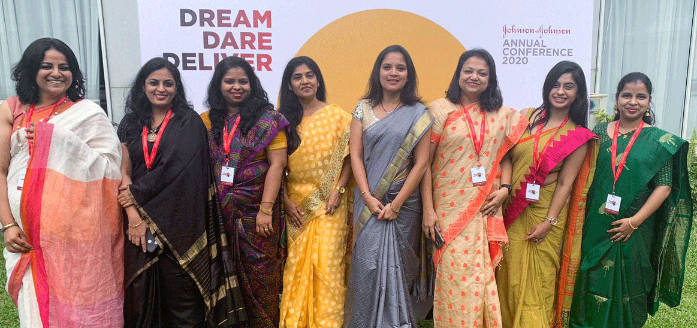 Our Employee Resource Groups (ERGs) - Women's Leadership & Inclusion (WLI)'s vision is to achieve gender equality across our business globally to enhance our competitive advantage and fuel the future of human health.
Vision- Achieve gender equality across our businesses globally to enhance our competitive advantage and fuel the future of human health.
Purpose - Foster an inclusive organizational environment that champions the advancement of women.
​
Our Goals are to enable career progression for women and increase male, millennial and global (OUS) representation.
Advancement: Expand mentoring program, own your own development, demystifying sponsorship
Inclusion: Bring men into the conversation, engage younger generations, promote value of diversity
Community: Optimize work/life Balance, access to career development, exposure to leadership models
​
Pivot From Career Break to Breakthrough With Re-Ignite.
The Johnson & Johnson Re-Ignite program is a paid returnship for experienced professionals ready to return to work after a career break of two years or longer. Get back to your career alongside others who have been where you are, who understand and appreciate nontraditional career journeys, unique skills, and life experience like yours. Guided by mentors and feedback from those who have successfully completed the program, Re-Ignite also includes:
Comprehensive onboarding and industry-specific skills training

Projects based on your goals

Building confidence and fluency in key workplace tools through on-the-job learning

A network of support for the next phase of your career journey and beyond

Consideration for a full-time role at Johnson & Johnson after completing the program
We believe pausing your career to pursue something else important shouldn't stand in the way of your next breakthrough—it should enhance it.
​
Receive all job alerts right into your inbox
Events by Johnson & Johnson
​"Diversity & Inclusion at Johnson & Johnson is not just a commitment—it is the reality of how we live and work. The best innovations can only come if our people reflect the world's full diversity of individuals, opinions and approaches."

Alex Gorsky, Johnson & Johnson

Chairman, Board of Directors and Chief Executive Officer

​"Our longstanding commitment to DEI and the values of Our Credo have prepared us to meet this moment and drive sustainable change. We have created an inclusive environment that empowers our employees to share their unique perspectives and learn from one another. Together, we are charting a path forward to advance racial and social equity both within Johnson & Johnson and across society."

Wanda Bryant Hope, Johnson & Johnson

Chief Diversity, Equity & Inclusion Officer

​"At J&J, I love how closely cross-sector employees engage and collaborate with one another. Many employees from J&J Indonesia come from different regions in the country and our outline activities brought us all together. This empowers and cultivates personal and professional growth among our employees."

Ribka Suhardi, Johnson & Johnson

Senior Medical Scientific Liaison

​"Being a part in driving awareness around diverse abilities and creating an environment where employees can be themselves is who we are and how we work."

Ratchaneebul Wanichapiwong, Johnson & Johnson

Recruitment Manager

​"In January 2021, we launched our volunteer leave program, giving Asia Pacific employees 2 days of fully paid volunteer leave per year. With over 25,600 eligible employees- this amounts to more than 400,000 working hours annually."

Grace Gervacio, Johnson & Johnson

Head of Total Rewards, Asia Pacific

​"At Johnson & Johnson, we have long championed policies that provide flexibility for our employees to balance personal and professional responsibilities. Faced with a global pandemic, we lived up to our commitment and incorporated more opportunities for flexibility in when, where and how we work, allowing for open dialogue about the changing schedule needs of employees, especially working parents.Supporting employees' total health has always been one of our top priorities. We continue to create an environment where our employees and their families have access to an ecosystem of resources to help them proactively build resilience, manage stress and anxiety, and develop skills to adapt and thrive in the midst of change, which was especially important during the pandemic. Through updates to our digital health platform and access to our Employee Assistance Program (EAP) and WorkLife Services and new mental well-being trainings, we educate and empower employees and their families to prioritize their mental well-being and support their colleagues to do the same."

Kristen Mulholland, Johnson & Johnson

Head of Human Resources, Global Total Rewards
Looking for Better Jobs?
We are here to help you find the best opportunities at companies that care! Sign up to join our platform and receive the newest job alerts and updates, straight to your inbox.
Looking for Talents?
If you're an employer looking to hire female talent, you can post your jobs on our platform and gain access to over 70,000 women from our community!